5 Steps for Leading Your Next Virtual All-Hands Meeting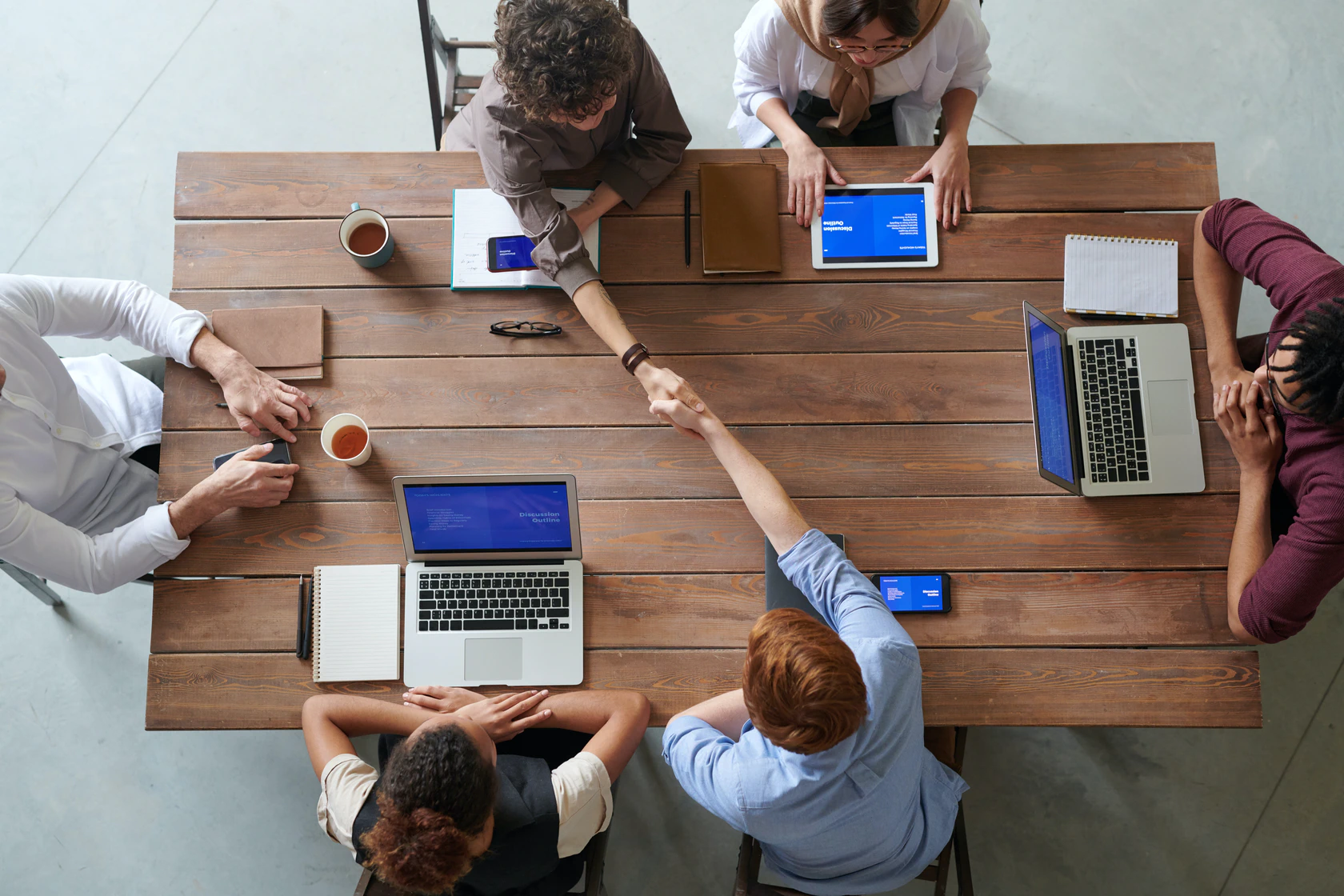 Love them or loathe them, all-hands meetings are essential for building and maintaining a company culture of collaboration and transparency . But for remote or hybrid teams, hosting an engaging all-hands meeting isn't as simple as booking a conference room and rolling out a free bagel bar. 
Here's a look at why you should be holding an all-hands meeting and how to effectively lead one with a remote team. 
What's the Purpose of an All-Hands Meeting?
Communication is a vital piece of keeping a team motivated and engaged. At the same time, communication can be one of the most challenging aspects of managing a remote team. In Buffer's 2020 State of Remote Work report, collaboration and communication are tied as the top struggle among remote workers. 
With all kinds of digital communications tools , it might seem hard to believe that communication could be such a challenge. Between email threads, Slack messages and scattered conference calls, things can get lost along the way. 
An all-hands meeting is an effective way to ensure all employees receive the same information at the same time and in the same form of delivery. 
Communication isn't the only important benefit of an all-hands meeting. Here are three other things an effective all-hands meeting can do for your organization. 
Offer Transparency
With communication comes transparency. When everyone receives the same information at the same time, there is less opportunity for things to get missed, taken out of context or misinterpreted. 
Additionally, effective all-hands meetings offer a valuable opportunity for two-way communication. Instead of blasting information to employees and hoping it's understood, a Q&A session allows time for employees to ask questions and clarify points of confusion. 
Ensure Alignment
With greater transparency comes better company-wide alignment. According to research from Engage Employee, just 25% of employees feel their company's leaders have an obvious plan. When everyone is clear on strategic priorities, employees are motivated to work together toward a clear set of goals. 
Foster Company Culture & Engagement
Let's face it, working in an environment with little communication on overall priorities or progress updates can feel a bit like being on a hamster wheel. For remote teams, the lack of clarity can also increase feelings of isolation, which leads to low morale and disengagement. 
By treating an all-hands meeting like an authentic conversation, remote employees are more likely to feel engaged in the message and leave with a clear purpose. With a clear purpose comes a better company culture and happier, more productive employees. As a bonus, companies with strong cultures have seen a 4x increase in revenue growth . 
5 Steps to Engage Your Remote or Hybrid Team
Leading an engaging all-hands meeting is challenging whether you're in person or remote. With proper planning though, you'll be on your way to making the most of your all-hands meeting. 
1. Set the Goal
Establishing a goal is the first step in creating an all-hands meeting agenda. When you know what you want to communicate, an agenda can help focus your message to ensure you achieve the intended goal for the meeting. 
Since there is no one-size-fits-all agenda for an all-hands meeting, let your goal dictate how you'll structure the meeting. For example, maybe you prefer to start with a personal story before diving into business. If you're worried about keeping everyone's attention, consider slotting an ice-breaker or some other interactive activity at the halfway point of the meeting rather than at the beginning.
2. Set a Schedule
There are no hard rules for when you should schedule an all-hands meeting. Given that it might be hard to cross-coordinate employee schedules, giving as much advance notice as possible is helpful in ensuring maximum attendance. It also helps to let management know that all-hands meetings are to be prioritized so they can effectively communicate to their staff. 
Let the size and type of your business dictate the frequency of your all-hands meetings. Monthly meetings may make sense for your organization, or quarterly meetings might be more feasible, depending on your team dynamics. Don't be afraid to check in with your managers for feedback on frequency. If you're receiving feedback that morale is low or goals are unclear, consider switching to more frequent meetings. 
Establishing consistency in all-hands meetings can help eliminate any pre-meeting anxiety. If your employees are already feeling out of the loop, a random all-hands meeting could trigger anxious feelings that bad news is coming. 
3. Select a Video Conferencing Platform
Whether your team is totally remote or hybrid, a video conferencing platform is essential to the success of your all-hands meeting. 
There are a variety of video conferencing platforms available, with many offering features and plans for small and large meetings. For smaller teams, a simple Zoom meeting might be all you need as you can still launch polls and screen share, with participants also allowed to toggle their audio off and on. 
Once you've selected your video conferencing platform of choice, be sure you're familiar with the settings to ensure a smooth meeting . For example, you might want to know how to automatically mute employees as they join the meeting to prevent accidental background noise. 
You might also want to host a dry run with any meeting participants the day before your meeting to test out things like audio, lighting and internet connectivity. 
4. Get Visual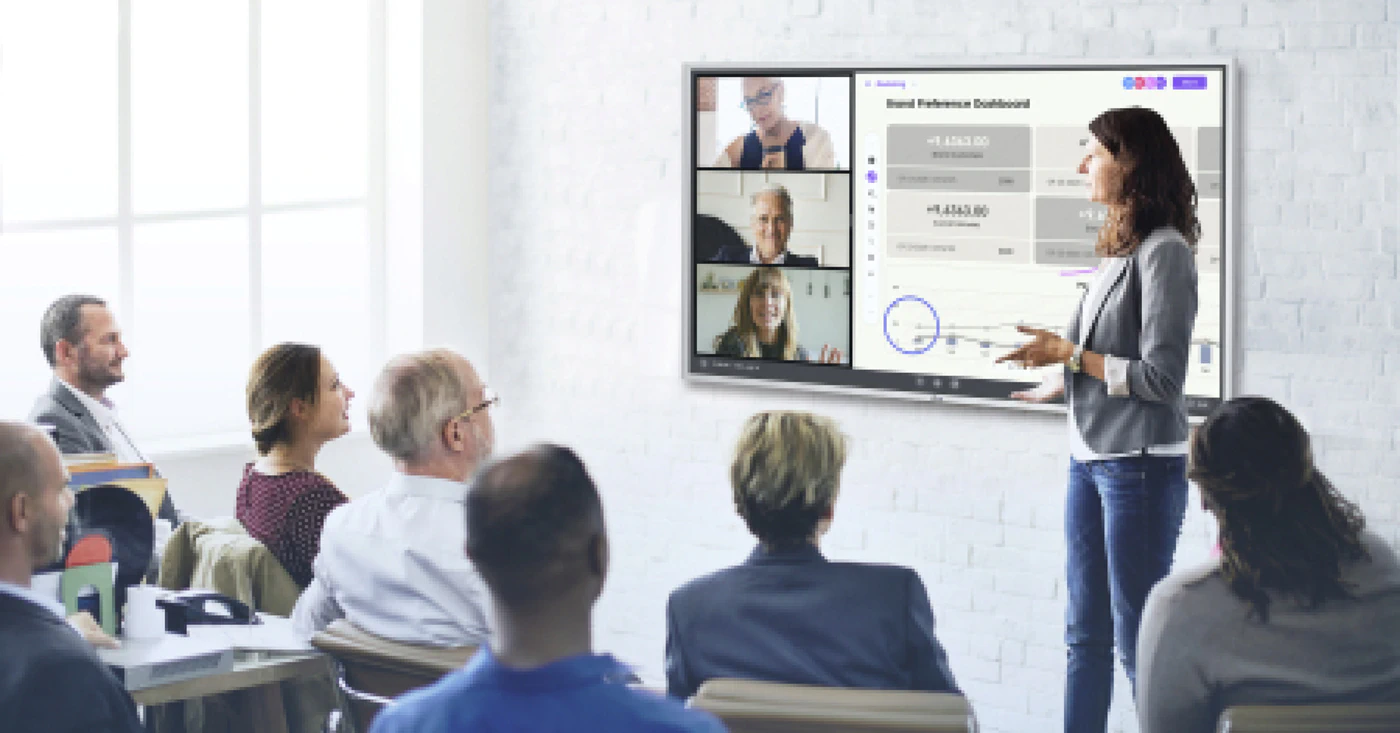 Meeting led with a Vibe Smart Whiteboard
For a truly engaging all-hands meeting, you'll need to consider doing a little more than putting together a static PowerPoint presentation . 
A digital whiteboard can add an interactive component to an all-hands meeting, giving you the opportunity to embed videos and other interactive elements into your presentation. 
Vibe's technology allows you to bring in participants from any remote location. You can also engage your team with collaboration features that allow participants to actively interact with the whiteboard from anywhere. Vibe integrates with more than 10 video conferencing apps. 
5. Make a Recording
One of the biggest advantages of remote teams is the ability to work asynchronously. While you want your all-hands meeting to be synchronous, things come up and sometimes not everyone can make it. Make a recording and distribute it post-meeting to ensure everyone has the opportunity to re-watch the meeting at their own pace. 
Maximize Engagement at Your Next Meeting
Making an all-hands meeting truly engaging is all about meeting your employees where they are. In a recent piece in Harvard Business Review , writer Sabina Nawaz worked with hundreds of teams to extract five reasons employees struggled to understand a company's vision. 
Her experience gives way to a few additional ideas for maximizing engagement in a virtual all-hands meeting. 
Take time to recognize employee accomplishments.
According to Nawaz, adapting your message for delivery at all levels of the organization means taking the time to connect employee accomplishments to wider company goals.
Employees are less likely to comprehend high-level value statements and priorities when they are listed on a slide or repeated every quarter. Rather, employees are more likely to understand a company's vision when they see it in action, especially from one of their peers.
Taking time to recognize these accomplishments and letting employees speak to their process and performance can be more effective than simply repeating them over and over again. 
Switch up the delivery with a guest speaker.
While you've probably already thought about adding videos and other multimedia into your all-hands presentation, consider adding an outside source to help communicate vision, priorities and goals. 
If your all-hands meeting tends to just be one person speaking to many, a guest speaker is a great way to break up the monotony and reinforce strategy through a different perspective. 
Recognize new hires.
One of the downsides to working on a remote team is that you don't have the ability to meet new team members in person on their first day. As a newcomer starting in a remote position, it can get lonely for employees who don't have any connection to the team they are joining.
Have some fun.
As much as you might be tempted to make an all-hands meeting all about business, remember that Zoom fatigue is real. If your all-hands meeting is on the lengthier side, consider mixing in a few fun activities to keep your audience engaged. 
Could you put together a company trivia session based on quarterly performance? Are there polls you could conduct to check in on employee morale?
You don't have to do a ton of prep work to draw in engaged employees. A simple pre-meeting slideshow or upbeat tune can easily set the tone for a lighthearted, engaging environment. 
Try Out Vibe
Great news: you can host an all-hands meeting with a Vibe Smart Whiteboard. Increase engagement with real-time interaction. Take your next all-hands meeting to the next level with Vibe.
See how Vibe could help →
Subscribe to get updates on all things at Vibe
Thank you for subscribing Vibe's blog!