How to Use a Smart Whiteboard to Lead a Great Brainstorming Session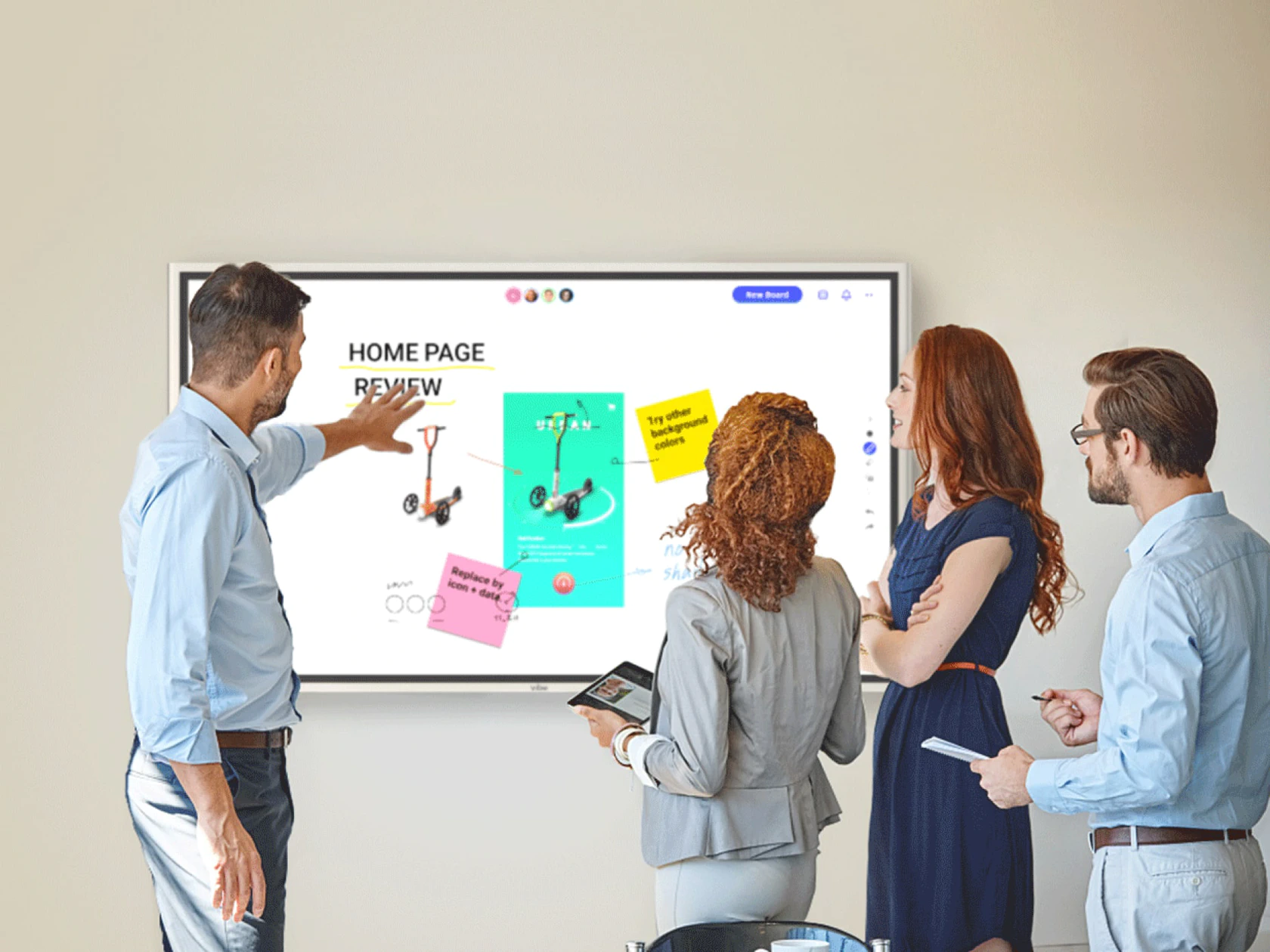 One of the most effective ways to generate new ideas is through brainstorming. Brainstorming involves generating ideas to solve problems, and the goal of a brainstorming session is for the team to produce a vast array of ideas. From there, the team can draw links between the ideas on their way to finding solutions. 
To put together an effective brainstorm, you need the right tools, and one of the best tools to use in this situation is a whiteboard. So if you're serious about getting the most out of your team's strategic and creative ideas, it makes sense to investigate what a smart whiteboard can do for you. Read on to learn how using an interactive whiteboard can help you lead a better brainstorming session.
What happens in a brainstorming session?
First, it's important to understand that brainstorming sessions are different from regular meetings. Here's what should happen during a team brainstorm:
Engage in creative thinking
During a brainstorming session, you should encourage your employees to think creatively. And to inspire creative thinking, your team should focus on quantity over quality. 
In other words, let them come up with as many ideas as possible instead of focusing on coming up with a few really good ideas. Withhold critical comments; instead, welcome unusual ideas to the table. One of them could be exactly what you're looking for.
Ideas are captured, developed, and shared
All of that creative thinking still needs some structure behind it. To capitalize on exciting ideas, we suggest using a whiteboard.
A whiteboard will ensure that everyone can see the ideas in front of them. When you write everything on a whiteboard, you'll also have an easier time connecting the dots and developing them further. 
Plus, with a digital whiteboard like Vibe , you can share the ideas after the brainstorming session so your team members can continue to think about them.
Share ideas without hesitation
During a brainstorming session, team members should feel free to share ideas without hesitation or fear of suggesting a "bad" idea.
Sometimes, people have great ideas but have a tough time explaining them. In these situations, it's important to remain encouraging. If an employee feels as if you've responded to their suggestion negatively, they'll be less likely to supply ideas—that's the last thing you want.
"You don't want your employees to feel like they're in trouble," writes Amanda Novakovic from Insperity , regarding potentially negative work conversations. "Otherwise, they'll have the mentality that they're on an inevitable path to termination and lose motivation for their job." Instead, encourage your employees to throw out as many ideas as possible to hopefully find an idea that sticks.
Benefits of Brainstorming
Brainstorming is one of the most effective tools to help generate ideas, while also keeping in mind that ideas can come from anywhere. Brainstorming helps to break down the organizational structure in some ways. During a brainstorming session, everyone is free to toss around any idea that seems relevant, and all ideas are considered. Brainstorms are fantastic for sourcing new ideas from unlikely places, breaking the routine of typical ideation, creating a stronger group dynamic, and connecting the dots between separate ideas whose sum is stronger than their parts.
How to lead a brainstorming session
Let's break down into more detail how to prepare for and lead a brainstorming session, as well as ways to encourage collaboration.
Be mindful of time zones.
Provide access to video conferencing and collaboration tools.
Share sample ideas beforehand.
Connect your workers and help them feel like a team.
Start each session with an ice breaker.
Organize your employees into small groups.
Give everyone a set time to talk during the meeting.
Record ideas on a Vibe Board.
Write out every idea (even the awkward ones).
Acknowledge your team with praise.
Open up your emails for further discussion.
What to do before the meeting
Be mindful of time zones.
Someone who's in the midst of a virtual brainstorm at 9 AM will be slightly sharper than an employee who's joining the meeting later in the day. Try to find a good time that everyone can agree with. Or, consider running two sessions. With a team Vibe canvas, members of the second group can easily review the first group's ideas and build from there.
Provide access to video conferencing and collaboration tools.
Everyone needs to be on the same page during a brainstorming session. Video conferencing is incredibly important, as remote workers will feel more valued if they have a boss talking directly to them. Video conferences can provide a better idea of what someone's general personality is like. Email can't convey tone and emotion the way face-to-face conversations can.
Every on-site and remote team member should have access to the same programs and apps. It's also a good idea to give new team members a "tour" of what you use. For example, even if they've used something like Trello before, they may not be familiar with the way that your team uses the app.
On a similar note, make sure your remote team has access to your company's products. Your employees need to be familiar with the product's benefits and features. This helps to ensure an effective and productive brainstorming session.
Share sample ideas beforehand.
Many people work best with examples when they provide guidelines as to the types of ideas and innovations the team needs. Plus, some people need to process the information before they can creatively branch out and expand on it. It's helpful to give remote workers an outline of what you'll be talking about prior to the session, but it's also good to give them a deadline of a couple of days to really think about it.
Related: Synchronous vs. Asynchronous Communication: Benefits, Strategies, and Our Advice
How to start the brainstorming session
Connect your workers and help them feel like a team.
As a remote worker, it's a little strange when someone joins the team and the only thing you know about them is their name and avatar photo. As a leader, be sure to introduce new staff and make them feel at home. That way, they'll feel less intimidated when it comes to collaborating and brainstorming with seasoned employees.
Start each session with an ice breaker.
With remote workers (especially people who just started working remotely), there's a lot going on in their head that might block them from expressing their best work-related thoughts. Having some fun is almost crucial to get the best work out of your employees. Even asking a group question that'll get them thinking will help warm them up.
Owl Labs believes in the Time Machine method. "Ask team members where they'd go if they had a time machine," they write. "Use follow up questions about why they chose that time, if they would try to visit anyone in particular, or if they would stay in that period. Based on their answers, you'll get a better understanding of what they find interesting, and gain a unique perspective of your team."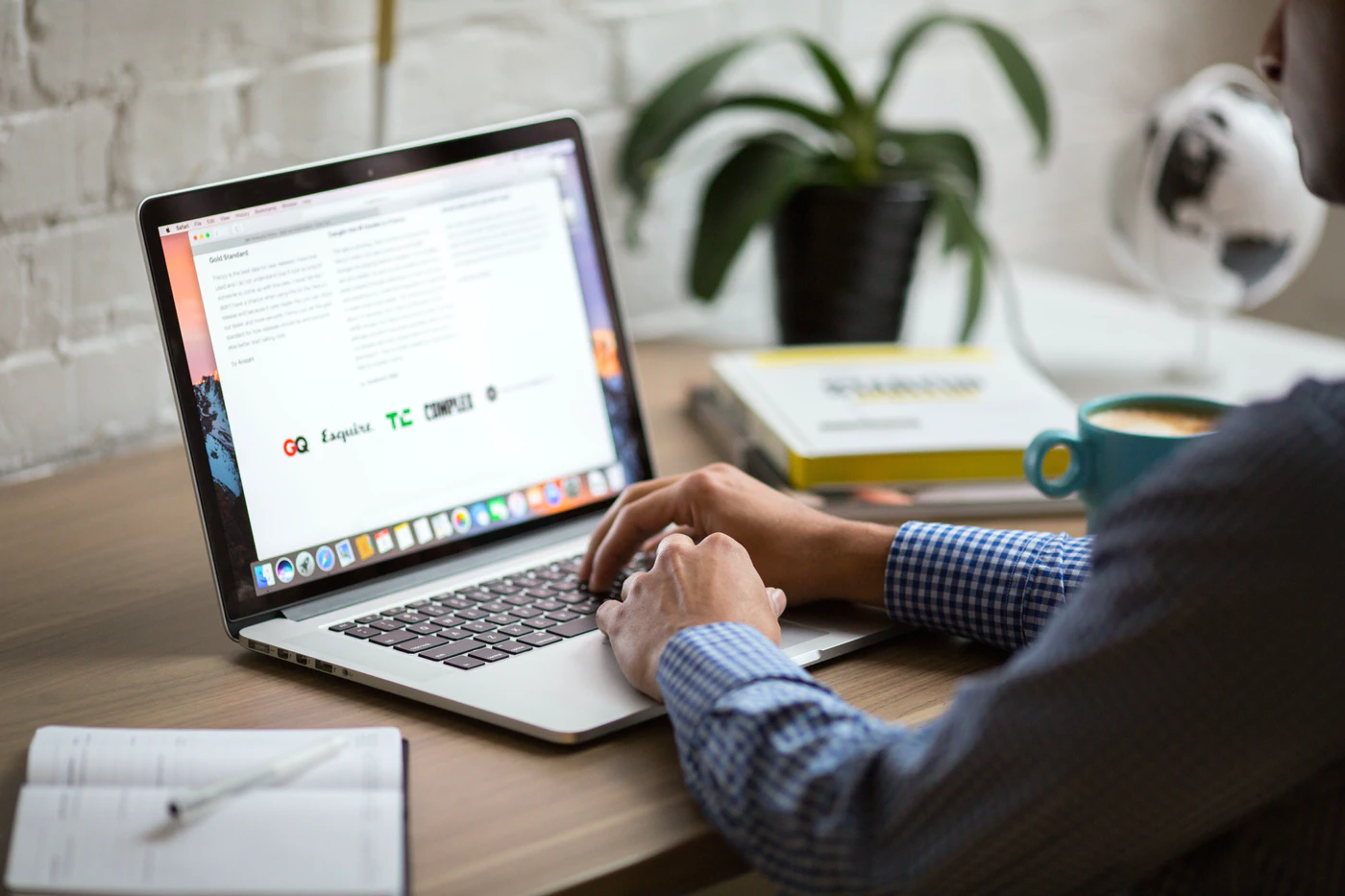 A man reads articles on his laptop while preparing for a brainstorming session.
Different ways to brainstorm
Organize your employees into small groups.
Ask certain employees to work together and mix up groups often, if you can. It's a good practice that will help your employees know each other a little better. Plus, it's the perfect way to brainstorm. Depending on the size of your organization, it may also save some meeting time if each group presents their thoughts instead of each individual employee.
Give everyone a set time to talk during the meeting.
This will prevent people from talking over each other. It'll also give everyone time to prepare (almost like you're giving them the chance to make a mini-presentation and showcase their ideas). It's important for everyone to listen during these times and not interrupt until they've finished explaining their idea.
Record ideas on a Vibe Board.
The Vibe interactive whiteboard is an easy-to-use tool that the whole team can benefit from. Need to jot down some notes or explain an idea with a quick chart or graph? Use Vibe's infinite canvas to illustrate and share ideas. Plus, since Vibe Boards are saved automatically to the cloud, employees can come back and work on a board later if they need more time to fully express their thoughts.
Write out every idea (even the awkward ones).
Sometimes, seeing what's already been said will help employees think of even stronger ideas. It's also a good way to let employees know that they're valuable. Even if an idea doesn't seem right at the moment, write it down anyway. Down the road, it may be a great fit.
Related: Digital Whiteboarding 101: An Intro for Marketers, Designers, and Innovators
How to finish the session
Acknowledge your team with praise.
When someone has a great thought, tell them. Encouragement is a wonderful tool and will help motivate employees to keep thinking outside of the box. By acknowledging good ideas, you're also communicating about what your overall vision is for this project or idea.
Open up your emails for further discussion.
Some people just articulate better by text. If you "continue" the meeting through email with the cameras off, some of your employees may feel better about participating. Take 20 minutes after the meeting to respond to additional ideas. That way, employees know they're being listened to and focused on.
If you work with a remote team, it might be difficult to find ways to brainstorm at first. But it's certainly not impossible—and when you get the hang of it, you may even prefer it to in-person meetings. Remember, communication is one of the most important parts of brainstorming. Every person you hire will have a ton of good ideas, but they need to be confident enough in the team—and with you as a leader—to openly share them.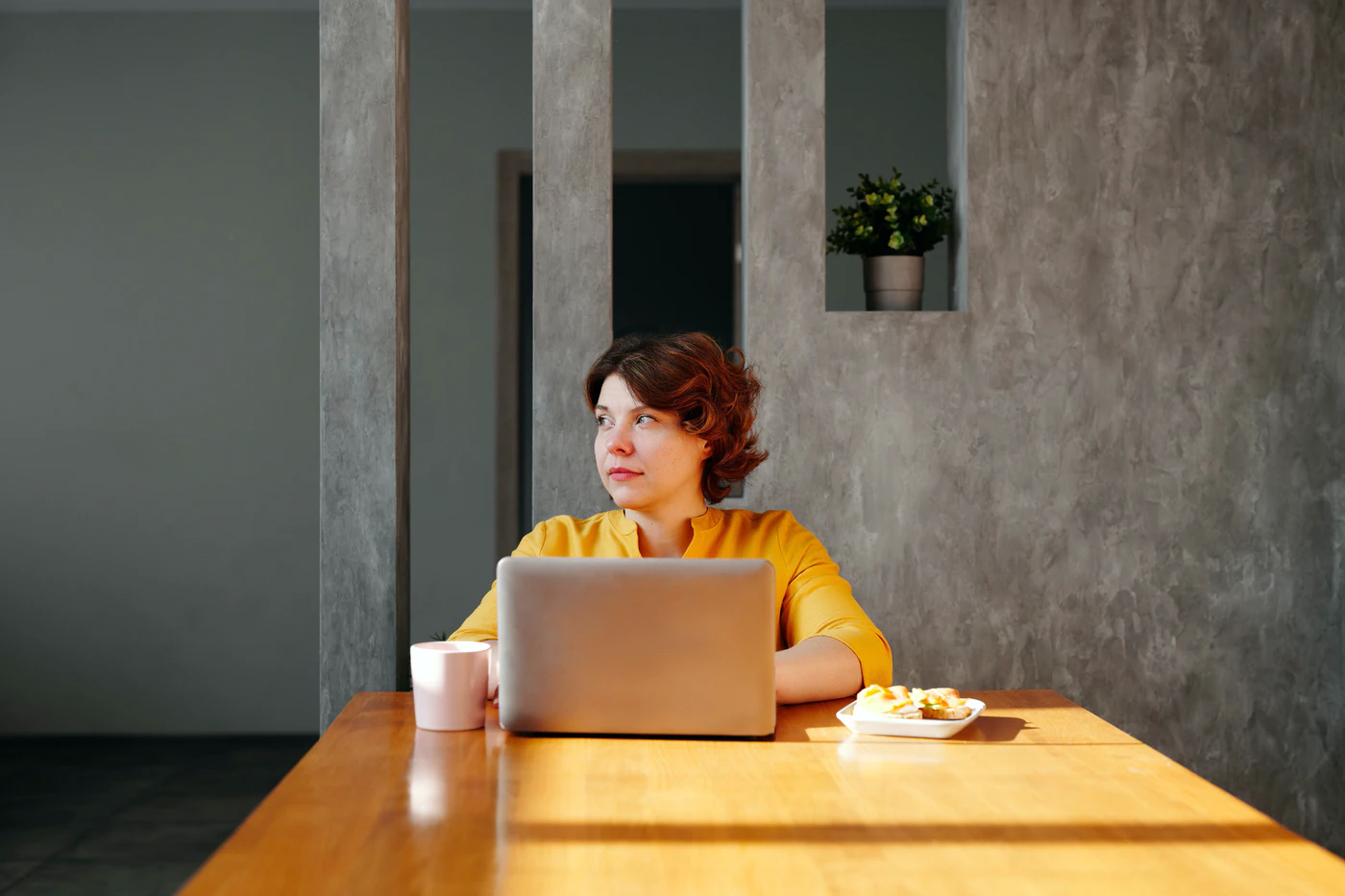 Be open to additional ideas following the brainstorming session.
Benefits of brainstorming with a whiteboard
Now that you know how to lead a productive brainstorming session, you need the right equipment to make it happen. Whether you use a digital whiteboard or a standard whiteboard, having any shared creative space is helpful for brainstorming sessions. Here are just a few reasons why a whiteboard is a must-have.
They provide a good way to organize your thoughts
When it comes to brainstorming, sometimes one idea might turn into something much stronger. By jotting things down for your team, you'll be able to reiterate important notes. And with a digital whiteboard, these notes can be easily saved and made accessible at any time. With a standard whiteboard, employees can take their time to record important bullet points in a notebook or a computer doc to reflect on later.
They're great for employees who learn in different ways
By using different color markers and occasionally drawing out ideas, you'll make it easier for all members of your brainstorm to follow along. If anyone on your team is a little rusty with your language (either the language you speak or the jargon of the office and your industry), using a whiteboard will help them digest information better. When everyone on your team understands your main goal, you're destined to have a successful brainstorm.
They're easy to assemble
Once it's in your office space , you're good to go. While PowerPoints on a projector screen can get information across, directly annotating on the slides with whiteboard software is a lot easier and will save a ton of time. Plus, with virtual whiteboards, everyone on your team can also access your notes later.
Digital whiteboards allow you to connect to other programs
If you're meeting with potential clients, a digital whiteboard will truly impress them. And as for the team in your office, digital whiteboards are a great way to connect while brainstorming together. Out-of-town employees can easily connect to your whiteboard using Zoom and participate virtually. They will also have access to the canvases and notes that the team put together in their absence—no fax machine or email attachments necessary.
Increase employee engagement and productivity
Interactive whiteboards can also foster participation and engagement. By having an engaging visual set up in front of your team, employees will feel more motivated to participate during brainstorming sessions. 
With a whiteboard set up in front of the group, people are more likely to feel they have a say. And, if you remind your team members that there's no such thing as a bad idea when brainstorming, they'll feel more motivated to participate. If any employee doesn't feel motivated to work, they're more likely to spend time sitting at their desk surfing the web (or worse, looking for another job). But when they feel the motivation to improve the company, they'll be more likely to get things done. 
In other words, higher motivation levels lead to higher productivity levels.
Related: Save Time and Streamline Workflows with Hybrid Communication Strategies
Go high tech in meetings without stressing the IT department
Bringing technology into a brainstorming session can be tough if you're not technologically savvy. Oftentimes, when companies try to incorporate more tech into meetings, they have to involve the IT department. 
Doing so will pull IT staff away from other important tasks. If you need a way to bring technology into brainstorming sessions without burdening IT, digital whiteboards are the answer. 
The best digital whiteboards are intuitive to use and easy to set up. The learning curve is very small, as you pretty much just need to plug the whiteboard into the wall and start playing. In this scenario, your IT department doesn't have to get involved every time you want to run a brainstorming session.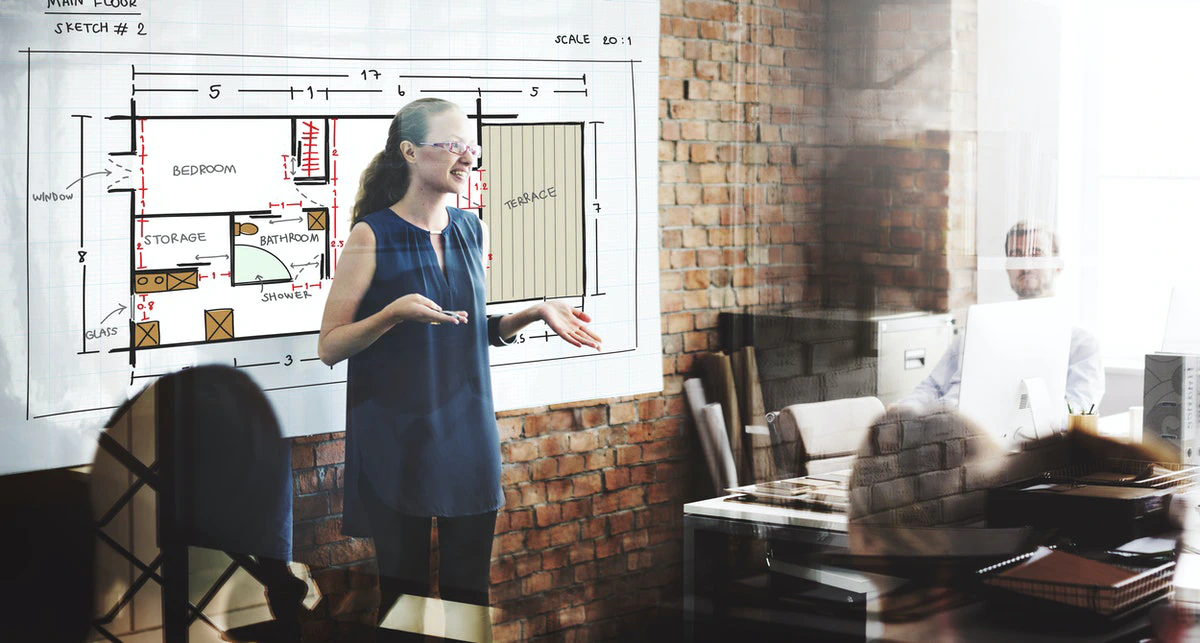 Construction and design teams can use a digital whiteboard to brainstorm floor plans, building layouts, and more.
Industries where whiteboards work best
So, what industries should be using digital whiteboards for their brainstorming sessions? While many industries can benefit from digital whiteboards, here are the industries that can benefit the most:
Education
Gone are the days where teachers write everything on black chalkboards or plain whiteboards. With technology becoming more integrated into classrooms each day, it's no wonder that digital whiteboards are beneficial for the education industry.
With interactive digital whiteboards, teachers can make learning come to life for their students. Digital whiteboards are also beneficial for other educational environments beyond the traditional classroom. For example, educators can use them in workforce training, onboarding, and distance learning situations.
Tourism and hospitality
The tourism and hospitality industry can also benefit from digital whiteboards. The large canvas and drawing space that a digital whiteboard offers can be extremely useful when reconfiguring restaurant layouts, deciding on a floor layout for a big event, or brainstorming ways to book more trips through your travel agency. 
Healthcare
Healthcare and technology are becoming more integrated by the day. A digital whiteboard can help healthcare facilities with a wide variety of daily tasks, from mapping patient charts to creating diagnostics to sharing information between providers. 
Hospitals can be very busy places, so you can also use digital whiteboards to help you create schedules and organize the flow of healthcare workers.
Related: How I Vibe: Austin Alexander, PT and DPT, Hardin-Simmons University
Corporate business
It's not hard to imagine the ways in which digital whiteboards can help corporations . Many corporations run weekly presentations, and digital whiteboards can help your organization present information to clients in an engaging and easy manner. 
People can also use digital whiteboards for digital meetings and cross-collaboration among teams. You can also use them to collaborate with outsourced service providers. 
Finance
Finally, digital whiteboards are a huge benefit to the financial industry. Companies can use them to promote products to consumers, such as credit cards or portfolio options. You can also use them when presenting to investors.
Using a Vibe Interactive Whiteboard for Effective Brainstorming
Whiteboards have come a long way in recent years. Interactive whiteboards like the Vibe Board help workers all across the globe collaborate together on projects. These days, with everyone working remotely, they can help bring office members together. For those of us who work best with visuals, it's a great way to stay on task during such a strange time period and into the future.
Eventually, you'll find a good method that works for you. Don't be afraid to try out all options to get the best brainstorming session out of your employees. You never know what might work until you try it. Just make sure to enter the meeting with confidence, and try hard to make sure every employee is heard.
[Editor's note: This post was originally published April 5, 2020 and updated on July 26, 2021.]
---
Vibe offers a collaborative solution combining an interactive digital whiteboard and innovative smart software. Increase engagement and efficiency at your brainstorming sessions, virtual training, and classroom sessions by integrating your favorite applications with video conferencing and an infinite, mess-free writing canvas! Collaborate today with Vibe.
Looking for the latest in interactive whiteboard technology? Check out Vibe today!
See how Vibe could help →
Subscribe to get updates on all things at Vibe
Thank you for subscribing Vibe's blog!