The Power of Two: How Dual Monitors Can Transform Your Workflow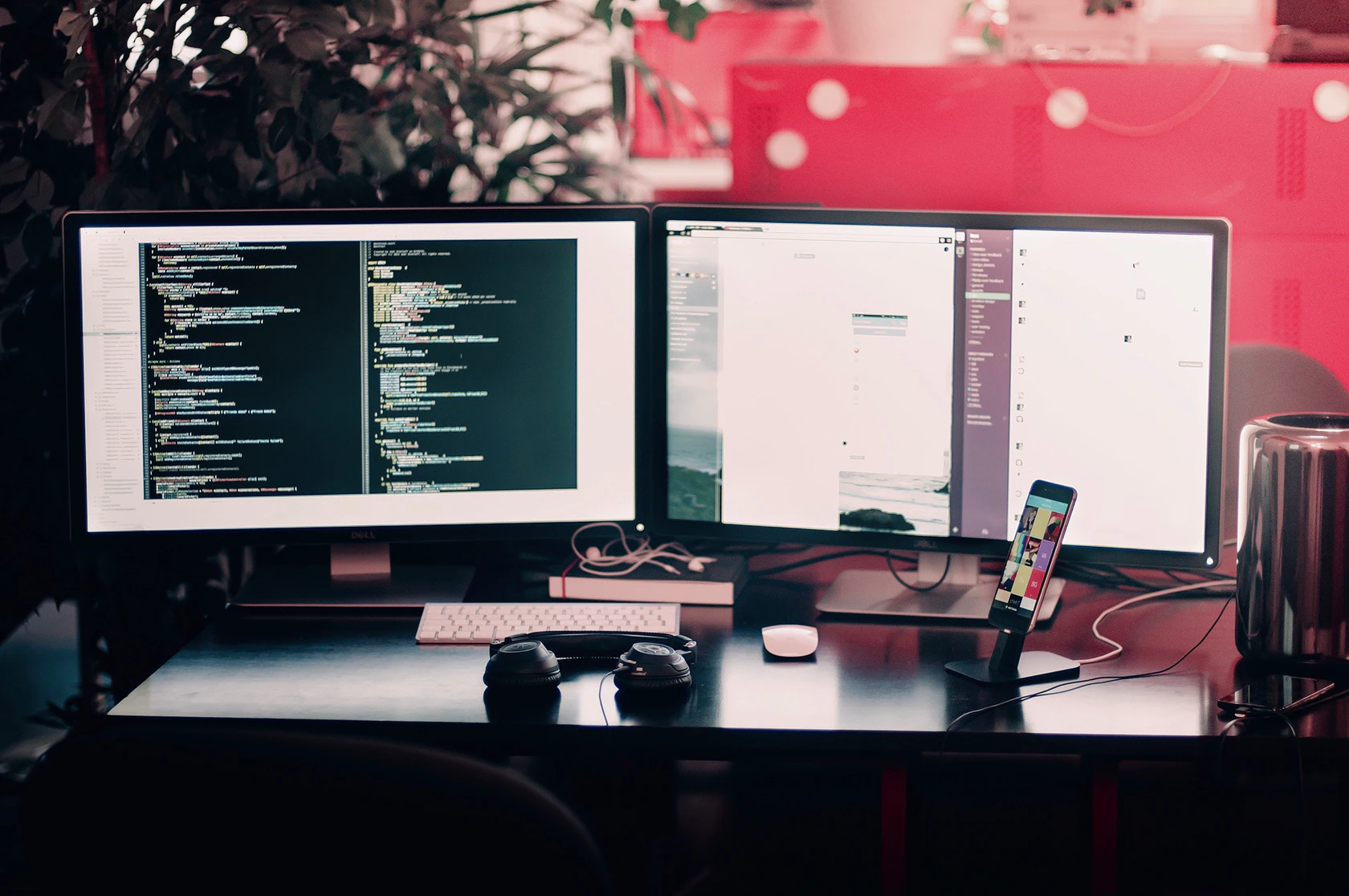 Every business wants its employees to be as efficient and productive as possible. The question is, how do you create a workspace that encourages this? There are plenty of different ways to boost workplace performance–but if you're looking for a smart and cost-effective solution, a dual monitor setup is hard to beat.
With numerous benefits and easy installation, dual monitors can revolutionize your workspace. In this article, we'll cover the benefits of dual monitors, practical tips for incorporating them into your workflow, and what to consider before making the switch.
What is a Dual Monitor Setup?

Dual monitor setups allow you to use two screens that operate from a single computer. Think of it as a visual extension of your workspace . Whether you're a designer, programmer, writer, or simply someone looking to boost productivity, a dual monitor setup offers plenty of advantages. Best of all, almost all computers are capable of handling two monitors, making it an accessible and versatile option for anyone seeking to optimize their workspace.
Related: Top 25 Tools for Remote Employees
How to Install a Dual Monitor Setup
Setting up dual monitors is a breeze—all it requires is a computer and the two monitors you wish to use. Monitors and computers have multiple ways to connect to each other, and there are a few different types of cables you may need. Your monitors will connect with one (or more) of these:
Set up dual monitors in a few easy steps
Connect the second monitor to a power source and your computer. Typically, this means connecting a standard HDMI cable from your PC's output to the monitor's input.
In your computer's display settings, choose "Extend these displays" in the multiple displays window.
Choose the monitor order and select your primary display. Usually, the first monitor connected will be automatically set as the primary display.
That's it—you're ready to use your dual monitor setup!
How Dual Monitors Affect Productivity
Utilizing dual monitors is a great way to improve performance as it offers additional screen space and allows for the display of dual pages simultaneously. This setup can significantly increase productivity for learning applications, office work, graphic manipulation, and many other types of tasks. Think of it this way: if you double the screens, you can double the productivity!
Reduce downtime
Dual monitor setups are inherently redundant; if something happens to one monitor, employees can continue to work using the functioning monitor without much productivity or data loss. There aren't many work setups that offer that type of flexibility. Plus, dual monitors are extremely easy to maintain.
Increase workflow on computer
When using two monitors from a single computer, each employee can easily run multiple applications at once without having to change windows—this basically doubles the amount of available workspace. Dual monitors also make it simple to drag and drop data from one application to another.
Optimize work performance
In addition to boosting productivity, there are several other benefits to utilizing dual monitors:
Helps display more content
Swap between applications quickly
Easily navigate multiple windows
View documents side-by-side
Maintain focus by reducing distractions
While you might assume that having two screens in front of you would be more distracting than using just one, the opposite is often true. A dual monitor setup allows you to view everything you need at once, without having to switch between tabs or interrupt your workflow. This can help you stay focused and avoid distractions.
Benefits of Dual Monitors

Using a dual monitor setup has numerous benefits, beyond just increased productivity. This type of setup can greatly enhance your overall computer experience in various ways.
Dual monitors are simple to use
Dual monitors are extremely easy to use, especially considering the many advantages that they can provide.
Most computers and laptops inherently support dual monitors and don't require any additional software to set up. Using two monitors is no different than using a single—anyone who can already use a computer can instantly adapt to using an extra screen.
Moving a window or application from one monitor to another is as simple as dragging it from one screen to the next. Most applications will typically remember which monitor you use it on so, after the initial setup, the computer will know what programs you want to open on each monitor.
Dual monitors work well with laptops
One massive advantage of dual monitors is that they are compatible with laptops and mobile devices. Typically, the primary drawback of working on a laptop is the small screen size, but connecting a second monitor provides ample space to get your work done. You can even work from your mobile device by using a docking station to cast your phone screen onto a second monitor.
Dual monitors organize your desktop
Using dual monitors essentially doubles your desktop space, which helps reduce clutter on your screen. If your desktop is crowded with pinned apps and documents, you can move some of them to the second screen and free up valuable space on your primary display. This extra room makes it much easier to stay organized and efficient.
Related: How to Build a Collaborative Workspace (And Why You Should)
What Can I Do with Dual Monitors?

Having a dual monitor setup opens up a whole new world of possibilities. Anything you can do with one monitor, you can still do with a dual setup. However, the real benefit comes from the unique and useful features that a second monitor allows for.
Here are some things you can do with a dual monitor setup.
Zoom calls
Video conferencing apps, such as Zoom, often include screen sharing capabilities during video calls. This allows employees to participate in a video conference while simultaneously collaborating on their projects. With a dual monitor setup, you can have one screen dedicated to the video call and the second screen dedicated to reference materials and notes.
Comparing critical data
One of the biggest advantages of dual monitors is the ability to have important information displayed on one screen while you work on the other. This setup allows for easy comparison of different files and projects. Additionally, you can watch instructional videos and tutorials on one screen while performing the steps on your second screen, which can significantly improve your learning efficiency.
Increase collaboration
Dual monitors make collaboration between employees easier than ever. You can communicate with team members on one screen while working on a project on the other one. Having a second monitor gives you a lot of additional space to collaborate with the rest of the organization.
Increase communication
Communication becomes easier with dual monitors because you can keep in touch with other employees, customers, and management without interrupting your work. You can use communication tools like Zoom, Skype, or Slack for team discussions on one screen and have your project open on the second screen for easy reference.
They're excellent for gaming
What about when you're not working? With a dual monitor setup, you can easily have videos, music, or chats open on the second screen while gaming, allowing for a more immersive gaming experience. This type of setup is especially essential for live streaming, as dual monitors allow you to interact with viewers through chat without interrupting your gameplay.
Things to Consider Before Investing

While having a dual monitor setup is great, there are some things that you should consider when looking to add a second or third monitor to your current system.
Does having two monitors slow down your computer?
While having two monitors can cause a slight lag in high-quality video or gaming, most people won't notice a difference. This lag is because a single computer has to split the processing of pixels. 
You can minimize this by ensuring that both monitors are set to the same color format and resolutions. Installing dual monitor software onto your driver can also help alleviate significant lag. Additionally, make sure your graphic drivers are up to date—often they miss an automatic update.
Are dual monitors good for studying?
Many agree that adding an extra screen can be helpful for schoolwork. At work, dual monitors can help increase productivity by 42% . Instead of switching between open tabs, having study materials on one screen and your current project on the other can significantly speed up tasks.
Related: The Best Time to Buy a Laptop and Other Office Essentials
Should You Invest in Dual Monitors?
Sold on the idea of having two monitors? Well, why settle for a tiny second screen when you can go all out and supersize your setup?

Vibe's 4K 55″ touchscreen display can easily serve as your second screen. You can connect wirelessly via screencasting or use the HDMI-In for a wired connection. It's the perfect way to take your workspace to the next level!
As you now know, a dual monitor setup is one of best ways to boost productivity, collaboration, and communication in the workplace. There are rarely any situations when one monitor is better than two.
If you're looking for other ways to boost collaboration in your business, you're in luck! Vibe offers a range of solutions designed to increase workplace engagement and efficiency. Be sure to explore the rest of the Vibe blog for more valuable insights and information, or watch a demo here .
[Editor's note: This post was originally published on November 19, 2020 and updated on March 27, 2023.]
---
Vibe 's collaborative solution combines the power of an interactive digital whiteboard with innovative smart software, making it easier than ever to brainstorm, train, and teach online. Work seamlessly with all your favorite apps, video conference on the big screen, and collaborate with your team on an infinite, mess-free canvas—all from the same hub. Say goodbye to the limitations of traditional whiteboards and hello to an entirely new level of engagement and efficiency. Ready to take the leap? Collaborate with Vibe today!
Looking for the latest in interactive whiteboard technology? Check out Vibe today!
See how Vibe could help →
Subscribe to get updates on all things at Vibe
Thank you for subscribing Vibe's blog!