How to Get More Clients Through Improved Virtual Engagement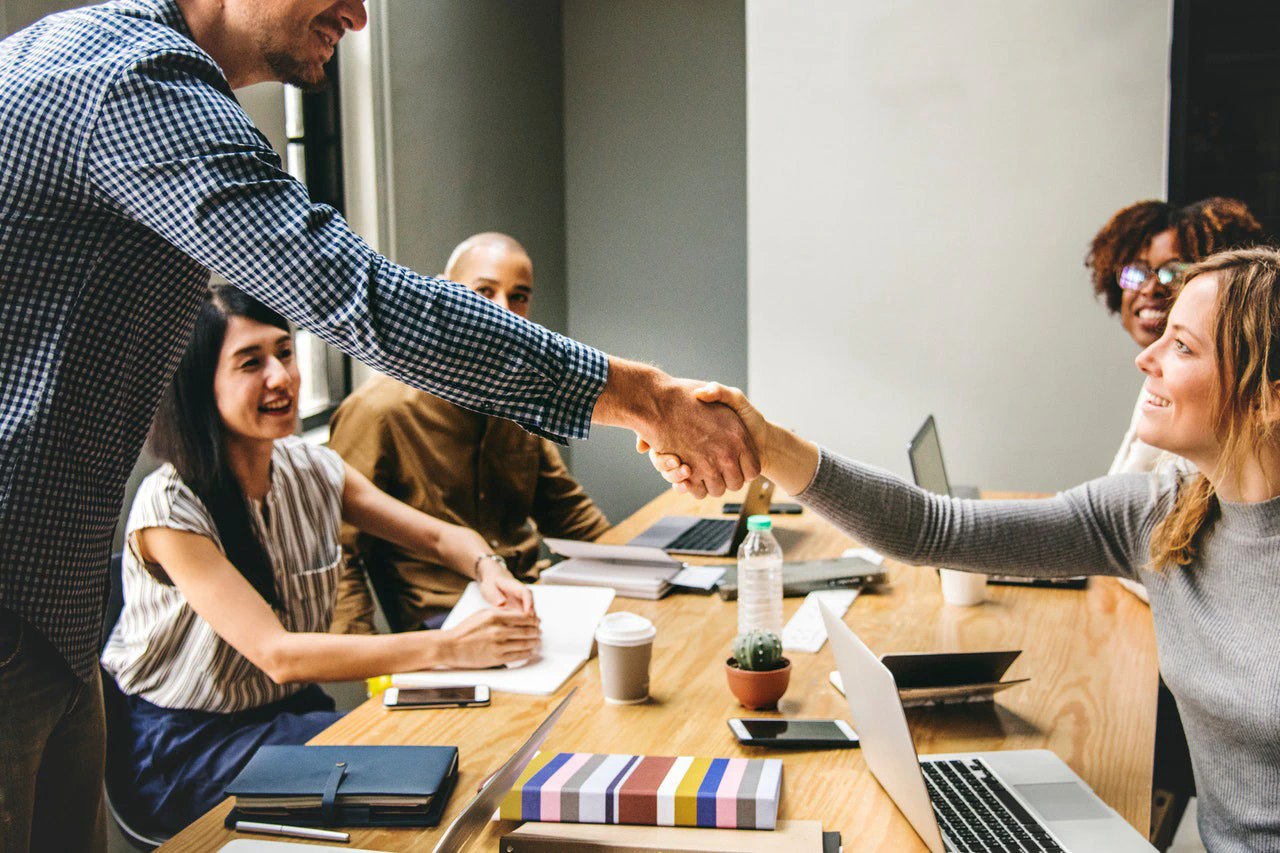 If you're struggling to figure out how to get more clients in this new age of increased virtual meetings, you're not alone.
While virtual selling has been around for a while, that doesn't mean it's easy. According to a recent survey conducted by Bain & Company, 92% of B2B buyers said they prefer virtual sales interactions . However, frontline sales staff reported only a 45% win rate improvement from virtual selling.
The good news is that the pandemic has revealed some promising insight surrounding virtual selling, especially for businesses with long sales cycles or complex products. For example, 75% of buyers and 54% of sellers either agreed or were neutral that virtual is as effective for complex products as in-person selling. 
As you look closely at your existing tactics through a virtual lens, consider taking a holistic look at your sales strategy. First, begin by examining how you're currently getting prospective clients in the door. Then, explore new ways to prepare your pitch. Finally, consider a few new ways to reimagine your delivery. Now let's take a closer look at these three steps. 
Get more clients in the door
To strengthen your ability to engage potential clients virtually, first look at the existing strategies you have in place to attract customers. 
According to a recent article from Harvard Business Review, access to prospective buyers is the first chokepoint for sellers in this all-virtual era. During a time where in-person meetings are mostly nonexistent, buyers are more likely to rely on existing suppliers who already have a solid understanding of their business needs. 
With this in mind, one of the key ways to overcome this challenge is to turn your attention inward. Start by reviewing these six areas of opportunity.

Delicate friendly cooperation at the meeting
1. Technical web optimizations
According to the Harvard Business Review, one of the main ways to focus on "being found" instead of "finding" new customers involves leveraging internal subject matter experts to create content related to what your clients are searching for on the internet. 
For example, buyers will often search for and engage with content related to their business needs well before reaching out to inquire about services. Data from Bain & Company notes that 35% of buyers already have a vendor reference in mind before talking to a rep. In short, consider creating content that matches the keywords or phrases your clients are searching for. Also, consider other back-end web optimizations to ensure your content has the best chance to appear higher in online search results.
2. Make it easy to engage
Given that you're now taking a closer look at attracting more prospective clients to your website, it's time to think about how you'll make the most of their visit. 
Every time a potential client lands on your website, you should give them an easy opportunity to get in contact. Whether setting up a meeting, scheduling a free consultation, or product demo, the options for "lead magnets" can be very successful when done effectively. 
A lead magnet is anything of value that you can exchange for a potential client's contact information. When you're thinking about where to put lead magnets on your website, be sure to pay attention to the type of client you're trying to attract. 
Once you have an idea of what might be of interest to a prospect, strategically place lead magnets throughout your site that drive to dedicated landing pages designed to collect user information and offer value to your intended prospect.
3. Build community through social media
Meeting your clients where they are is another great way to engage with prospects. Depending on your services, think about the online communities your clients might frequent. Are they on Instagram? Are they Reddit users? It's easier to build relationships and establish trust when you meet your clients on the platforms they utilize. 
If you are taking advantage of opportunities to get on these channels, be sure that you focus on meaningful conversations instead of pushing out a series of sales-forward posts when you engage with your followers.


Create a FB group ot other social media to build relationships
4. Get more precise with sales targeting
The Harvard Business Review also cautions business owners to stay away from "no oxygen" zones. These spaces are ones where it's abundantly clear that the intended prospect does not have a need for your product or service. 
Virtual selling is challenging, and one of the toughest parts is effectively communicating your expertise in a virtual meeting. That said, your time is better spent devoting extra effort to preparing for potential pitches where the potential clients are likely to benefit from your product or services. 
5. Look closer at existing customers
While this is not technically an area related to getting new clients, it's worth going back to the point above regarding current client tendencies. You may want to perform an audit of your current client mix to identify any areas where they can benefit from additional services or upgrades.
If you are considering this approach, it's critical that you are authentic with your intentions. Clients will quickly see through cookie-cutter upsells that aren't exactly aligned with their business goals. It's not worth tarnishing a solid relationship. 
6. Explore possible referrals
If you still want to attract and engage more new clients, take some time to think about any existing opportunities you might have to earn a referral. A recent Forbes article called leading with referrals a " gold standard of sales fundamentals ."
According to the article, reaching out to your mutual friends and colleagues is only the first step in securing a referral. It's all about the timing. For example, once you receive a possible client contact, have your referral source reach out to the prospect to make the introduction. If that's not possible, always lead with the name of your referral source when you reach out to engage the potential client. 
Rethinking your pitch for a virtual audience
The pandemic has forced businesses across industries to rapidly retool their pitching strategy. With virtual meetings here to stay, if you haven't already started looking at how you're adapting to the new environment, now is the time to take a deep dive. 
"The work now truly has to speak for itself, It's forced us to be more direct in our presentations and disciplined about their delivery."

–Alison Moser, head of business development and PR at Forsman & Bodenfors NY in an interview with Digiday .
Cutting down your pitch can allow for two big benefits:
You have a better chance at keeping your virtual audience engaged. People are in virtual meetings all day long and "Zoom fatigue" is real.
You'll have more time for engagement. Keeping your pitch on the shorter side can leave more room for Q&A and collaboration , which actually engages your potential clients. It also frees up more time to be more conversational in tone, giving your client a more relaxed space where they can bring up areas of uncertainty.
Once you have your pitch solidified, here are three other tips for preparation. 
1. Become well versed in video conferencing technology
Does your client use Zoom, Google Meet, Microsoft Teams, or something else? The Business Journals polled 15 members of the Business Journals Leadership Trust for their insight on virtual pitching.  Technology was among their top recommendations . 
Instead of requesting that potential clients use your preferred video conferencing platform, ask them which one they prefer to use and adapt on your end.
2. Take time to consider your surroundings
While it may not be in your budget to invest in production-level equipment and staging, the optics surrounding your pitch are something to consider investing in. 
For example, does your team all cram into a small conference room for pitches with one small camera? Do you make pitches from home with your living room as the backdrop? A professional camera, a standardized backdrop, and some basic lighting can all go a long way in enhancing the quality of your virtual presentation to make it more professional looking to potential clients and less distracting. 
3. Do not skip the rehearsal
If you're planning to present using a different video conferencing platform, of course, it makes sense to host a run-through of your pitch to be sure you're aware of any nuances. If you're not switching platforms, it's still critical to rehearse your pitch ahead of time, especially if you're pitching with a team. 
According to an article in Adweek, the goal of your rehearsal should be focused on fine-tuning pace. There is nothing more awkward than a botched handoff during a video meeting. A pre-pitch rehearsal can prevent those long pauses and moments where multiple people are talking at the same time, simply by outlining a few transitional cues.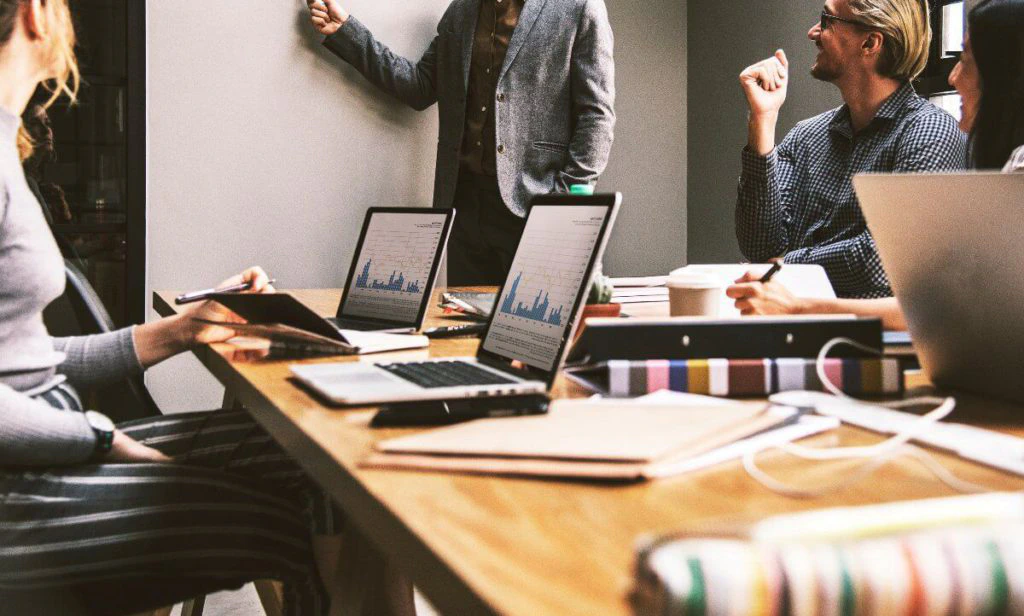 A man is giving a presentation to clients
Connecting with potential clients virtually
According to a study in a recent article from the Sales Readiness Group, handshakes have been shown to improve the quality of interactions by producing a higher degree of intimacy and trust within a matter of seconds. 
To ensure you're not delivering your pitch to a dead silent response, consider focusing on how you're connecting with your potential clients during the pitch. 
In an interview with Digiday , Rob Schwartz, CEO at TBWA/Chiat/Day New York said, "Part of what clients are buying is the energy and enthusiasm of an agency. It takes a different kind of stagecraft to do it virtually."
If you have pitches lined up all day, consider adjusting how you're scheduling them to allow some time for you or your team to take a few minutes to step away from the computer and recharge before the next pitch. 
As noted above, readjusting your pitch allows for more time to engage with your potential clients, and there are plenty of ways to get them involved. 
A Vibe interactive whiteboard is a great way to bring an interactive element to your pitch. Smartboards allow you to connect with your potential clients as if they were right in the conference room with you. 
From brainstorming sketches, to screen sharing or polling, there are many different ways to engage your audience once you identify which methods are most appropriate for the client you're pitching. You can even sketch, conceptualize, and collaborate right on the canvas, breaking up the monotony of endless slides. 
The final area of focus is empathy , which means taking time to put yourself in your client's shoes ahead of the pitch to understand their pain points or where they might be coming from with negative feedback. 
Smartboards can also be effective in helping to set an empathetic tone at the start of a pitch. For example, you might want to share a photo or a graphic related to a short story about who you are and your expertise, to position yourself as the answer to the challenges your potential clients might be facing.
Conclusion
Whether you've been selling virtually for a while or you're just getting started, these three steps will give you a place to start as well as some helpful insights into areas for improvement. Even if you're still adjusting to virtual selling, know that your clients are also adjusting to this new virtual environment too.
---
Want an innovative way to get more clients for your company? Reach out to  Vibe  and learn how to use our products for your business!
See how Vibe could help →
Subscribe to get updates on all things at Vibe
Thank you for subscribing Vibe's blog!