Student Engagement in Higher Education – Best Practices to Explore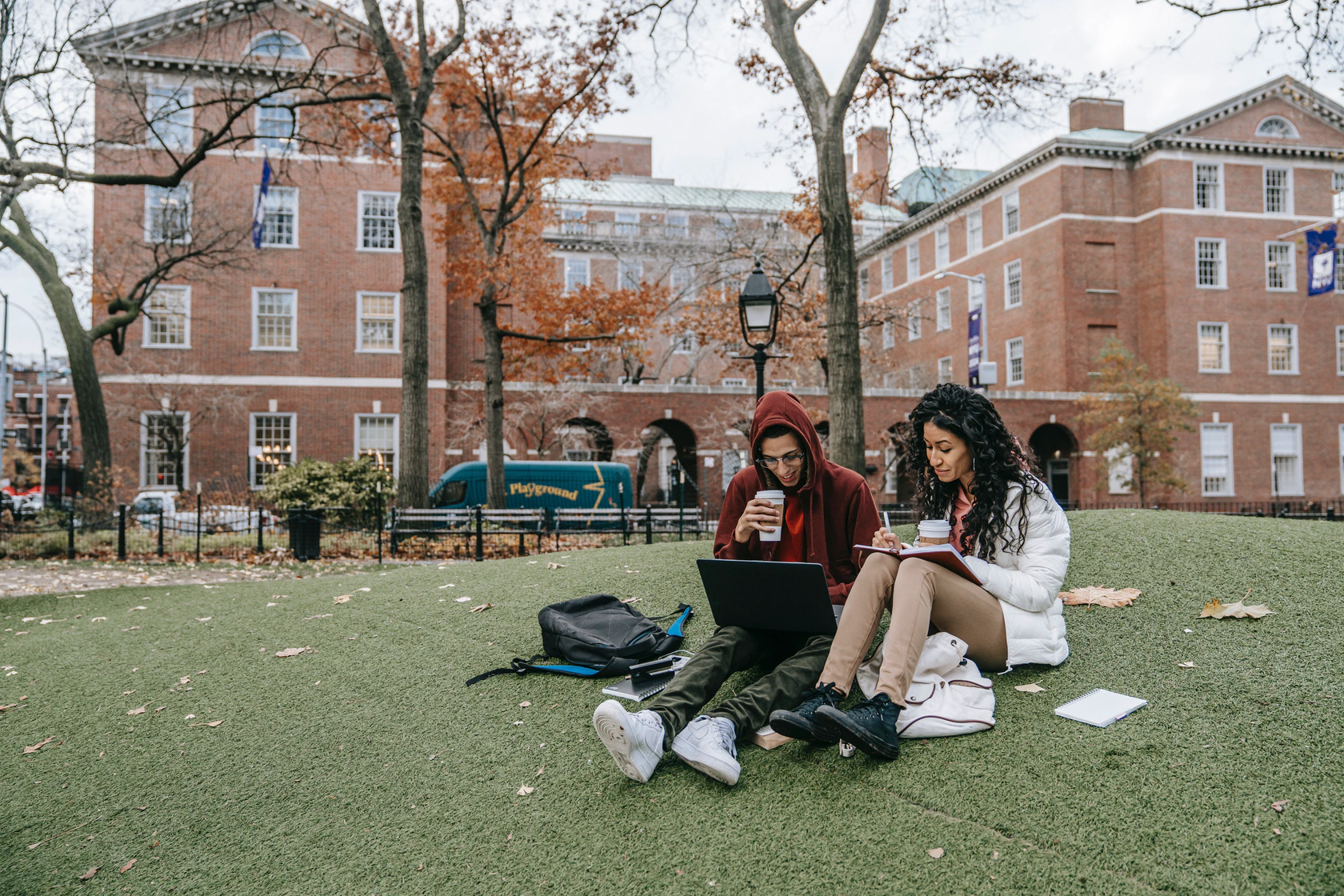 In 2020, higher education institutions across the country adopted distance learning practices overnight. In fact, from Fall 2019 to Fall 2020 there was a 93% increase in the number of students who were enrolled in some form of higher education distance learning. This increase in distance learning has had a massive impact on student engagement in higher education, with educators and administrators quickly searching to find new ways to motivate and connect with students, even from behind a computer screen.
This dramatic shift to distance learning brought with it a new investment in technology and digital tools to make learning possible – but with many students now back in person and others still choosing to take the distance learning route, how can higher education adapt to give students the best possible experience in all learning settings?
How can the digital tools used during the height of the pandemic be integrated into the classroom long-term, and what are best practices for creating student engagement in higher education – be it in class or online?
What Does Student Engagement in Higher Education Look Like?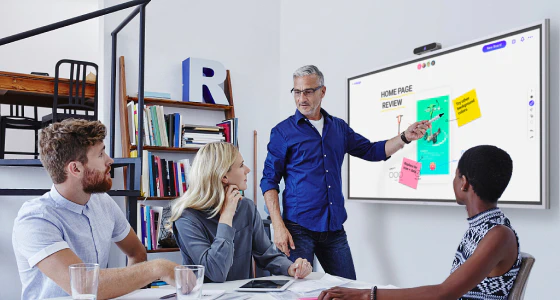 Group work on a Vibe Smart Whiteboard
Student engagement is defined as the degree to which students demonstrate curiosity, interest, optimism, and passion about what they're learning or being taught – which extends to the level of motivation they have to learn and progress in their education.
Student engagement is especially important in higher education, where student retention is currently at an all-time low. In the fall of 2020, just 74% of higher education students returned for their second year of classes. This change has been exacerbated by the pandemic, with high tuition fees and a cultural shift away from traditional 4-year institutions playing a role in many students' decisions.
While some educators may want to leave the qualms of pandemic education and distance learning behind, it's important for educators to think about the tools they used to get through this difficult time and how they can be applied to higher education's new normal.
Best Practices for Student Engagement in Higher Education
Let's take a look at 4 key best practices that educators should incorporate into their approach to student engagement in higher education.
Collaboration Technology Increases Student Engagement
Discussion no longer needs to take place face-to-face. Tools like collaborative documents, discussion boards, slides, and online whiteboards like Vibe have allowed students and educators to share ideas, either synchronously or asynchronously, from all over. Including these tools in instruction not only provides an opportunity for more convenient access, but allows students an opportunity to visualize the entire process of discovery and learning. 
For example, when leading class discussion, students will likely be posting comments in a shared file for all to see and interact with. This accomplishes a few things – students that don't feel compelled to participate in the traditional classroom have a new way to share their ideas. With all class notes saved and shared on the cloud, discussions are no longer  just for those in class on a given day; students can access these discussions later on to find relevant notes or particular trains of thought that are worth returning to later on. Students can also hold discussions at their own pace and at times that are most convenient for them, which is incredibly important for many students who have jobs or other commitments outside of school.
Collaboration technologies like the Vibe Smart Whiteboard help students feel closer to course content, communicate more freely with one another and share ideas, and  communicate more effectively with professors and teaching assistants, who may have previously struggled to interact with every single student in a mid-size or large class.
Educator-Student Informal Communication
As an educator, you've surely gotten your fair share of nervously-written, overly formal emails from students–or had nervous students approach you after a lecture and ask a question about the course. With communication completely shifted online, students can now speak with professors more informally, and more frequently. This can greatly reduce students' nerves and create a much needed space for more open collaboration. Students no longer need to worry about making it to a professor's specific office hours–they can simply submit a message to a professor over Zoom or on a Vibe Canvas , and the professor can choose to answer during their office hours or whatever time is most convenient for them. When students and professors have more control over when conversations happen, important dialogue can be given the time, space, and attention it deserves–and everyone can get what they want and need from the exchange.
This type of informal chat also allows professors to receive more feedback on students' understanding of class concepts. Instead of asking a lecture hall of hundreds of students "Does this make sense?" and receiving a series of head nods, professors can ask in the chat "Does this make sense? Are you with me?" and receive real-time responses from individual students, even those that may not speak up in a traditional lecture hall setting.
It's important that there are ground rules surrounding these more informal methods of communication so that conversation remains respectful and helpful, but these informal communication methods help students remain in more effective communication with one another and with professors.
Create Breakout Group Discussion Opportunities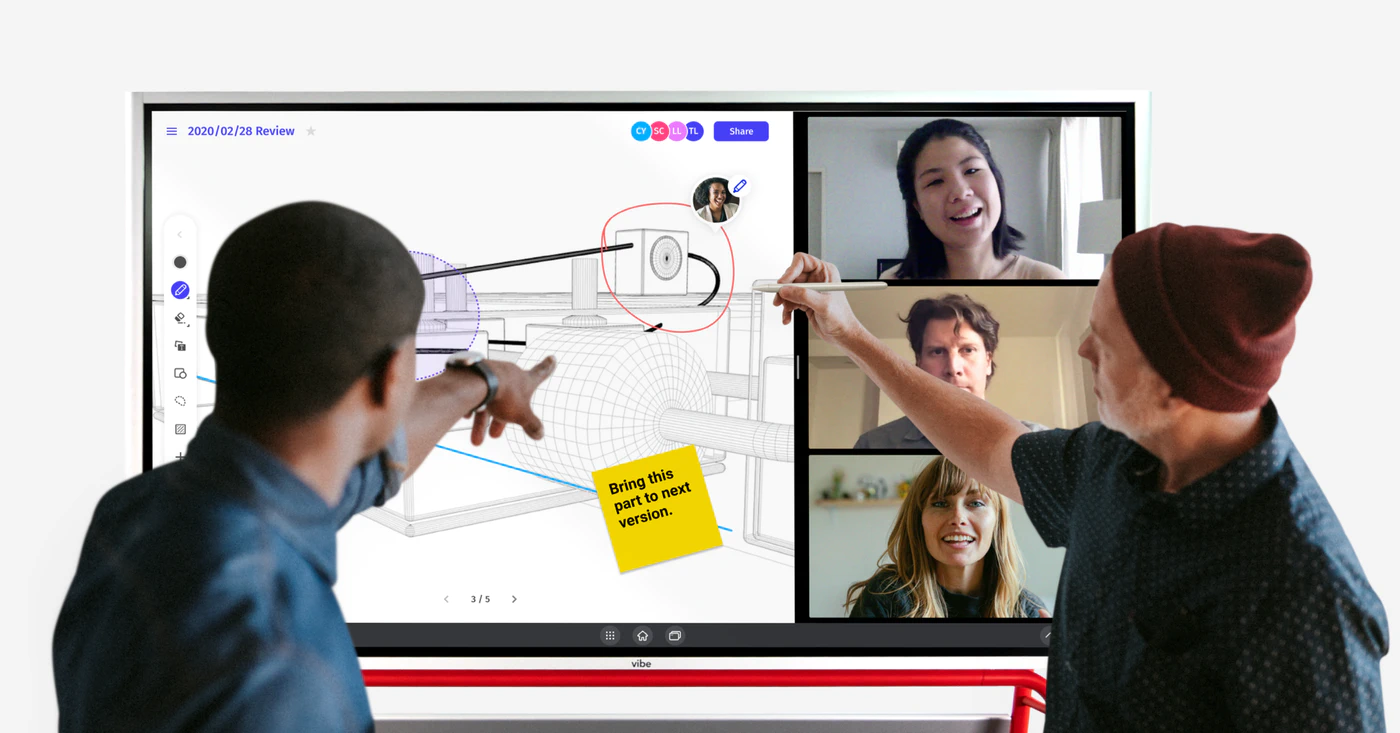 Small group discussion on a Vibe Smart Whiteboard
Discussion groups, once an essential part of in-person education, have been interrupted as schools continue to adjust to online learning. 
With breakout group features on Zoom, your class can once again move from listening to actively participating with a small group. 
Here's how to activate breakout groups on Zoom :
Sign in to the Zoom web portal.
In the navigation menu, click Settings.
Click the Meeting tab.
Under In Meeting (Advanced), click the Breakout room toggle to enable it.
If a verification dialog appears, click Enable to verify the change.
Note: If the option is grayed out, it has been locked at either the group or account level. You need to contact your Zoom admin.
(Optional) Select the check boxes for the following breakout room options, then click Save:

Allow meeting hosts to pre-assign participants to breakout rooms
Allow hosts to broadcast messages to participants. This allows the host to broadcast a message to all participants in breakout rooms.
Allow hosts to create, rename, and delete breakout rooms when rooms are open.
Note: This option must be enabled by Zoom before it is available and requires 5.9.3 or higher.
Allow host to view activity statuses of participants in breakout rooms (e.g. share screen, reactions). This allows hosts and co-hosts to quickly view participants' audio and video status, if they are sharing their screen, and any active reactions or nonverbal feedback. This feature requires hosts and participants to have client version 5.10.3 or higher for activity statuses to appear, and does not apply to participants joining on certain devices such as phone, H.323, and SIP.
As an instructor, you can pop in and out of these digital breakout rooms and observe or stimulate discussion, leading to greater student engagement and understanding of course materials.
Record Lessons for Later Reference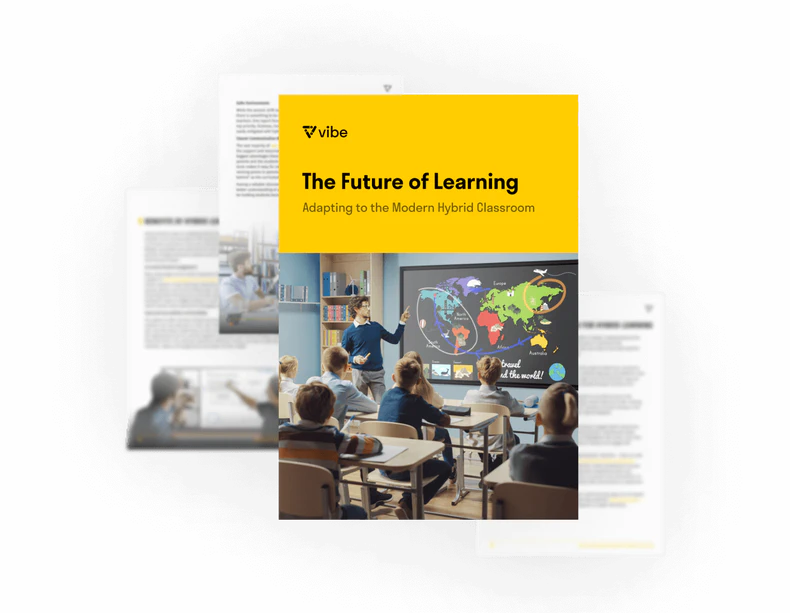 Download Our New E-book
The Future of Learning
If your discussions and notes are going to be available online for students to access later, shouldn't your lectures also be available?
Throughout the adjustment to distance learning, many instructors became aware of the need to record lectures and lessons for students learning from home and unable to attend class because of internet issues or far away time zones. Modern higher education means accessibility, and accessibility means being able to absorb important materials whenever is most convenient for the student.
To make lesson recordings as useful as possible, ensure that students know how to find them. Advertise to students that if they are unable to make class time, class recordings can easily be found online. Try breaking your videos up into smaller and more digestible sections. Students will likely get bored and zone out during an hour-long lecture (like some do in class), but they're more likely to focus when given smaller snippets of information. You can also try embedding questions or prompts in your video stream, which will help to enrich student engagement even further.
The Future of Student Engagement in Higher Education
It's no secret that technology needs to play a large part in the future of higher education. The important piece right now is to decide which aspects of distance learning used in the pandemic will still be useful to us moving forward. 
Consider these four best practices as you adapt towards a more hybrid future of education and seek to improve student engagement that may have fallen in the past couple of years.
Interested in how a Vibe Smart Whiteboard can help? Check out these customer case studies featuring Vibe users in higher education to find out how they use Vibe for student communication and digital lab demonstrations .
Ready to get started? Request a quote today!
See how Vibe could help →
Subscribe to get updates on all things at Vibe
Thank you for subscribing Vibe's blog!