What Makes Vibe a Top Presentation Tool?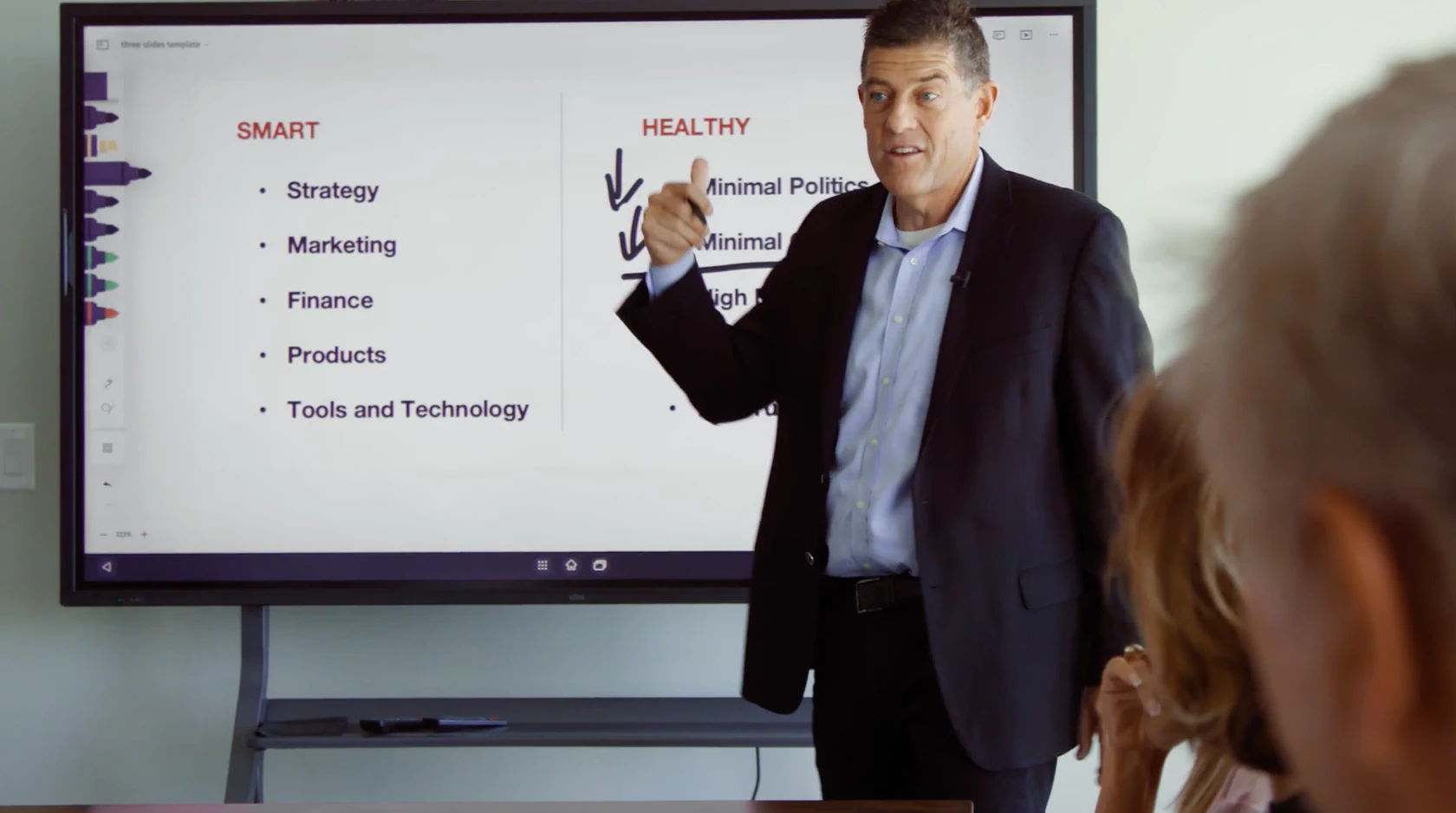 Here's the thing: Your presentation is only as good as the presentation tool you're using.
Think about it: If you're struggling with outdated presentation software or wrestling with old projectors and displays, it's harder to focus on the presentation itself. Instead of showing off your hard work, your attention (and your audience's) is split between getting your presentation tools to work for you and getting your ideas across.
Your presentation tool should always help you convey your big ideas and make it easier to create conversation within your team. The last thing you want is your presentation software to be limiting.
Luckily, a few key presentation tools have made it to the top due to their success rates and ease of use, such as PowerPoint, Google Slides, Prezi, PowerBI, and more. But while these tools help, you'll need a bit more to make your presentations truly stand out.
Here's how you can get more out of your favorite presentation tool by adding Vibe to the mix.
How Vibe Adds to Your Favorite Presentation Tool
Most presentations tend to fall flat because they default to a one-sided, lecture-like dynamic. When presentations don't actively involve the audience, it's easy for attendees to get distracted, bored, and start to tune out. Meetings and presentations are built for the sharing of ideas—which can feel difficult to accomplish when your audience is inattentive and distant.
With a Vibe Board , it's easy to give your presentations that "wow" factor to engross your audience and get your best points across. That's because Vibe is built around collaboration and interactivity—two staples of a good presentation that we've almost lost in the era of remote work.
Vibe invites collaboration back into presentations, letting interactivity lead the way so your presentation can create conversation instead of boredom. Finally, you can draw your audience in instead of droning on—even if those participants are remote.
Let's break down how it works.
Real-Time Collaboration
For many hybrid and remote teams, working in real-time with their team has felt like a far-fetched goal. Finding moments for synchronous communication can feel impossible when your team is spread out across different office environments, time zones, and locations. A presentation is a great time to call everyone together—but what can you do to make this rare moment of collaboration even stronger?
With Vibe's online whiteboard app, Canvas , anyone on your team can interactively sketch, design, and conceptualize on an infinite online whiteboard—one that can be accessed on any mobile device, computer, or tablet. With Canvas, you can supplement your presentations with much-needed live brainstorming sessions. As the presenter or meeting facilitator, you can pull up a shared Canvas on your Vibe Board and have participants add in notes and observations from wherever they're tuning in.
Your Canvas can keep your audience more active and eager—not to mention the benefit of centralizing all your meeting notes in one location. As Kate Womick, Product Manager at Azul Arc, put it:  "Vibe's collaboration factor has been huge. Vibe helps our team integrate research, notes and screenshots for a project into a single Canvas—we no longer have to interrupt the creative process to check notes in other locations."
With real-time collaboration and a shared online space, suddenly your team isn't just meeting to hear one person's voice—you're creating presentations together to make sure everyone is heard. Finally, you can truly engage your audience, since they're just as much a part of the presentation as the presenter is. And with everyone's perspective heard, you can build trust and establish confidence in your team like never before.
Real Example: Google Slides
Looking for ways to spruce up your Google Slides presentation? To get the most out of the real-time edits possible with Vibe, plug in a link to a new Canvas into your Google Slide and have meeting attendees collaborate on the same page while you display it on the big screen. Similarly, consider leaving a blank white slide in your presentation. Using Vibe's annotation feature, you can jot down any notes or comments that your team has. To save these notes, just take a screenshot of your Vibe Board's screen—or you can screen-record the entire session.
With Google Slides, you can also organize slide decks beforehand. Import each slide into a Canvas and use your stylus or finger to rearrange the slides into the most effective order, so your presentation can pack a punch and get the message across as successfully as possible.
Remote Capabilities
Many presentations today are for remote audiences. That's why Vibe is integrated with multiple video conferencing apps, including Zoom, Google Meet, Skype, Loom, and RingCentral, so you can deliver a showstopper presentation to both remote and in-person attendees.
Vibe makes it easy to collaborate with a global team. With Vibe's SmartCam C1 , you can make sure you look and sound your best when presenting with a camera and microphone that feature noise cancellation, auto-enhancement, and other handy AI features. 
Not only can you conference in participants from any remote location, but your entire team can tap into Canvas to collaborate with remote team members—marking up images in real time, adding notes, sharing screens, and letting the ideas flow. Using Vibe's annotation feature, you can call out the most important sections of a graph, slide, or image. Or, use the laser pointer tool to make your presentation an interactive visual experience and direct your audience's attention to your best points. This way, your presentations can bring teams closer together, no matter how far apart you actually are.
Real Example: PowerBI
Using the PowerBI app integration on your Vibe Board, you can pull up any relevant graphs, figures, charts, and tables needed for your presentation.
When it comes to research and analytics, it can be hard to sift through data and disparate resources when your team is remote and quick communication isn't a given. With PowerBI on the big screen, however, your team can break down complex concepts with total ease.
Let your participants mark up the figures and charts to call out any confusions they have or correlations they've discovered in the data—and screen record the entire session on your Vibe to easily share your findings with the rest of the team. With Vibe, it really feels like your team is all in one place again.
Easy Integrations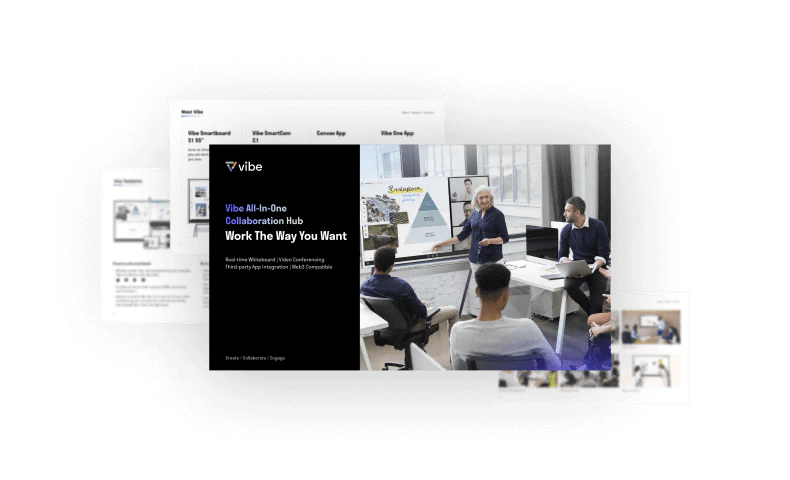 Explore Vibe's All-in-One
Collaboration Hub
One of the best ways to make your presentations more dynamic is by integrating the images, videos, graphs, and tools you're already using. With Vibe's countless app integrations , it's easy to invest in the presentation tools you already know and love to make your sessions immersive and interactive.
Even better, with split screen mode, you can keep your presentation on one half of the screen while accessing another app, like YouTube, Zoom, or Chrome, on the other. This way, you can present while keeping an eye on your participants, so you can better gauge reactions or notice when someone has a question. Or, you can pull in resources to enhance discussion or use stronger examples.
Vibe keeps your presentation streamlined, so all the references and resources you need are within easy grasp and don't cause any disruptions to your presentation flow.
Real Example: PowerPoint
One of our favorite app integrations on the Vibe Board is PowerPoint. After building out your slide deck—either on your Vibe or on your computer—you can open your presentation straight from the PowerPoint app, a digital storage drive (like Google Drive), screencast the presentation from another device, or connect to a computer using an HDMI cable. No matter how you get your slide deck on screen, you can enjoy navigation at your fingertips. Smoothly transition through the slides by using your finger or the Vibe pen to navigate. Split your screen between your PowerPoint presentation and Canvas notes to keep things fresh and up to date—and keep participants actively participating as their notes from their own devices pop up on the big screen.
Save and Share
One of the best ways for your presentation to stick is to save and share it. When your audience can return back to your presented materials and reflect on it in their own time, your big ideas can resonate much more strongly with your team. You only have so much time to actually present, which makes the time right after your presentation—when your team is mulling over your points—just as important.
To best take advantage of that time after your presentation, you can easily export or share your Canvas session with your team. This way, participants can either return to the meeting notes for easy reference, or pick up where they left off. Canvas helps your big ideas grow, as meeting attendees can continue to brainstorm and add their thoughts in a shared space well after the meeting itself ends.
Even better, you can export your Canvas in whatever format works best for you. Export your Canvas as a PDF, email, Slack message, or more. Or, save your board in DropBox, Box, Google Drive, or other digital storage drives. Once again, Vibe helps you lean into the tools that already work for your team, so you can share your ideas reliably and know that your thoughts won't get lost.
Real Example: Prezi
Looking to create a new Prezi? Use Vibe's pre-built Canvas templates to interactively brainstorm presentation ideas with your team, or enjoy the freeform infinite Canvas to let your ideas grow on their own. 
Vibe removes needless barriers to your brainstorming sessions . You can even move your Vibe Board around with the portable stand to go wherever your ideas take you, or wherever your team needs you.
Even better, Vibe Boards are also low-latency products, which means no awkward delay when presenting your Prezi animations.  
Getting Started with Vibe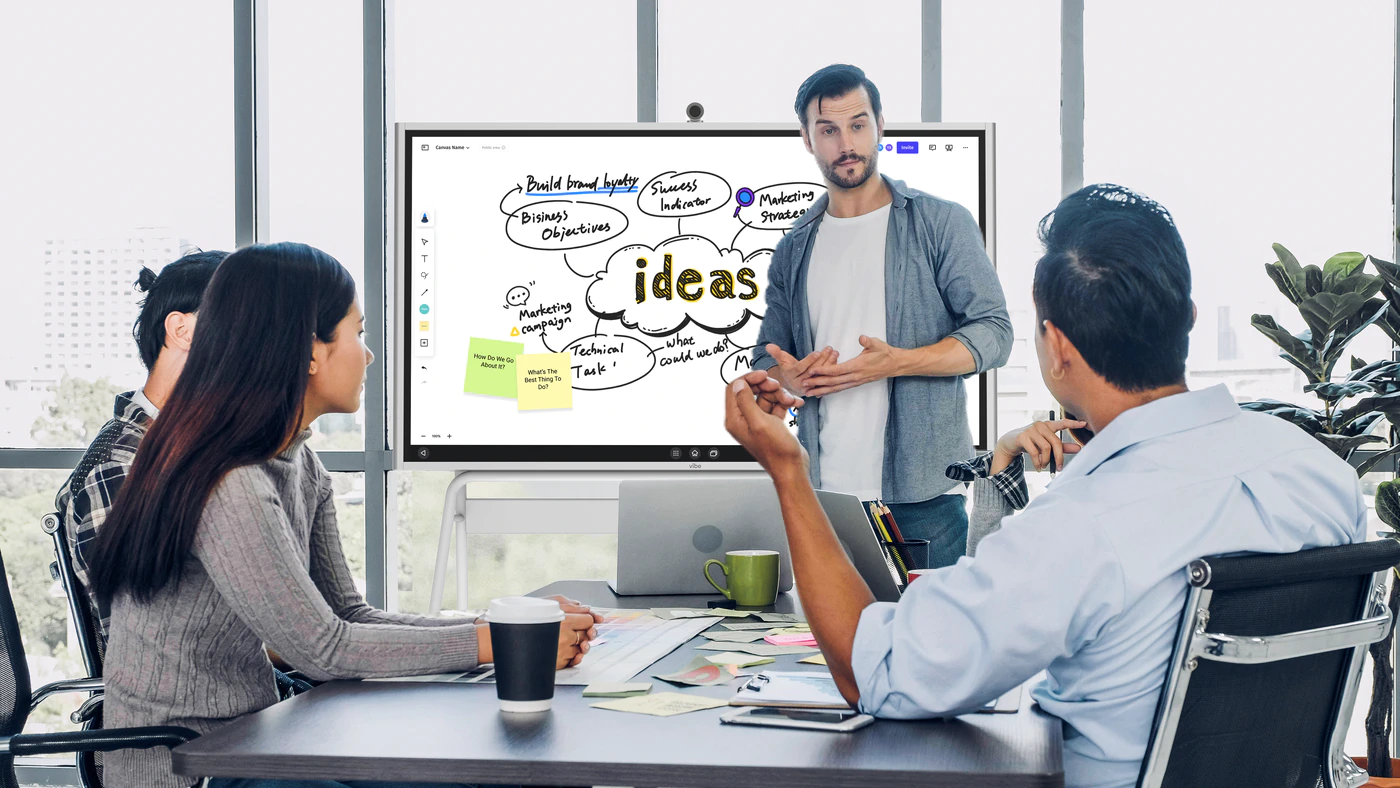 Diverse creative designer meeting at office.employee brainstroming idea and planning for project with white board
Bringing your presentation to the next level is simple and straightforward when you have the right tools. With the all-in-one Vibe Board, you can elevate all your presentations with effortless interactivity and seamless collaboration.
With our newest release, the Vibe S1, you can get your all-in-one huddle room solution—including the Vibe Board, mobile stand, and the SmartCam C1—in one bundle, making your perfect presentation just one step away.
Check out a free demo to learn how your team can present, meet, and collaborate using Vibe's innovative tools.
See how Vibe could help →
Subscribe to get updates on all things at Vibe
Thank you for subscribing Vibe's blog!