Hardware
Q: Is the Vibe Board S1 55'' a standalone system or do I need a computer with it?
Vibe S1 is an all-in-one huddle room solution that combines an interactive digital whiteboard with a built-in Intel i5 processor, VibeOS based on Chromium OS, Canvas app, optional SmartCam, and the Vibe One companion app.
---
Q: What are the Vibe board and Vibe stand dimensions?
The Vibe S1 is 50.7″ (width) x 29.3″(height) x 3.0″ (depth).
Diagonal screen size: 55″
Product dimensions: 50.7″ (width) x 29.3″ (height) x 3.0″ (depth)
Product weight: 51.6 lb
VESA Mount: 200mm x 200mm
The Vibe Stand is 50.4″ (width) x 50.9″ (height) x 26″ (depth).
Stand size: 50.4″ (width) x 50.9″ (height) x 26″ (depth)
Stand weight: 33 lb
---
Q: How is the Vibe Board powered? Does the board have a battery pack? Can it function without being plugged in?
Vibe is powered through a 3 meter detachable power cord that is included with your purchase. We do not offer a battery option at this time. Vibe must be plugged into a power outlet.
---
Q: Is there built-in audio and microphone in Vibe S1?
Vibe S1 has 2 built-in speakers but no built-in microphone. Our specially designed camera, the SmartCam C1, is compatible with S1 and includes 6 built-in microphones in a 3D array, as well as noise cancellation and echo cancellation for better sound. You can also use other compatible USB-C microphones.
---
Accessories
Q: Are there any other accessories available with Vibe?
Yes. Vibe also offers our SmartCam C1, mobile stands, and extra styluses. Additionally, Vibe has 4 USB-C ports and HDMI-In for users to add their own USB cameras, wireless keyboards, and other accessories.
---
Q: Which cameras and microphones work with Vibe S1?
To provide the best video conferencing experience, Vibe S1 offers an optional SmartCam C1, which comes equipped with image enhancement, noise cancellation, and AI features such as auto framing, gallery mode, and more. Vibe is also compatible with most USB-connected cameras and microphones, such as Logitech BRIO, Owl Camera, Polycom Studio, and more.
---
Q: Do I need to purchase a stand or wall mount for my Vibe Board?
Vibe offers beautifully designed custom mobile stands (in four colors) that are easy to install. Vibe mobile stands are sold separately from the Vibe Board, and are also available in our bundle options.
Vibe Boards are also compatible with many other types of stands or wall mounts, depending on your needs or requirements. All mounts and stands must be able to support at least 51.6 lb and be compatible with a 200mm x 200mm VESA mount.
---
Q: Which stylus should I use with Vibe? Can I buy more?
Vibe S1 comes with 1 magnetic stylus. Use your Vibe stylus to draw and navigate the board, or use it as a clicker for presentations to turn pages on Vibe Canvas or in PowerPoint.
You can buy more styluses on our website .
---
Q: Which cabled accessories does Vibe support?
Vibe has 4 USB-C ports and HDMI-In to support additional cabled accessories.
---
Software
Q: What operating system does Vibe run on?
Vibe S1 runs on VibeOS, an operating system based on Chromium OS. Android apps are also able to run on Vibe. Learn more .
---
Q: Which apps work on Vibe?
You can download apps from the Google Play store and Vibe Store, and run Web Chrome extensions. The Vibe Store contains dozens of fully vetted apps, such as Figma, Miro, Asana, Netflix, Slack, Teams, Google Drive, Google Classroom, Google Meet, Zoom, BlueJeans, and more. You can download with a single click and run your favorite apps flawlessly. See all supported apps here . There is no special licensing required beyond what you're currently using to access your accounts.
---
Q: Does Vibe Canvas have a subscription fee?
Vibe Canvas has three plans: Free, Pro, and Team. The Free plan includes 200MB cloud storage, templates, additional pen brushes, and supports multiple devices and cross-platforms. It also offers smart drawing tools, sharing, unlimited viewers and editors, a laser pointer tool, and more features for ideation, group review, annotation, and presentation. The Free plan also allows for basic workspace, user, and access permission management.
If you are an existing Vibe customer, most of the Canvas features you enjoy today are still free. More advanced collaboration, customization, project management, admin, and cloud storage features will be added to the Pro and Team plans.
The good news is you can enjoy all Pro and Team plan features free of charge until Jan 1st, 2023. Just sign up for the Pro or Team plan trials now to get started.
---
Q: Can multiple people collaborate on Vibe at the same time? What is the limit?
Vibe Board supports up to 4 collaborators using the board at the same time, with 10 simultaneous touch points. You can also share and collaborate on the same board with Canvas, our cloud-based app that has no limit on the number of participants in a single session. Join a Canvas session from additional Vibe Boards, computer browsers, or tablets.
---
Q: Does Vibe Canvas automatically save information in real time, or do I need to save my work manually?
Vibe Canvas is cloud-based collaboration software. If you're logged in to Vibe Canvas, any canvas you're working on will automatically be saved to the cloud.
---
Q: Does Vibe support Single Sign On (SSO)?
Yes, Vibe supports two popular forms of SSO: OAuth SSO and SAML. Vibe supports OAuth sign-in from trusted identity providers like Google, Microsoft, and Slack. Additionally, Vibe supports SAML-based SSO from Azure, Okta, and more for access control and user account management.
---
Q: How is data stored in Vibe S1?
Board content is stored in AWS Simple Storage Service (S3). It provides reliable, secure, efficient, and scalable storage that millions of applications already use. The data is further encrypted by one of the strongest encryption methods, AES-256.
---
Screencasting
Q: What wireless casting options does Vibe support?
Vibe S1 supports screencasting from a variety of devices. Please see the options below: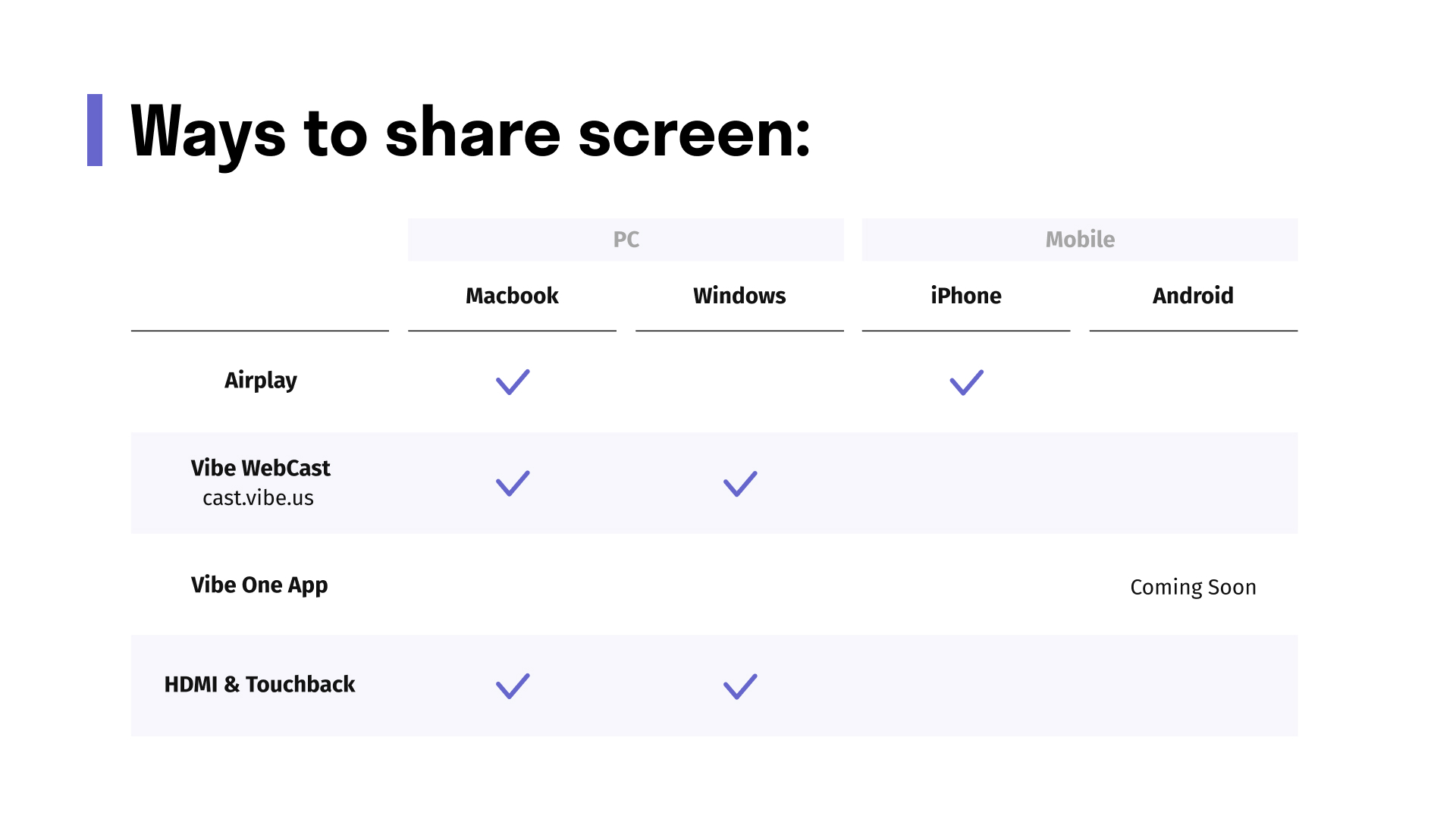 ---
Q: Can I draw over the wireless screencast or the HDMI-connected display?
Yes, you can draw over the wireless screencast and HDMI display content connected via the Number 4 USB-C port. Use our annotation feature to mark up videos, website pages, and presentations. You can also take screenshots or screen recordings and save them on your Vibe.
---
Vibe S1 vs Vibe Pro 75 vs Vibe 55
Q: What's the difference between the new Vibe S1, Vibe Pro 75″, and Vibe 55″?
Vibe S1 is an all-in-one huddle room solution with a smart whiteboard, SmartCam (optional), and collaboration apps. It's our best product suite yet and runs on the powerful Intel i5 processor and Chromium OS. We recommend the Vibe S1 bundle for a complete meeting room solution.
The Vibe Pro 75″ runs on Chromium OS and boasts a larger display with more interactive touchpoints, perfect for bigger conference rooms.
The original Vibe 55″ runs on Android and is a fantastic interactive whiteboard for any huddle room, classroom, or home office. Check out the detailed comparisons here .
---
Q: Can I update my Vibe Board 55″ to make it a Vibe S1?
No, you can't. The operating systems of the new Vibe S1 and the older Vibe 55″ are different. The new Vibe S1 runs on VibeOS (based on Chromium OS), while Vibe 55″ runs on Android OS.
---
Q: Can I use my Vibe 55″ stylus or stand on the new Vibe S1?
Yes! The Vibe 55″ stand and stylus are compatible with the new Vibe S1.
---
Q: Can the S1 camera be used on the Vibe 55″?
No. The SmartCam C1 connects using a unique port on the Vibe S1.
---
Purchasing and Ordering
Q: How much is the Vibe S1? What's in the box?
The Vibe S1 is $3,299 and includes free shipping within the U.S. You can bundle accessories with the board for an additional discount ( see bundle options here ). When purchasing a Vibe S1, your package will include:
55'' 4K Touchscreen
1 Vibe Magnetic Stylus
Power Cord
User Manual
Quick Start Guide
---
Q: How can I purchase a Vibe Board?
U.S. customers can purchase Vibe Boards (and optional Vibe SmartCam C1 and stands) on our website .
---
Q: Can I talk to someone at Vibe if I still have questions?
Absolutely! If you have questions or would like to discuss your particular use case, you can schedule one-on-one time with one of our product experts. Please contact sales@vibe.us to connect with our team.
---
Q: Does Vibe offer discounts?
We have additional volume discounts available for large orders. Please contact sales@vibe.us if you are considering purchasing 5 or more boards and would like to get a quote.
---
Q: Does Vibe offer financing?
Vibe has partnered with Affirm, a 3rd party option that allows customers to purchase Vibe today and split payments into monthly installments for up to 36 months. See if you're eligible for Affirm on the order page .
---
Q: Does Vibe come with a warranty?
We offer a free one-year warranty. There are also 1-3 year extended and accident protection warranties available from Extend.
---
Q: What is your return policy?
If you're not happy with Vibe for any reason , you can return the device within 30 days of your delivery date. All you need to do is cover the return delivery fee.
---
Shipping
Q: Does Vibe offer shipping within the U.S.?
Shipping is free within the continental U.S. Depending on where you're located, shipping can take anywhere from 3 to 8 business days.
---