Whiteboard
Q: How can remote students see their teachers' drawings on a Vibe smart whiteboard?
There are a few ways to share the view of your Vibe board remotely:
From the Vibe board, join or host your video conference application (such as Zoom, Microsoft Teams, or Google Meet), then share your screen. Students can now see any content you share on the Vibe board.

Share a link (edit or view only) of the whiteboard with your students so they can interact with you on the canvas in real time or view content in real time.

Note: with this option, students will only be able to view content specifically in the Vibe board app.
Content shared from screencast or 3rd party apps will not be visible.

If connecting in real time isn't an option, teachers can export the Vibe board as a PDF and share the file with students after the class.
---
Q: Can students interact with the whiteboard in real-time, even if they don't have a Vibe board?
Yes! Vibe is a cloud-based software that is accessible on any web browser or tablet. Vibe also has an app for iPad .
To share a board , simply send the link of the Vibe board you are using via email or copy-and-paste the link into the chat during your video conference. Students can interact with you on the canvas in real time once they have the link for access.
Note: Vibe can also be added as an application with Microsoft Teams .
---
Q: How can I record the screen of the whiteboard?
There are a few options to do screen recordings on Vibe:
Record your screen using a 3rd party application, such as Zoom, Microsoft Teams, or Google Meet.
Use a 3rd party app called 'XRecorder' to record the screen.
Use the HDMI out port with a capture card or cable to another device.
---
Q: Can I open a web browser on the side of the smartboard and import pictures from a website?
Yes! Open a web browser app (such as Chrome or Opera) and take a screenshot of the pictures you want. Then, select which board to save your images to.
You can also do this in a split-screen mode. This makes it easier to see which pictures you have already imported.
---
Q: Can I import images, PowerPoint, and PDF files into the whiteboard?
Yes. Vibe supports all of these formats, depending on which cloud storage option you are using.
Read more: Learn which file formats are supported .
---
Q: Are there any larger sizes than the 55-inch Vibe Smart Whiteboard?
We also have the Vibe S1 75″ . With an expansive 75″ touchscreen, the Vibe Board brings big ideas to your class.
---
Q: Is the Vibe board easy to use? Do you offer training?
We designed Vibe to be an intuitive, easy-to-use tool so that everyone could use the Vibe board right away on their next project. That's why using Vibe is similar to using an oversized digital tablet.
Vibe doesn't require extra computers, projectors, or calibration. And not only is it easy to learn, it's fun to use! We provide complimentary onboarding training sessions to get you started, and you can always check out what's new on our video tutorials .
---
Third party apps
Q: Video conferencing is important. Do you support Zoom, Microsoft Teams, or Google Meet?
Vibe supports most popular video conferencing apps , including Zoom, Microsoft Teams, Google Meet, WebEx, Skype, RingCentral, and more.
---
Q: What education-related apps do you support?
Most popular educational apps are supported on Vibe, including Canvas, Google Classroom, Blackboard, and Flipgrid. We're constantly updating our integration offerings, so be sure to check out our full list (and feel free to send us suggestions).
Pro Tip: Especially tech-savvy? You can also enable the Google Play store on your Vibe board to try out additional third-party apps.
---
Screencast
Q: Does Vibe Smart Whiteboard require a projector?
A projector is not needed for the board. However, Vibe boards can be attached to a larger monitor or projector via HDMI out if you need to mirror Vibe to a larger device or screen (ex: auditorium or large conference room setting).
---
Q: Can I connect to Windows/Mac/iPhone/Android phones?
Yes, Vibe boards support screencasting from a variety of devices. Please see recommendations below: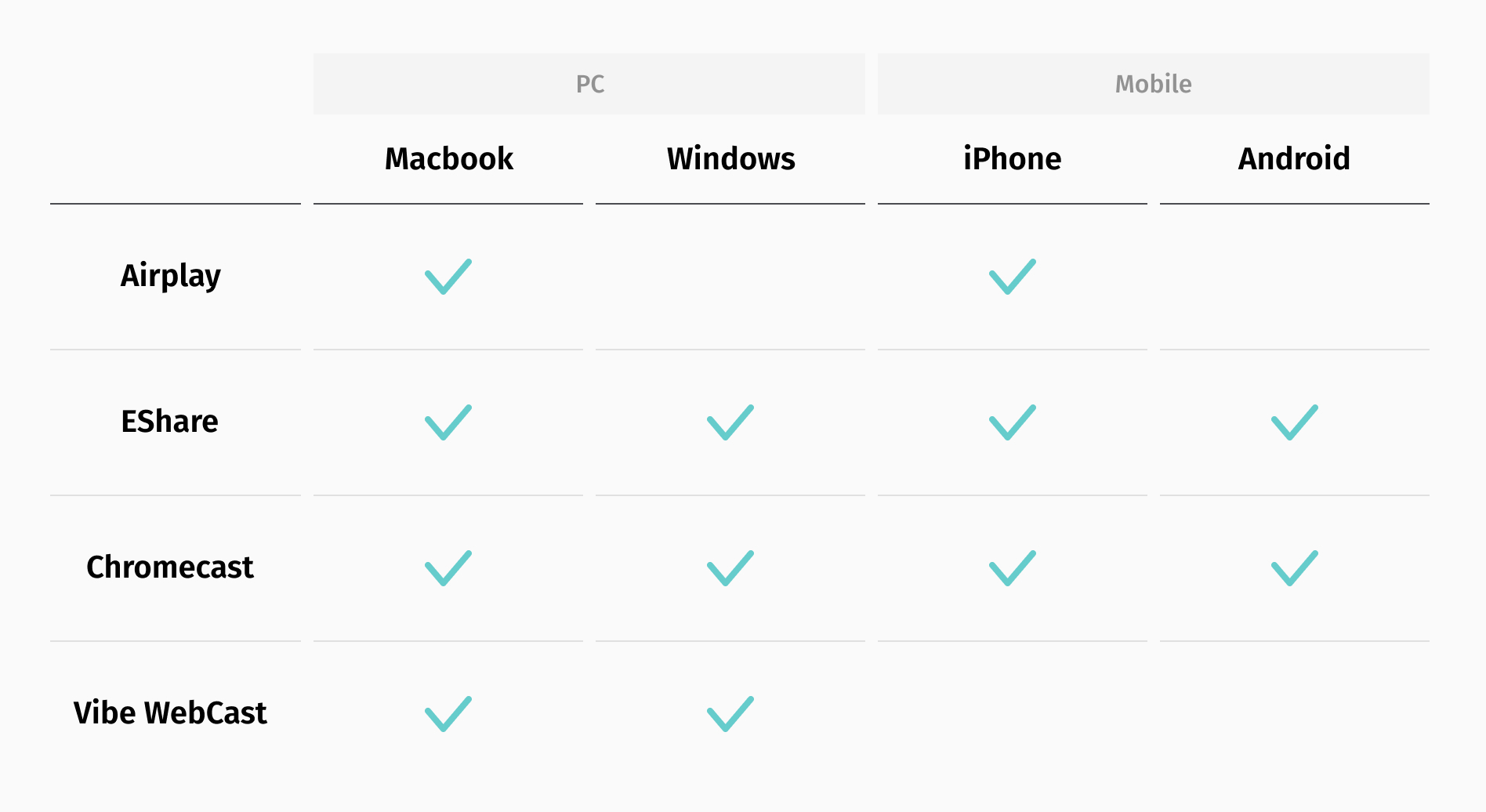 Read more: How to screencast .
---
Q: Can I control my computer from the Vibe screen when casting?
Yes. Use the EShare application to wirelessly cast from your computer (available for Mac, Windows, and Android) to control your computer screen from the Vibe board.
---
Q: Can I draw on top of the screencast or HDMI content?
Absolutely! Vibe supports annotation during HDMI or any screencast option.
Read more: How to annotate .
---
Purchasing and Ordering
Q: Are there any educational discounts for schools/teachers?
We typically are only able to offer additional discounting based on volume (3 or more units). Vibe is very competitively priced , and we also include free shipping in our pricing, and no additional tax when sent a tax exempt certificate. Please fill out this Quote Request form if you are considering purchasing more than 3 boards and would like to get a quote.
---
Q: Can I get an official quote for the Vibe Smart Whiteboard?
In order for us to prepare a quote for you, Please fill out this Quote Request form . We would need your product(s) of interest, shipping/billing address, contact name, phone and email for delivery.
If you're hoping to use a purchase order, please let us know - We can also provide our W9 and payment instructions.
---
Q: Is installation included?
No, installation isn't included or provided by Vibe. We have several certified Vibe reseller partners that can provide quality installation and technical support. Please contact sales@vibe.us if you need more information.
---