Why Vibe for Leading a Meeting?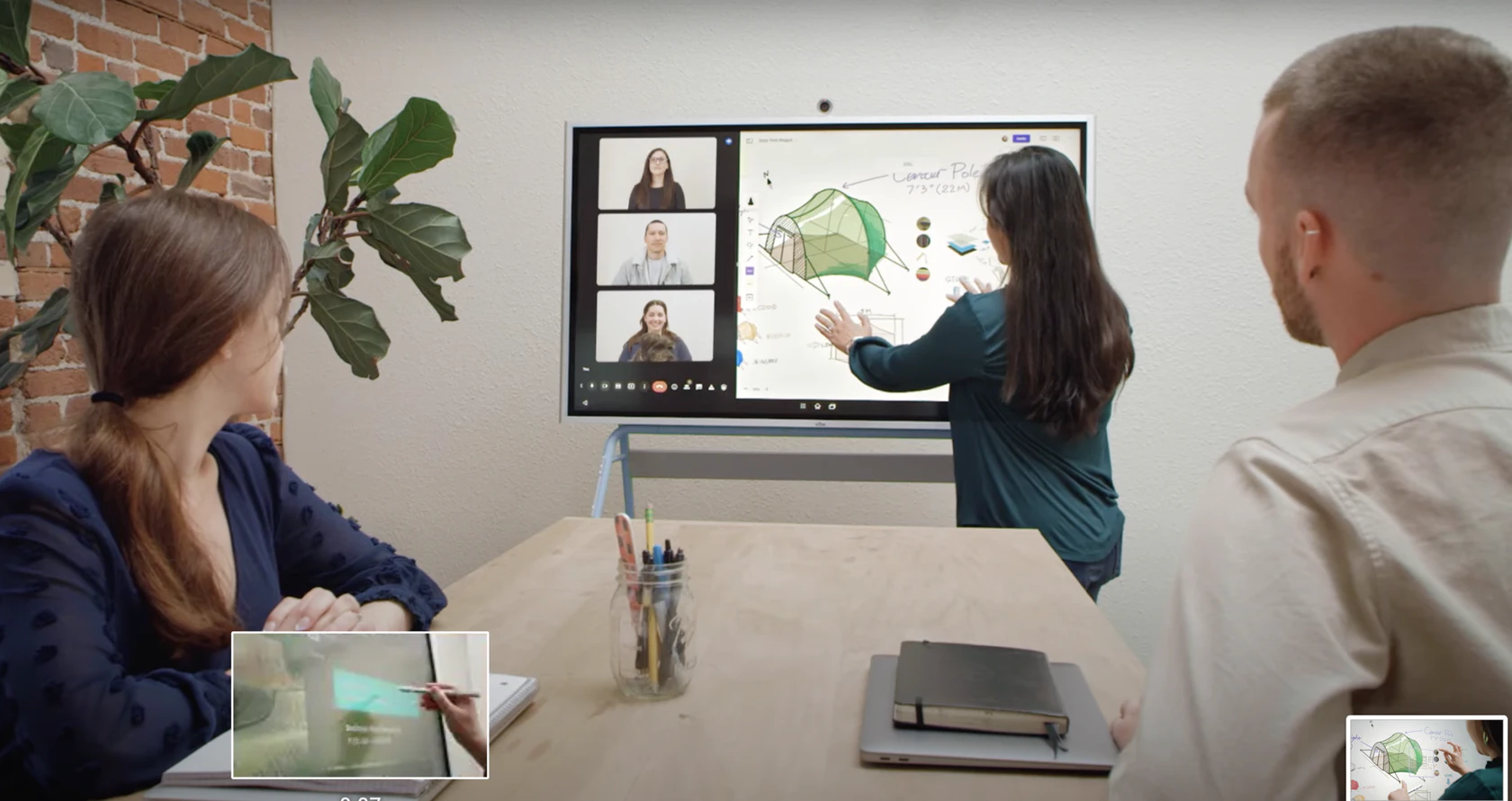 Meetings help you reflect on the past, gather up lessons learned, and move forward stronger and more informed than before, so your next decisions can be your best ones. After leading a successful meeting, your team can start the next project or quarter with a clean slate—and clear thinking.
What Isn't Working
Right now, there are a few things holding teams back from productive meetings—even something as simple as how your meeting room is set up.
If your meeting room is burdened by outdated tech and antiquated office practices, your team can't get nearly as much out of the session. Many meeting leaders turn to traditional conference room tools like a whiteboard or a TV to share information during the meeting itself. While these tools may have worked in the past, today's workforce is largely hybrid—meaning your remote team members can't see what the in-person group is working on. 
Not only that, but your team members can't see each other. Many hybrid meetings are one-sided, with remote employees calling in through video conferencing apps or phone systems, unable to see into the conference room itself. This outdated office set-up can quickly lead to communication breakdowns, inattentiveness, tech delays and troubleshooting, and general feelings of being overlooked or ignored. Even worse, if a remote employee misses the meeting it can be impossible for them to track down in-meeting notes and observations at a later time. 
So, what can help bring your meeting back to life?
How Vibe Can Help Lead a Meeting
By adding Vibe's all-in-one huddle room solution into the mix, your meetings can be more productive and more actionable. This huddle room solution includes the new Vibe Board S1, SmartCam C1, Vibe Canvas , and the Vibe One App—all of which have been specifically designed to bridge the collaboration gap experienced by hybrid teams.
Let's break down how Vibe can improve how you lead your team's meetings.
Center Your Collaboration
The conference room of the past no longer works in today's hybrid present. In order to keep in-person and virtual participants equally involved in your meetings, you need a huddle room that's centered and inclusive. Instead of swiveling between a TV, projector, whiteboard, and conference phone system, you and your team should be able to focus on one comprehensive device that covers all your meeting needs—and is accessible to all participants.
With a Vibe Board at the center of your huddle room, capturing everyone's attention during a meeting is easy. That's because a smart whiteboard is more than just a fancy whiteboard or TV—it's an interactive and engaging way to collaborate with your team.
Whether you're planning a sprint or gathering together for a retrospective, it's easy to unite the team by having all meeting participants write and draw on the board together. Or, have your team annotate critical documents, figures, and slides so you can break down complex strategies and move forward with confidence. The more interactive a meeting is, the more engaging it is—which makes a smart whiteboard the perfect tool to boost your team's attention and contributions. Instead of trying to brainstorm or think creatively while slouched in front of a computer or desk, Vibe's interactive design helps you get back to thinking on your feet.
Keep It All in One Place
Many teams use email and email attachments to brainstorm and discuss what's on the meeting agenda. These conversations introduce some risk—without your communication in one centralized place, threads can get lost and important points can be forgotten—all before the meeting even starts. With emails and documents floating around for every meeting, soon enough, your team can feel scattered as their valuable ideas are spread across various email threads, Slack channels, Google Doc comments, and Box files.
When leading a meeting on Vibe, your team can stay centralized on a shared Canvas. Simply import files from your favorite productivity apps directly into the Canvas and add comments, notes, drawings, or annotations right there, in the same space. All meeting participants can gain access to your Canvas session from any device, allowing them to comment, share files, make notes, conceptualize, and design.
It doesn't stop there. With over 150 app integrations , you can incorporate your favorite tools and resources in your presentation without switching between devices, so you can minimize awkward pauses and reduce technical difficulties. In fact, using Vibe's split screen function, you can present your slide deck on one side of the screen and see all your virtual meeting participants on the other.
As Kate Womick, Product Manager at Azul Arc puts it: "Vibe's collaboration factor has been huge. Vibe helps our team integrate research, notes and screenshots for a project into a single canvas—we no longer have to interrupt the creative process to check notes in other locations." Vibe ensures that not only is everyone heard, but with the whole team working on one infinite, cloud-backed Canvas, their thoughts aren't going to be lost in any kind of communication abyss.


Work Where You Want, On the Right Device
Even better, you can access Canvas from anywhere. Team members can add their reflections from their phones, laptops, or tablets—and, of course, from the Board itself. With 55- and 75-inch smart whiteboard screens, your team can reflect on your project's progress up on the big screen, pulling up any relevant videos, images, imported documents, or your living, shared Canvas for quick and easy discussion. Most importantly, remote employees can be a part of the conversation again, contributing to the Canvas from home (or on the go) and seeing their team at their best with Vibe's SmartCam C1. Remote meetings can finally be as productive as in-office meetings—Vibe's all-in-one system is built so strongly for collaboration that remote participants will feel like they're there.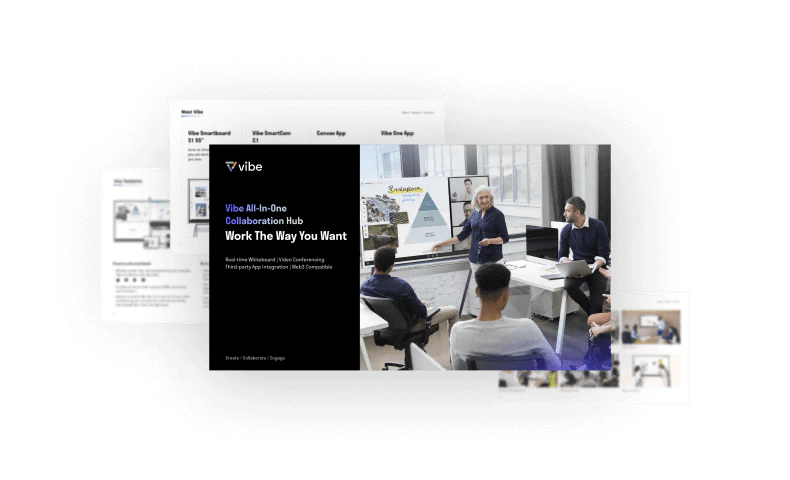 Explore Vibe's All-in-One
Collaboration Hub
Share With Ease
Once a meeting is complete, you can easily share your Canvas with the team. Share via link, export as PDF, export to Box, DropBox, and other storage solutions, or even add the Vibe extension to your Slack. Built around collaboration, Vibe technology captures creativity, ideas, knowledge, and insights into one session, and allows for every Canvas to be easily actionable, even after the meeting is over. Just export or share your board sessions so participants can pick up where they left off.
With the VibeOne app, the mobile companion app to the Vibe Board, you can share Canvases on the go and easily log in to any Vibe Board with a quick scan of a QR code, meaning your work can go wherever you do.
Real-Time Collaboration
All of these factors add up to one amazing feat: real-time collaboration. In the world of hybrid work, finding moments for instant communication and face-to-face conversation is essential—and with Vibe, it's easy. Leading a meeting is a breeze when your team can actually look forward to meetings again. Shareability, interactivity, mobility, centrality—it's all here, and it creates the perfect recipe for moving forward with your team with confidence.
Get Started with Vibe
Interested in adding Vibe to your next huddle? Check out a Vibe Demo here to explore how to make your meetings more effective and streamlined. Or, discover what else your conference room may be missing with this Conference Room Checklist .
See how Vibe could help →
Subscribe to get updates on all things at Vibe
Thank you for subscribing Vibe's blog!