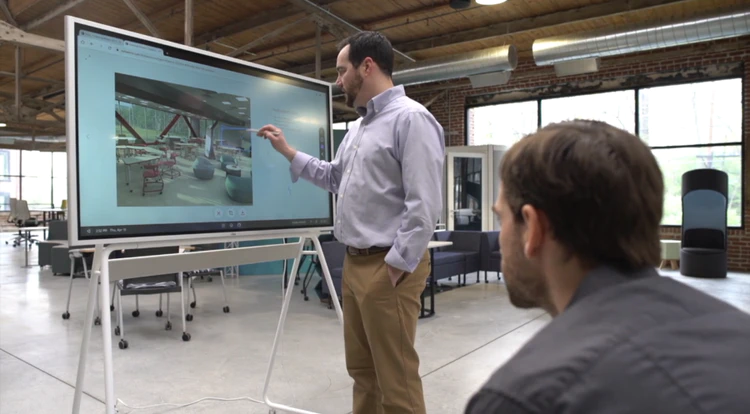 K-12 Learning Consultant
How a Learning Consultant Is Building
Better Learning Spaces
With Vibe
How a Learning Consultant Is Building
Better Learning
Spaces With Vibe
The go-to gadget to write, draw, and brainstorm
The perfect tool to pitch ideas and deliver brilliant presentations
Support effective workflows and seamless communication with your team and your clients Vibe was [the] solution for us. It was mobile, easy to move around, and to plug in different ways. Its functionality and ability was huge for us and has been great.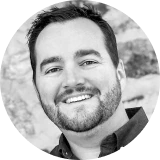 Director of Innovation at Fluxspace
Goals
Find the "go-to piece of technology"
Deliver a dynamic learning experience
Enhance team collaboration
Why Chose Vibe
Mobile in the learning environment
Use Cases
Brainstorm & idea pitching
Split-screen presentations
Easy annotation & sharing
About Fluxspaces
---
Headquarters
Norristown, PA
Products Used
Vibe Board 55″
Key Results
Vibe Board made itself the "go-to piece of technology" for Fluxspace to create innovative learning experiences
Meet Fluxspace
If you could dream up your ideal learning environment, what would it look like? As a former educator and current Director of Innovation at Fluxspace, that's the question Ryne Anthony tries to answer every day. Equipped with showrooms, classrooms, and STEM labs, Fluxspace is a hands-on experience center and design space that helps organizations plan spaces that encourage forward-thinking, experiential learning.
How Anthony Chose Vibe
In today's learning environment, there's no 'front' of the classroom—meaning everything in the room should be easily reconfigured to accommodate the day's activities. This was a key issue for Anthony when it came to bringing tech and video collaboration into the space. "'[We want] something that's mobile, something that can move around,' Anthony explained. 'So when we found Vibe…we realized, 'Hey, this could be a really great product for our clients and even for us to use internally."
For Anthony and the Fluxspace team, flexibility in design was of the utmost importance. When Anthony discovered that Vibe can be used anywhere with its portable stand, they knew it was a perfect match.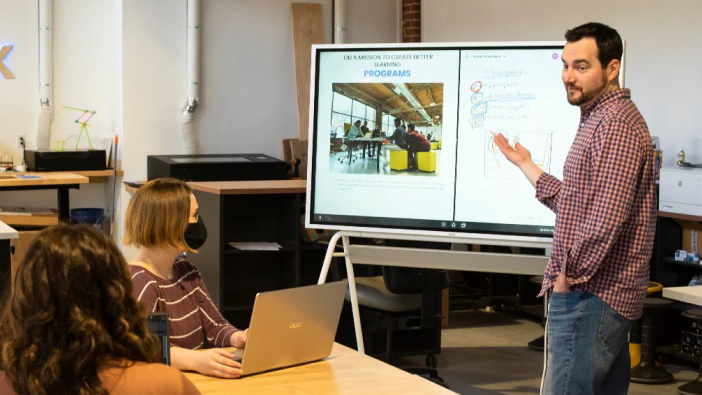 How He Uses the Vibe Board
Anthony not only relies on Vibe when reimagining the classroom for his clients, but also with the Fluxspace team for client presentations, collaborative teamwork, and more. With multi-touch functionality, students can now gather and brainstorm in an immersive digital environment, all powered by Vibe. What's more, educators can use Vibe's hardware and collaboration software to create exciting, hands-on learning opportunities.
With Vibe's 4K, 55-inch screen, Fluxspace helps their clients visualize certain spaces with design renderings or products. They're also able to seamlessly annotate and make changes mid-presentation. Anthony loves "being able to annotate over [images], circle things that [clients] like, cross off things that they didn't…on the big board. Then we send those [files] out to the client, or our designers and reps, and we're able to understand the exact needs of the client."
Favorite Features
One of Anthony's favorite features is Vibe board's flexible app integration."You're not locked into just one software or just one platform; it's platform- and device-agnostic, if you will," he said. "That's huge for schools and learning organizations because they might have one platform for email and [another] platform for their learning management system, and it might be a whole mix of things. And to have a board be able to work and be compatible with all those programs and platforms is huge."
The Fluxspace team also loves to use the split screen feature, so "you can have a presentation on one side [of the screen] and do a demo on the other. The ability to hook up a camera on the USB ports is awesome."
Even better? Vibe's functionality comes at a competitive price. As Anthony explains it, "for us to be able to have these features we need at a more cost effective option has been great."
Results using Vibe
Vibe has helped Anthony and the Fluxspace team create truly dynamic and immersive learning environments that suit the needs of today's students, leading to delightful lessons and presentations all at an affordable price. Anthony said, "We always talk about how it's not just the furniture, it's not just the technology, it's not just the culture—it's all those things together [that] makes a room a really great, well-rounded learning environment." When Anthony recommends Vibe to his clients, it really all boils down to this:
The ability [for the Vibe Board] to be at the cost that it's at with the features it provides, and for it to be a mobile, functional tool that can move around is huge. And it's going to help a lot of organizations.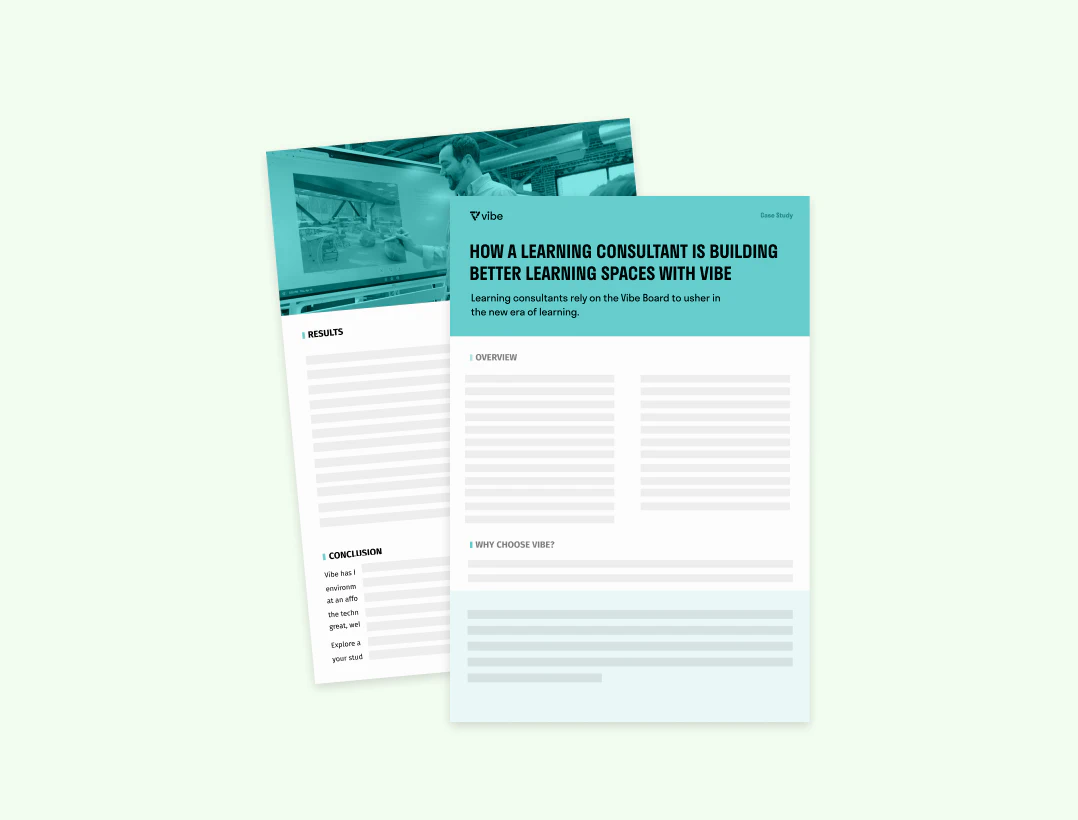 Download this case study and share it with your team!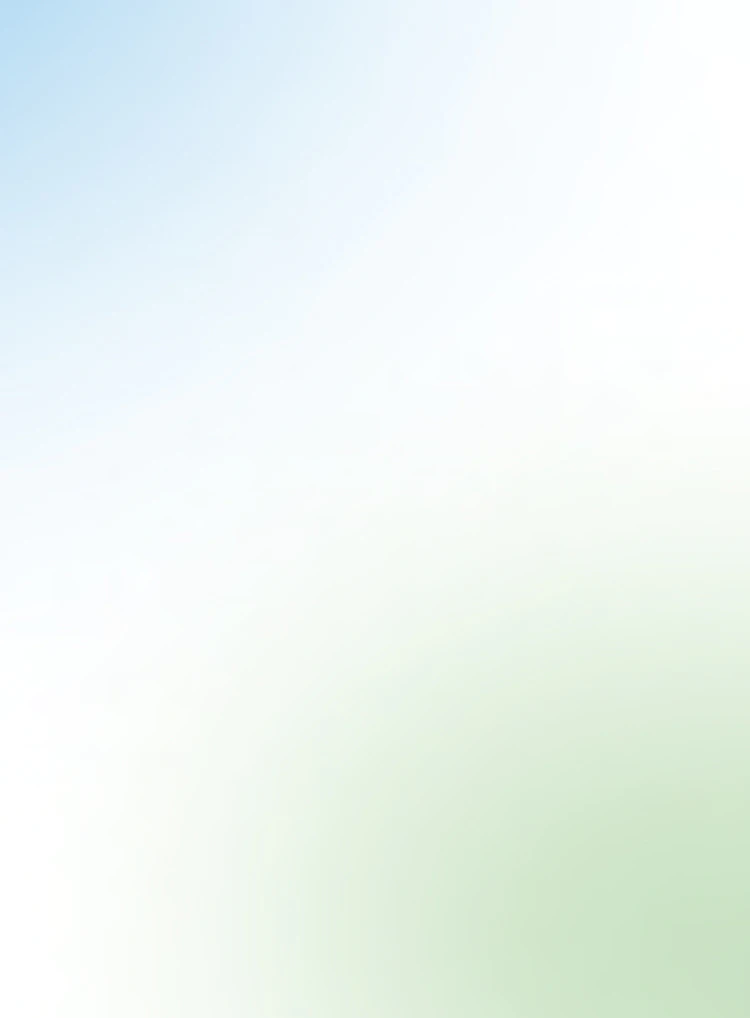 Discover and develop their greatest talents
Sketch, annotate, save, and share. Do it all with Vibe S1 Collaboration Hub.