Work The Way You Want
Meet, ideate, present, and more — it's right here, all in one space.
Intuitive tools on an infinite
smart whiteboard
Auto-enhance made
picture-perfect with
SmartCam
Share ideas anywhere with a sleek
portable stand
Vibe Canvas
+ Vibe Board, better together
Everything you need to go further.
Ideate,
collaborate,
and present.
Manage files and
devices together with
Vibe One
One system to replace them all
Vibe Board
All-in-one collaboration hub
Bring teams together, on-site and remote
Easily save and share in the cloud
Streamlined workflow on one device
The Old Ways
Projector + Computer + Whiteboard + TV +
Display + Monitor
Manage a mess of papers and whiteboard photos
Disjointed workflow across countless devices
Heavy IT support and lots of cables Say hello to your hybrid workflow
Work The Way You Want
All-in-One Collaboration Hub for Hybrid Teams.
Watch Video: What is Vibe?
One System to Replace Them All
Meet. Brainstorm. Annotate. Present. Teach. Stream. Do it all on Vibe.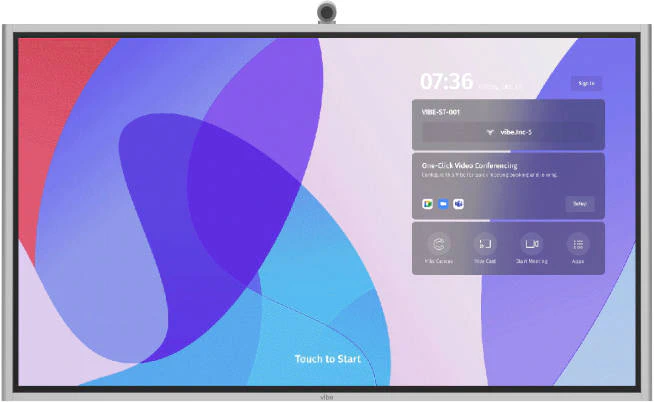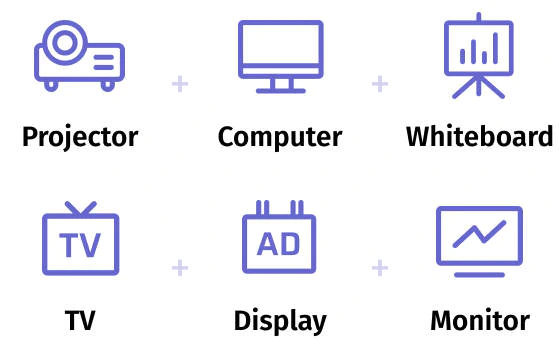 The Swiss Army Knife of Meeting Rooms
Uplevel your visual communication, client engagement, and team collaboration.
For Huddle Rooms
Vibe Board S1 55″
55″ 4K Touchscreen. Chromium OS. i5 Processor. 128G SSD. Wi-Fi 6.
For Large meeting rooms
Vibe Board Pro 75″
75″ 4K Touchscreen. Chromium OS. i5 Processor. 128G SSD. Wi-Fi 6. Say hello to your hybrid workflow