How I Vibe: Sam Silverstein, Leadership Coach, Author and Speaker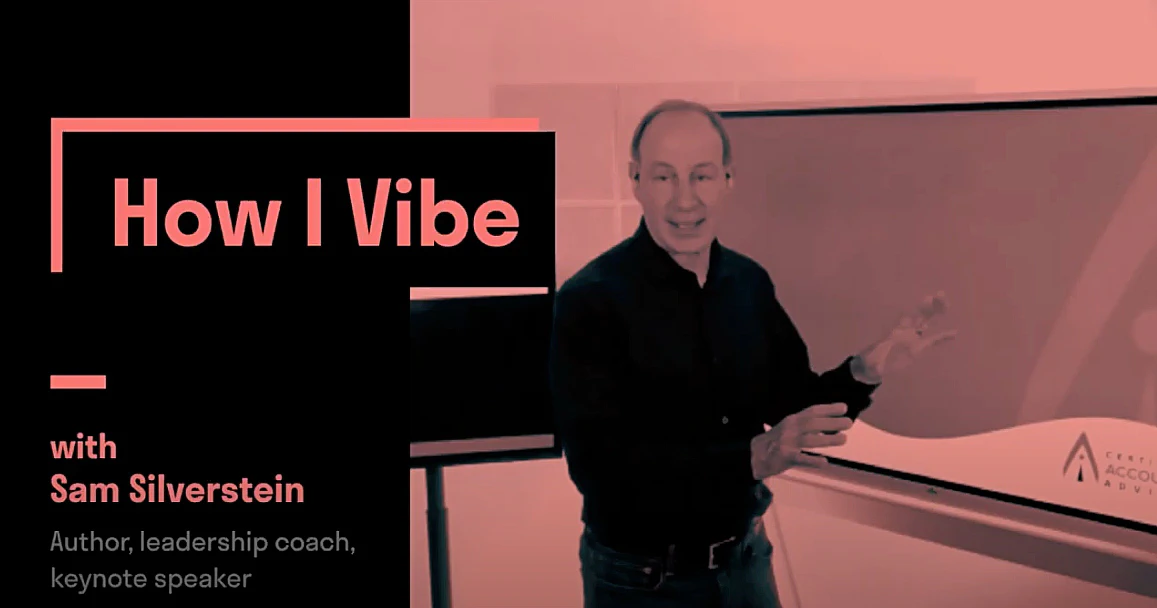 Sam Silverstein has a long history of guiding organizations to achieving heightened levels of accountability. As the founder of the Accountability Institute and the Certified Accountability Advisor, he has worked with leadership teams around the world—and has somehow still managed to write 11 books and maintain a busy professional speaking schedule.
In a constantly changing global business environment, Silverstein (who was recently inducted into the CPAE Speaker Hall of Fame) continues to evolve his business as well. When it was time to pivot from in-person speaking engagements to virtual events, he knew he had to continue delivering a high level of content to his clients. And to do that, he had to upgrade his home studio.
Keep reading to see how Silverstein uses Vibe to maximize his creative output and provide his clients with the high-quality information and expertise they've come to expect from him.
The challenge: Combining functionality with design
It probably comes as no surprise that Silverstein's typically bustling travel schedule changed drastically in 2020.
"My on-stage speaking business dried up. No one's having meetings; no one's bringing in a speaker," he said.
While he found other ways to get work done (he wrote three books in the past year and a half in the time he normally would have spent traveling), Silverstein also wanted to provide his signature accountability presentations virtually. He built out a home studio but quickly discovered there were a few issues to address.
"First of all, I wanted my studio to look better," he said. "Second of all, I needed a better way to communicate with the people that I was working with—the leaders that I was helping to transform their lives and businesses. What I sought out was not only something that was functional behind me [in the studio], but would be interactive. And so, I discovered Vibe."
How Silverstein chose the Vibe board
Silverstein began his studio with a small screen. Although he was familiar with digital whiteboards, he hadn't committed to purchasing one. He began researching several interactive smart board options before a colleague connected him with another professional speaker.
"My friend introduced me to another customer of yours, Victor Antonio, and Victor and I became really good friends. He started his studio and electronics, and he shared ideas with me," Silverstein said. After seeing how Antonio uses Vibe with his clients, Silverstein discovered that the Vibe board "just fit my needs like a hand in a glove."
How Silverstein uses the Vibe board
The Vibe board has become the centerpiece of Silverstein's studio setup. He said, "When [clients] see the board—first of all, people like the way the room looks. Second of all, when I go back to the board…and go to a whiteboard, they're like, 'Wow!' They just freak out. That's worth the price of admission right there, just the whiteboard wow factor."
Silverstein connected the Vibe board to both a laptop and a switcher device. With this setup, he can leverage the board in multiple ways. For some presentations, he'll focus the camera squarely on the whiteboard for full-screen illustrations. Other times, when teaching via Zoom session, he pulls up a PowerPoint on the Vibe board and refers back to it during his speech.
But his presentation options don't stop there. "Sometimes I'll take the slides off the screen and I'll start drawing; I'll illuminate ideas and, quite frankly, what I've discovered is that when I'm drawing on the board and helping my clients understand something at a deeper level, not only are they learning better, but they're impressed by it. And it makes me look good!"
"The other thing that I've discovered that's really powerful is I have the ability to take existing software and run it on the Vibe. So I can take existing apps, run them on the Vibe, and these apps have a tremendous amount of animation capabilities. I leverage those capabilities, and then it looks even better with my clients," Silverstein said.
Silverstein's favorite Vibe features
Since he started working on Vibe, Silverstein has capitalized on the board's extensive functions, including its intuitive, easy-to-use design and perfect space for brainstorming.
"My favorite features on Vibe are, first, the ability to sketch things out. I mean literally, four days after the unit arrived, I assembled it and had it together, and I learned how to use it. I woke up at 5:30 in the morning because I had a burning idea in my head and I sketched the whole thing out," he said. "That literally became the outline for my next book. That in itself paid for the Vibe right away."
He also appreciates that Vibe's open ecosystem lets him use his preferred mind mapping application for brainstorming. And when he's importing or exporting documents, it's easy to use his preferred cloud storage and email directly from the Vibe board.
Another favorite feature? Vibe's attention to customer feedback.
"I will say, you guys have come out with regular updates, which has been really positive, and I appreciate that." (Specifically, he says adding Bluetooth capabilities "significantly enhanced it.")
"[You] keep it fresh and you keep upgrading it. And it makes it a smart investment, and it makes it easy for me to recommend it to others," he elaborated.
Why Silverstein recommends Vibe
You could be the most eloquent public speaker in the world with the best industry information and insights. But that doesn't mean much if you don't find new, better ways to engage with your audience and help them make the connection between what you have to offer and how that can make them successful. From his years of experience, Silverstein knows that adding a creative element to your business is what sets you apart.
"Virtual learning is here to stay. Distance learning is here to stay," he explained. "And we need the tools and techniques that will help us look different in the marketplace, help us better connect with our clients, help us serve them at the best level.
"Having something like Vibe in my studio is critical because it differentiates me," he said. "It enables me to produce, and my clients are thrilled."
Ready to impress your clients with impressive presentations and seamless collaboration? Register for one of our upcoming Zoom webinars and learn how Vibe can help you, too.
---
Vibe offers a collaborative solution combining an interactive digital whiteboard and innovative smart software. Increase engagement and efficiency at your brainstorming sessions, virtual training, and classroom sessions by integrating your favorite applications with video conferencing and an infinite, mess-free writing canvas. Collaborate today with Vibe .
Looking for the latest in interactive whiteboard technology? Request a demo and check out Vibe!
See how Vibe could help →
Subscribe to get updates on all things at Vibe
Thank you for subscribing Vibe's blog!