The 10 Best Brainstorming Tools for Any Workspace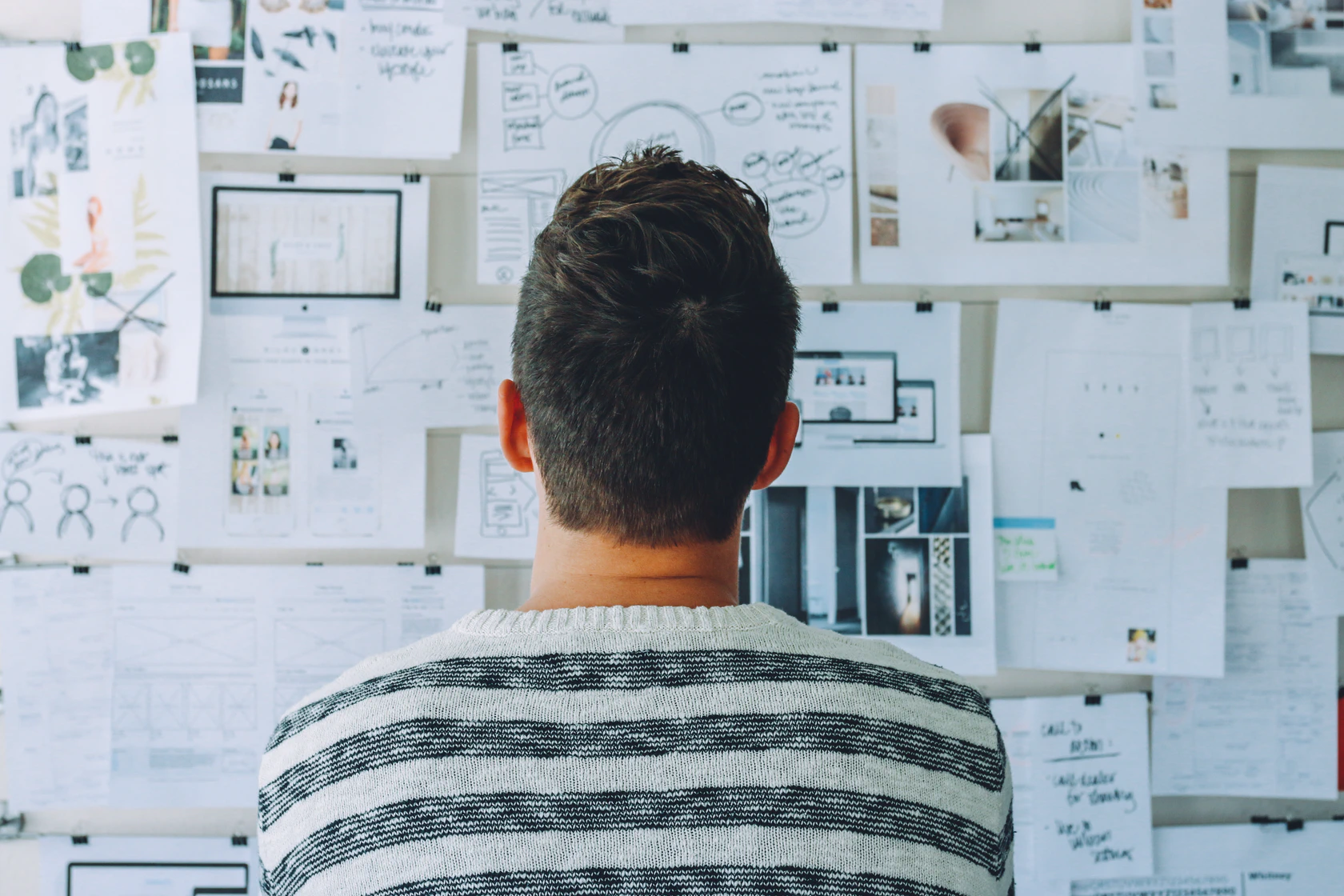 Modern workplaces are expected to balance at-home work availability with an in-office atmosphere. One of the more difficult tasks to accomplish while spread across cities or timezones is, undoubtedly, group brainstorming.
One of the best ways to strike this balance successfully is to find and use the right digital tools. There are countless apps and programs out there for video conferencing, file sharing, securing sensitive work information and achieving real-time collaboration. We boiled all the available options down to the 10 most effective apps and products that can aid your team's next brainstorming session.
Read on to explore the coolest collaboration platforms, apps and products on the market today.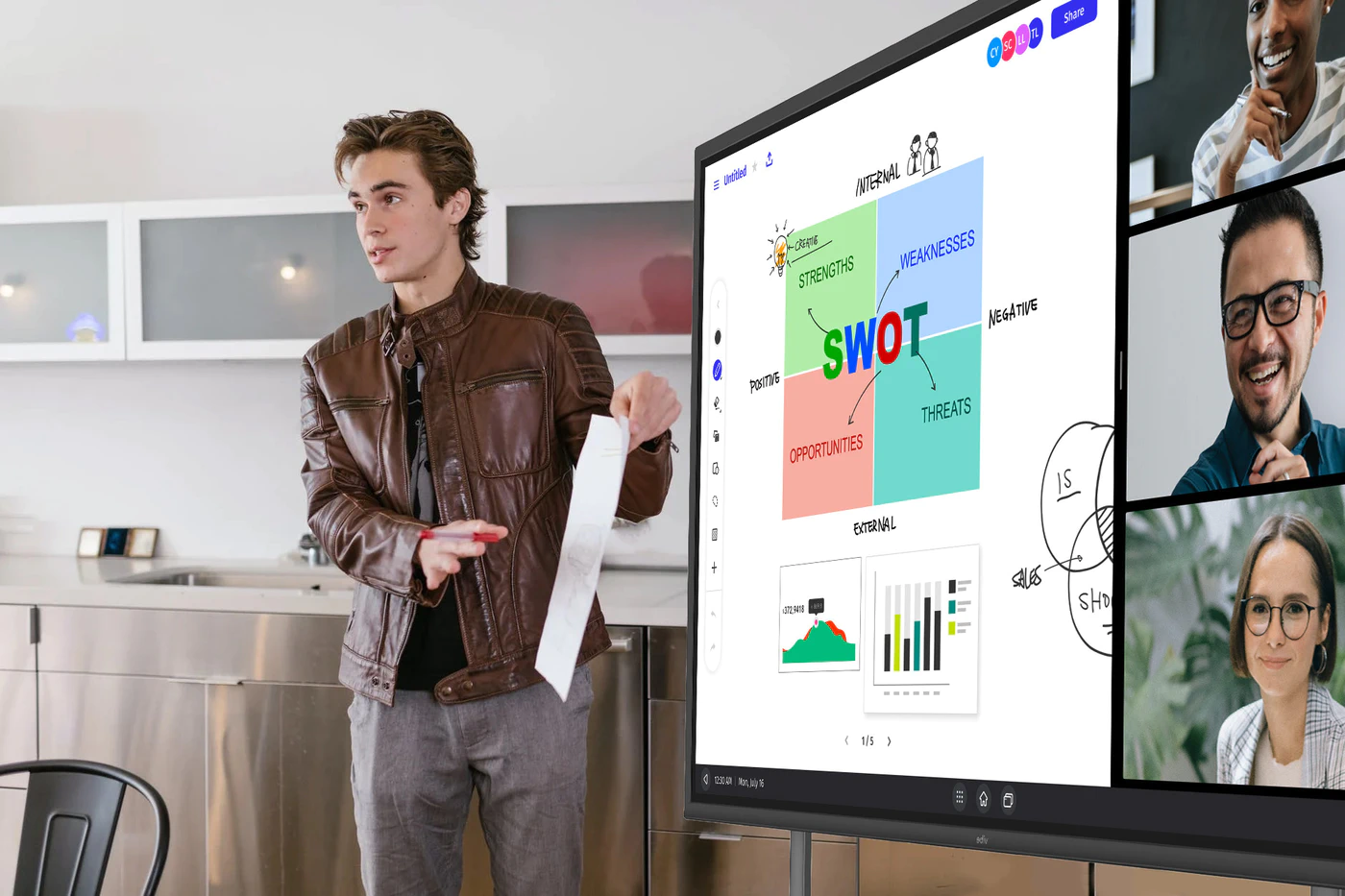 Brainstorming on a Vibe Smart Whiteboard
What is it?
The Vibe Smart Whiteboard is a powerful and versatile digital whiteboard with a whole suite of tools your team can easily implement for both in-person and remote brainstorming sessions. Smartboards facilitate more engaging meetings and more memorable presentations with integrated videos, apps and interactive components, allowing team members to highlight and markup with information from their own screens.
Key features:
The physical specs of Vibe Smart Whiteboards include a 75- or 55-inch 4K touchscreen that comes in at a much more affordable price than competitors like Google and Microsoft . Vibe boards are also low-latency products, which means no awkward delay when presenting or sharing screens. These smartboards give multiple devices access to an infinite work canvas and provide a suite of built-in integrations .
Best used for:
Remote and hybrid collaboration . Individual work can be made instantly accessible by everyone in real time (no more worrying about working from an outdated file) and is safely stored in the cloud for future use. Cloud storage tools make Vibe a great tool for at-home workers. Being able to quickly save or download task notes from a smartphone is an efficient way to keep teams on track and prevents the accidental erasure of important notes and updates.
What is it?
Google Docs is a key component of the Google Suite of collaboration apps. The online word processor provides a simple way to share documents with teams and keep track of edits, updates and latest versions so nobody gets caught working on an outdated file. The ability for multiple users to access and revise the same document in real time makes Google Docs (and its storage app Google Drive) essential staples of many businesses and organizations around the world.
Key features:
The Google suite boasts a refined user interface that's so intuitive it threatens to make other document-sharing apps frustrating by comparison. It works with every browser, houses as much information as you need in cloud storage and automatically saves your work (along with previous versions) so nothing is ever lost, so long as you maintain a wifi connection. You can even make files available to view and edit offline . Docs includes a familiar word processor as well as a robust spreadsheet app and presentation builder (Google Sheets, Google Slides).
Best used for:
Students, writers, educators, workplaces — Google Docs boasts so much versatility it can host virtually any project, professional or personal.
What is it?
LucidChart is a platform built for users to collaborate on drawing, revising and sharing charts and diagrams. It specializes in converting hard data to visual formats such as flowcharts and diagrams — a crucial element of conveying important information in an easily digestible format that team members and clients alike can retain for future use.
Key features:
This is a unique communication tool made to improve the way teams contextualize data. As such, it includes several auto-visualization tools that remove much of the busywork required by other presentation formats. The web-based platform also houses several collaborative tools and offers centralized account management for secure data storage.
Best used for:
Data visualization and collaboration. With a library full of ready-to-use templates and an easy-to-navigate UI, LucidChart works well for teams looking to stitch new ideas together in a visually appealing format.
What is it?
As the name suggests, MindMup is mind mapping software created to help teams visually connect different ideas. In a way, MindMup represents the classic "web of ideas" brainstorming session previously confined to physical whiteboards and in-person conference rooms. Group projects just entering the planning stages need an outline before they can become reality — MindMup aims to facilitate this first step.
Key features:
Like any good collaboration tool, MindMup allows for concurrent editing and cloud storage, allowing multiple users to collaborate on mind maps together in real time. Users can also click and drag icons, images, spreadsheets and videos into the MindMups to keep every idea on the same page.
Best used for:
Creating, sharing and saving your team's next brainstorming session. Creative use of MindMups can help transform loosely-connected ideas into completed tasks and projects.
What is it?
Visio is Microsoft's subscription-based entry into the world of diagramming software, designed to compete with the likes of LucidChart to provide businesses with a simple, professional diagram builder. Flowcharts, org charts, floor plans, data flow diagrams and even 3D maps can be designed through Visio's extensive controls.
Key features:
Visio was made to be compatible with other Microsoft products, which makes previously time-consuming tasks, such as converting Excel data directly into a presentation, a simple process. Visio boasts similar functionality in pulling data from both Word and Powerpoint.
Best used for:
Workplaces already invested in the Microsoft suite of applications and tools. Offices already familiar with Word, Excel, Powerpoint and Teams will get the most benefit from adding Visio to the mix.
What is it?
Owing its name to the "thought-bubble" style of brainstorming (now unofficially rebranded as the term "mind mapping" in most workplaces), Bubbl.us represents a simple brainstorming tool at its finest. Available on both mobile and desktop, this user-friendly app can do it all — org structures, timelines, story outlines, research notes and site mapping are all a joy to create with this bare-bones tool.
Key features:
Mind-mapping through a sleek, colorful UI and an added layer of security shielding your data makes this about as straightforward a brainstorming tool as it gets.
Best used for:
Educators, managers, students and creatives can all benefit from a collaboration tool that does exactly what it's supposed to without the distraction of unnecessarily complex functions.
What is it?
A free-to-download, open-source app for mapping ideas and analyzing data. Freeplane may not appear quite as polished as some other entries on this list, but its popularity, accessibility (it runs on any operating system that has a current version of Java installed) and vast array of free features make it a worthy inclusion.
Key features:
One of our favorite functions of Freeplane is its note-taking ability. Freely positionable, unconnected nodes (like Post-It notes) are perfect for team brainstorming, with a whole host of additional functions available to begin sorting, connecting and prioritizing bits of data and ideas as they develop. Freeplane also password-protects your map with DES encryption and includes a useful approximate search function to locate words and phrases within the map.
Best used for:
Groups in need of free, intuitive software. No training is necessary to pick up the Freeplane basics, and no expensive subscription presents a barrier to entry.
What is it?
At its core, Mindly is a thought organizer. The app was previously restricted to iOs devices, but its elegant interface now extends to Android users — and for both personal and professional use, it's worth a look. The mapping tool puts a unique spin on traditional scattered word-cloud brainstorming, replacing scattered ideas with features that focus ideas into more cohesive, connected webs.
Key features:
The app advertises its key use as "organizing your inner universe," and though its features include similarities to other items on this list (such as images and web links as potential additions to text-based thought circles), the user experience is undeniably calming in both its aesthetic and easy maneuverability. Mindly can sync with the Cloud or Dropbox, but its features are also available for offline use.
Best used for:
Organizing ideas outside the typical work meeting structure. Creatives, project leads and really anybody who stumbles into a sudden great idea needs a place to jot things down and expand on them before distractions can arise.
What is it?
Popplet is one of the few digital tools on this list designed specifically with students and distance learning in mind (we love that!). But workplaces can still get plenty of use from this iOs-based app. As you might expect, that means an extremely versatile range of uses (grades K-12 can all find ways to apply Popplet's features), more than 100 available languages and usability that doesn't require extensive training or high-level digital literacy skills.
Key features:
Standard drag-and-drop word webs make up the bulk of Popplet's functions; however, the app is developing additional management and collaboration features for groups and schools in the near-future.
Best used for:
Students and teachers of all ages and technological backgrounds.
What is it?
Wisemapping is the final open-source tool we chose to include on this list, based on its widespread use and flexibility. While structuring ideas as both sticky notes and thought webs is a trademark of virtually every digital mind mapping tool, Wisemapping's core team of developers takes things a step further with regular UI updates and additional functions as the need arises.
Key features:
Wisemapping offers more custom visuals than some paid apps on this list. Total control over topic colors, fonts, shapes and borders, notes, icons and layout allows users to personalize maps, which can be helpful when presenting both to teams and to clients (set templates can grow old fast).
Best used for:
Small teams, classrooms and groups in need of freely available idea mapping software.
Vibe for Brainstorming
Looking to get started brainstorming with a Vibe Smart Whiteboard? Watch this demo to see a Vibe board in action, and shop our 55" Smartboard and 75" Smartboard Pro options here.
See how Vibe could help →
Subscribe to get updates on all things at Vibe
Thank you for subscribing Vibe's blog!