Classroom Designs for Teachers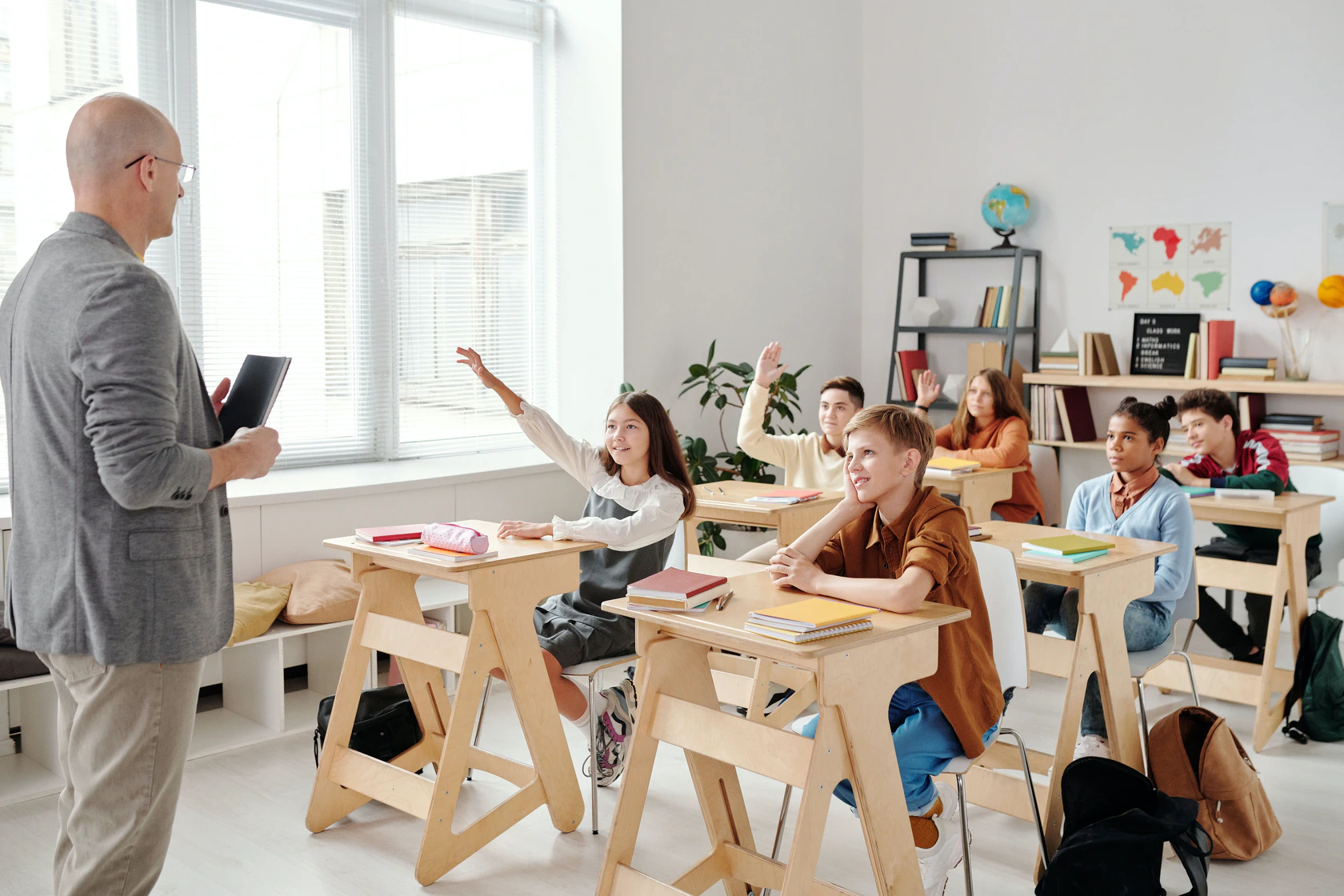 Your classroom's design and decoration can speak volumes. It can show off your skills as an instructor, help your students feel more comfortable, create a dynamic learning environment, spark conversations with students and parents, and so much more. Everyone in your classroom can benefit from the enthusiasm, creativity, and classroom management skills incorporated into your classroom design ideas.
Let's look at some classroom decor ideas that genuinely work and are easy to adopt in any design or setting.
Classroom Design Ideas
A nicely furnished classroom may enhance the learning atmosphere. Teachers frequently use ideas for class decorating as one of the essential components in making a warm and engaging environment for their students.
1. Notice Boards

Your classroom can be beautifully decorated and kept organized with the help of notice boards. You can post notices, quotations, coursework, and more using notice boards. If your classroom is large, consider creating multiple smaller notice boards rather than one huge one.
2. Student Projects

Displaying your students' projects is a fantastic way to adorn your classroom walls. When you proudly display your students' work, a positive and engaging learning atmosphere is fostered, and your students feel pride and success. Students' artwork can be displayed in various ways, including on cork boards, fame walls, and notice boards.
3. Classroom Regulations

Classroom rules are one of the most crucial components of any class. It's a good idea to post your classroom rules where students can see them, so they can be easily reminded of any classroom standards. You can make a banner or wall with your rules or print out a list of the rules and pin them on a noticeboard.
4. Quotations

Inspirational quotes, funny phrases, and classroom mottos can help establish the mood for the school year. You can choose quotations related to your classroom topic or print out words about enthusiasm, encouragement, and education. The quotations can be hung on the walls or written on a whiteboard or message board.
5. Workstations for Students

Create workspaces where pupils can concentrate on their assignments, especially if there are many pupils in your class. Workstations can be straightforward arrangements with chairs and desks or more complex arrangements with storage and organizational tools.
6. Theme for the Class

Designing your classroom around a theme can be not only fun. A classic classroom design for elementary students is a dinosaur theme—but you can get creative with your classroom and try all sorts of themes, like a circus, the water cycle, or local wildlife! 
7. Wall Designs

When it comes to wall hangings, your options are virtually limitless. You can hang art, display banners, drawings, numbers, alphabets, and pictures. You can even have your students help make some fun and festive decorations for upcoming holidays, birthdays, and more. Make decorating the room a classroom activity—or, if you're short on time, you can print out ready-made wall decor available online and hang it up in a pinch.
8. Classroom Library

Establish a location where students can readily access reading materials and textbooks if you have many of them around your class. A small classroom library or reading nook is ideal, because it makes it easier to arrange your books and gives kids a comfortable place to read.
9. Educational Maps

Maps in the classroom are an excellent way to enhance learning and embellish the space. You can hang up maps of your local area or maps of the entire world. Try adding topography maps, maps of the ocean, or even a globe!
10. Flooring and Rugs

Including cozy carpets and flooring in your room is a great trick for classroom design ideas. Rugs make the space feel more comfortable and welcoming. Additionally, matting and carpeting can reduce the noise, which will help children concentrate.
11. Furnishings

Want to quickly and easily beautify your classroom? Try rearranging the furniture! To take it further, you can get a new look by furnishing your classroom with new desks, tables, and seats.
12. Curtains, Window Panels, and Window Coverings

Adding curtains or window treatments is a terrific approach to bringing character and style to your classroom. You can opt for an eclectic or matching set of drapes or window treatments for your school. Curtains can help keep out noise or any distractions that could take students' attention away from the lesson.
13. Lighting

Lighting is one of a classroom's most essential components. For pupils to see their work, you must ensure that your classroom is well-lit. However, you must also ensure that the atmosphere is cozy and welcoming. Using bulbs or setting up new lighting fixtures, like a floor lamp with warm light, are a great way to brighten up your classroom.
14. Educational Resources

Your classroom is chock-full of educational resources—why not incorporate them inot your decorations? Try organizing materials with more color and pizazz—tie ribbons to pencils and markers, get colorful bookshelves to organize reading materials, and find fun designs for posters, such as a periodic table that's bright and colorful or an alphabet banner with funny designs for each letter. 
15. Cubbies

Cubbies can be an excellent way to arrange your pupils' possessions. Additionally, cubbies can give students a new way to express themselves, as kids love decorating their own cubby while keeping their favorite items safe.
16. Clipboards

Clipboards—often used in high school classroom design—are a fantastic way to give your classroom some individuality. You can use them to show student work or highlight essential information.
17. Baskets

Your school resources can be conveniently stored and organized in baskets. You can keep books, painting supplies, and even refreshments in baskets.
18. Murals

Murals are a fantastic method to enhance your classroom's decor and promote kids' global awareness. Different murals work for different classroom designs and sizes, so you can work with your school, your students, or even local artists to design a great mural that's on theme for your space. 
19. Plants

It's a terrific idea to bring some greenery to your classroom to breathe new vitality into the space. Plants can improve both the air's cleanliness and your classroom's stress levels. Potted plants, hanging plants, or even plants growing on the wall can all be used as classroom design ideas.
20. Wallpaper

Your classrooms can be quickly and easily decorated using wallpaper. You can choose a more varied style or pick artwork that complements your classroom's design. Wallpapers are an easy way to give your classroom a distinctive style.
Updating Your Classroom Technology
As it becomes more and more clear that technology can enhance learning outcomes, technology integration is now key in classroom design ideas. Classroom technology opens doors for accessible learning, whether it's accommodating for students with different learning preferences, enabling online learning, or creating individualized instruction to fulfill each student's specific needs in a larger classroom environment.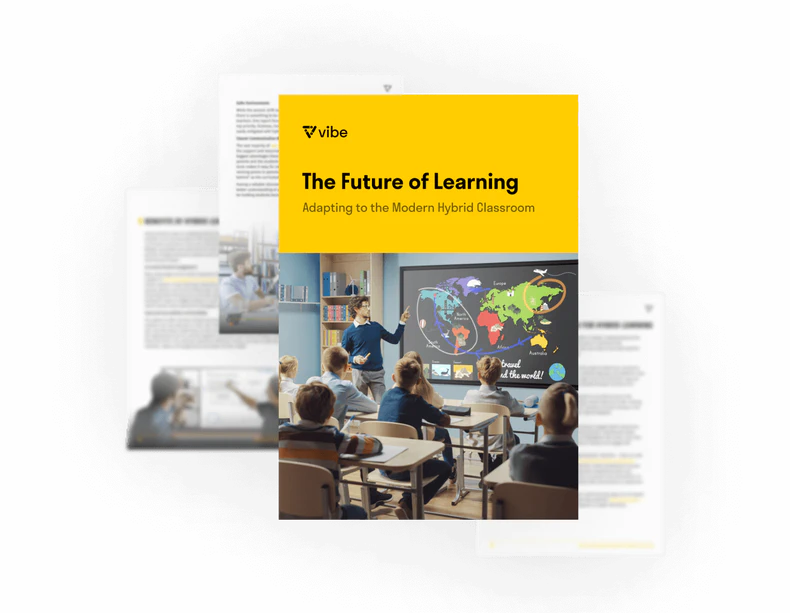 Download Our New E-book
The Future of Learning
1. Interactive Learning Resources

Interactive tools are great for engaging students. A smart whiteboard in the classroom helps teachers and students collaborate in new ways, with touchscreens, lesson recording, easy file sharing, and virtual lessons when needed.. It's also important to keep an eye on new technologies like 3D printing and virtual labs.
2. Projectors

Projectors can be ideal for compact schools and study spaces. Additionally, laser projectors today can operate at a total capacity of 16,000 to 20,000 hrs, significantly reducing the frequency and expense of bulb replacements.
3. Wireless Display

Students today expect their learning to be portable, since they're moving around more and more. Here, a smart whiteboard comes back into play. Interactive whiteboards like the Vibe Board have cloud-based whiteboard software, so students can communicate with other students, instructors, and settings beyond the classroom via wireless presenting capabilities.
Additionally, wireless capabilities can enhance the learning environment for students enrolled in your school's online courses.
4. Interactive Whiteboards

The market for interactive whiteboards is only expanding. growing. Since they allow for real-time collaboration and learning from anywhere, students love how dynamic their lessons can be. Teachers love interactive whiteboards because of their easy annotation tools and countless app integrations. Overall, interactive whiteboards are incredibly well adapted to collaborative learning.
Smart whiteboards are rapidly becoming a staple of modern classroom design, and instructors from K-12 and beyond see the interactive whiteboard as their preferred teaching tool. Among the specific advantages of smart whiteboards are:
They give teachers a simple yet highly effective way to engage their students.
They cater to various teaching strategies.
They work well and can be used by numerous pupils at once.
They require less upkeep; the absence of chalk and pens results in lower expenditures and are simple to maintain clean.
They conserve resources by reducing the demand for paper.
They help students with digital literacy.
They help with integrating technology into the classroom and can link to laptops, webcams, microphones, and more.
5. Recording of Lectures

With lesson recordings, instructors can easily add lessons to online systems, so students can return to lessons, study, and learn at their own pace outside of the classroom. Think about using cutting-edge tools like 360-degree cameras that can track a speaker as they move to enhance the quality of your recordings.
Vibe in the Classroom

Modern technology solutions in the classroom can increase effective instruction and improve student performance. Smart whiteboards are not only desirable for students and teachers, but can deeply enhance the educational experience with an infinite, clutter-free writing whiteboard canvas..
Vibe provides interactive whiteboards in the classroom and unique cloud-based software for collaborative and interactive learning. Vibe Boards can help boost attendance and student performance and make brainstorming, web-based learning, and classroom meetings a breeze by integrating your favorite apps. Discover how to do more with Vibe here .
FAQs:
What makes a good classroom layout?
A good classroom layout should use all the space in the room strategically. Organize the classroom so the teacher can monitor swiftly and efficiently with no blind spots. Try to maintain a clear separation between active and peaceful regions. For vertical space, try using displays and posters for easy educational enrichment. 
How can I make my classroom attractive?
You can improve the aesthetics of your classroom by:
Choosing a unified and consistent color scheme
Cleaning up your classroom
Providing a variety of seating alternatives
Using tables or clusters of workstations for collaborative tasks
Allowing for individual study
Exhibiting student work
What is the best classroom setup?
The most typical classroom arrangement is called the 'rows configuration' (sometimes called the 'columns configuration'). These classroom arrangements go well with those centered on teacher-led instruction and presentations. The emphasis among students is increasingly on coursework and independent projects.
See how Vibe could help →
Subscribe to get updates on all things at Vibe
Thank you for subscribing Vibe's blog!