Project Planning from Start to Finish with Vibe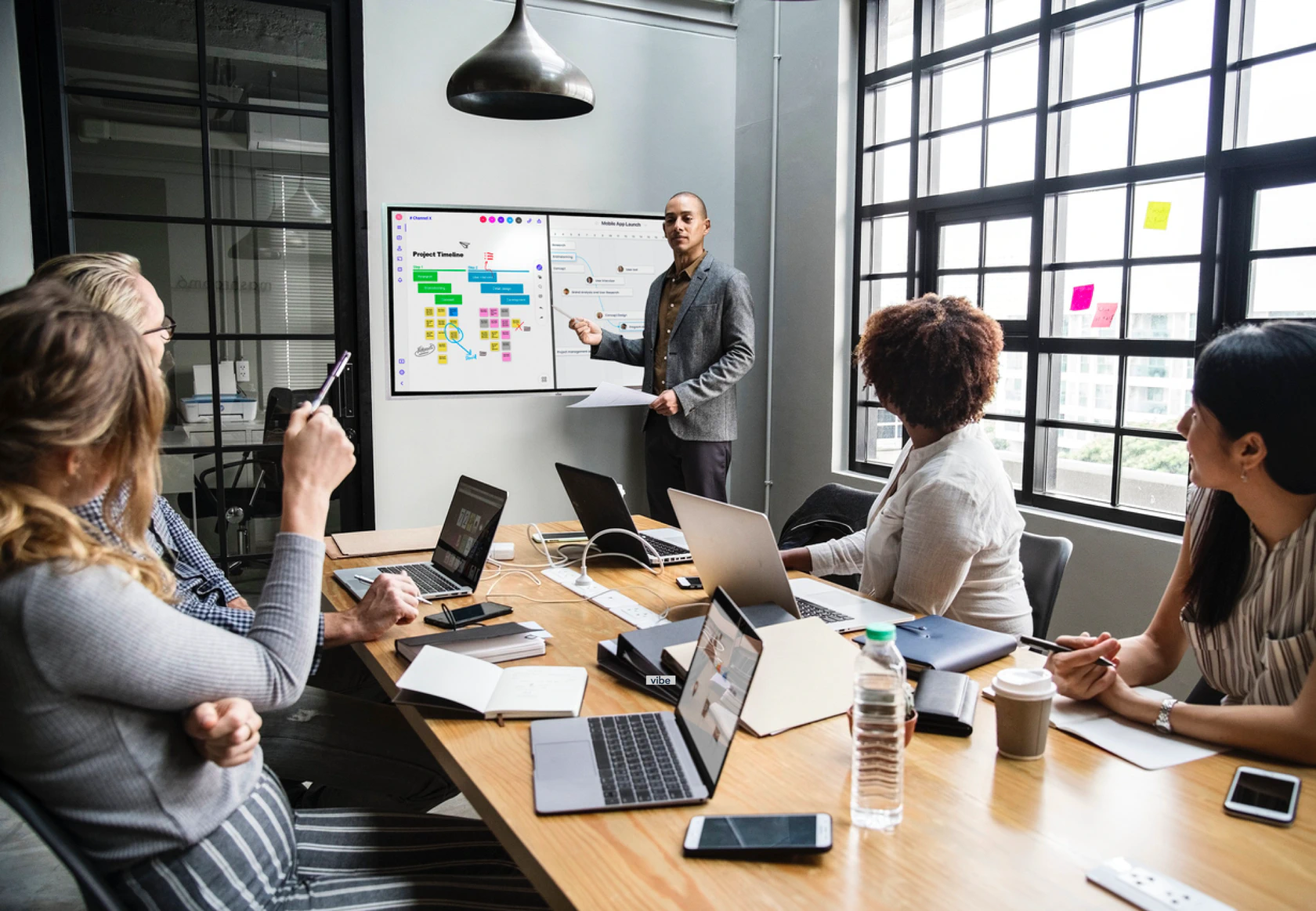 Project planning is an important aspect of your business. A well-thought-out project plan could be the difference between your project becoming a huge success or a major fumble in your organization. Developing creative solutions, meeting vital deadlines, and staying within a project's budgetary restrictions are all key to successful project management—and thanks to Vibe, project planning has never been easier. 
The Vibe Smart Whiteboard helps focus team meetings, share important updates with stakeholders, add annotations and notes to works-in-progress, and just about any other project planning task you can think of. Find out below how Vibe can take your newest project to the next level.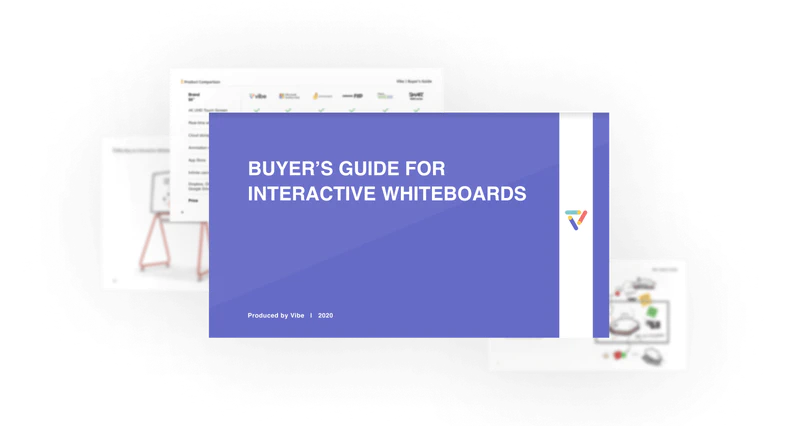 What you need to know before buying a smartboard
What is project planning?
Any type of project management requires planning. In the planning stage, projects might take some brainstorming, rough drafts, and outlines to explore all the possible elements needed for success. With a carefully constructed plan, you can ensure key projects are executed, monitored, and completed to your client's satisfaction.
There are a few basic steps to completing any project. First, there's the initial planning stage where all the ideas come together. In some cases, this might be known as the "horizon" stage. Clients love to "shoot for the moon," creating ideas that might seem great at first, but cannot be realistically completed, so project teams in this phase need to work with clients to build realistic expectations.
Next is the reference stage, where your team figures out how to implement the nuts and bolts. At this stage, you can determine elements you want to pursue more seriously and what ideas need to be discarded from the project plan. From there, teams can create a project schedule and identify risks or obstacles before presenting to stakeholders. Make sure to focus on definition, preparation, integration, and coordination during these beginning stages of project planning.
We'll go more in depth on every project planning stage in a bit.
Why is project planning important?
A detailed project plan is the best way to ensure that your latest job stays on track. While it can be sorely tempting to "wing it" (particularly when deadlines are bearing down), the truth is, when you're working with multiple team members, managers, and customers, disorganization will likely lead to frustration.
A planning session also gives teammates time to consider any potential issues they might encounter throughout the project's progression. With an established project plan in place and team members aware of any potential pitfalls, costly delays or mistakes can be more easily mitigated—trust us, clients will appreciate going the extra mile to avoid any unnecessary delays.
How to prepare for project planning
We've discussed a project plan plenty already, but what does a great one really look like? Organizing every team member's tasks, activities, and deadlines can be inefficient and overwhelming with the wrong tools. 
Vibe Smart Whiteboards help you keep your brainstorming sessions , planning notes, and resources all in one place so anyone can instantly access current project documents without seeking out an old email chain or accidentally stumbling into an outdated document. 
You can even incorporate your favorite project management applications onto the Smartboard to create a more suitable and familiar workspace for your team and relevant stakeholders.
The basic steps to project planning
Ideate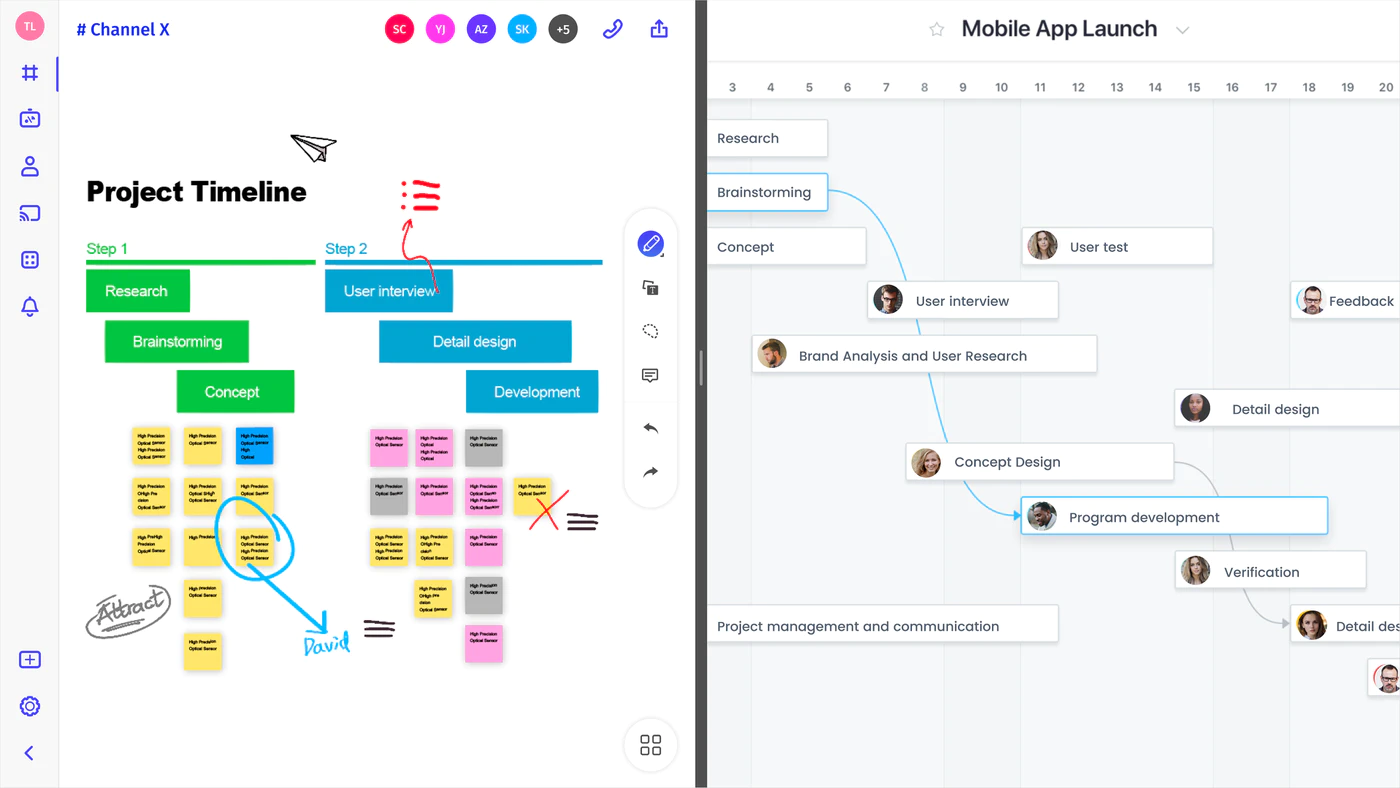 Ideate on Vibe Canvas, Vibe's whiteboarding app
Ideation can be the first step toward a great idea. Using Vibe's collaboration software , Vibe Canvas, your team can list objectives, problems, solutions, create flowcharts , and connect ideas to your company's goals—all on a 55" 4K UHD touchscreen.
Collaborate with team members who are working remotely by starting a video call — they can join the discussion via their own Vibe device, or by tuning in via video platform (Vibe integrates with Skype, Zoom, and most other popular video-conferencing apps). You can also share your screen with remote participants so they can follow along.
During this planning stage, you'll need to identify the project stakeholders. While not all of them will be actively involved with the project, you still want to keep key points of contact in the loop in regards to your progress. Some of these stakeholders may include:
The client
End users
Team and company leaders
Others working on the project
When you're done, you can save your brainstorming canvas for later or instantly share it with another team. (Forget to save? Vibe Cloud's autosave feature makes sure you don't lose your progress.)
Define roles and responsibilities
Now it's time to assign individuals to specific roles in the project. You need specific skills and competencies to reach a successful outcome. Using your preferred project management software on the Vibe Smart Whiteboard can help with this part of your project plan.
Once you know who will be working on the project, begin to fill these necessary assignments. (Tip: Use the Team Charter Template to map out roles and responsibilities across the team.) It's important to note that one person can fill multiple roles, especially if they are a great fit for the project. In other cases, multiple people could fill identical roles, such as software engineers. Project managers, sponsors, and team members are all critical to completing a project.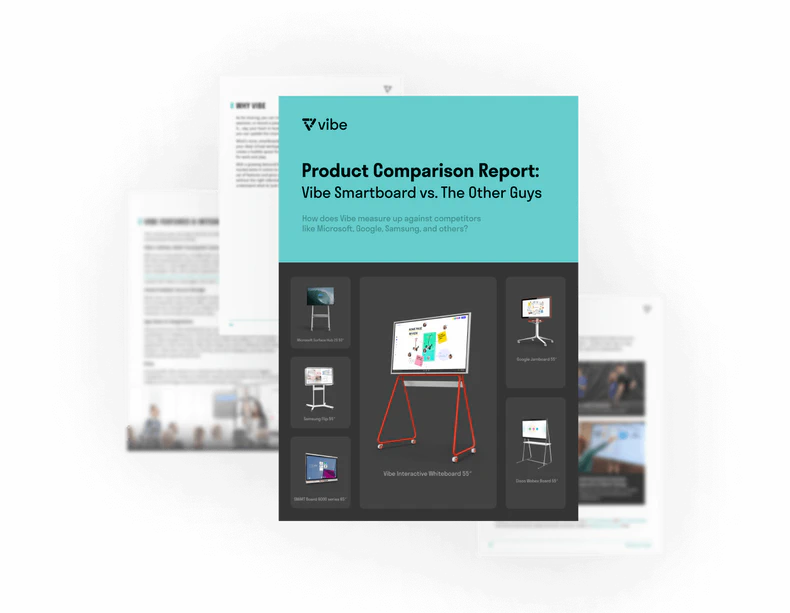 Check Out Our New Smartboard
Product Comparison Report
Create an Eye-Catching Presentation with Ease
Vibe Smart Whiteboards come pre-loaded with several useful templates to help you quickly build the perfect presentation. Templates come in handy when presenting in common formats —flowcharts, org charts, value proposition graphs, empathy maps, decision matrices, and sticky-note style priority charts are all ready to go (read: no need to create your own templates from scratch). 
You can also use an array of pre-designed shapes, grids, and patterns to create easy custom templates for pro/con lists, word clouds, and anything else you might need in a group setting. Templates can streamline the presentation development process considerably, keeping even the most graphic design-challenged teams engaged.
Present
A kickoff meeting is the perfect way to set the tone for the team for the duration of your project, and it's the ideal time to introduce those individuals filling specific roles.
Have a presentation saved on your computer? Wirelessly screencast to your Vibe Smart Whiteboard and use the stylus to annotate your presentation as you go. You can also screencast from your Vibe board to a TV or even project onto a wall for maximum presentation size. The Vibe portable stand makes transporting the board easy and allows you to adapt to any room layout.
And remember, if someone can't make it to the physical presentation, they don't have to miss out — you can use video calls to share your presentation in real-time. The interactive elements will keep your audience engaged and encourage collaboration, no matter where your audience is.
Define project scope, budget, and timeline
Properly executing any project will always come down to three important elements: scope, budget, and timeline.
With scope, it's vital to outline what you can and cannot achieve with the project. Make sure to clearly define your project's objectives with both the customer and your own team.
A budget is critical for any type of project, especially those involving customers. You want to make sure that you have the resources to meet key objectives, and that project teams stay within a predetermined budget. Take time to learn about what happens if you go over the budget.
Finally, the timeline. With a comprehensive timeline in place, you can then determine where certain phases of your project begin and create smaller deadlines within that time frame. This is also the time to evaluate whether or not all client goals can be reasonably met within a certain time.
Brainstorm and build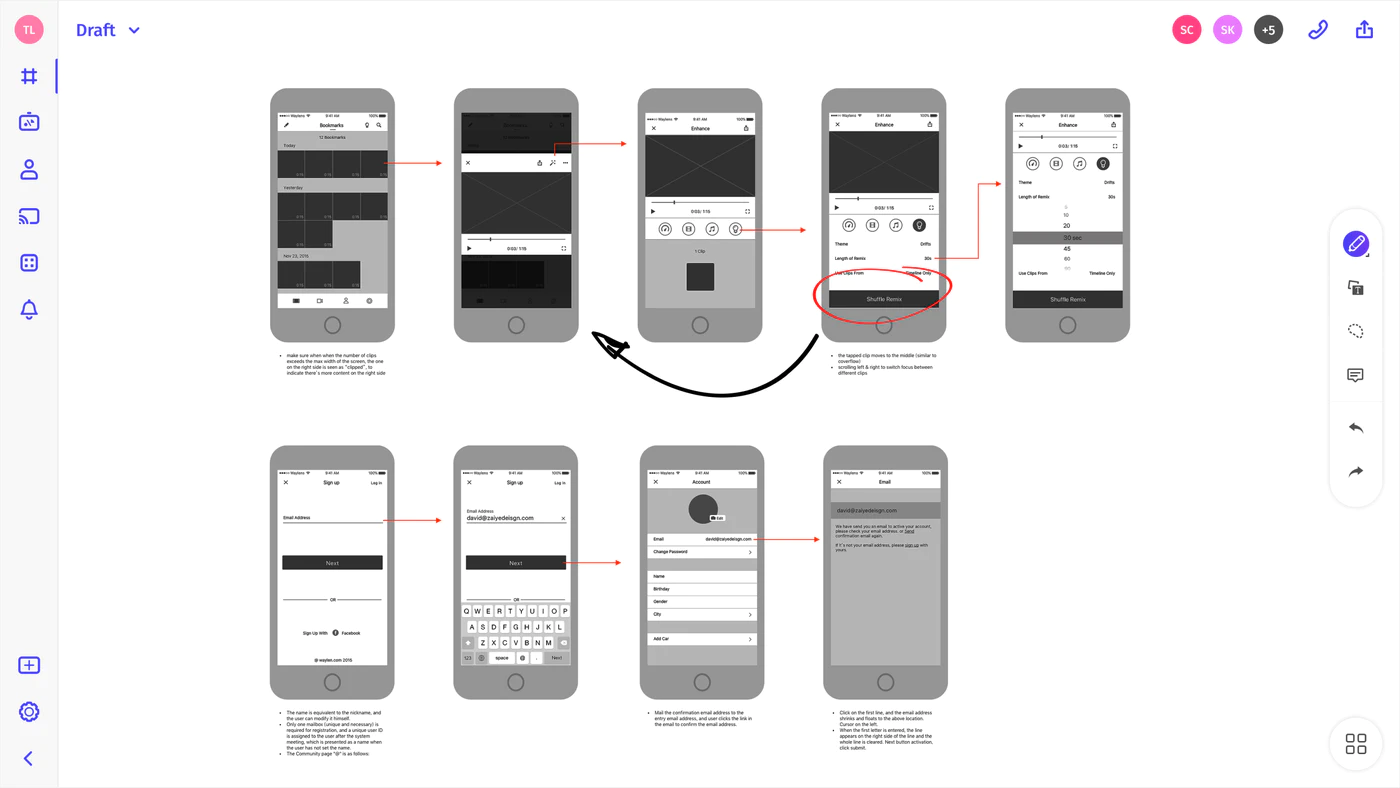 Visuals and shared spaces are a major asset in team project planning.
Let's say your team's project is designing a new product. In this stage, your design team can use the Vibe Smart Whiteboard for a myriad of activities:
Draw early prototypes
Experiment with combining different shapes, colors, and materials
Map out production timelines
Vibe allows you to combine multiple elements (sketches, screenshots, tables, annotations, etc.) all on the same canvas. And with Vibe's advanced stylus, the stylus-to-touchscreen experience feels natural, like using a marker on a traditional whiteboard.
You can refer back to your brainstorming canvases at any time to keep your goals in focus. Make sure that your team understands the project's objectives by breaking down those big ideas into smaller tasks. Then, prioritize each job according to its importance to the project. Finally, create a system where corrective actions are used to meet all the goals on time.
Related: How to Use UX Research to Create Products Users Actually Want
Define deliverables
Any service or product can be defined as a deliverable. When you have a deliverable on hand, your project is nearing completion. 
Seamlessly share deliverables to your team with Vibe's collaboration software, Canvas. The ease of Vibe's team-based design will help your team meet customers' objectives quickly—without the risk of losing any unsaved work.
Create a project schedule
You can use a Vibe Smart Whiteboard to detail your timeline, list needed resources to complete a task, and compile any other information that is vital to completing your project. Make this schedule simple and easy to understand. 
A successful project schedule should:
Be divided into individual phases
Assign tasks to specific stakeholders
Sequence all of the activities in each phase
Provide an estimate for the task's duration
Detail needed resources for each task
You can also make some adjustments to the project plan at this point, which is better than trying to make changes after the project has begun. 
Complete a risk assessment
Few projects go completely according to plan. That's why it's imperative to identify potential risks early and try to mitigate them during the project planning phrase. Complete a risk assessment with your remote team using the Vibe Smart Whiteboard and Canvas. On the infinite canvas, team members can list all potential risks. Some of the most common risks involve:
The project's scope
Failures in communication or technology
Shortage of resources
Unexpected delays
While you cannot account for every obstacle, you can certainly think through them and create a plan in the event that they occur during your project.
Related: How to Conduct a SWOT Analysis for Your Business
Communicate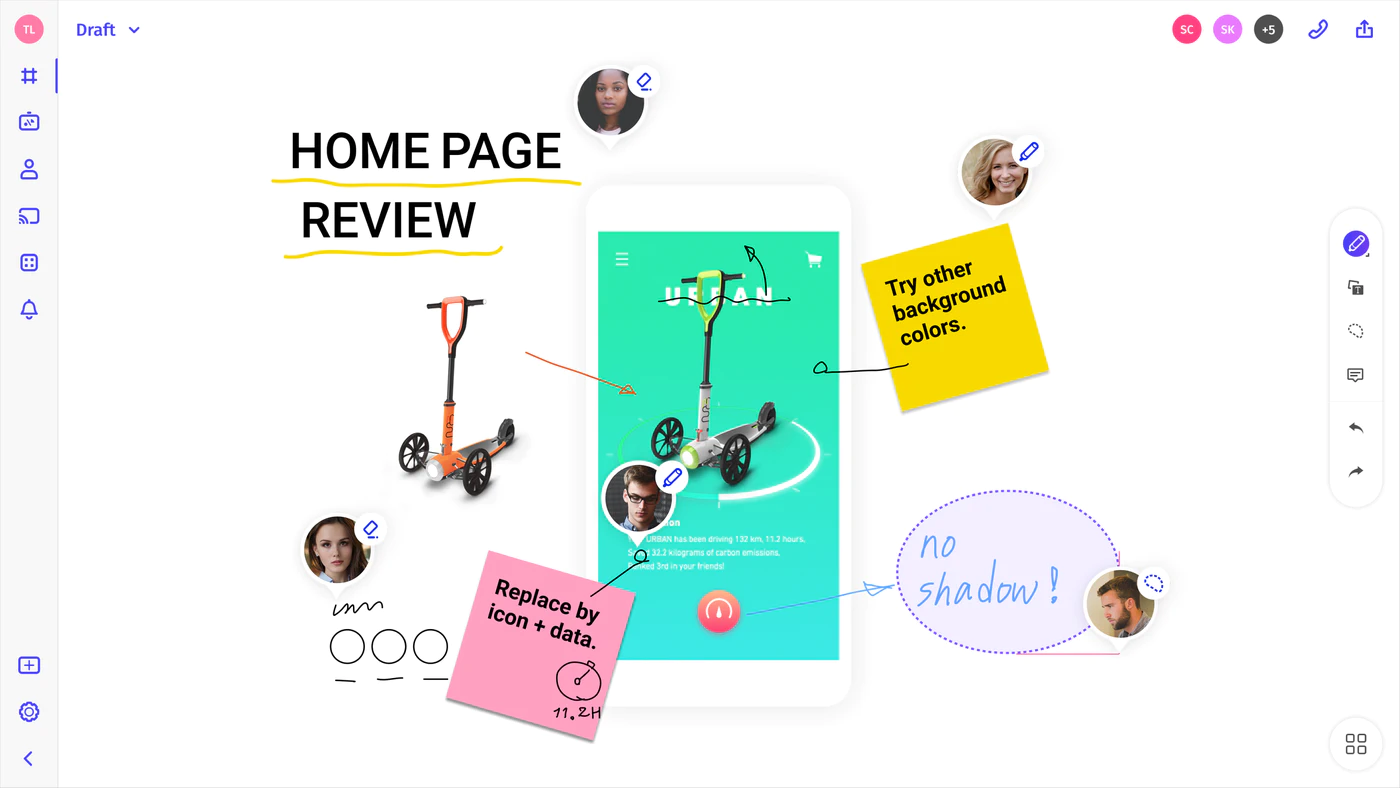 During project planning, regular communication among teammates is key.
During project planning, regular communication among teammates is key. When it's time to share your progress, you can use your preferred apps (including Microsoft Teams and Slack) to share content to any device via secure URL from your Vibe board.
As you pass along saved canvases to other teams for workshopping, you can be confident your intellectual property is safe — Vibe is serious about security , following best practices for technology such as AES-256 encryption and AWS S3 storage.
Vibe's public sharing system includes features such as guest mode, auto-expiring codes to limit sharing time, a 'tap to clear content' function, multi-user sign-in, and permission controls, so you can easily manage who has access to your content.
Let Vibe help you with your next project
With Vibe, you have an all-in-one collaboration hub where you can create, present, and discuss every crucial aspect of your project plan. Vibe provides a multitude of opportunities to enhance collaboration without interrupting your workflow.
Vibe is more than just a device— it's a member of your team, cultivating productivity and innovation at every step in the creative process. With this innovative technology, you can plan your next project with ease.
Learn more about making Vibe part of your next project by watching a demo video .
[Editor's note: this post was originally published July 22, 2019 and updated May 20, 2022.]
---
Vibe offers a collaborative solution combining an interactive digital whiteboard and innovative smart software. Increase engagement and efficiency at your brainstorming sessions, virtual training, and classroom sessions by integrating your favorite applications with video conferencing and an infinite, mess-free writing canvas! Collaborate today with Vibe.
Looking for the latest in interactive whiteboard technology? Check out Vibe today!
See how Vibe could help →
Subscribe to get updates on all things at Vibe
Thank you for subscribing Vibe's blog!