35 Quotes About Communication for Inspiring Team Collaboration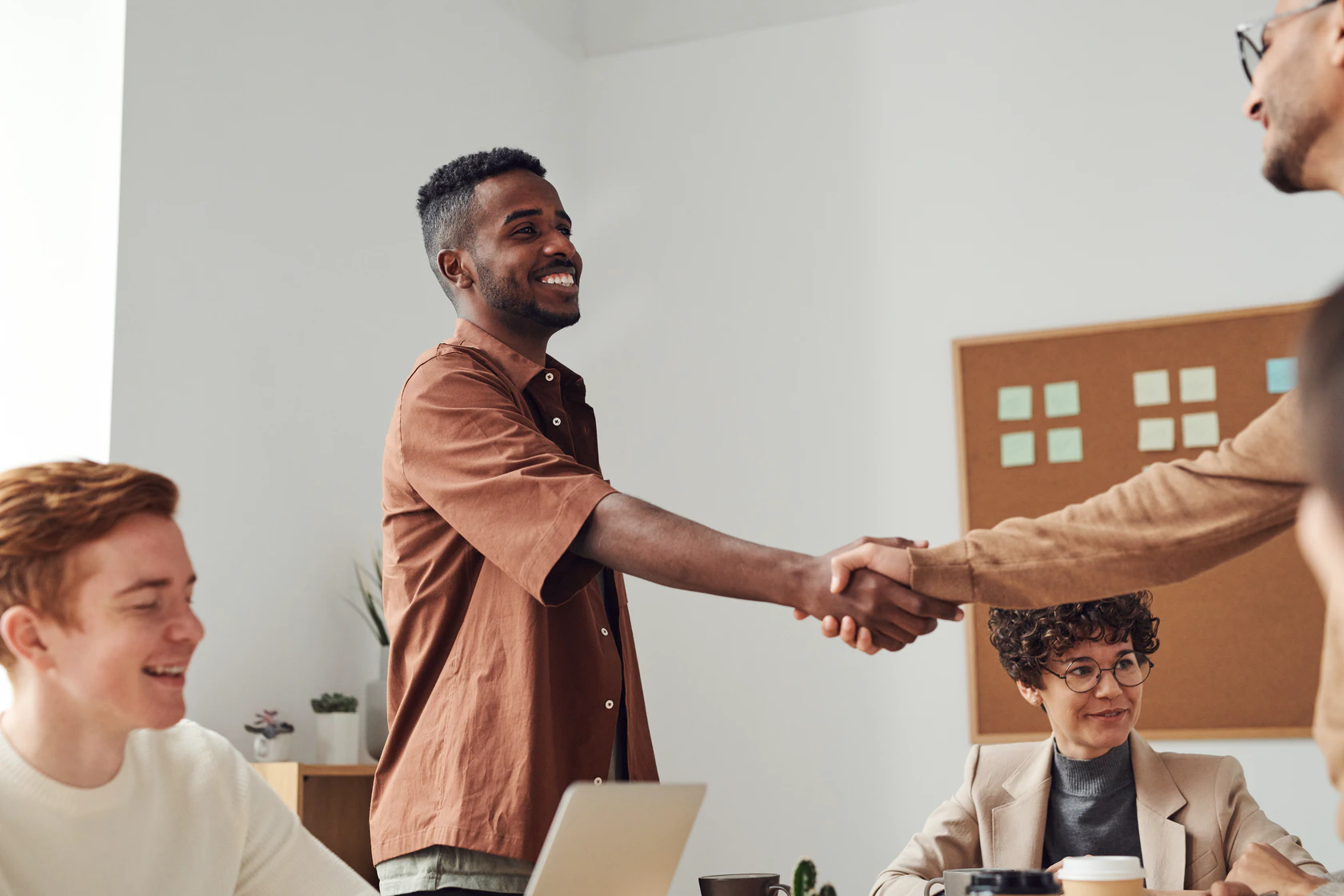 For many businesses, collaboration is the heartbeat of the organization, powering everything from products to services. Today, collaborative work occupies 85% or more of a typical employee's work week. According to Harvard Business Review, this figure reflects at least a 50% increase over the last 10 years.
Just because employees are collaborating more than ever doesn't mean they're doing so effectively—and the main culprit is communication. Simply put, collaboration isn't possible without (effective) communication. And in a new era of remote and hybrid work, effective communication takes work.
When businesses invest in the tools and strategies to help their employees communicate more successfully, it makes it easier for teams to build meaningful connections . When teams are connected, they're more collaborative. Research from Harvard Business Review found that when teams start out with 20% to 40% of team members already well connected to one another, there's stronger collaboration right from the start.
If you're short on ways to inspire your team to collaborate more productively, try a well-placed quote, or a few! Here are 35 of the best quotes about communication to get you started.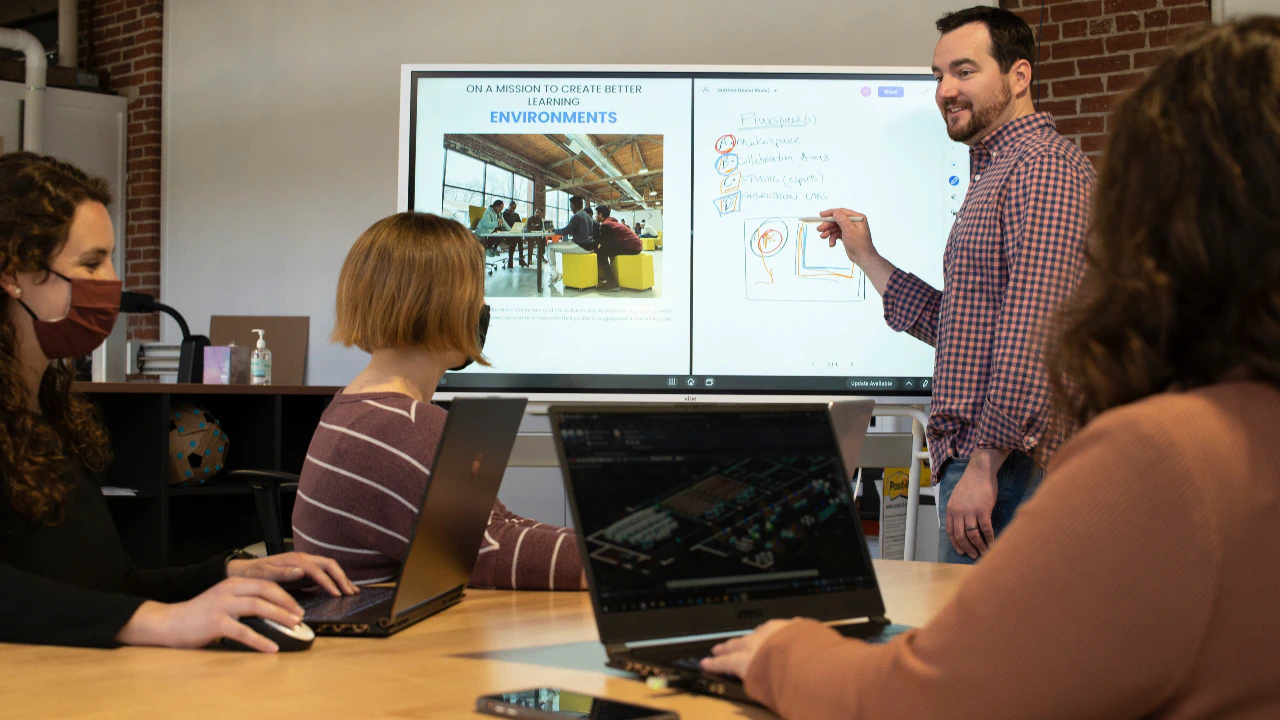 A team collaborating using a Vibe Smart Whiteboard
Finding the Best Quote for Your Team
Not all teams have the same challenges. While some teams communicate seamlessly and naturally work well together, other teams may not. If you're thinking about using a quote to motivate your team, start with thinking about what resonates with your team on an individual level.
Then, consider the fundamental characteristics of effective collaboration and where your team could use some encouragement, whether it's with teamwork, listening, leadership, or communication. 
The Best Quotes About Communication
Communication is widely regarded as the foundation for a successful team. It's also often the root cause of an unsuccessful team. Permeating every industry and companies of all sizes, communication can take place at the organizational level, but it's inherently an individual skill. Here are 14 quotes for motivating your team to be better communicators. 
"The single biggest problem in communication is the illusion that it has taken place."
– George Bernard Shaw, Nobel Prize-winning playwright
"Nothing in life is more important than the ability to communicate effectively."
– Gerald R. Ford, former United States president
"If you just communicate, you can get by. But if you communicate skillfully, you can work miracles."
– Jim Rohn, author, speaker and entrepreneur
"To effectively communicate, we must realize that we are all different in the way we perceive the world and use this understanding as a guide to our communication with others."
– Tony Robbins, author, speaker, coach
"Excellent communication doesn't just happen naturally. It is a product of process, skill, climate, relationship and hard work."
– Pat McMillan, author, CEO
"Communication works for those who work at it."
– John Powell, film composer
"Listen with curiosity. Speak with honesty. Act with integrity. The greatest problem with communication is we don't listen to understand. We listen to reply. When we listen with curiosity, we don't listen with the intent to reply. We listen for what's behind the words."
– Roy T. Bennett, author
"Half the world is composed of people who have something to say and can't, and the other half who have nothing to say and keep on saying it."
– Robert Frost, Pulitzer Prize-winning author
"Communication is the solvent of all problems and is the foundation for personal development."
– Peter Shepherd, psychologist, author
"Great communication begins with connection."
– Oprah Winfrey, television producer and host, author, philanthropist
"Constantly talking isn't necessarily communicating."
– Charlie Kaufman, producer, screenwriter
"How well we communicate is not determined by how well we say things but how well we are understood."
– Andrew Grove, engineer, CEO
"Good communication is as stimulating as black coffee and just as hard to sleep after."
– Anne Morrow Lindbergh, American writer, aviator
"The great enemy of communication, we find, is the illusion of it."
– William H. Whyte, sociologist, journalist
Quotes About Communication to Inspire Teamwork
Effective collaboration doesn't happen without teamwork. At the same time, teams that work well together have often mastered communication. According to Gallup data , 84% of U.S. employees say they are "matrixed" to some extent, which means they likely work on multiple teams. With more employees working cross-functionally, meaningful collaboration is only possible through purposeful communication and teamwork. Here are eight quotes on the importance of teamwork.
"The way a team plays as a whole determines its success. You may have the greatest bunch of individual stars in the world, but if they don't play together, the club won't be worth a dime."
– Babe Ruth, Hall of Fame baseball player
"Effective teamwork begins and ends with communication."– Mike Krzyzewski, Hall of Fame collegiate and Olympic basketball coach
"Alone, we can do so little; together we can do so much."– Helen Keller, American author and activist
"Coming together is a beginning; keeping together is progress; working together is success."
Henry Ford, founder of the Ford Motor Company
"The strength of the team is each individual member. The strength of each member is the team."– Phil Jackson, former NBA athlete and head coach
"In teamwork, silence isn't golden, it's deadly."– Mark Sanborn, author, speaker and entrepreneur
"Great things in business are never done by one person. They're done by a team of people."– Steve Jobs, American inventor and co-founder of Apple
"Unity is strength…when there is teamwork and collaboration, wonderful things can be achieved."– Mattie Stepanek, poet and motivational speaker
Quotes to Encourage Better Listening
Ask any expert for the secret to being an effective communicator and the answer is likely listening. In a world full of distractions and Zoom fatigue , it's easy to lose focus. High-performing teams do more than nod and smile; they listen actively with the intent to understand. Here are four quotes for encouraging listening skills. 
"When people talk, listen completely. Most people never listen."– Ernest Hemingway, Pulitzer and Nobel Prize-winning novelist
"The most important thing in communication is hearing what isn't being said. The art of reading between the lines is a lifelong quest of the wise."– Shannon L. Alder, author
"There is only one rule for being a good talker—learn to listen."– Christopher Morley, author and journalist
"We are stronger when we listen and smarter when we share."– Rania Al-Abdullah, Queen of Jordan
Quotes About Communication for Inspiring Leadership
One of the greatest indicators of a successful leader is their ability to make those around them better. Great leaders can also communicate effectively and lead by example. When leaders communicate with transparency, it breaks down silos and creates a safe, welcoming space for open collaboration. Here are four quotes on the importance of communication in leadership.
"Great leaders communicate and great communicators lead."– Simon Sinek, author and motivational speaker
"The art of communication is the language of leadership."– James Humes, author, speechwriter
"The more we learn about effective communication, the better we'll be at leading, as our directives will be better understood."– Paul Jarvis, author and designer
"Communication is the real work of leadership."– Nitin Nohria, former dean of the Harvard Business School
5 More Quotes About Communication and Collaboration
Collaboration is about more than team members simply communicating with each other. It's about a connected group of individuals working together to solve problems. When done well, collaboration should inspire innovation and creativity.
When businesses prioritize collaborative culture, it opens up new ways for employees to experience growth on an individual level and become more efficient. According to one study featured in a Forbes article , companies promoting collaborative working are five times as likely to be high performing. Here are five quotes that sum up the impact of collaboration. 
"As you navigate through the rest of your life, be open to collaboration. Other people and other people's ideas are often better than your own. Find a group of people who challenge and inspire you, spend a lot of time with them, and it will change your life."– Amy Poehler, comedian, writer and producer
"The fun for me in collaboration is, one, working with other people just makes you smarter; that's proven."– Lin-Manuel Miranda, Broadway actor and playwright
"Invariably, collaboration leads to new forms of self-expression and to the things that move you."– Rodney Crowell, musician
"Effective communication is the best way to solve problems."– Bradford Winters, television writer and producer
"When the trust account is high, communication is easy, instant, and effective."– Stephen R. Covey, author, educator, speaker
Choosing the Right Tools for Team Communication and Collaboration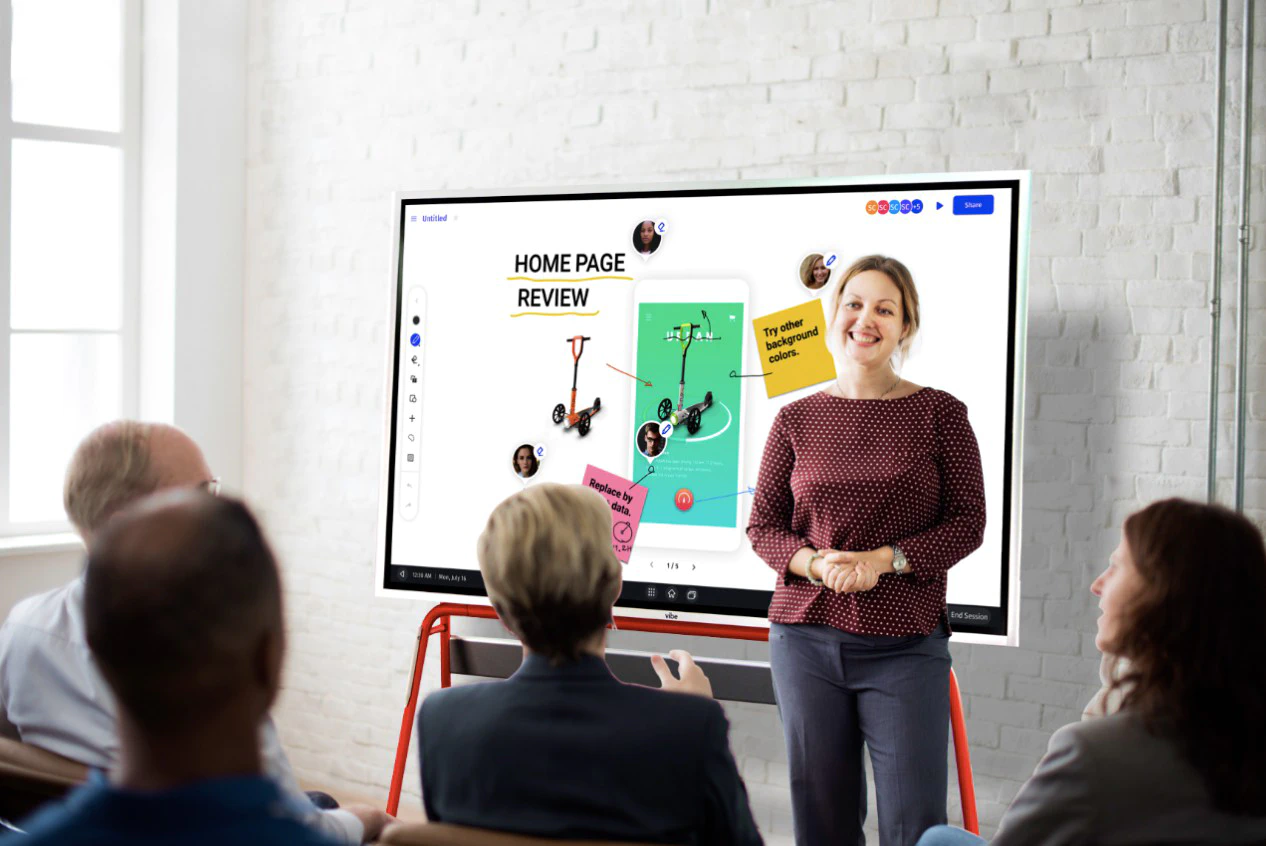 Improve team communication with Vibe
While motivational quotes about communication are a great strategy for inspiring team collaboration , interactive whiteboards, such as the Vibe Smart Whiteboard , can take team communication to the next level. Here are a few ways a Vibe Board can help your team improve communication.
Real-time collaboration from anywhere.
The Vibe Canvas is accessible from anywhere. This means your team can collaborate together in real time, without getting slowed down by annoying lag times. Nothing stops a great conversation like a broken microphone or buffering video call. With Vibe, you can kick off a brainstorming session with a meaningful quote and then ask your team members to add their own quotes to the board to spark great discussions.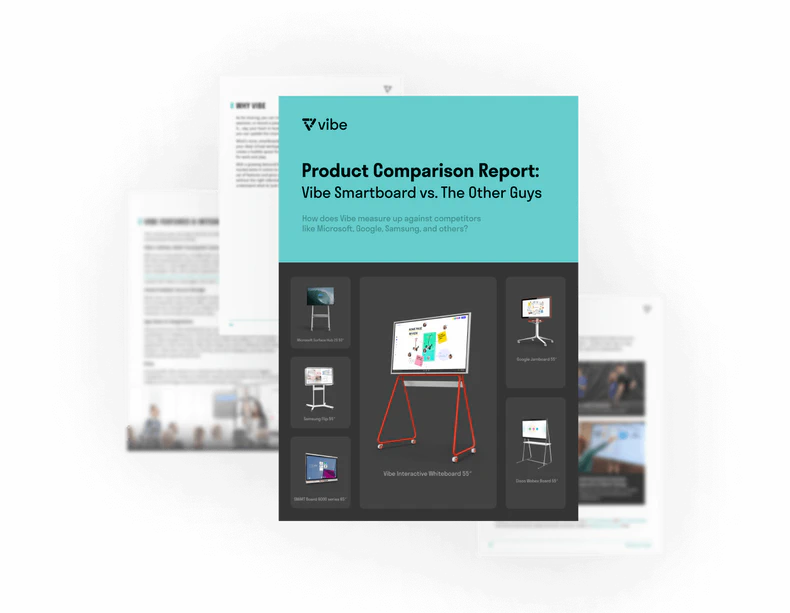 Check Out Our New Smartboard
Product Comparison Report
An unlimited canvas.
Unlike traditional conference room whiteboards, with Vibe's infinite online Canvas, you'll never have to worry about running out of space–or frantically scribble the phrase "do not erase" at the end of a meeting. Once you're done collaborating, simply export or share your Canvas for other teammates to see or add to at a later time. 
Integrations for your favorite apps.
Vibe integrates with a variety of your favorite apps, from video conferencing to note-taking, project management, and presentation tools. Teams can seamlessly collaborate on slide decks before a big presentation or add notes and feedback from clients directly into project management tools after a call. 
Want to learn more about how Vibe can help your team improve communication and collaboration? Check out a virtual demo today, or check out our Product Comparison Report to see how Vibe compares to similar tools like Google Jamboard, Microsoft Surface Hub, and more.
See how Vibe could help →
Subscribe to get updates on all things at Vibe
Thank you for subscribing Vibe's blog!