20 Inventive Christmas Office Party Ideas You'll Love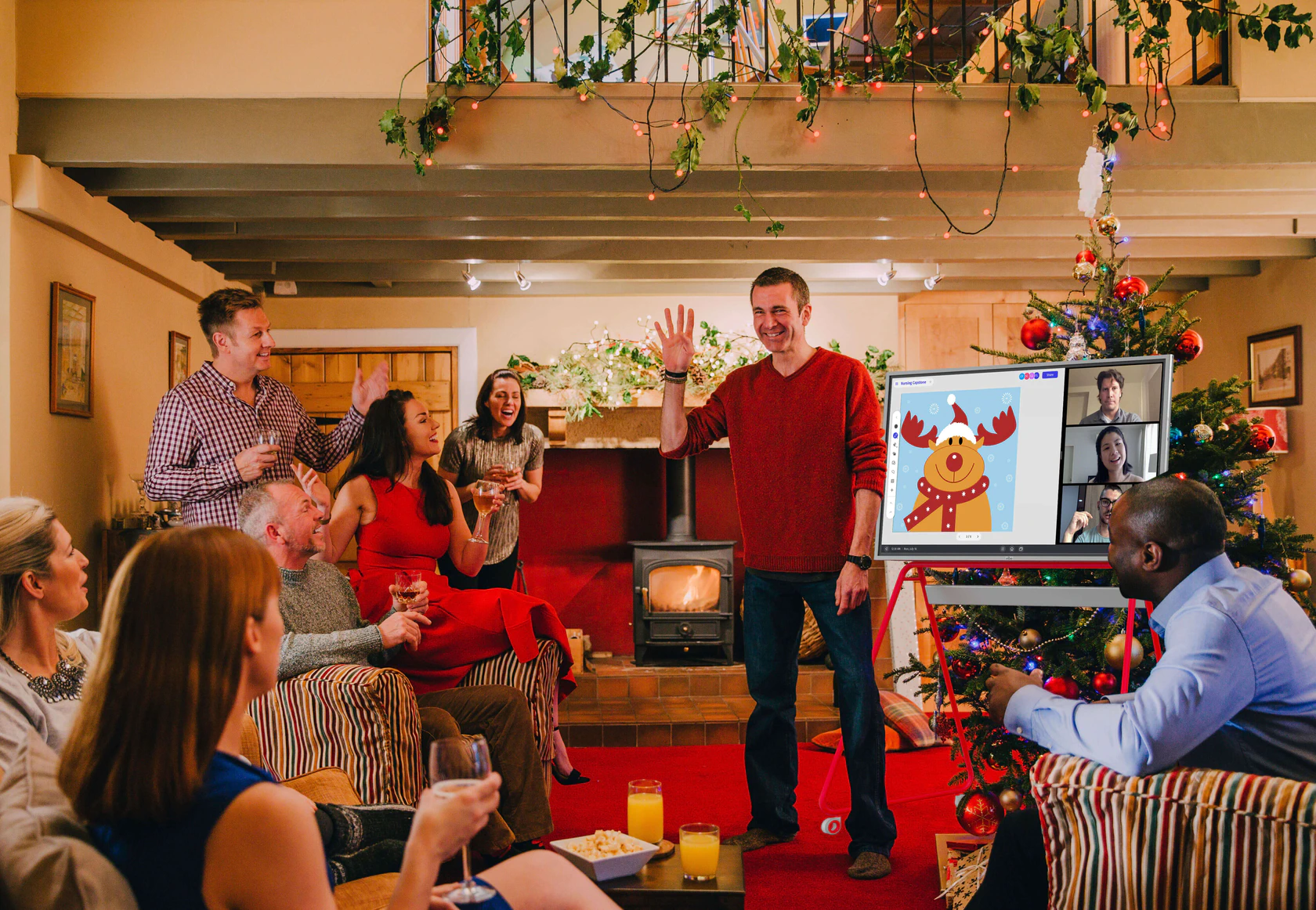 Tired of doing the same old thing every Christmas office party? Or are you looking for ways to get everyone at your work involved in this once-a-year event? If this is you, then look no further than your Vibe Smart Whiteboard to help you host a holiday party everyone is sure to love. Here are 20 great Christmas games and activities that you can do with your Vibe Smart Whiteboard to really spice up your party this year.
Top 4 Creative Office Party Games
Christmas Tree Decorating
Decorating office Christmas trees with your team is always enjoyable and a sure-fire way to create a festive atmosphere. Here's a fun twist to this classic activity: Adding a 30-minute time limit for each team. Here's how it works:
If you're decorating physical trees

Buy Christmas decorations and trees in advance
Split everyone at your workplace into teams and provide each team with a tree and decorations.
Give them just 30 minutes to decorate and explain that everyone has to participate.
Once 30 minutes have passed, have pre-selected judges choose a winner, or have teams themselves vote on the best tree. You could also ask people working remotely to vote as well.

Don't have real trees? No problem. The Vibe Smart Whiteboard is just as fun

Set up your smartboard in your conference room.
Split everyone into even groups.
Have two groups come up to the smartboard at the same time and compete to see who can draw and decorate the best virtual tree.
Pre-selected judges or the other teams will pick a winner and give a team award for the best tree.
Christmas Charades
Christmas Charades is an excellent game to play at your office party to help people relax and have fun. It's also a great way to see who's got some real acting skills and who shouldn't give up their jobs to pursue acting careers.

Having a game of Christmas charades with team
How to play:

Split up your office into two teams
Have one person come up to the front of the room and choose a random word with a Christmas action/person / or thing that they must act out.
The actor's team has 1 minute to guess the Christmas word. If they guess the right word they will get 1 point.
The teams will take turns acting out Christmas words and trying to guess the correct words. The team with the most points wins.
To remember all the craziness that ensued during Christmas charades, why not record the game and watch it over and over again on your Vibe Smart Whiteboard.
Secret Santa
Wanting to run a Secret Santa, but are not sure how to involve colleagues working remotely? With Vibe, you can easily involve those that can't make it to the office party and carry on this holiday tradition. After all, what would Christmas be like without the opportunity to give a gift to one of your colleagues?

have a remote secret Santa games via a virtual meeting
How to set up a hybrid secret santa:

Beforeyour party, arrange for your co-workers to randomly select the name of one of their colleagues for whom they will buy a gift.
They are not allowed to tell their colleague that they have their name and will be buying a gift for them.
Explain the gift will be given out and opened at the office staff party.
For those people who will not be in attendance for the staff party, their gifts could be mailed to them or virtual gifts such as concert tickets or gift cards could be given.
At the staff party, start a Zoom call on your Vibe Smart Whiteboard and then everyone will take turns, either in person or virtually, opening the gifts they received.
Encourage people to talk about how they approached researching and buying the gift they bought.
Have the guessing stage happen after this, they should try to guess who their secret Santas were.
Name That Christmas Tune / Music Video
Have some musical fun with your colleagues with this easy-to-set-up Christmas game. All you need is your Vibe Smart Whiteboard and a Christmas playlist or a set of your favorite Christmas music videos on YouTube.
A traditional version of name that Christmas tune

Turn on your Vibe and share your screen with anyone attending your party remotely.
Play about 10 seconds of a Christmas song or music video from YouTube.
Party guests have to guess the name of the song that they briefly heard. And if you really want to make it challenging, you could also have them guess the name of the performer as well.
The person who guesses the most correct songs is the Name That Tune champion.

A collaborative alternative version-mash that tune

Use rave.dj to combine any two YouTube or Spotify songs you want.
Have the event facilitator compile and showcase each music mashup on a your Vibe board.
Make the conversation about favorite songs and what surprised people. What two songs worked amazingly well that shouldn't have?

mash your songs on rave
8 On-site Office Christmas Games
Christmas Karaoke
Who doesn't like singing their favorite Christmas carols at this time of the year? With your Vibe Smart Whiteboard, there's no need for extra equipment to have a great karaoke session with your colleagues.
How to karaoke with Vibe:

Get everyone together in one room with your Vibe Smart Whiteboard
Open YouTube and search for your favorite Christmas songs (make sure to include the word 'karaoke' in your search request).
Once a song is selected, have teams or individuals come up and sing to their heart's content.
For extra fun, you could award a prize to the best performance of the night.
Elf on the Shelf-off
Elf on the Shelf has quickly become a modern Christmas tradition in many homes, so why not have 'elfish' fun at the office as well. Here's an entertaining activity you and your colleagues can do at this year's Christmas party.
How to play:

Split your office into teams, and give each team an elf.
Send the teams off into the building to stage a work-themed photoshoot with their elf.
Once some great shots have been taken, have everyone reconvene and share their photos on a smartboard.
The team with the best / funniest photo wins!
Watch a Classic Christmas Movie Together on Vibe
Watching holiday films together is another great way to create a sense of nostalgia and aid in team bonding. Simply have your colleagues share their favorite Christmas films and watch them together on your Vibe Smart Whiteboards…oh and don't forget the popcorn.
8 Christmas film suggestions:
A Christmas Story
Nightmare Before Christmas
Christmas in Connecticut
Elf
Love Actually
It's a Wonderful Life
National Lampoon's Christmas Vacation
Home Alone
To watch Christmas movies, Vibe Smart Whiteboards are a great choice because of their size and crystal clear picture. Just turn on your Vibe, browse the internet if needed, and open YouTube or other video apps to watch your favorite holiday films.
Jingle Bell Hunt
Looking for an amusing game that will make everyone feel like a kid again? Then perhaps a jingle bell hunt is just what you need.
How to play:

Before the Christmas party, hide 10 Christmas bells around your office.
Take a photo of each bell, but be careful not to reveal too much of the bell's location in your photo.
Once everyone has arrived, with your Vibe Smart Whiteboard display the photos of the hidden bells.
Tell everyone that when you say "Go!", they have to go and find the hidden bells.
The person who finds the most bells is the winner.
Christmas Pictionary
This classic drawing board game can easily be modified to a Christmas theme and be played on a Vibe Smart Whiteboard.
How to play:

First, turn on your Vibe Smart Whiteboard and have two stylus pens ready so participants can draw on the board.
Divide your group into two teams.
One person from each team will come to the smartboard and be given a Christmas word that they have to draw.
The person drawing has 60 seconds to draw their word, meanwhile, their team should be trying to guess what their teammate is drawing.
The team that guesses correctly first, gets a point, the team with the most points at the end of the game is the winner.
Christmas Kahoot
Kahoot is a fast-paced quiz app that allows users to create multiple choice quizzes where competitors compete to answer quickly and accurately. This app would be a great place to create a Christmas-themed quiz that could spark some great competitive fun.

use Kahoot creating a christmas quiz
How to play:

You'll need to download the app from our App Store to be able to create a Kahoot game for your colleagues.
Once downloaded just follow the prompts on the app to create a quiz.
Your colleagues can play using their cell phones or tablets.
Christmas Guess Who
In this classic office game, everyone in your office sends in a baby picture of themselves that will be displayed on the Vibe Smart Whiteboard. As it's Christmas, everyone should be encouraged to find a baby picture from the holidays.
How to play:

Make a collage with the pictures that are sent in, and place a number by each picture.
When all the party guests arrive, bring up the collage on your Vibe Smart Whiteboard.
Participants have 10 minutes to try to match the pictures to the names on a list they are given.
The participant who matches the most pictures correctly wins the game.
Christmas Photo Scavenger Hunt
Keep your office party-goers busy with a Christmas-themed photo scavenger hunt. The fun thing about this activity is that it doesn't have to be restricted to just your office. You can send teams out into the city to find a list of common or obscure Christmas items.
How to run a photo scavenger hunt:

Create a list of Christmas items that teams will have to find and take pictures of.
Divide your office into small teams and provide them with this list of items.
Give teams 1 hour to find as many items as possible on the list.
Have teams submit all their pictures, so they can be displayed on your Vibe Smart Whiteboard.
The team that finds the most items wins. You could also give a prize to the best photo as well.
8 Hybrid Office Christmas Games
White Elephant
Secret Santa isn't the only gift-giving activity you can do this Christmas. White Elephant is another great activity where your co-workers can act like the Grinch and steal each other's gifts.  
Here's how it works:

Everyone needs to upload an image of an item from Amazon or somewhere else on the internet that they plan to give as a gift.
These images will be shown on your Vibe Smart Whiteboard, so everyone can see them.
Each participant is then given a number, which represents the order in which they will select the gift they want.
When it is their turn, they can select a gift that has not been taken or steal someone else's gift.
If someone's gift is stolen that person will then choose a new gift.
The game ends when the person with the last number has selected their gift.
Once the game is over and you know who selected each item, the gift-givers can purchase the gift and ship it to the winner.
Host a Holiday Mixology Party
If your team enjoys a nice cocktail, but you want to make sure your holiday party is different from your virtual happy hours, hire a professional mixologist to teach guests how to make holiday-themed cocktails like spiked eggnog or pumpkin pie old fashioned.
How to host a mixology party

Send a list prior to your party of the ingredients that everyone will need during this event.
Have the mixologist present using your Vibe Smart Whiteboard at a pre-arranged time for your colleagues that are attending virtually.
Your colleagues can follow along with the mixologist and make the cocktails as he/she does.
After the cocktail is made, participants can try their drinks and share their reviews in-person or online.
Christmas Show and Tell
A Christmas show-and-tell is a great activity for you and your colleagues to reminisce about some of their fondest holiday memories.

How to run a Christmas show-and-tell:

Prior to the party, tell everyone to find the most cherished Christmas gift they have ever received.
At the office party, participants will take turns presenting their gifts to their colleagues by explaining things like, who gave it to them, when did they receive it, and why is it important to them.
Encourage your colleagues to ask questions after someone presents their gift.
Caution: You may need to bring some tissues as this activity can cause a tear or two.
Christmas Trivia
Christmas trivia is one of the best games for hybrid Christmas parties. Trivia questions can include fun facts about the Christmas holiday,  famous Christmas movies and songs, and even little-known details about your colleagues.
How to play:

Mix-up virtual and in-person participants.
Tell competitors to come up with team names
Ask holiday-themed questions through a Zoom meeting on a smartboard.
The team with the most correct answers is the winner.
Merry Movie Night
Movie nights are one of the easiest hybrid Christmas activities for teams. You can find some great film suggestions listed above.
How to set up a hybrid movie night:

For in-person attendees, set up a large screen like a smartboard.
Then start a Zoom call and share the screen on a smartboard
Encourage remote watchers to add commentary making the process more engaging and fun.
If you'd like your team to improve their presentation skills you could also let them volunteer to give presentations and commentary prior to or after your team watches a movie.
Christmas Costume Contest
Dress up like Santa, Mrs. Claus, an elf, the Grinch or even a reindeer if you feel like it. Costume parties are a wonderful way to jump into the Christmas spirit and to get everyone involved, even if you and your colleagues are working remotely. Dressing up is even more fun if there are prizes to win as well.
How to organize a costume contest:

Simply ask everyone to dress up in their favorite costume, and join a video conference set up on your Vibe Smart Whiteboard.
Then after everyone has shown off their holiday outfits, your team can vote for the best (and maybe the worst) costume.
Virtual Christmas Dinner Party
There's no need for those who can't make it to the party to miss out on the delicious food you'll be serving. For this virtual Christmas party idea, you will need the help of a delivery service or your favorite restaurant, and of course your Vibe Smart Whiteboard.
How to arrange a virtual dinner party:

Whatever you cook or order, have it delivered to your co-workers' homes.
Then set up a video conference call with your team, so you can see everyone, and then sit down and enjoy the feast with your exceptional guests.
Hire Professional Entertainment
Have a hard time thinking of something fun to do for your hybrid Christmas party? Why not leave it up to the professionals. Hiring a great local band or a really funny comedian using a website like gigsalad.com is great to keep your colleagues entertained.
How to run this event:

For in-person attendees, they can just sit back and enjoy the ent.ertainment in the flesh.
For your remote staff, start a Zoom call on your Vibe Smart Whiteboard and share the screen on a smartboard.
Encourage remote watchers to add commentary making the process more engaging and fun.
---
Tis' the season for giving. Whether you're giving back to your virtual or in-person team, these  Christmas office party activities are guaranteed to liven up the night. You can make the experience more accessible, and also more fun by using your Vibe Smart Whiteboard.
Vibe wishes you and your loved ones a wonderful holiday season, and a very happy New Years'.
See how Vibe could help →
Subscribe to get updates on all things at Vibe
Thank you for subscribing Vibe's blog!