Forget Going Back to the Office. Here's Why Remote Work Is Here to Stay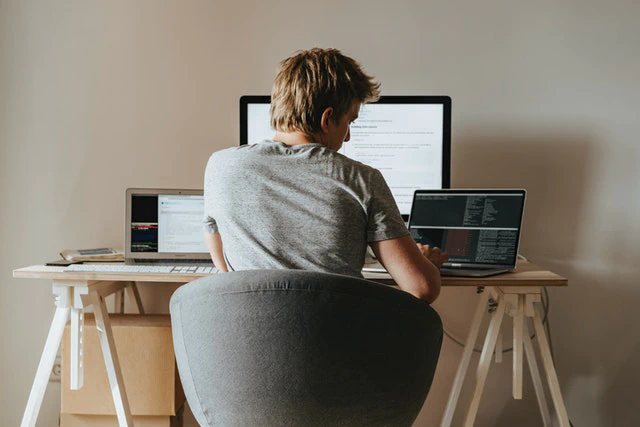 The modern office has been evolving over the past few years. Even now, more than two years removed from Covid-19 rendering in-person office work an impossibility, nearly half of all full-time U.S. workers continue to work remotely — and many are looking to completely forget going back to the office.
Once considered a unique perk and a splashy new trend for those youthful tech companies in Silicon Valley, remote and hybrid jobs (positions that require only a few days of in-person office attendance per week) now appear to be a permanent fixture in the modern workplace.
Though all signs point to remote work becoming the new normal , certain jobs, age demographics, and industries might find this to be a difficult adjustment. 
Read on for a look at which roles are expected to provide an increase in remote opportunities, how remote preferences differ by demographics, and what exactly this new office structure might look like moving forward.
Which Roles Can Actually Forget Going Back to the Office?
Unsurprisingly, the roles most-prepared to stay remote are those revolving around software development, computer programming, and systems management. Sales and marketing jobs are also major candidates to enjoy the continued flexibility of hybrid employment, as hybrid workers tend to be university-educated professionals and executives with some decision-making power to their credit. 
Any position that operates independently (rather than managing teams of coworkers) stands a good chance to split time more evenly between the office and the comforts of home.
Jobs that won't turn remote shouldn't come as much of a shock either, as many in these sectors have already fought through pandemic conditions to continue working in their respective roles. This includes front-line positions like those in healthcare services, retail, and manufacturing.
How Do Remote Work Preferences Differ Between Demographics?
While the pandemic fallout is far from over, early data indicates women hold a strong preference for full-time remote work to continue even after Covid's effects fade ( 68% versus 57% of men in this survey ). That same study found men preferred hybrid work over fully remote setups, and only 2% of all people surveyed reported interest in returning back to the office full-time.
Top factors leading women to prefer remote work include ridding themselves of time-consuming commutes, more control and flexibility over work schedules, and an improved work-life balance (this contributes to a growing theory that men and women may actually experience remote work in different ways ).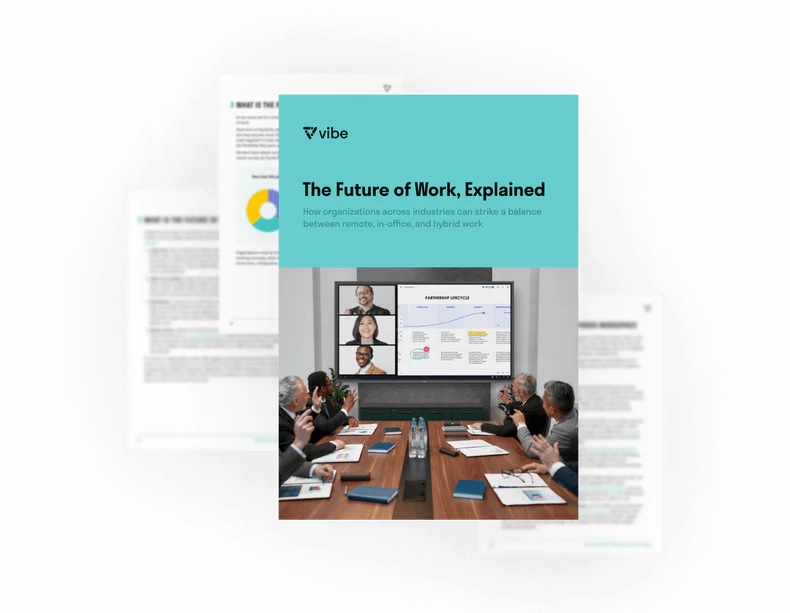 Download Our New E-book
The Future of Work, Explained
Age is another major demographic to consider when assessing remote preferences. While you might expect the digitally savvy Gen Z (those ages 26 and under) to be all aboard with full-time remote opportunities, there is some concern over the lack of socialization and mentorship opportunities for young professionals new to the workforce. That's not to say flexibility isn't important to this group, though — 69% of Gen Zers say they'd prefer to work remotely " at least half the time. "
For the primary mover behind remote work's new status quo, look no further than millennials. Representing the largest segment of the U.S. labor force, the 26-41 age group is reporting more engagement and healthier lifestyles in light of their newfound work flexibility than ever before. One Gallup poll found a staggering 74% of millennial workers reported zero interest in returning to a fully in-office job.
Gen X and Boomers also display significant interest in the flexibility afforded by hybrid work models, though Business Insider reports less than half of these groups expressed concern over a return to the office, compared to 55% of millennials.
Overall, the majority of workers across demographics want one thing: remote work to stay a regular part of their work life.
What If Businesses Force Employees Back to the Office Anyway?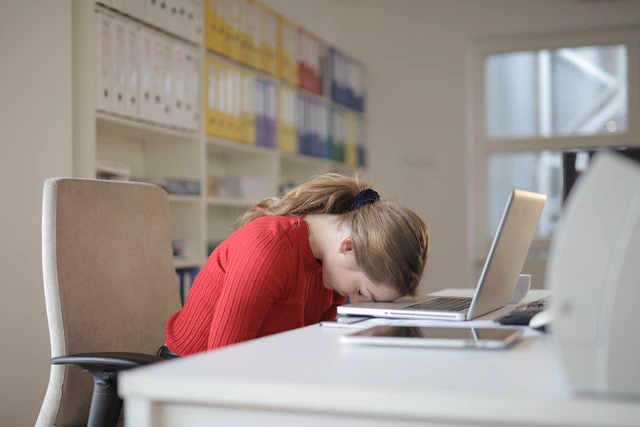 Office burnout
Where workers draw the line between remote work being a perk versus a necessity is pretty clear — one study revealed 60% of women and 52% of men would leave their job if they couldn't continue to work remotely in their current position. 
For active job-seekers, the figures are even more drastic, with 69% of men and 80% of women ranking the ability to work remotely as "an important consideration" when searching for jobs online. Other studies seem to back up these trends, sharing findings that 58% of remote workers " would 'absolutely' look for a new job " if their job ceased to include remote options post-pandemic. 
Why Remote Work May Be Good For Everyone Long-Term
The global pandemic forced traditional workplaces to adapt, and the largest sectors of the workforce appear to prefer the office remains that way. So what's next for companies managing this swift evolution? And what long-term impact might remote work have on the workplace as a whole?
The answer is pretty simple: maximize the benefits of a rejuvenated team of employees, while mitigating any potential downsides to hybrid work that might impact the business' future.
Now that remote workers are free to choose where they physically work, employers can utilize hiring pools no longer restricted by geography. One of the most exciting opportunities offered by video-conferencing tools like Zoom is the chance to hire, train, and retain employees from anywhere (even if they move!).
Employees are also given independence to manage their calendars as they see fit, while employers benefit from more clear-cut employee objectives and deadlines. And if easily-defined roles aren't refreshing enough, saving nearly 50 minutes every day avoiding the old commute is pretty nice too.
For those more concerned with bottom-line figures, remote work can prove incredibly cost-effective for all parties. Working in the office a few days out of the week means lower transportation and child care expenses, while employers can either scale down or eliminate the need for renting expensive office space altogether.
Finally, it's good for employees' mental health. The most enthusiastic workers are those who work from home 60% to 80% of the time, according to a Gallup report. While many employers once feared remote work would mean a loss of productivity, nine out of ten workers felt they are just as productive at home as they were in the office.
Challenges Facing the Remote Landscape
There's an inherent downside to a lack of face-time amongst coworkers. Office socialization is important, both to employee satisfaction and business productivity. Online teleconferencing tools are great for keeping teams on the same page, but forging strong office friendships could prove more difficult in a more disconnected setting.
The success of remote work also hinges on successful communication throughout an entire organization. Not every worker is well-versed in professional communications, and projects can stall if info is lost in an email thread or an unchecked Slack channel. Poor communicators (or even workers who tend to work different hours than most) could mean disjointed expectations or slowed progress on a project.
Lastly, the potential pitfalls of work-from-home communication go hand in hand with a muddy work-life divide. It can become easy to field calls "after hours" and let too much of work or home life bleed into the other without strict, intentional boundaries. 
Leaning into Hybrid Workplace Designs, Technology and Environments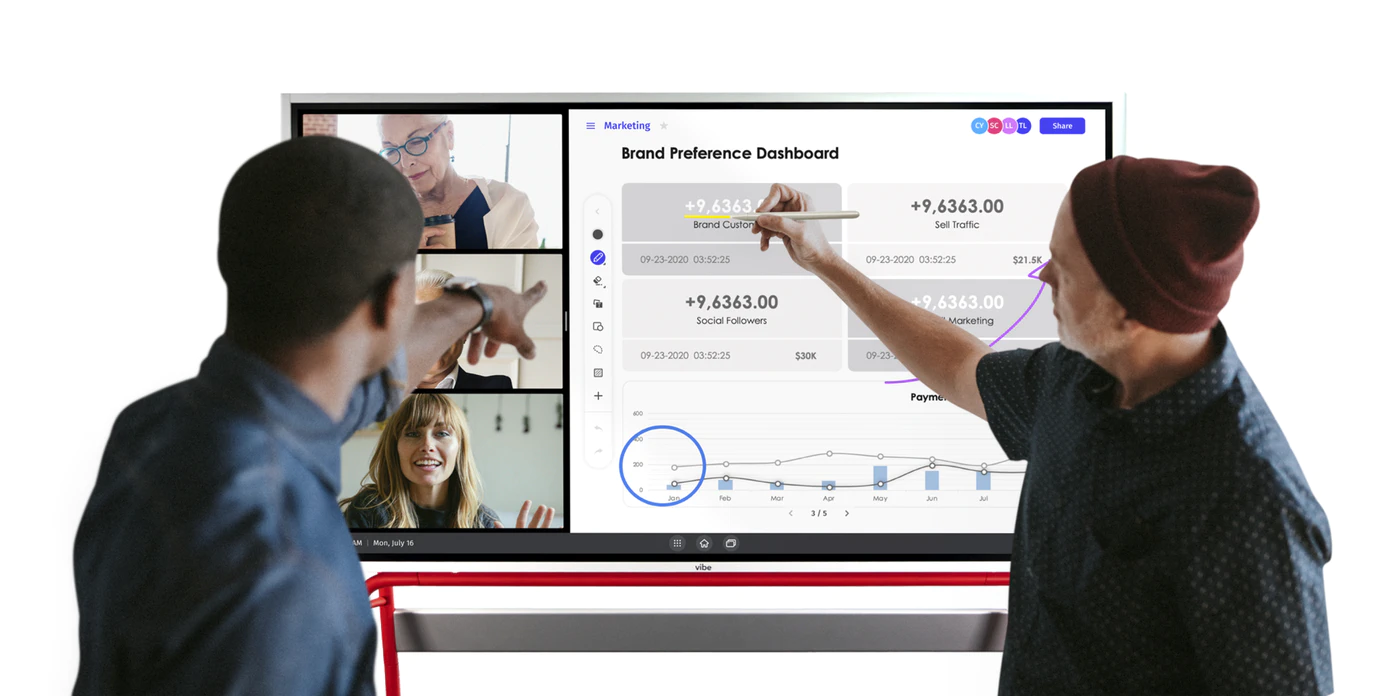 Collaborating with remote colleagues on a Vibe Smart Whiteboard
Introducing hybrid work models includes adopting the tools and changes to office environments needed to accommodate a new generation of employees (we've already detailed what the innovative office design looks like here , and detailed our favorite tips for hybrid collaboration here ).
Think of a hybrid office more like a college library, complete with shared workspaces for teams to get together and discuss and furniture designed for comfort and use by a few employees a few days out of the week (as opposed to desk chairs used by every employee every day of the week). Of course, larger companies shifting gears toward hybrid models may need to find scalable solutions for the new-age office.
Remote work also introduces a need for intuitive tools to manage tasks, communicate easily and beef up data security so remote workers can access sensitive information from outside the office. There are entire suites of great apps and tools designed to make life much simpler for teams adjusting to hybrid and remote work–including Vibe Smart Whiteboards , digital whiteboards engineered to help your team collaborate and present in a more engaging fashion (really, who wouldn't want their weekly Zoom meetings to have a little more oomph?).
With the Right Tools, We Really Can Forget Going Back to the Office
Hybrid work has hardly been perfected, but the overwhelming desire among workers in all major demographics to change what it means to clock in means it's time for businesses to learn to make it work. 
With the right tools, a clear approach, and a healthy understanding of the modern employee's work-life priorities, remote and hybrid work can be a boon to every industry able to embrace the new status quo.
See how Vibe could help →
Subscribe to get updates on all things at Vibe
Thank you for subscribing Vibe's blog!