Are Virtual Meetings a Means for Real Collaboration?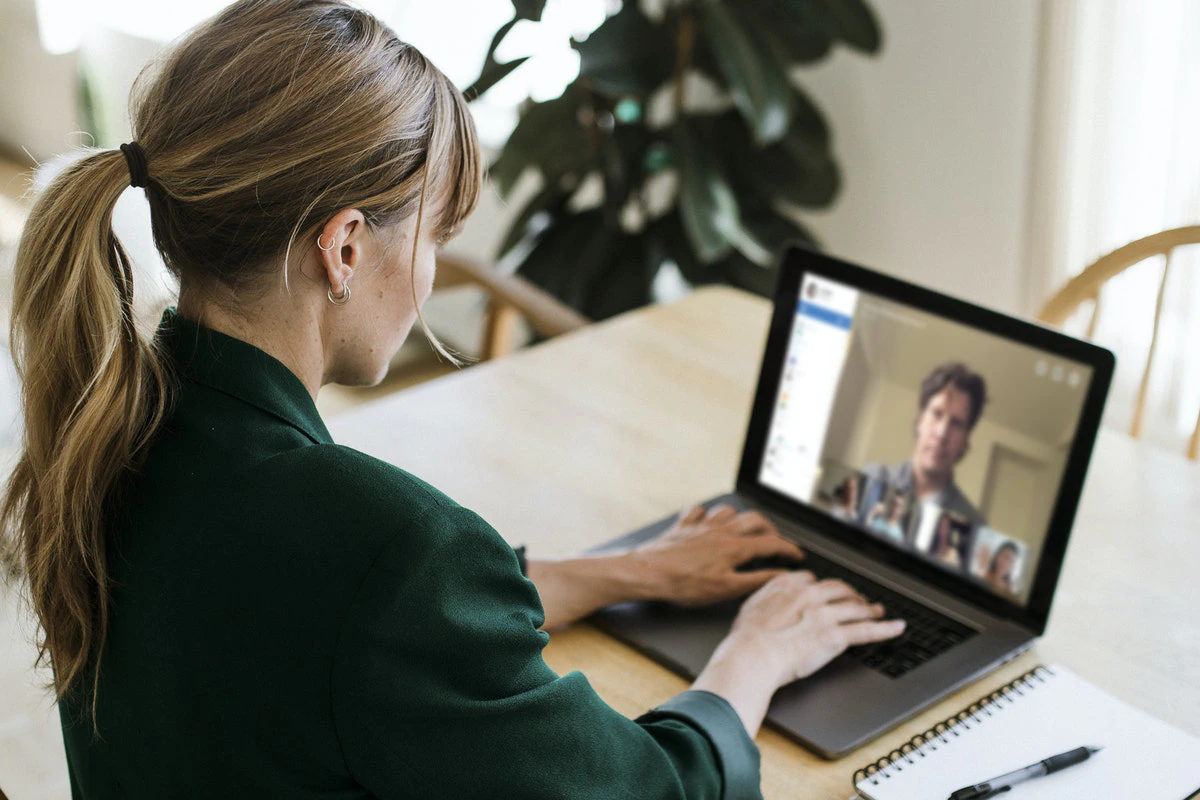 Over the last few years, video conferencing has seen a meteoric rise in adoption, and that trajectory is only expected to continue rising as more companies prioritize virtual meetings. The way businesses meet has drastically changed, and we're likely not going back.
There's no reason to panic — remote meetings can still be successful. Use this guide to help you achieve seamless communication and collaboration in your virtual meetings.
The Advantages of Virtual Meetings Over In-Person Meetings
Though virtual meetings may have required some adjustment at first, and can lead to Zoom fatigue , they do have important advantages, ones that we should not ignore as we transition to some form of hybrid work in the future.
There are no bad seats. No more trying to see the whiteboard from the back of the conference room or attempting to hear over the mumbling of other attendees. Virtual meeting software makes screen sharing possible, so everyone can see and hear clearly.
Better documentation. If you use meeting software, you can record the meeting and make it available later for anyone who couldn't attend. It can also help those who are attending to listen more carefully without the distraction of writing notes. They can re-listen to the meeting later if necessary. Everything discussed is documented for the benefit of everyone involved.
Preparation and convenience. Since you're likely sitting at your own workspace or desk in a virtual meeting, you have ready access to everything they need. No more standing in front of a full boardroom. Instead, you're in familiar territory: your home workspace.
Simplicity. If you use the right meeting software, logging in and participating should be straightforward and easy.
Improved engagement. When done correctly, virtual meetings can actually increase engagement among company employees. In a recent Lifesize study , 41% of respondents said they believe companies that use video conferencing have more engaged employees.
Related: Use This Easy Game Plan to Make the Most of Collaborative Meetings
Planning a Productive Virtual Meeting
Have a clear agenda
Without an agenda, you may end up wasting time, leaving attendees wondering what will be covered and when their questions will be answered. Know exactly what needs to be discussed, who should attend and what the goal of the meeting is. Send out the agenda before the meeting, so everyone can come prepared to contribute. A clear agenda will keep the discussion on track and productive.
Structure the meeting to encourage collaboration
If you want collaboration, let those present know it. Actively invite their input and ask plenty of open-ended questions to further encourage participation. Distractions can be more frequent at home than in a conference room, so engagement is key. Ice-breaker questions at the beginning and mid-meeting activities like brainstorming sessions in real time will keep energy levels up.
Select key contributors to participate
Having more people in the meeting won't necessarily make it a better meeting — the more attendees, typically the lower the engagement. Your attendee invitation list should only include key contributors — in other words, only people with a clear purpose. Anyone else can listen to a replay of the meeting at a later date.  
Identify timeframes that fit everyone's schedules
The nature of virtual meetings is that attendees may be in a variety of geographic locations. In addition to time zone conflicts, there are also scheduling conflicts. Be considerate of the time frames you choose so all team members can attend, regardless of their location. 
Also, schedule meetings far enough in advance to give people time to clear their schedules and optimize regular meeting attendance.
Be early and arrive prepared
If you're the host of the meeting, be available at least five minutes early. Ensure all the hardware, software and the internet are working and ready as your team members begin to arrive. 
Utilize collaborative tools and software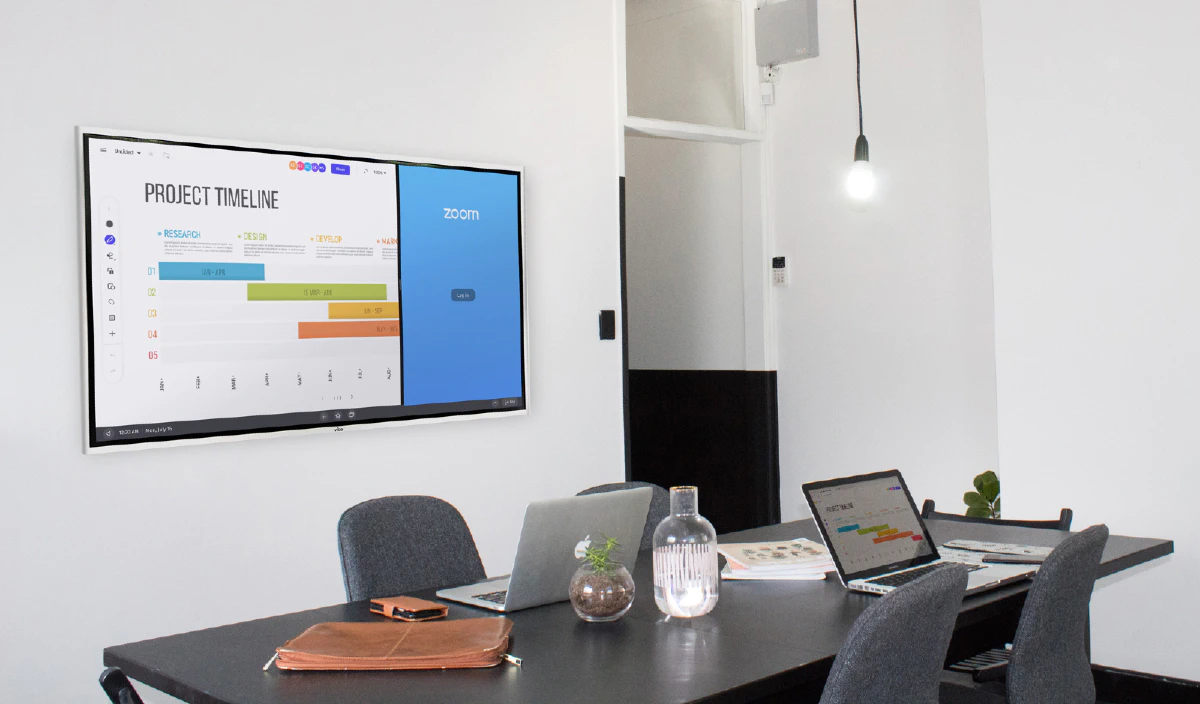 A Vibe Smart Whiteboard makes for an excellent virtual meeting collaboration tool
Collaborative virtual meetings are made possible by using software that facilitates the real-time participation of the attendees. You may look for tools or software for the group or apps that each attendee must download. Both options have their merits. Whatever you decide to use, ensure that it is user-friendly and your attendees know in advance if they need to download an app.
The tools may aid in the engagement and real-time feedback of your team members. Vibe is an example of a collaborative solution that consists of an interactive digital whiteboard and collaboration software . Team brainstorming sessions, virtual training sessions and client presentations come alive with this infinite writing canvas. It works from any device as an all-in-one collaboration hub.
Select a neutral background and limit distractions
Don't assume meeting attendees won't notice what's happening in your background. Be mindful of distractions, including activity going on behind your back during the meeting. Tidy up, make sure you have enough lighting and sit about three feet from the camera. If you're running tight on time, consider exploring whether your video conferencing platform offers backgrounds for you to switch on in a pinch.
Start with an icebreaker
An ice breaker may seem like an old idea, but they're still around because they're effective. Setting aside a little time in the beginning to make everyone feel welcomed and included will enrich the rest of the meeting.
Ice breakers have other functions as well:
Remote workers can become acquainted with each other and the rest of the team.
Ice breakers 'warm up' the meeting space.
Attendees get to know the roles (and expertise) of other team members.
Attendees can work out any jitters they feel and get comfortable.
Related: Top 25 Tools and Apps for Better Remote Collaboration
Ideas for Inspiring Meaningful Engagement
Give everyone a task
When meeting participants have an active role beyond "sharing input if they have it," they are more likely to remain actively engaged in the meeting. For example, if you're noticing an employee isn't engaging on a regular basis, assign them a note-taking role. To avoid confusion, be clear about your expectations for the role so they know to do it effectively.
Divide and conquer
For large groups or complex projects, Harvard Business Review suggests following the "nowhere to hide" rule to help divide up the work and increase engagement.
Begin by presenting a problem, then group employees together in small groups of two or three. If your video conferencing platform allows breakout sessions, send groups into private sessions with their problem for a defined amount of time. Once they return, have a representative present the solution the group developed for their assigned problem. 
Set up a parking lot
We've all been in meetings that one way or another manage to fly off the rails into a series of sidebars or unrelated topics. To keep meeting participants focused on the agenda and tasks at hand, request to "parking lot" the topic for an additional 5 to 10 minutes following the meeting so you can get back to what you need to accomplish during the meeting. 
Setting up a post-meeting parking lot is also a good idea in times where it's clear a decision won't be reached quickly. Simply continue on with the rest of your agenda, and invite relevant attendees to enter the parking lot once the meeting ends.
Ask questions
As the meeting host, you'll need to be aware of obvious dead spaces where it's abundantly clear the silence is not a result of employees reading or actively thinking through a topic. When things start heading in that direction, ask questions to prompt participants to get the conversation going again.
This is also a good time to scan the virtual meeting room to make sure everyone has had a chance to voice their opinion, share their idea or provide feedback. Sometimes one or two participants can take over a meeting, causing some participants to feel like they are not empowered to speak up. If you do see someone who hasn't had the opportunity to speak up, ask them if they have any thoughts they'd like to share or an idea to add to the list. 
Leave an opportunity to give and receive feedback
If you're in a virtual meeting with a client or sales prospect, always remember to leave time for feedback. Giving time for feedback allows an opportunity for candid conversation and open communication between client and presenter, which is critical for defining the next steps after the meeting concludes.
Revisit the agenda
Instead of signing off abruptly, consider taking some time at the end of each meeting to revisit your agenda and check in on the goal of your virtual meeting. If you have a large agenda, it's possible something may have been missed or skipped over. By running through the agenda one more time, you'll be able to clarify any remaining action items or areas of confusion before wrapping up your meeting.
Define action items
The meeting is over, and now the real work begins. End the session by defining the action items discussed, owners and their deadlines. This ensures you don't lose the momentum of your meeting.
The Final Word on Virtual Meeting Collaboration
Team collaboration is an exciting and advantageous part of any business or project. With many teams working all remote or hybrid, true collaboration can be hard to achieve, even with intelligent, capable, experienced members. With a little planning and a clear strategy, you'll be on your way to ensuring no time or talent is wasted.
Ready to elevate remote collaboration? Vibe offers a collaborative solution that combines an interactive digital whiteboard and innovative software that can be accessed from any device, anywhere.
This blog was originally posted on June 14, 2021, and has since been updated on March 17, 2022.
See how Vibe could help →
Subscribe to get updates on all things at Vibe
Thank you for subscribing Vibe's blog!