Guide to Four Actions Frameworks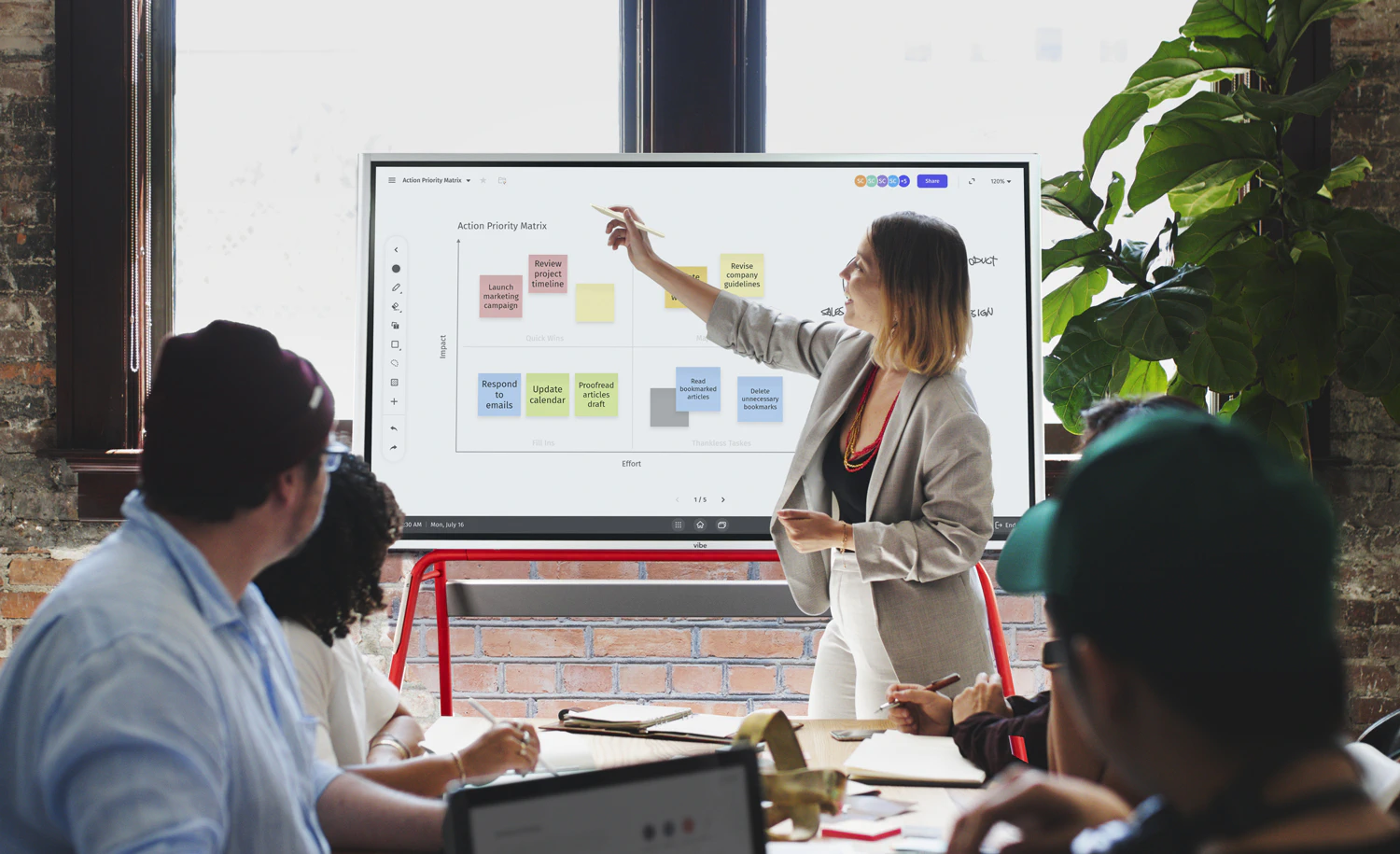 Have you heard of the Four Actions Framework? It's a business tool that's applicable in nearly every industry. The success stories are countless for organizations looking to establish new value offerings and markets. But how does this strategy work? What are its benefits? And what are the steps to building one? This blog has the answers to all these questions. Let's get started.
What Is a Four Actions Framework?

The Four Actions Framework is an approach from the Blue Ocean Strategy framework that helps to upend an industry's strategic logic. The framework was developed by Professors Mauborgne and Kim of INSEAD Business School. It asserts that developing a new market can be more advantageous than taking on well-established competitors in an already existing market.
In other words, the Four Actions Framework encourages making changes to your products so they can enter their own market with low prices and no competition. Thus, the secret to implementing a successful Four Actions Framework strategy lies in identifying pain points only your organization can address.
How Do Four Actions Frameworks Work?

The Four Actions Framework works by identifying the value and cost drivers within an organization's offerings and aims to cut or eliminate incongruent and unnecessary products. This strategy allows the organization to concentrate on developing differentiated products that have the potential to conquer new customer markets. The four actions the framework takes into account in refining an existing product include raise, eliminate, reduce, and create.
Let's get a better understanding by looking at a Four actions Framework example. The development of Yellow Tail, a wine brand from Casella Wines, clearly illustrated the rewards the Four Actions Framework could bring. Three years after launching in the market, Yellow Tail rose to become the fastest-growing wine brand in America's history.
How did Yellow Tail attain this level of success so fast? It's understood that the majority of wine brands operate in an environment where competition for market share is aggressive. They appreciated that by eliminating or reducing the elements that the wine industry competed on, they could tap into a new group of customers.
Yellow Tail dropped the traditional emphasis on prominent vineyards and aging. Additionally, they did away with the complex terminology usually featured on wine bottles, which might be intimidating for potential customers. In its place, Yellow Tail developed a drink that was palatable enough to appeal to the general public and thus increase demand from spirit and beer consumers and not just wine connoisseurs. And they made it easy to purchase by only launching two varieties: one white and one red. As they say, the rest is history.
What Are Four Actions Frameworks Used For?

The Four Actions Framework is mostly used to create a product's sales and marketing strategy. It refashions the buyer's values by concentrating on four distinct actions—reduce, eliminate, raise, and create. Ultimately, it cuts the overall cost of the product and sales and marketing efforts while increasing buyer value.
Professors Kim and Mauborgne argued that this way, demand is created instead of fought over. So the Four Actions Framework is an excellent strategy to employ when you feel your product is stuck and you're looking for new ways to innovate. Most importantly, the framework can also come in handy when developing a product roadmap . A product roadmap is usually a high-level visual rundown showing how your product offerings can develop over time. 
Benefits of Four Actions Framework

Below are a few benefits of the Four Actions Framework:
Helps avoid saturated markets
For businesses all over the world, competing for markets is a normal thing. However, if you adopt the Four Actions Framework, your product will be unique while addressing customers' pain points at affordable prices. You will have no competition, even from well-established names in your industry. 
It introduces growth potential
Adopting the Four Actions Framework translates to balancing product innovation with cost and utility while still creating value for your customers.
You will meet customers on their level
The Four Actions Framework places equal weight on value and affordability. You will always introduce your product innovations at price points your customer can accommodate. This strategy minimizes your target customers' barriers to buying what you sell.
4 Steps to Building a Four Actions Framework
The Four Actions Framework is visualized in a template containing four columns or sections. In every section, you're supposed to ask the appropriate questions about the product in question. Let's use Yellow Tail's framework as our core example, as well as a few other examples for easy reference.
Raise

This step entails figuring out which aspects must be raised in terms of product and pricing standards. Can any existing product features be improved to provide additional consumer value? In short, which features can set new industry trends or standards?
Here's an example to help you get started:
In the food frying sector: Managing used oil. What's the need to raise this? Most manufacturers don't consider this. After frying your favorite dishes, what happens to the used oil is up to you.
Eliminate

This step highlights areas of an industry or organization that could be wholly eliminated to cut costs and open up new markets. Think of the attributes that demand a lot of effort and investment but don't result in significant revenue/new customers. These can also be attributes that were important in the past but are no longer useful.
Here are some examples for better understanding:
In the automobile sector: Gas mileage—how far can a gallon take you? Why should this be eliminated? Gas is not environmentally-friendly. Instead of designing engines that can generate higher output, why not develop something else?
In the transport sector: What's the number of owned vehicles? What's the reason for eliminating this? The expense associated with vehicle ownership is one reason why this should be eliminated. Why not take advantage of the "existing inventory" of automobiles instead of purchasing and owning more?
Reduce

Are there attributes that can be reduced if their cost and value do not justify the means? Maybe some factors reduce competitive edge or erode profits? What are those elements that are still important but are often too complex for the market to grasp?
Below are two examples to help you get started:
In the cosmetic industry: The need for physical stores. Why should this be reduced? In this era where everyone is obsessed with the internet and online shopping, why invest so much of your budget on rent?
In the wine industry: Vineyard prestige and wine complexity. Why should this be reduced? In today's world, does the typical wine lover care about the different tasting notes, chateaus, and vineyards the grapes are grown in?
Create

When creating a Four Actions Framework, this step prompts you to think of elements that should be introduced that the industry never provided. The step requires a thorough understanding of the customer's desires and interests, as well as the direction the industry is taking. The goal is to figure out the challenges customers may face in the future that have not been identified.
Here's an example to guide you:
In the prescription eyeglasses sector: Eyeglass fittings. Why should this be created? Usually, trying on eyeglasses entails visiting a shop and trying them on. However, with the changing buyer behavior and demographics, convenience matters more than ever. Are virtual fittings possible? How about pop-up events for quick and easy fittings? What else could be created to fill this need?
Build Your Four Actions Framework with Vibe

One of the goals of the Four Actions Framework is to make competition irrelevant. Focusing on the finer details of this framework isn't easy, though. It calls for a great deal of creativity and thinking. To help you hone all your efforts on creating the perfect Four Actions Framework strategy for your business, take advantage of interactive whiteboard software like Vibe.
Notably, creating a Four Actions Framework involves asking the appropriate questions about the industry standards relating to a product. As you might be aware, this requires a lot of brainstorming . Gather your team and ask them what is working perfectly, which processes can be streamlined, and if there are any flaws in the product. Brainstorming together can result in a unique idea—one you might not have thought on your own.
An interactive whiteboard device is the ideal vehicle for brainstorming and getting the creative juices flowing. Sadly, brainstorming with hybrid team members can be quite challenging. Fortunately, the Vibe Board can help bridge this gap. Vibe allows team members to collaborate on the same digital whiteboard asynchronously or in real-time, regardless of location. Plus, it offers features that typical whiteboards just can't match, such as the ability to instantly save and share boards, work from any device, annotate slide decks and third-party apps, and more.
So, if you're looking for a practical way to brainstorm, collaboratively build, visualize, and present your Four Actions Framework, Vibe is certainly the answer .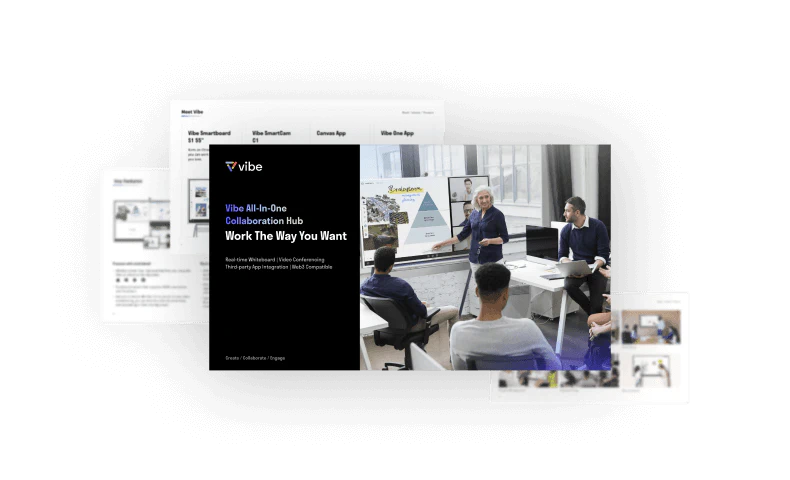 8 Factors to Consider Before
Purchasing a Smartboard
See how Vibe could help →
Subscribe to get updates on all things at Vibe
Thank you for subscribing Vibe's blog!