How to Use Visual Aids for Presentations & Training Sessions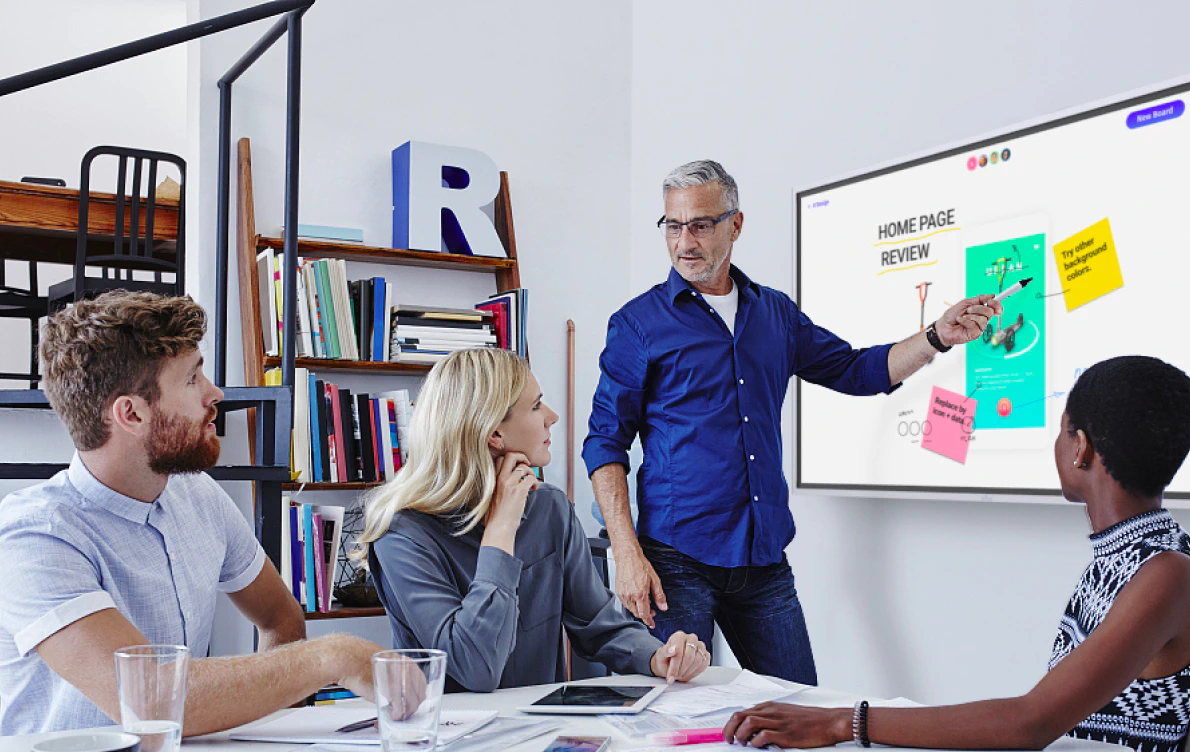 Visual aids can be used in a variety of ways. However, these aids are often best used to enhance your presentation. If you are explaining a complicated subject, visual aids are there to the rescue. They can help your audience grasp those finer points, make an impact, and even boost the enthusiasm levels. Knowing when and how to use a visual aid is crucial for your presentations and training sessions. Here are some tips to give these aids a bigger impact on your meetings. 
Do you need to connect with members of your team digitally? Vibe's smart whiteboards and innovative software make it easier than ever to give an impressive presentation or informative training session!
How Visual Aids Can Help
What is a visual aid ? These items can visually present a concept in the form of a photograph, video clip, and graph. In all cases, they are used in combination with spoken information. You want to choose your visual aids depending on the situation. For example, data can be presented in a graph rather than reading out numbers. You can also show examples to create more of an impact on your audience and keep them engaged. Plus, these visual aids go a long way toemphasize your key points and enhance your credibility. 
Related: Why Using Visuals in Your Presentation Makes a Big Difference
Visual Aid Types
You already know that there are a variety of visual aids that you can use for your presentation. Here are some of the most popular and effective visual aids. 
PowerPoint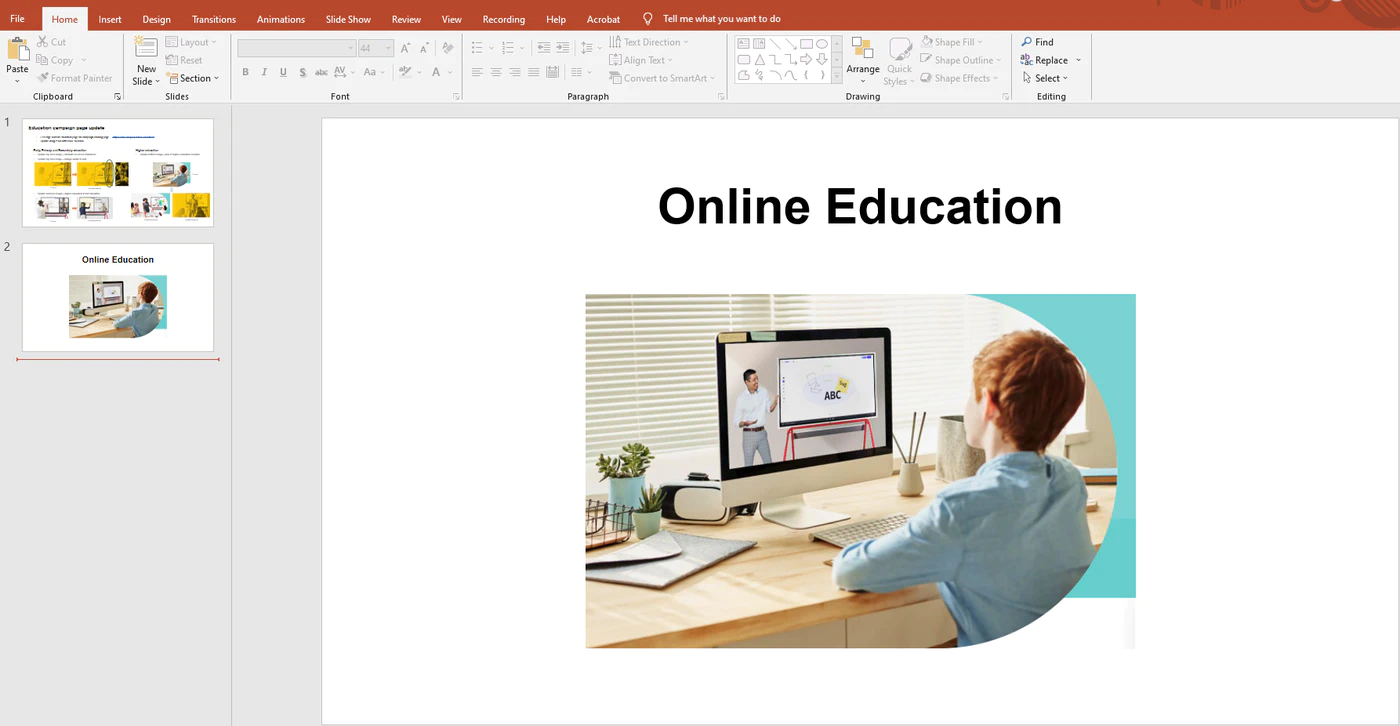 PowerPoint
Microsoft PowerPoint is an easy way to create professional and attractive visual aids for your training sessions or presentations. When you need to change up parts of your speech, PowerPoint allows you to reorganize and modify these slides. Plus, they have a collection of visual items that you can use to refocus your audience. When it comes time to using visual aids, slideshows are the most popular options. With this program, you can see the slides from your computer, so it is unnecessary to face them. Like most visual aids, make sure to make each slide clear and concise. Never overwhelm the audience. You might even want to make handouts of the presentation to help the audience follow along with your speech. 
Whiteboards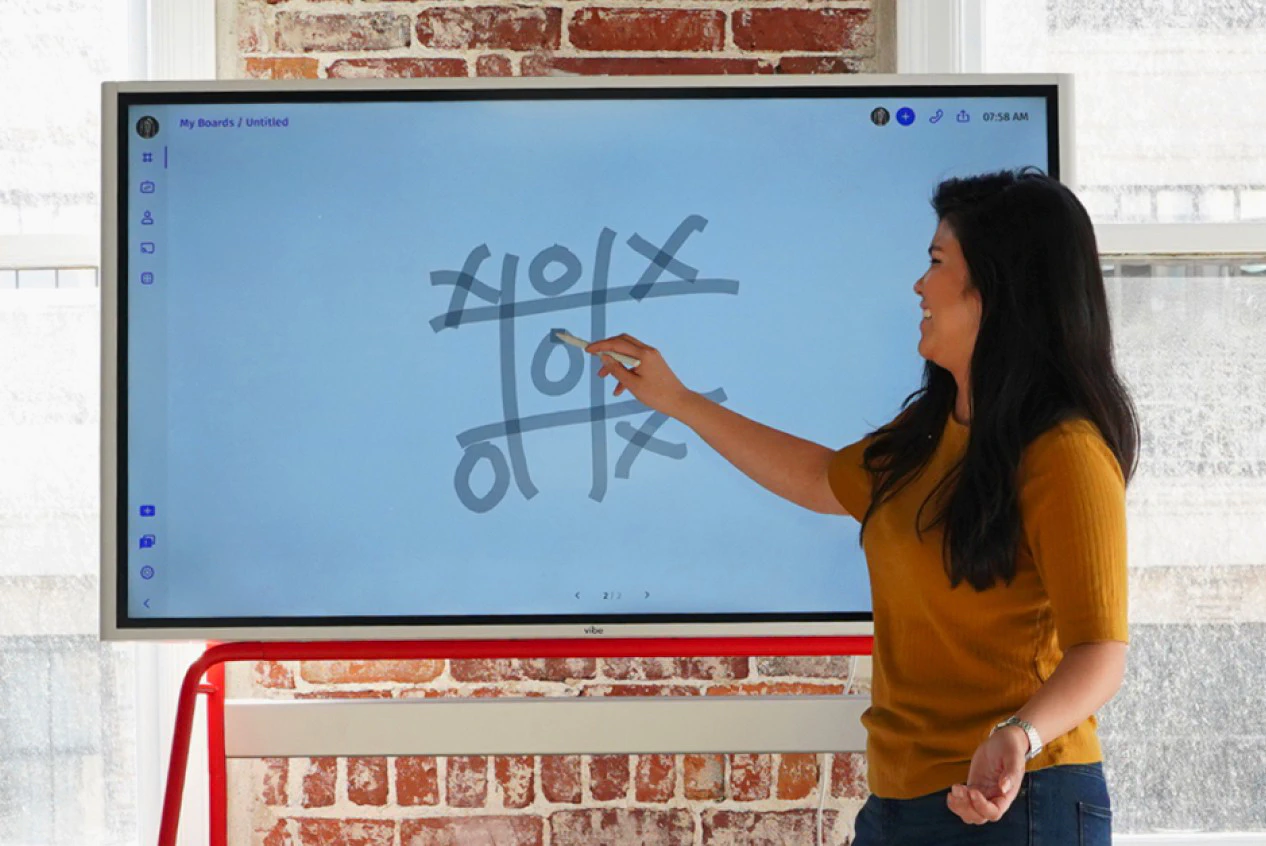 A interactive whiteboard
If you want to take your presentation to the next level, think about using Vibe's Smartboard 55″ . This digital whiteboard allows you to conduct a meeting seamlessly. You can use it for remote, hybrid, or in-house presentations. Use it to collaborate with others in real-time while you make your key points during the presentation. These whiteboards allow you to share images, photos, and other visual media to drive home your points. Plus, you don't have to worry about your audience losing any interest when you combine visual aids with your speech. You can create a dynamic meeting and be more productive with these devices. 
Related: Digital Whiteboarding 101: An Intro for Marketers, Designers, and Innovators
Video Clips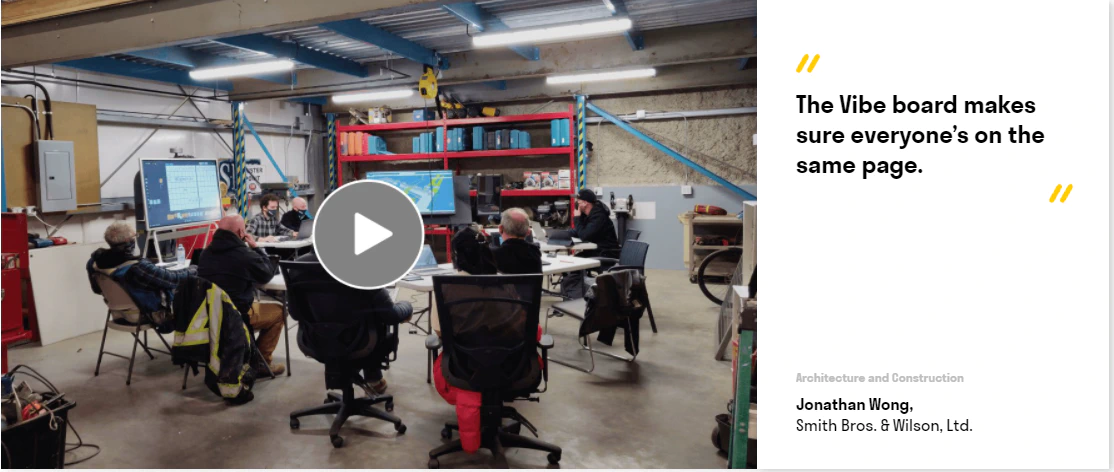 A video for show off features
Finally, video clips are another way to capture the audience's attention. If you present your company's newest software, you can put together a video about how it works or show off some of the features. Need more ideas? Create a special message from your CEO or leader of the team, especially if they cannot attend the meeting. You might even want to shoot a commercial-like video to drive home those important points of your presentation. Visual media, like videos, are thoroughly engaging and help you keep that connection with the audience. 
If you are presenting a form of data, use charts and graphs to convey your message.
Don't rely too heavily on these aids. They should highlight your essential points. Remember that one message per visual element.
Related: Group Brainstorming Techniques to Inspire the Whole Team
Preparing Your Visual Aids
When you are preparing your visual aids, you need to keep a few things in mind. 
First, the audience must be able to understand the image quickly. While you might want to use visual aids for every aspect of your present, keep it to the minimum and focus on those key points.
Use these visual aids to support your image. As you prepare, make sure that the visual aids match your speech. Otherwise, you can confuse your audience, and they will lose interest in your training session or presentation .
With your visual aids, you want them to look as tidy and professional as possible. Avoid using different fonts or low-quality images.
Using Visual Aids During a Presentation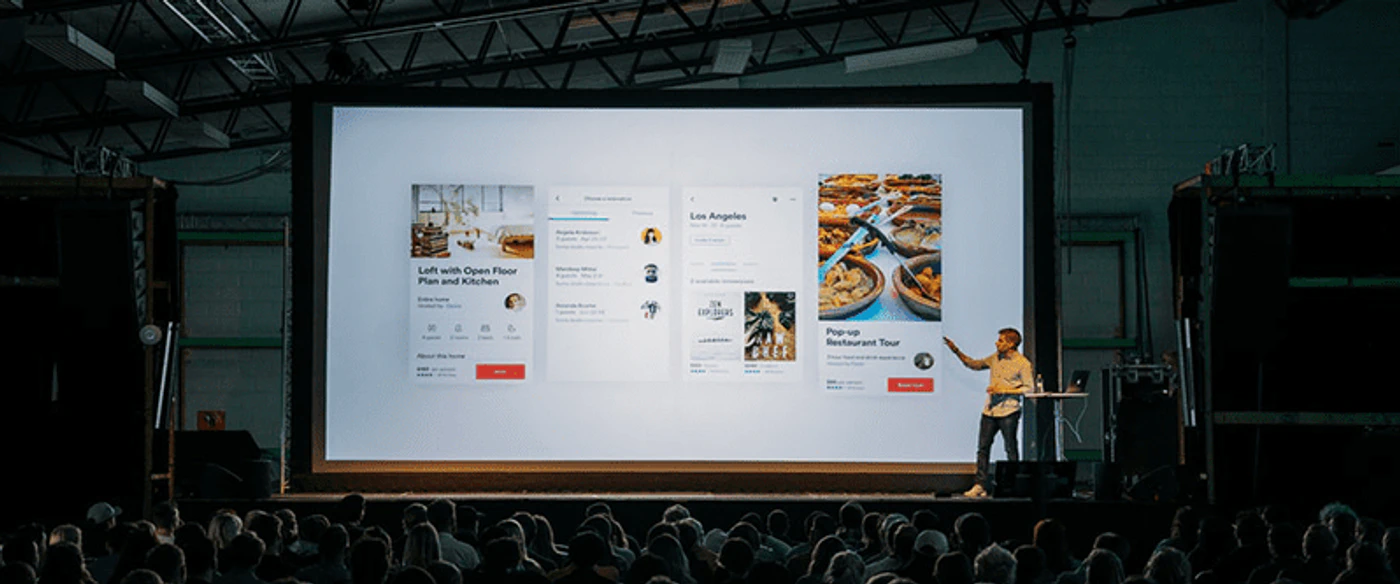 A man is presenting with visual aids
Now that you have designed your visual aids, it is time for the big presentation . 
Before the meeting or training session, check around the room. Make sure that the entire audience can see them.
When you are presenting, take the time to face the audience. You are speaking to them and not the aid.
With that, don't read directly from the visual aid. Instead, stick to your notes.
Anytime you use a visual aid, explain to the audience why it is important to your presentation. If you use an aid not related to your presentation, your audience can lose interest in your speech.
Finally, don't keep up a visual aid after you no longer need it. That keeps the audience's attention on you and not on the visual element.
Tailor the Aids Towards Your Audience
If you want to appeal to your audience, make sure that your visual aids relate to them. Take the time to find images that speak to their emotions and have a sense of familiarity. What type of tone are you trying to set for the presentation? 
Do you want to add in some humor? Think about a funny but professional image for the visual aid.
Need to have a serious presentation? Stick to those charts and graphs.
Choose these aids based on the type of presentation and craft them to help engage with your audience. 
Related: Client Presentations: 10 Tips for Better Results
Vibe Adds That "Wow" Factor To Presentations
You can take your presentation to the next level with help from Vibe. If you are looking to build trust with your audience, look no further than these digital whiteboards. Vibe's technology allows participants to connect worldwide, share their screens, and make notes in real-time.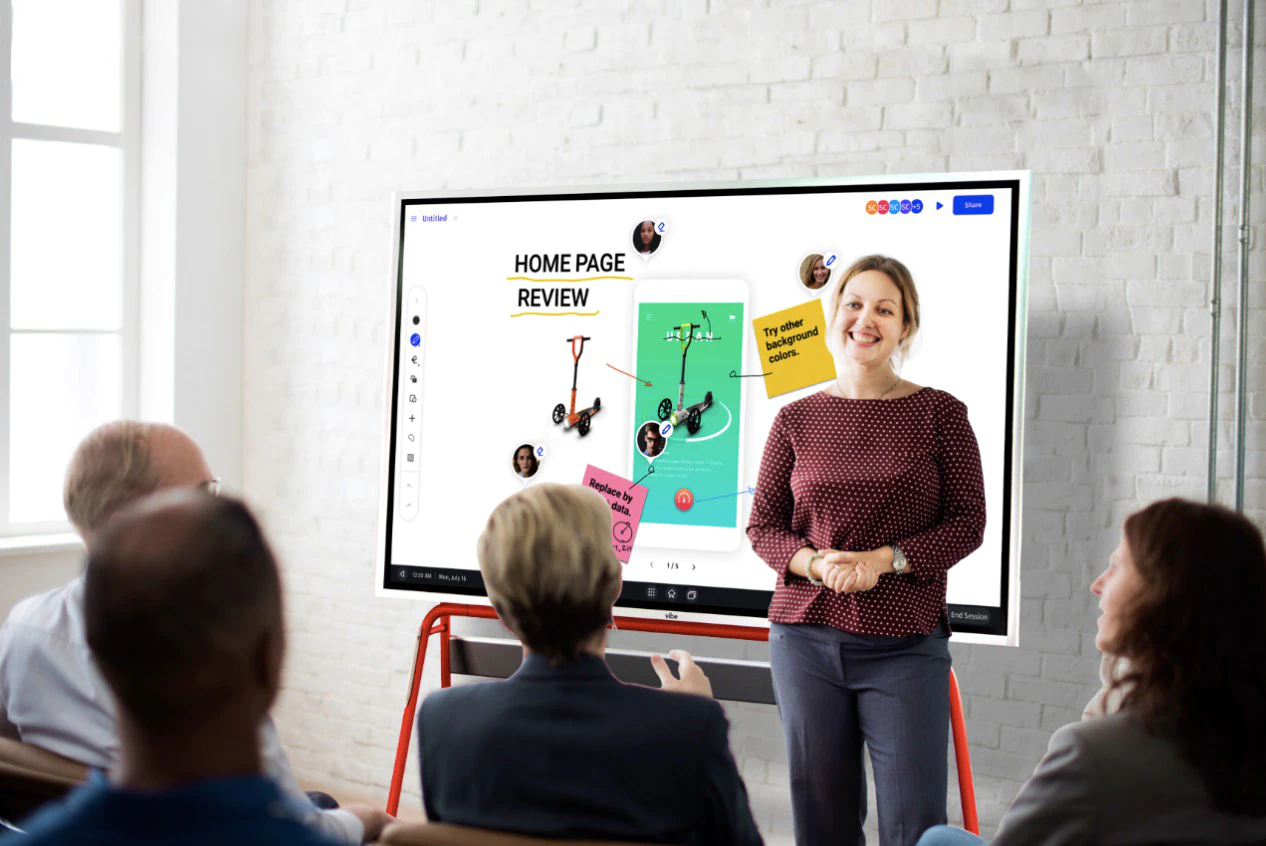 A Vibe whiteboard for presentation
In addition to that, you can even save your presentation to be shared with others. When you need to integrate those images, you can seamlessly do that with help from Vibe. Take those screenshots, images, and videos and add them to the presentation. As a result, you can bring together your team and create innovative ideas—all with the help of the products from Vibe .
Final Thoughts
As you can tell, visual aids are a vital part of a presentation or training session, whether you are conducting it in-person or remotely. These visual aids keep your audience engaged, drive home your key points, and make your presentation more professional. Just follow these tips, and you can create a presentation that wows your audience. 
Need an innovative way to incorporate visual aids into your next meeting or training session? From digital whiteboards to collaborative software, Vibe has the products to create engaging presentations!
See how Vibe could help →
Subscribe to get updates on all things at Vibe
Thank you for subscribing Vibe's blog!