Looking to Improve Collaboration in Your Organization? Try This.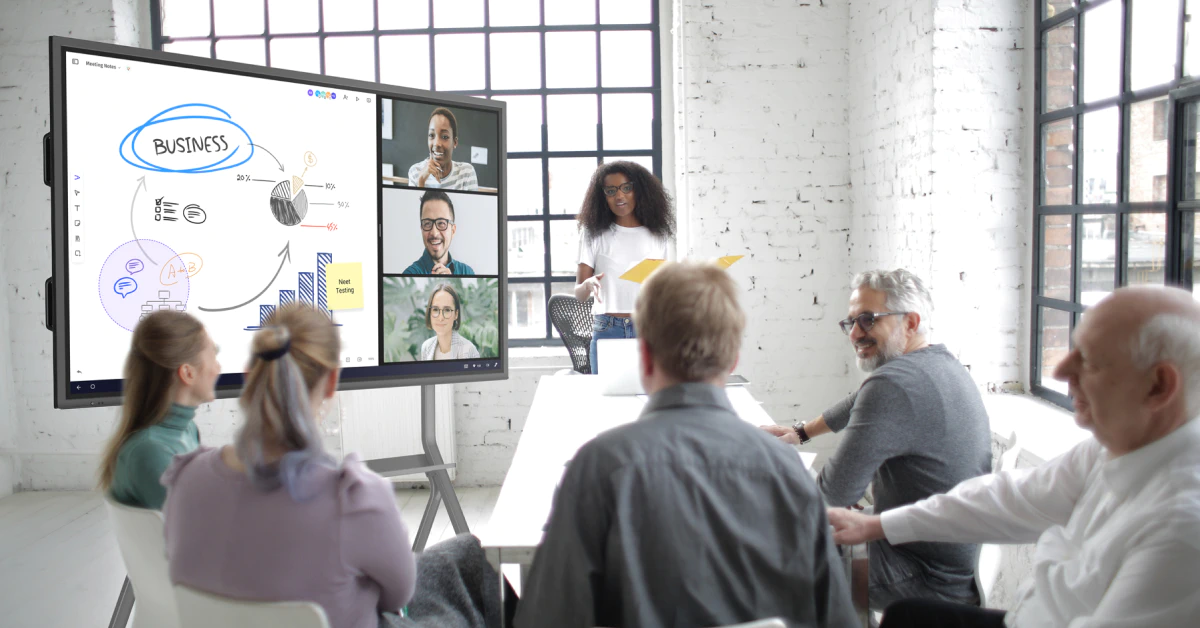 The past couple of years have completely upended the way that most people collaborate with their colleagues. Through all of this, one major takeaway we've learned at Vibe is that technology is key to collaboration in a changing world, and that will remain true far into the future.
Smartboards are among the most effective ways to foster creativity, engagement and collaboration to create more productive and enthusiastic remote, hybrid or in-office teams.
Continue reading to learn 6 advantages smartboards for collaboration.
6 Smartboard Advantages That Can Improve Collaboration
Meaningful Engagement
With video-conferencing playing an outsized role in today's work environment, it's important to consider how you can glean the most meaningful engagement in these meeting types. A cordial thumbs-up or polite hand-raise in a meeting may signal engagement, but this is clearly not the best way to keep all parties actively participating.
According to Forbes, emphasizing meaningful engagement among your team starts by strengthening the connection between yourself, your audience and the content. If you're successful, there's a greater chance your video-conferencing interactions will be more efficient and productive.
Smartboards can effectively drive meaningful engagement by helping presenters connect to their participants in real time.
Goodbye to Disparate Collaboration Tools
Connectivity issues and technical difficulties are one of the fastest ways to slow down a team with remote members and suppress productivity. In most in-person settings, whether you're a Mac or PC user, you'll likely need some sort of combination of dongles or other connection cords to get everyone connected. From dried-out whiteboard markers to outdated projectors, all of these things can take away valuable time from a brainstorming session or meeting. 
In fact, a recent study found that 40% of meetings contain some sort of technical difficulties, with these issues taking on average 12.3 minutes to resolve. This adds up incredibly quickly over time.
Vibe Smart Whiteboards combine the disparate tools of a traditional conference room or collaboration area. Ditch your conference room phone, TV monitor, traditional whiteboard, and get meetings started quickly on Vibe. 
Vibe even integrates seamlessly with the most popular collaboration apps like Zoom and Slack to keep all participants actively engaged and participating.
Easy Brainstorming
Brainstorming is one of the key uses for Vibe customers looking to improve their internal collaboration. Vibe has several features that make it a stronger option than what your team is likely used to – whether that's a traditional whiteboard or a Google Doc.
With Vibe's Infinite Canvas , there is never a need to erase. Never! Simply drag your Canvas to open up new space, or open up a brand new Canvas, and the previous Canvas will be saved in the cloud.
You no longer need to take a picture of a traditional whiteboard and send around to the group, or take careful meeting notes and distribute. All meeting participants can access the Canvas at the same time, from any device from anywhere in the world. With Vibe Templates, including Lean Diagrams, Mind Mapping, Fishbone Diagrams, and much more, your team can easily work through issues and innovate solutions.
Project Management

Team planning on a Vibe Smart Whiteboard
Helping to get teams together on the same page, whether in-office or remote, is always incredibly tricky. With so many different project needs, deadlines, and tasks to be assigned, you need meticulous planning and communication.
Vibe makes this easy. Use your Vibe to plan out project roadmaps, create Scrum meeting agendas for all to see, create sprints, or run project retrospectives. When all team members are aware of their responsibilities, and even play an active part in planning them, your team will be much better equipped for success.
Related: Scrum Meeting Basics: Meeting Types and Tips for Success
Increased transparency
Transparency is one of the biggest challenges for organizations, whether there are remote employees in the group or not. By using project planning templates on Vibe Canvas, teams can easily access and view data, milestones or progress toward goals. Dashboards are one of the most effective ways to present data. Smartboards allow team members to track progress in real time instead of relying on email threads or complicated processes.
Improved meeting culture
While a change in meeting culture needs to come from both management and the technology that management chooses to use in meetings, the advantages mentioned above can help you lead more inclusive, collaborative discussions with your teams. In today's workplace, enabling all employees to feel like they have a voice decreases the digital distance and helps build stronger relationships among co-workers.
Beyond that, Vibe is fun! Team members love having Vibe available to them even as a chance to unwind throughout the day. Play games, watch videos, or display pictures from your weekend to liven up a meeting or downtime. It's no office ping pong table or beer keg, but those are awfully played out anyway.
Vibe Smart Whiteboard Brings Collaborators Together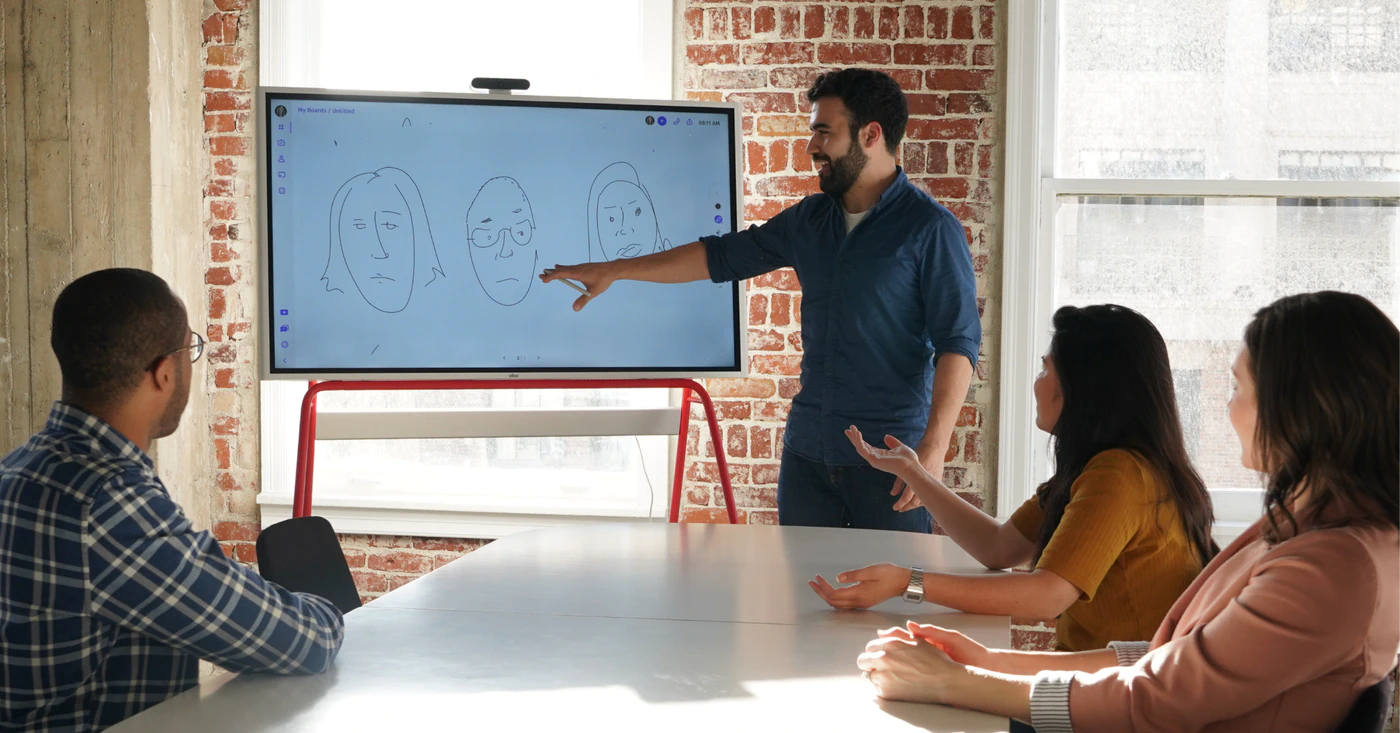 Team collaborating on a Vibe Smart Whiteboard
Vibe Smart Whiteboards offer a collaborative tool to bring employees together, whether you need to brainstorm ideas, hold strategy meetings or meet and plan as a team. Vibe Smart Whiteboards are built for collaboration, with features that make it easy for employees to work together, whether they're working virtually or in person.
And this is by no means an exhaustive list of benefits. Plenty of Vibe users have already made their smartboards a key part of their daily collaboration workflows, and are finding new uses every day. Check out these videos to see how Vibe brings collaborators together across industries:
See how Vibe could help →
Subscribe to get updates on all things at Vibe
Thank you for subscribing Vibe's blog!