Effective Team Weekly Meetings: Putting Together a Weekly Meeting Agenda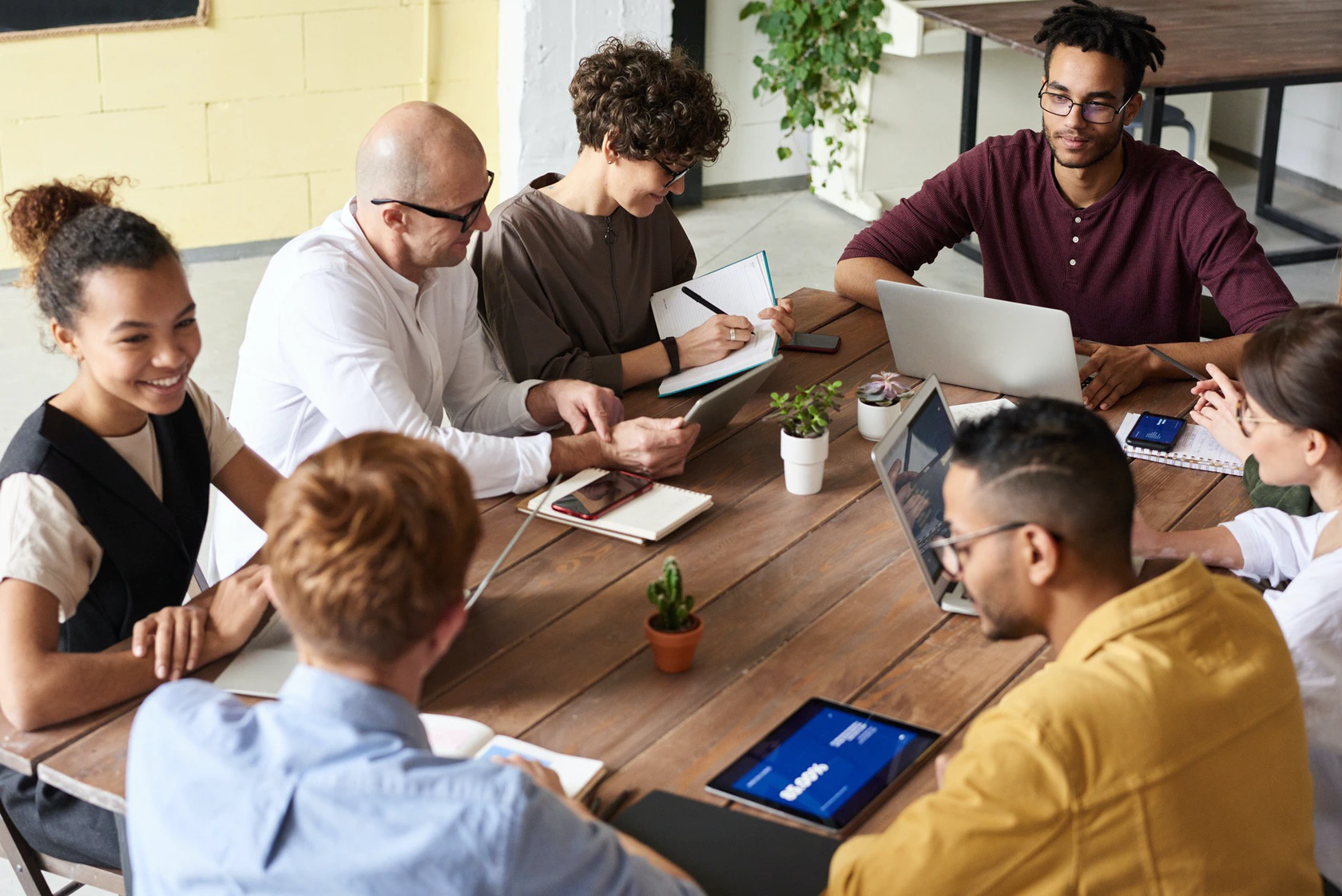 Sometimes, working in a team can be quite challenging. While your entire team may be working toward a common objective, everyone is doing so not only from different perspectives, but from different locations as well. All this makes team meetings (and a weekly meeting agenda) a crucial and necessary part of the work week. Weekly team meetings are crucial for keeping everybody in the organization on the same page.
In this post, we'll explore the purpose of weekly team meetings as well as tips for putting together an effective meeting agenda. Let's dive in!
What Are Team Meetings?

Team meetings are planned get-togethers where team members share their triumphs, discuss issues yet to be accomplished, unblock any barriers they're facing, and ask relevant questions. Weekly team meetings usually last between 60 and 90 minutes. Anything beyond that might be counterproductive.
Purpose of Weekly Team Meetings

To better understand the benefits of team meetings in an organization, we take inspiration from two quotes by the iconic industrialist Henry Ford.
"Coming together is a beginning. Keeping together is progress. Working together is success"
"If everyone is moving forward together, then success takes care of itself."
As Ford hints, there are many benefits of keeping your group cohesive and united is essential—and today, that looks like holding weekly huddles with your team. Weekly meetings encourage team cohesiveness and offer a chance to stay connected, whether the team is attending in-person or virtually. They're a perfect way to keep every member motivated as you plan for the new week together.   
Additionally, a weekly meeting allows you to coordinate ongoing activities and move forward together on projects. Usually, it's easier to set specific goals and conduct workable action plans when working—and communicating—as a team.
What's more, a weekly team meeting is a chance to collaborate and get every member's creativity flowing. Everyone has access to the same information; thus, certain assignments can be assigned to different members, or the timeline for ongoing projects can be slightly adjusted.
Tips for Putting Together a Meeting Agenda

Planning a weekly meeting agenda can be a daunting endeavor. It can be tricky to know where to begin with all the different aspects that go into one. This section will walk you through the elements involved in putting together a clear, concise, and easy-to-follow weekly meeting agenda.
Let's take a closer look!
Get Input From Your Team
If you want your team to participate in weekly meetings consistently, make sure items on the agenda mirror their needs. Involve the team in suggesting some agenda items. When you decide not to include a recommended item, find time to explain your reasoning to the member who suggested it.
Plan Ahead
Some team leaders often fall into the routine of holding weekly meetings without preparing an agenda. This is not advisable. Take time to develop a meeting agenda before inviting the participants. Knowing what you need to cover in advance helps you establish the attendees and what materials they should bring. Also, decide what time you need to allocate to each agenda item.
If you don't plan well, the meeting will end up a mess, leaving every attendee more confused.
Keep It Productive
In a survey published by CNBC, up to 67% of meeting participants admitted that spending time in unproductive meetings prevents them from doing their job effectively. As a leader, it's important to develop a practical agenda that helps hold a productive meeting, realize all discussion milestones, and prevent meeting fatigue.
To ensure both your in-person and virtual meetings stay productive:
Make your meeting shorter. Shorter is always better. Remember, after 45 minutes, meeting attendees' ability to focus will fade—and yours can too.
Share your expectations with team members. Make it clear what you hope to achieve with each weekly huddle.
Invite the right participants. Only invite relevant people to the meeting—people directly involved with the project. These are participants who can provide crucial insights and perspectives. Also, don't forget to give the participants ample notice so they can prepare and confirm their attendance.
Plan to provide visuals. Opt for visual materials that pique the attendee's interest—tables, figures, facts, graphs, etc. The more visuals you incorporate, the more your team will appreciate and remember the material.
Collect feedback from members. Ask for participant feedback to ensure all aspects of the meeting realize the set goals. It would help if you also got feedback on how your weekly huddle went and what they feel can be improved.
Manage Agenda Topics
The items to include in your agenda obviously depend on the purpose of the team meeting. Still, whether your weekly is a brainstorming session or a problem-solving meeting, most agendas will include the following:
Information items. This involves any updates you may wish to communicate to your team.
Action items. This includes tasks your team members should complete during/after the meeting.
Discussion items. These are items you want team members to provide feedback on.
The best meeting leaders have a standardized process for dealing with each agenda item.
Agreeing on a standardized process is important as it can enhance meeting effectiveness. Without a clearly defined process, the meeting can quickly become unfocused and chaotic.
Once you develop a process for addressing each item on the agenda, write it down. Let's say you are scheduling a weekly to address the recent plunge in organic traffic. The process may look as follows:
Define the problem (5 min)
Brainstorm the potential cause for the dip in traffic (10 min)
Brainstorm possible solutions (15 min)
Discuss and agree on the course of action (15 min)
Talk About How Topics Impact the Team
Team meetings should only be used to discuss issues affecting the team and the project at hand. Deviating from that may be unproductive. Members may disengage and ultimately not attend future meetings. Examples of these issues may include: How do we best allocate shared resources? What processes should be automated? What are our highest priorities this week?
Improve Your Weekly Team Meetings with Vibe

All said and done; team meetings are a venue for collaboration, which is a crucial piece of the puzzle for employees and employers. In one survey, about 75% of employers regarded teamwork and collaboration as "very important."
With a Vibe Board, every team member can collaborate on an agenda item in real time. Leave the dull "information meeting"—where a team leader presents and meeting participants, often uninspired, just listen. The interactive abilities of the Vibe Board allow every member to indeed be part of the weekly huddle. Collaborate, huddle, ideate, and brainstorm ideas together. This way, you are assured of getting brilliant results from your meeting.
Another major perk with Vibe is that meeting attendees don't need to be physically present while using the Vibe Board. With Vibe's online whiteboard app, Canvas, meeting participants can join with any device, from any location. This way, participants can collaborate with the team on the same page in real-time, collaborating for document sharing, brainstorming, project management, and more.
Remember, the most significant consideration when running a hybrid team meeting is inclusivity. Any hybrid meeting room should ensure that all participants have the same attention and experience when it comes to contributing and communicating. In short, if you want to create a more inclusive environment, especially for your hybrid team, consider using a Vibe Board.
Are you interested in learning more about using Vibe for meetings ? Watch a demo here .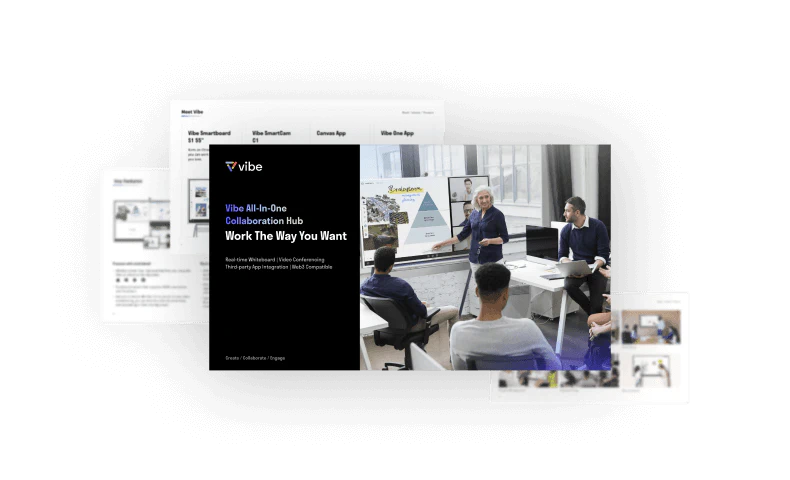 8 Factors to Consider Before
Purchasing a Smartboard
FAQS
How do you run a weekly team meeting effectively?
Running an effective team meeting requires a lot from the team leader. However, the most important thing is to put together a practical agenda. You'll want to have a detailed list of issues that need to be addressed. This not only prevents missing out on things on the agenda, but also gives you a basis to structure your team meeting around. Depending on the importance and formality of the weekly meeting, you may consider circulating the agenda items beforehand, so team members can gather pertinent information to make the best use of the set meeting time.
Why are weekly team meetings important?
Weekly meetings are an excellent opportunity for managers to learn directly from team members about any difficulties or frustrations they may be experiencing. It's also a great chance to remind team members of the organization's objectives and make sure their work is in line with its set out goals. Moreover, it allows members to receive peer-to-peer and hierarchical criticism while fostering a culture of transparency and open communication.
How can weekly team meetings help the success of a project?
Ideally, a weekly meeting gives your team a forum to get together and talk about their goals or accomplishments so far. By getting updates about current initiatives and projects, you can ensure that all your team members are on the right track.
See how Vibe could help →
Subscribe to get updates on all things at Vibe
Thank you for subscribing Vibe's blog!