How Vibe Smart Whiteboards Can Help You Nail Your Next Sales Pitch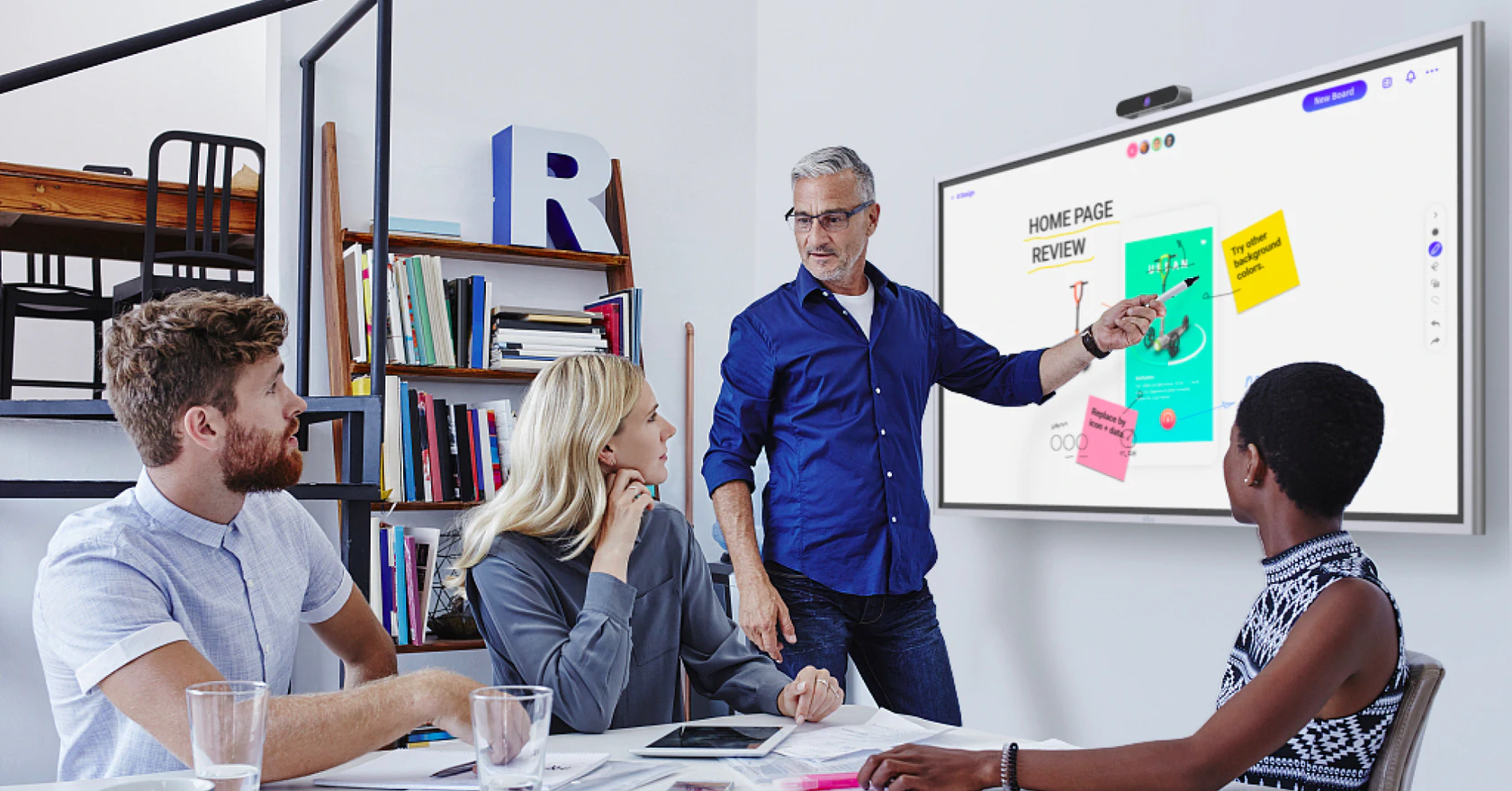 Making your sales pitch stand out to potential clients across a Zoom meeting is no easy task. It takes some real creativity to cut through all the noise of at-home distractions and attract clients to your business from the comfort of their own kitchen tables and makeshift offices. 
Vibe products are designed for presenters in need of easy-to-use tools that engage and excite audiences, be they remote, in-person, or a mix of the two.
Here are six Vibe Smart Whiteboard features you should know about to make your next sales presentation memorable (in the best way).
Make Clients Feel Heard: Annotations and Laser Pointer Tool
You'll notice a major theme to crafting a successful sales pitch with Vibe includes an emphasis on audience participation. Allowing clients the opportunity to engage with your pitch in real time instead of talking at muted screens for 30 minutes changes the entire dynamic of your interaction. Two of the most fundamental features to any Vibe presentation are the annotation and laser pointer tools.
With just these two basic functions, an audience previously confined to a meeting (that someone else likely put on their calendar) suddenly becomes an active participant in a presentation designed to help their business, turning a previously one-sided sales pitch into a productive, two-way conversation.
Allow sales people to comment and ask questions as you work through your deck—Vibe's annotation mode makes it easy to mark up the presentation with valuable suggestions and specific applications unique to their business. Giving clients hands-on experience with your product or service gets those wheels turning and invites collaborative problem-solving between teams—both internal and external. With the laser pointer tool, you can keep audiences and conversations focused, highlighting your strongest points to give your presentation some extra "oomph".
Easy Canvas Access to Continue the Conversation
Among the numerous useful features Vibe offers presenters, none may prove more beneficial than its infinite digital Canvas. Smartboards boast the unique ability to give remote audiences the sense of a small team meeting in front of a traditional whiteboard—with the added bonus of tools and security features capable of saving all presentation info, markups, audience feedback, and version histories safely in the cloud to share easily.
Storing your sales pitches in the cloud means potential clients can download the latest version of your presentation from any device to share and review with their internal teams, and even revisit potential product applications discussed in your initial meeting.
Give Your Virtual Client Meetings a Personal Touch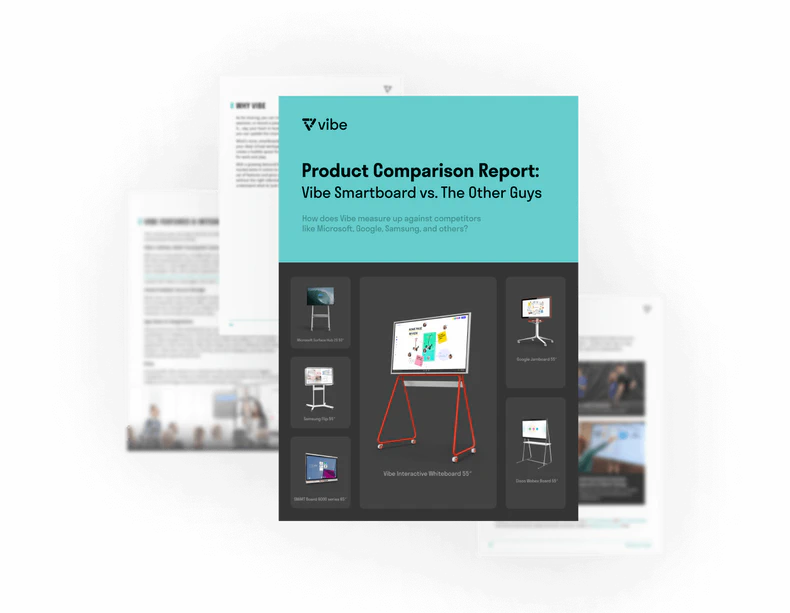 Check Out Our New Smartboard
Product Comparison Report
Another one of Vibe's biggest strengths is its capacity to deliver dynamic presentations over popular video conferencing tools like Zoom. Being able to take client questions, concerns, and input into account as you present to remote groups gives you a chance to show how your products can benefit a potential partner directly, even when they're not in the room.
Too often sales decks fail to pique client interest due to explaining a product or service in overly general terms—a challenge only exacerbated by the impersonal nature of remote presenting . Vibe is an elegant solution to give your interactions the tone of a face-to-face meeting instead of a one-sided lecture.
The Vibe Smart Whiteboard also establishes a new standard for dynamic virtual presenting through the following features:
1. Easy Q&A: The best sales presentations are in tune with the questions your audience wants answered. Most of the time, the best way to find out what those questions are is simply to ask. Employing a Q&A at the start of your presentation through the smartboard's polling or markup features can help determine where to place the most emphasis within your presentation.
2. Speaking of Polls… Conduct some research before your sales pitch to gauge how high-level or technical you should get with your information. Download a polling app in Vibe's App Store, and you can adapt your presentation to the level of expertise of those on the call. Consider things like your expected audience size, their general background with the products or ideas you're set to present, and any questions or issues they may have about your material.
3. Take Notes: A single comment from a client might open the door to meaningful discussion and help you establish a trusting partnership. Be sure to mark up the margins of your presentation with any valuable client input and save the annotated presentation to the cloud for future reference.
4. Highlight Key Info: The best presentations already limit the text on the slide to only the most crucial information. But when it comes to next steps or key selling points, underlining or highlighting the points you most want to come across can add an extra bit of interest in your pitch. Don't underestimate the number of stale slideshows your clients have sat through—even the slightest bit of added flair will likely be a welcome change.
Fast-Track Sales Pitch-Building with Templates
Of course you want to provide every client with the white-glove service of a custom presentation, beautifully crafted to illustrate how your business fits the specific needs of your potential new partner. That goal is much more achievable through the use (and reuse) of successful base presentation formats and templates, which come preloaded on Vibe Smart Whiteboards to help you quickly fast-track your process without taking up your entire workday.
Templates are an essential—and easy—way to get your thoughts across to your clients effectively. Most sales decks tend to share some common design elements, including flowcharts, org charts, value proposition graphs, empathy maps, decision matrices and even sticky-note style priority charts. With these preloaded templates at your fingertips (not to mention each of your previous presentations) Vibe lets you easily repurpose your sales slides for each individual client.
Canvas Works Alongside Your Favorite Presentation Tools
Vibe is big on staying connected throughout your workflow—and one of the most straightforward ways to ensure a seamless workflow is with app integrations . Our Smart Whiteboard's ability to adopt any of your business' current tools is one of its key functions. Seamlessly joining your existing suite of tools like Microsoft PowerPoint and other web-based presentation tools such as Google Slides and Prezi makes Vibe feel like it's been part of your team all along.
Integrations aren't just limited to other apps and programs. Incorporating web videos, graphics, and visuals to boost your presentation's aesthetics in Canvas is as easy as drag-and-drop.
Leave a Lasting Impression with Vibe
Toward the end of any good sales pitch, there will come a point when you'll inform your prospective clients what it is you actually want them to do next. While there's nothing inherently wrong with a simple bulleted list, it's worth the extra effort to leave a lasting impression through Vibe's dynamic whiteboard capabilities.
The Smartboard lets you end a presentation by listing out next steps by hand or taking client feedback into account before pitching a budget tailored to their specific circumstances. Showing a willingness to take into account your client's unique needs before prescribing next steps builds trust among partnerships. It's also a great opportunity to include a few more personal touches, drag and drop some additional resources, or create a plan for future meetings to discuss details in-depth.
Make the Vibe Smart Whiteboard a Part of Every Sales Pitch
Smartboards are at their best in the hands of creative sales people looking for ways to stand out from the crowd and deliver presentations in a way that feels both fresh and engaging. Vibe products are engineered to be versatile tools for account managers, marketers, teachers, team leaders, and just about anyone trying to get important information across in a meaningful, collaborative way.
Through the features listed above, presenters can aid their potential partners in becoming a larger part of the conversation, address client questions directly, and include visual cues to hold the attention of a room—even if that room is a virtual one.
Looking to get started with Vibe? Take a product tour .
See how Vibe could help →
Subscribe to get updates on all things at Vibe
Thank you for subscribing Vibe's blog!