Get To Know the Vibe Canvas Templates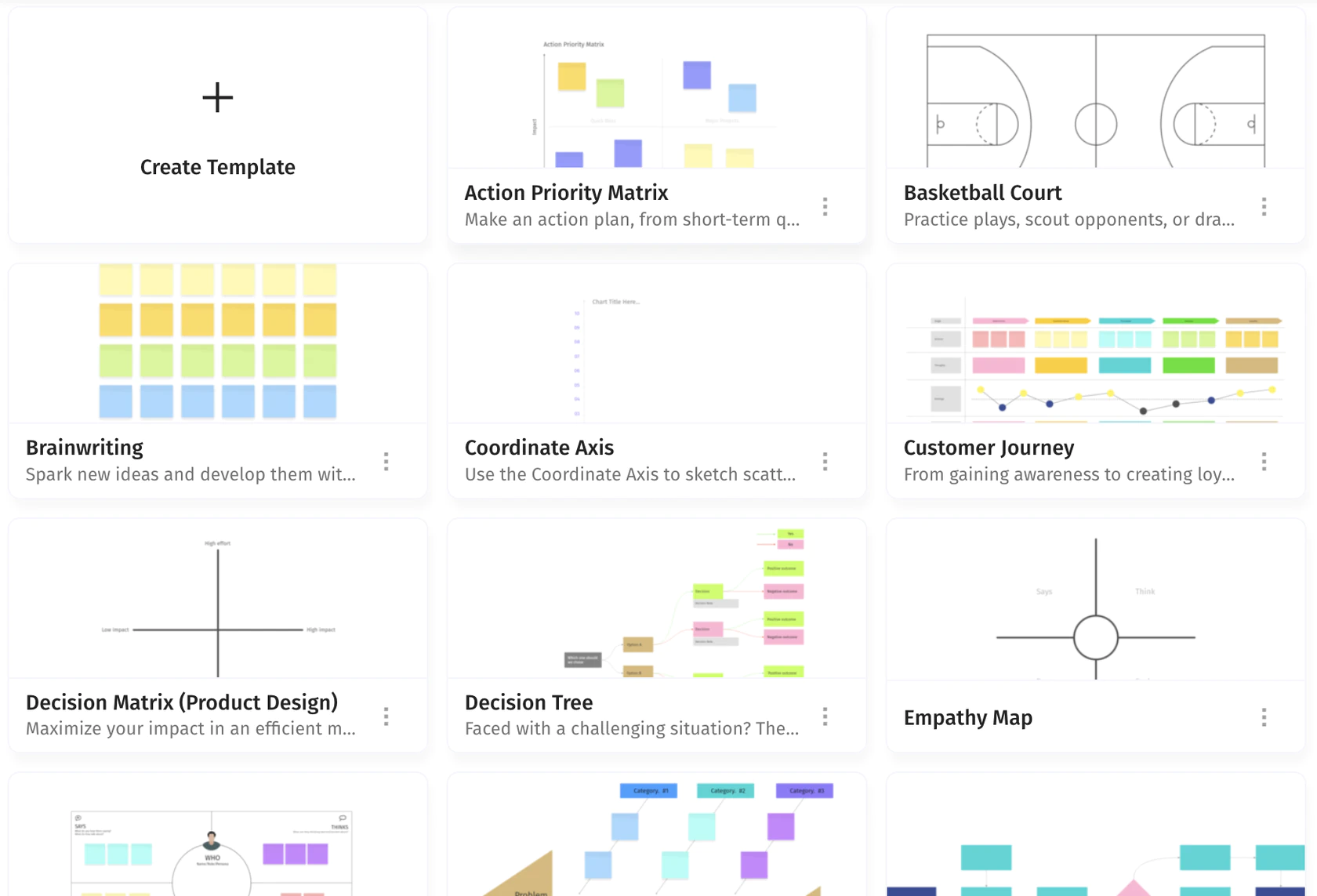 The Vibe Canvas offers limitless possibilities–but sometimes, staring at a blank canvas can feel more intimidating than inspiring. A little more structure is all you need to get the ideas flowing. With Vibe Templates, you have an easy-to-use toolkit ready at your disposal.
Let's take a look at what each has to offer to help you and your team brainstorm more efficiently, drive more effective meetings, and get the best use out of your Vibe Smart Whiteboard and Canvas .
First things first. To find a Vibe Template, click on the Canvas icon in the upper left hand corner of your Canvas, then click Templates on the left side menu. Here, you should be able to scroll through all the available Templates and pick the one that best fits your needs. The Vibe Templates can be broken out into 6 categories, Teamwork, Customer-Centric, Problem-Solving, Workflow, Game Time, and Custom.
In this blog we'll break down each Template at your disposal, and share some tips for using them.
Teamwork Canvas Templates
Team Charter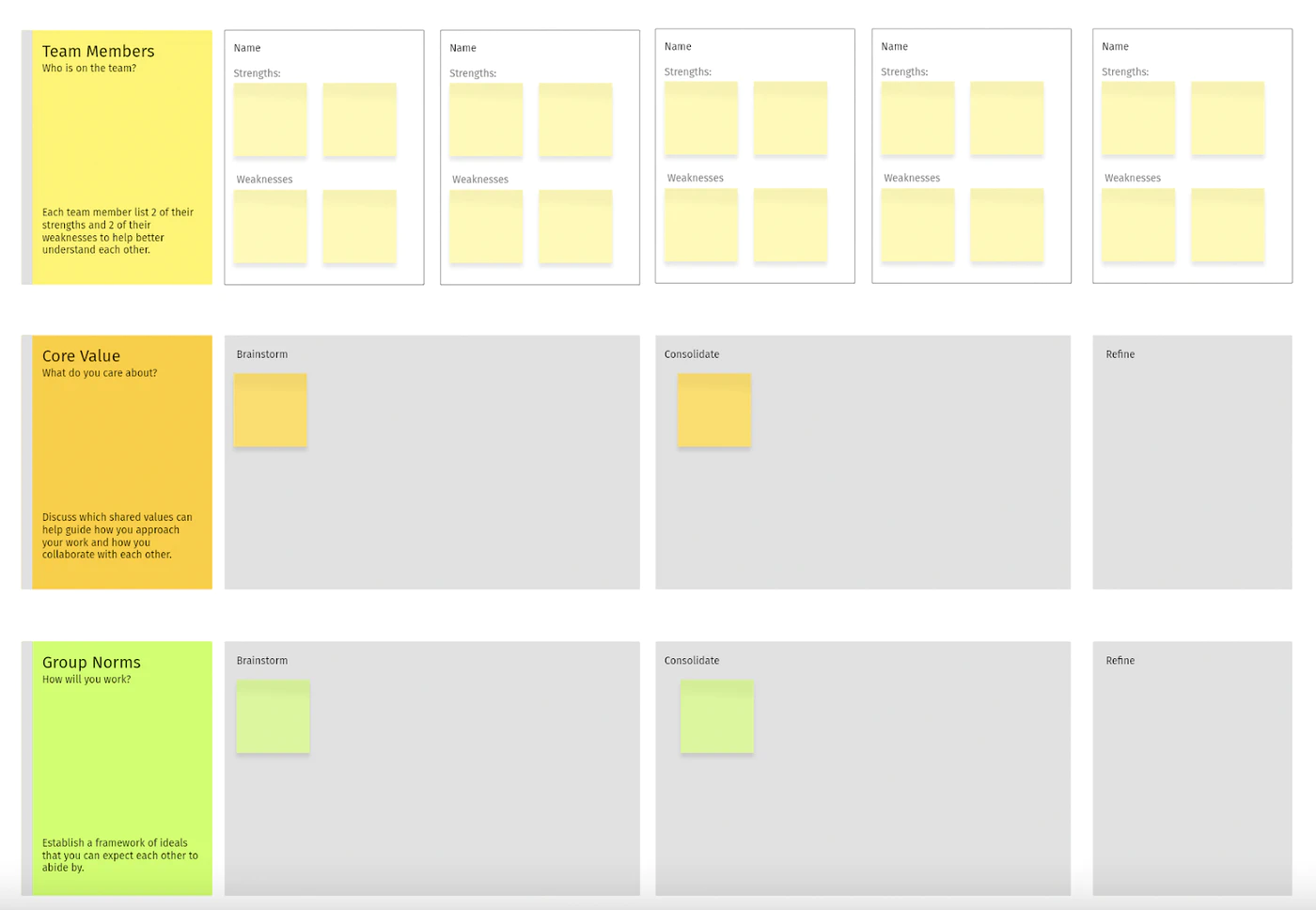 With the Team Charter template , you can map out your own high-performing team with ease. Team members can make note of the team's core values, group norms, roles, metrics of success, and standards of quality to help better understand the team as a whole–and each team member individually. 
This tool is particularly useful for remote or hybrid teams who may not get a ton of face time with one another, or for new hires just joining a team and looking for context about the colleagues they will be working alongside.
With the Team Charter Template, compile core values, key responsibilities, strengths & weaknesses, and more to guide your team to success.
Lean Canvas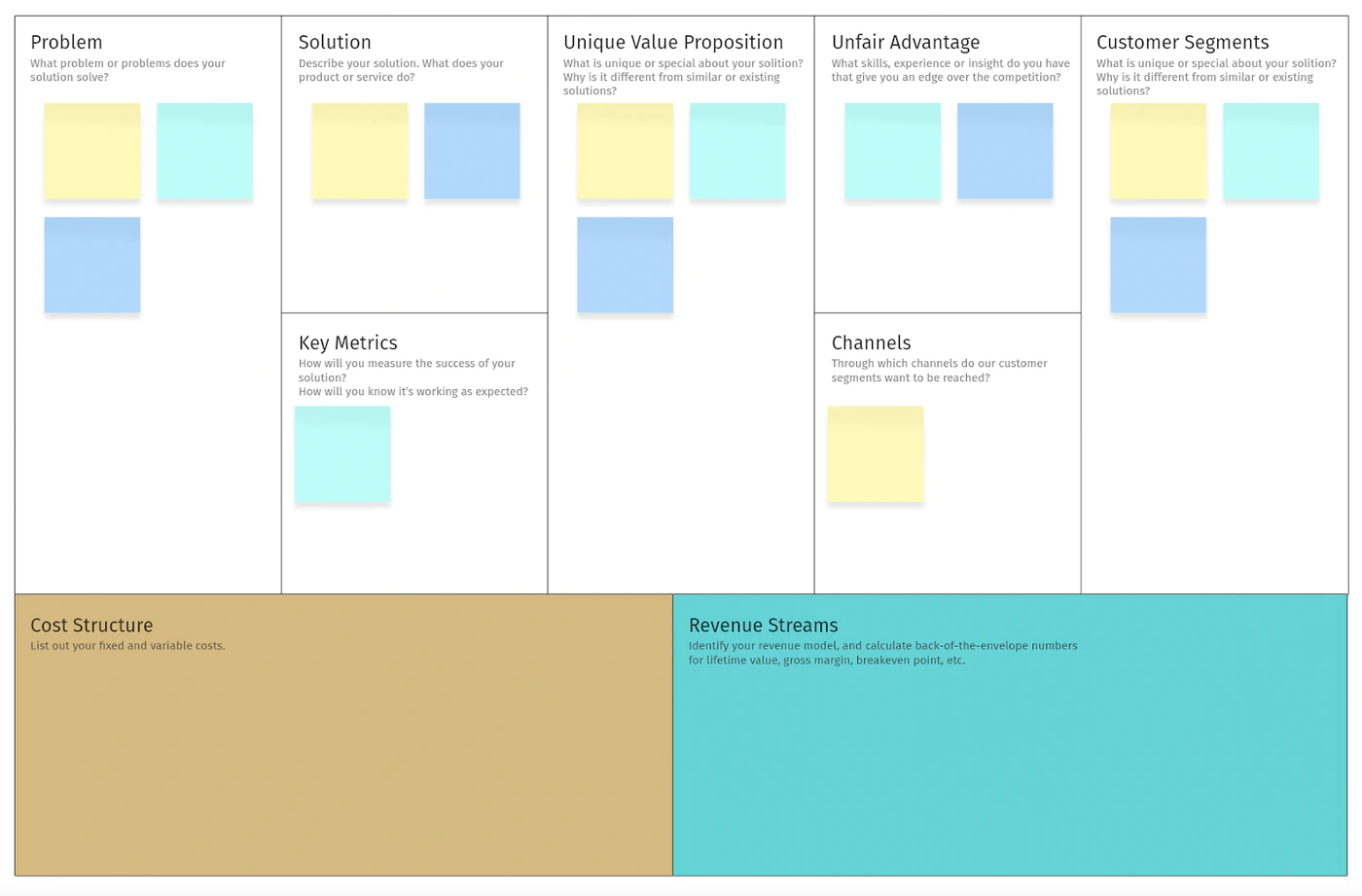 Whether you're starting from scratch or retrofitting your business model, the Lean Canvas Template can help you develop key elements of your business plan.
Get the team together to create at-a-glance insights into the problems facing your new business, your solutions, and other unique factors that will make your business the next great success story – or use the Lean Canvas to mold your thinking around a new product or solution being launched by your organization.
Having basic yet important information like "Unique Value Proposition" or "Customer Segments" readily available for your cross-functional teams will help to cut down on confusion and miscommunication across the board.
Retrospective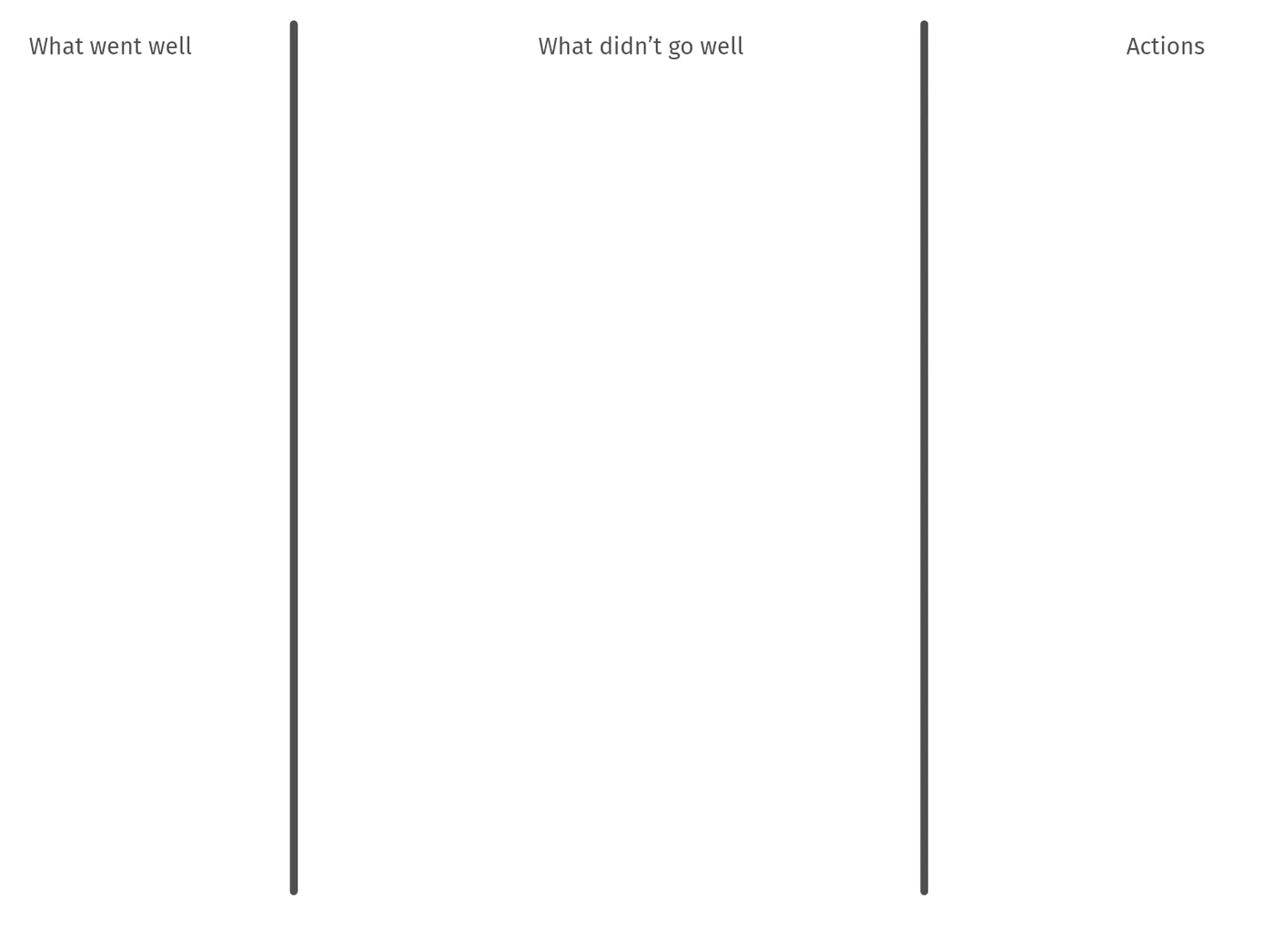 Retrospective Template
Learn from the past with the Retrospective Template , where you can break down completed projects into three neat columns: What went well, what didn't go well, and what actions your team can take to improve the next time around.
This template is perfect for sprint post-mortems for your team to collaboratively reflect on the work completed and the goals achieved. It's also a fantastic tool for educators to reflect on the effectiveness of lesson plans and the next steps for improvement.
SWOT Analysis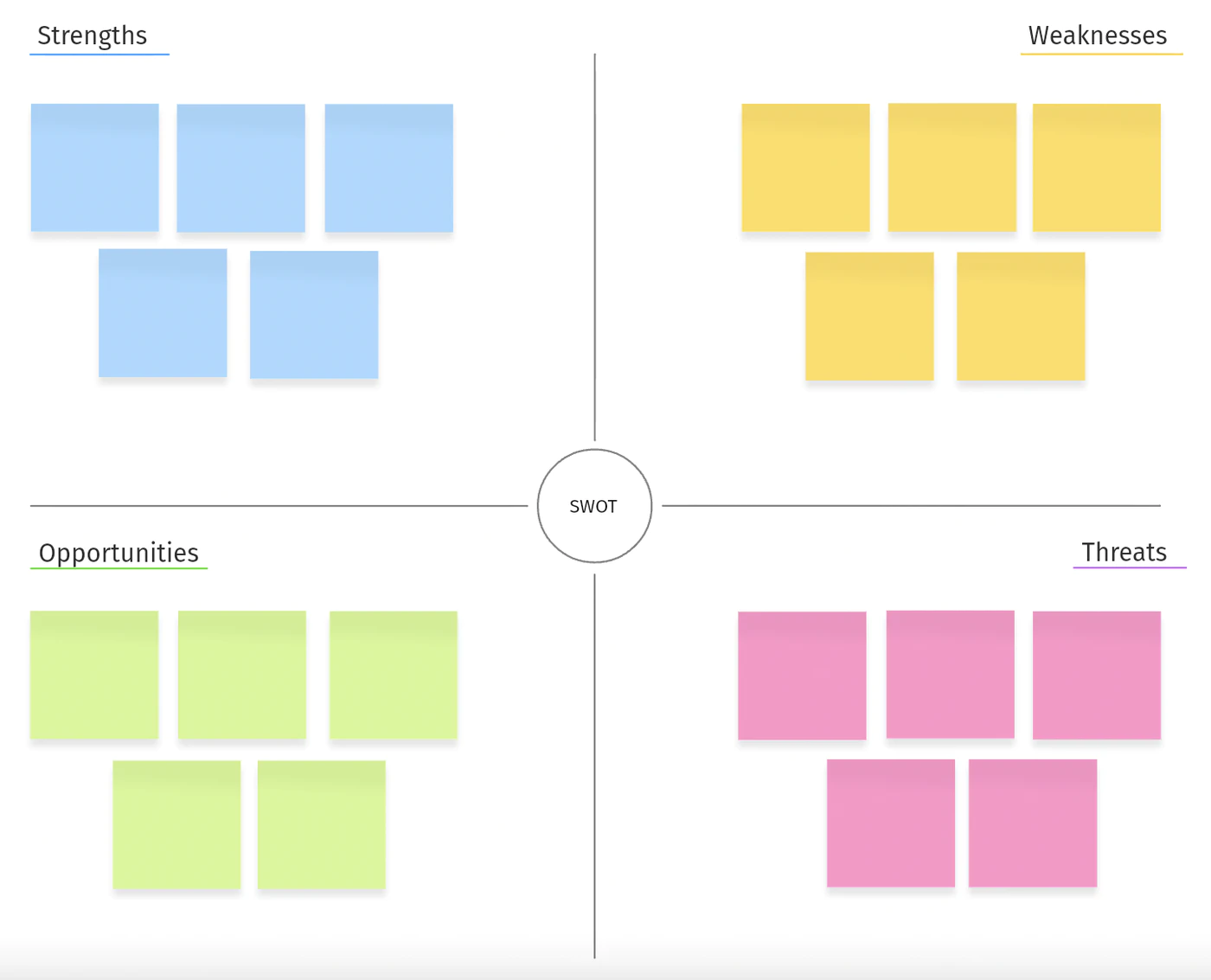 SWOT Analysis Template
The SWOT Matrix allows your team to understand the Strengths, Weaknesses, Opportunities, and Threats (SWOT) of any business strategy or important decision.
Now, your team can use and update the SWOT Matrix in real-time using Vibe's SWOT Analysis Template , adding a modern touch to this classic tool.
Brainwriting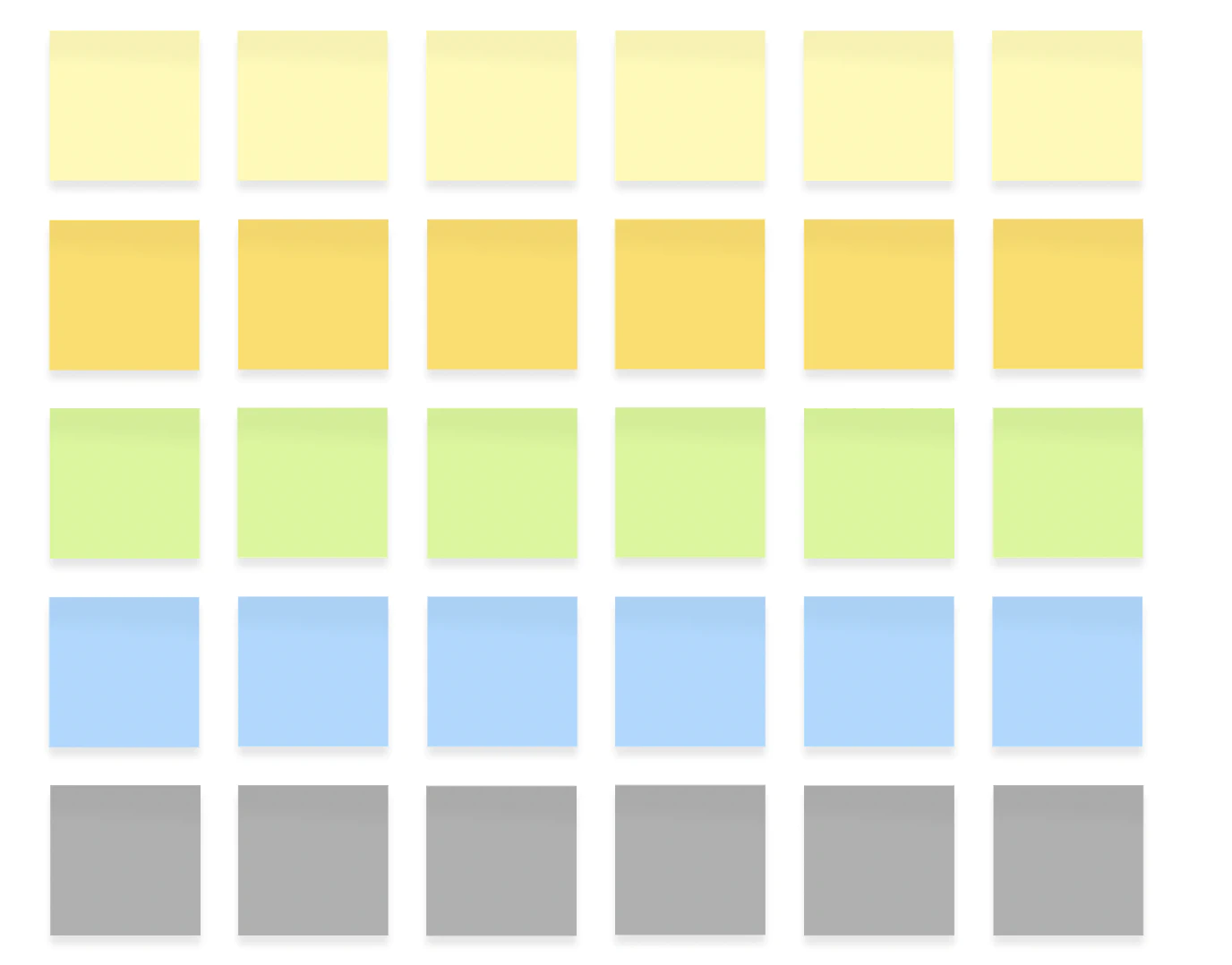 Brainwriting Template
The newest addition to our toolbox, the Brainwriting Template is perfect for any brainstorming session.
Brainwriting involves writing ideas down rather than vocally sharing them. Without the pressure of public speaking, teammates can contribute unique ideas that might not have been shared in front of a crowd.
Whether you're in a class or a conference room, have everyone jot down a few ideas in the template. Then, let other students or team members build on each other's notes and add their own thoughts to the template. Finally, take a step back and discuss the growing list of ideas you've all created together.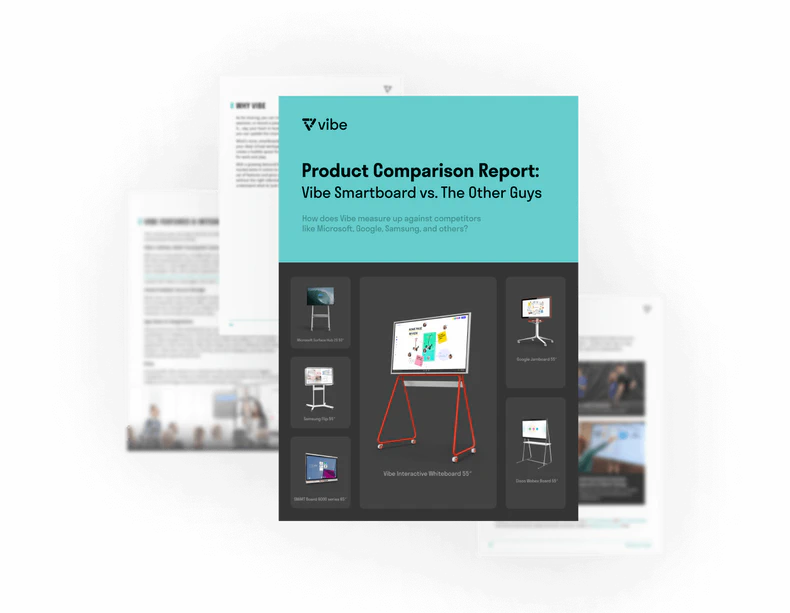 Check Out Our New Smartboard
Product Comparison Report
Customer-Centric Canvas Templates
Customer Journey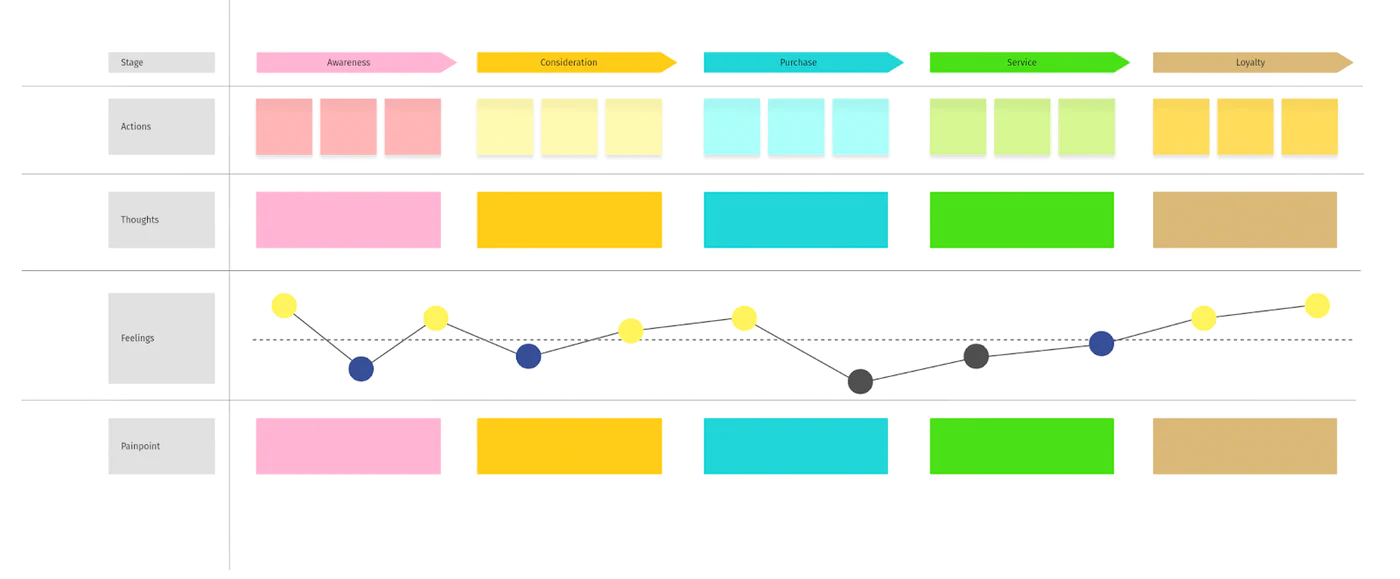 Customer Journey Template
With this template , sales and marketing teams can easily visualize the customer journey at every step. Track the key actions needed at each stage–including Awareness, Consideration, Purchase, Service, and Loyalty–and target the major pain points with this 360° view of the customer.
Create personas, map out stages, and understand hesitations to build the best customer experience possible.
Empathy Map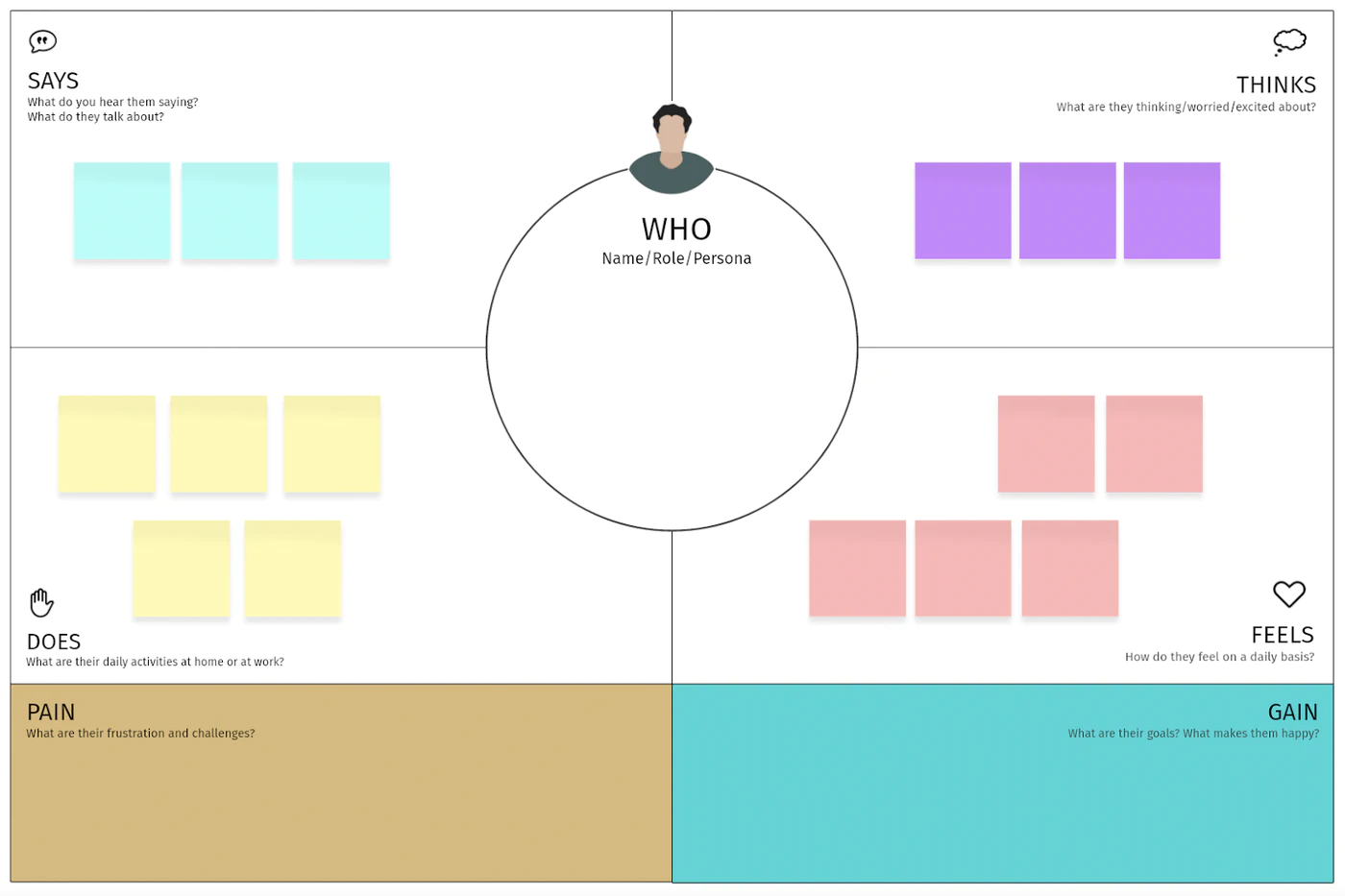 One of the most important aspects of creating an effective business is to completely understand the needs and desires of your customers. What are they thinking about or worried over? What do sales reps hear them saying or talking about? Creating an empathy map of questions like these will help to keep the entire team informed on how to communicate with the customer, or even how to iterate future products to better serve your customers.
Use the Empathy Map Template to keep track of specific types of users or customers, mapping out the persona's key behaviors and attitudes.
Value Proposition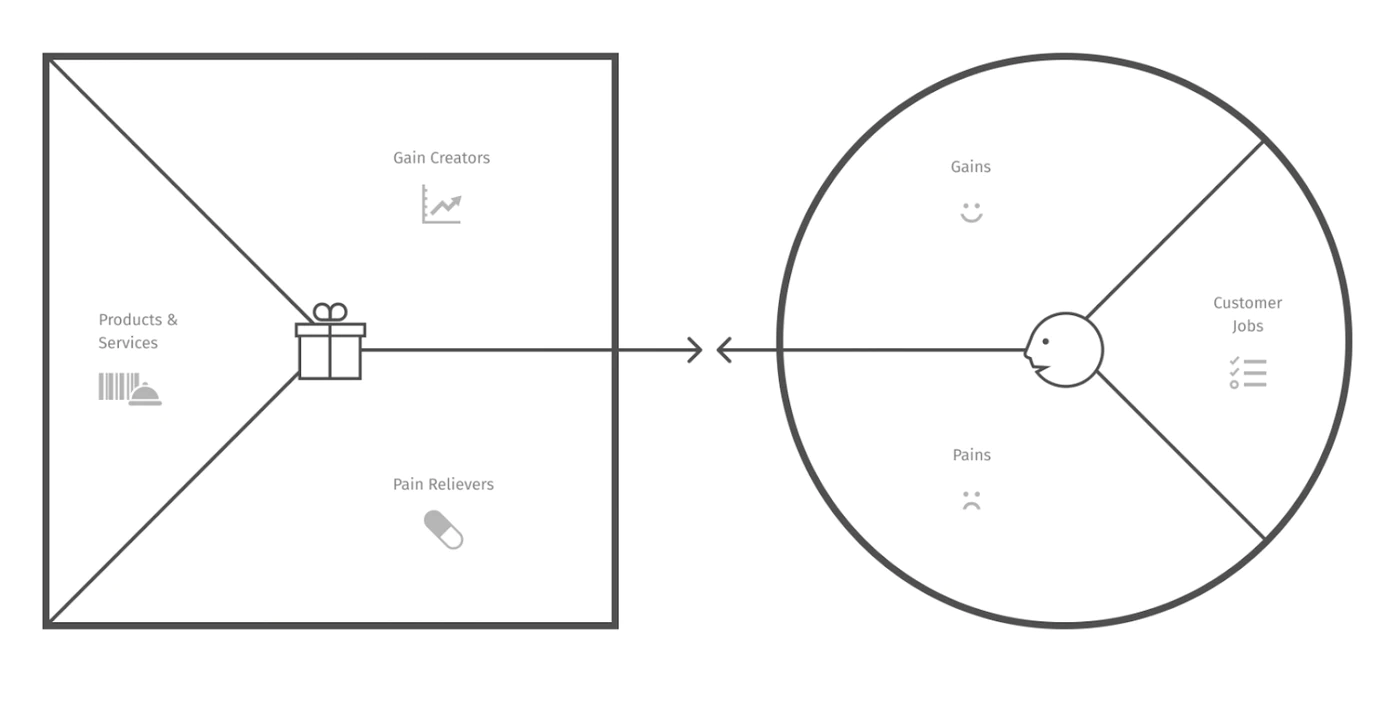 Value Proposition Template
A value proposition is a promise to your customer that communicates what value you can bring to them. Whether you're starting a new business or service or reevaluating your business model, the Value Proposition Template can help you precisely define customer profiles, visualize the value-add, and achieve Product-Market fit.
Problem-Solving Canvas Templates
Mind Mapping


The new Mind Mapping Template is the perfect solution for those times after a brainstorming session where you can't quite connect the dots in your notes anymore.
With a mind map, you can better preserve your train of thought while brainstorming – making your ideas easier to share with others and easier for you to jump back into at a later time.
Fishbone Diagram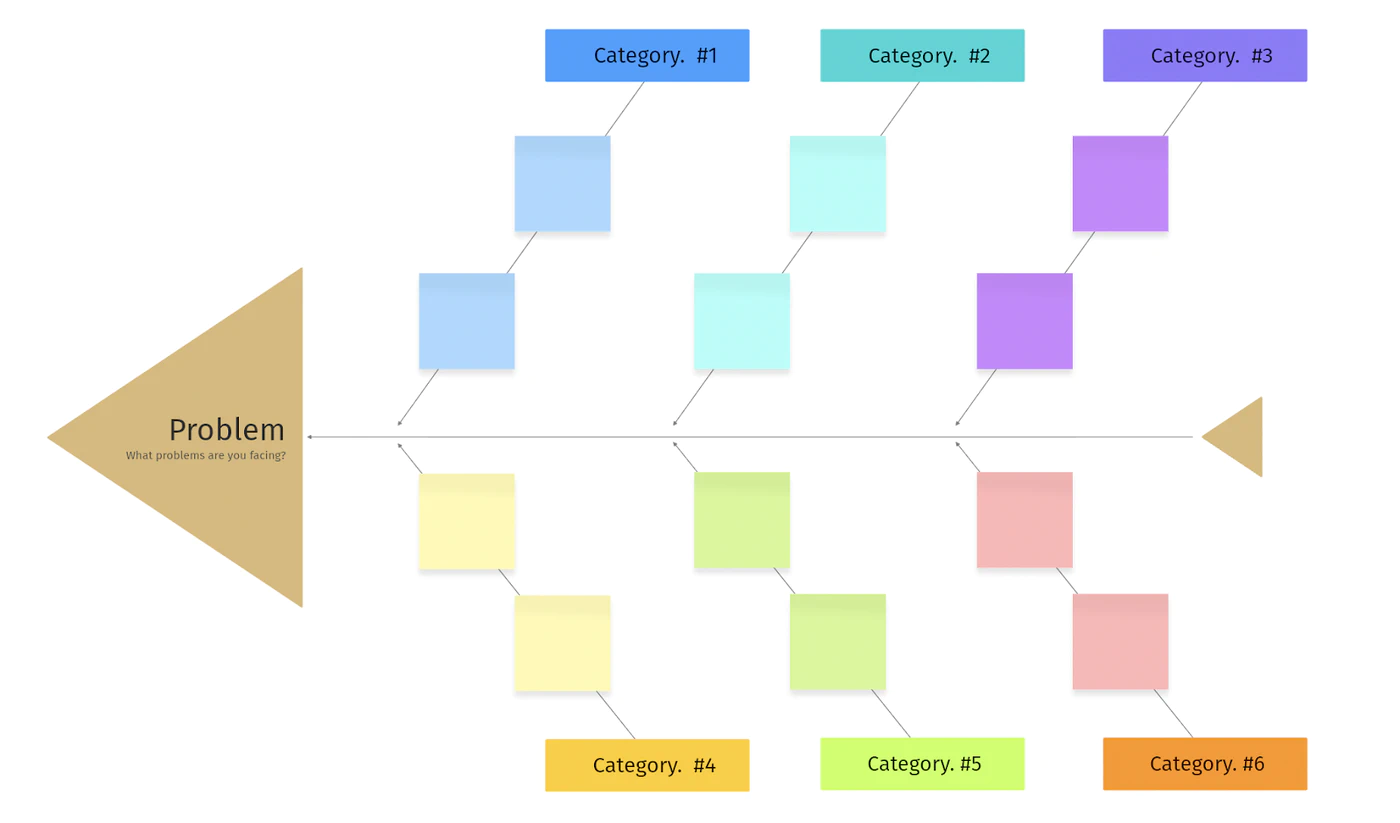 The Fishbone Diagram Template is perfect for thinking through every possible cause of a problem. By identifying and visualizing the various causes and effects of a problem, you can be better equipped to mitigate it.
Use this template to map out potential problems your customers may have and how your business can help solve them, or as an internal tool to narrow in on issues you may be facing around collaboration, go-to market, product pricing – anything really!
Coordinate Axis Coordinate Axis Template
A simple chart-builder, the Coordinate Axis Template allows you, your students, or your team to get mathematical in your problem-solving. Sketch scatter plots, solve geometry problems, plot equations, get dimensional with product designs, and more.
Decision Tree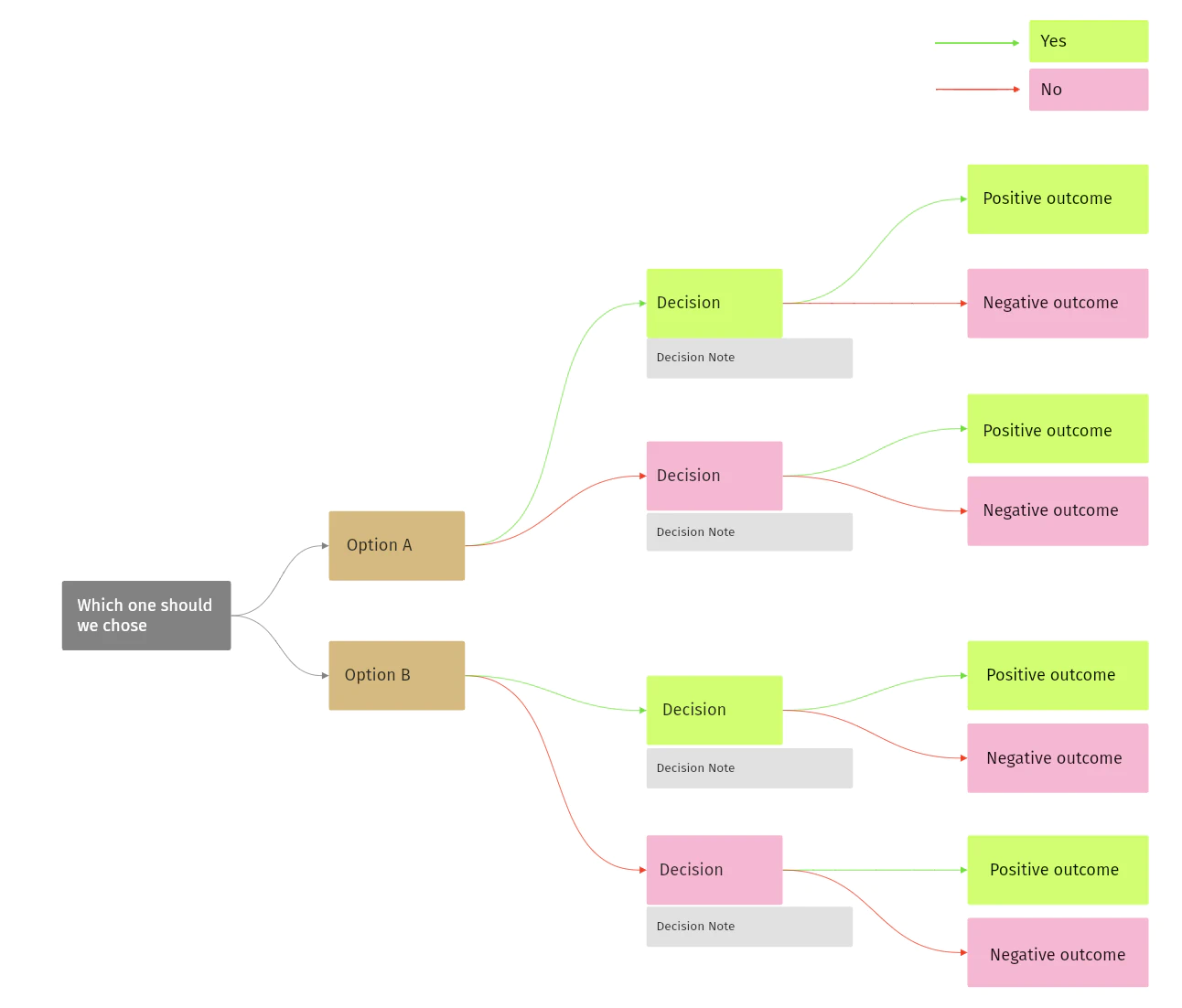 Decision Tree Template
One of the newest additions to the Vibe Template family, the Decision Tree Template is essential for anyone grappling with any easy way to display potential actions and their subsequent consequences–whether for a classroom or a boardroom.
Use a decision tree in a sales presentation to walk through any relevant cause-and-effects, so the client can determine the next best course of action, or use it to plan your organization's next product launch.
Problem Statement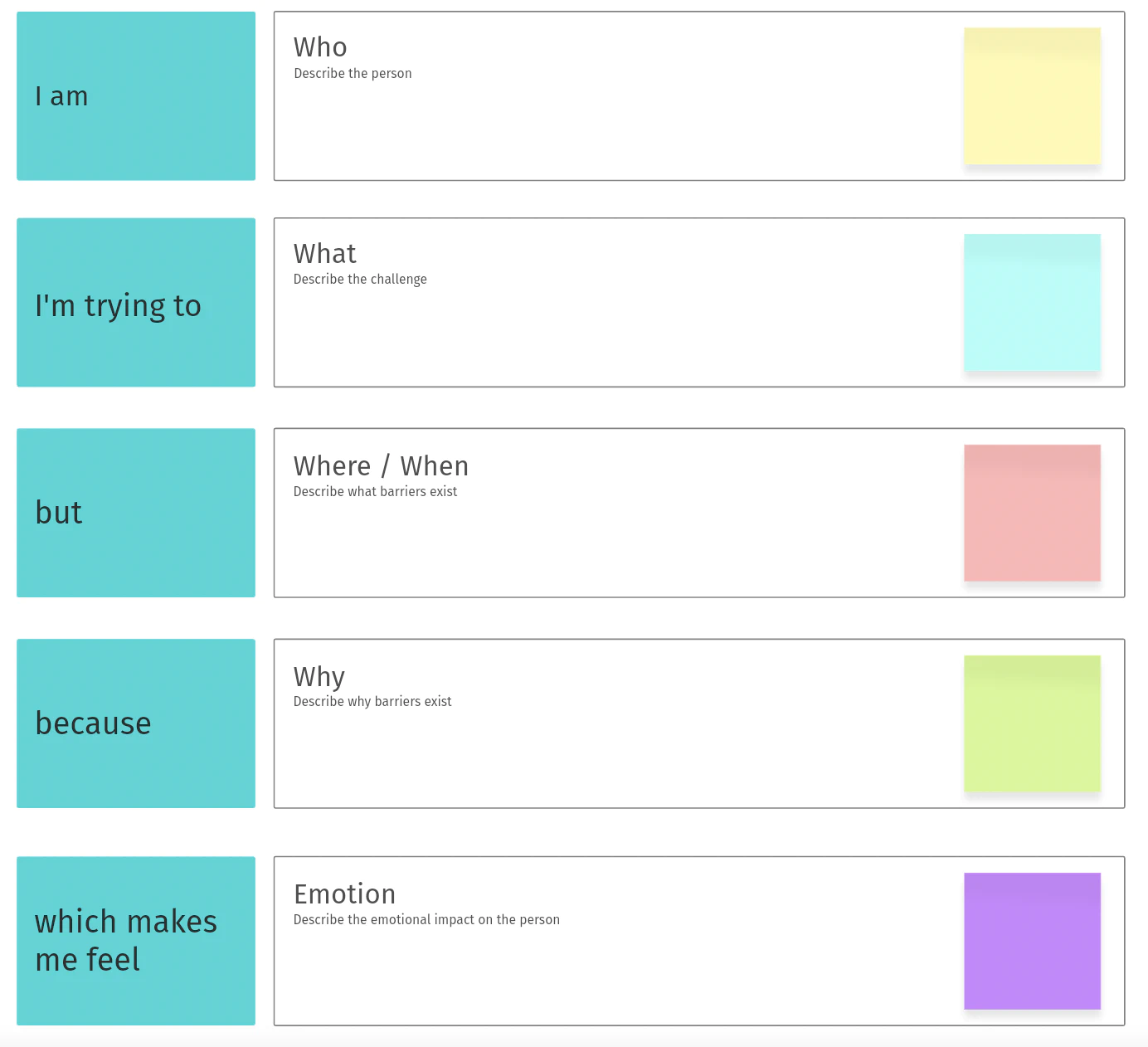 Problem Statement Template
With the new Problem Statement Template , work your way through any problem by answering a few pre-determined questions–designed to help you get to the bottom of whatever you're looking to solve.
Younger students can use this Template to develop their ideas in clearer terms, and corporate teams can use the Template as a routine team check-in to make sure everyone is on the same page.
Workflow Canvas Templates
Action Priority Matrix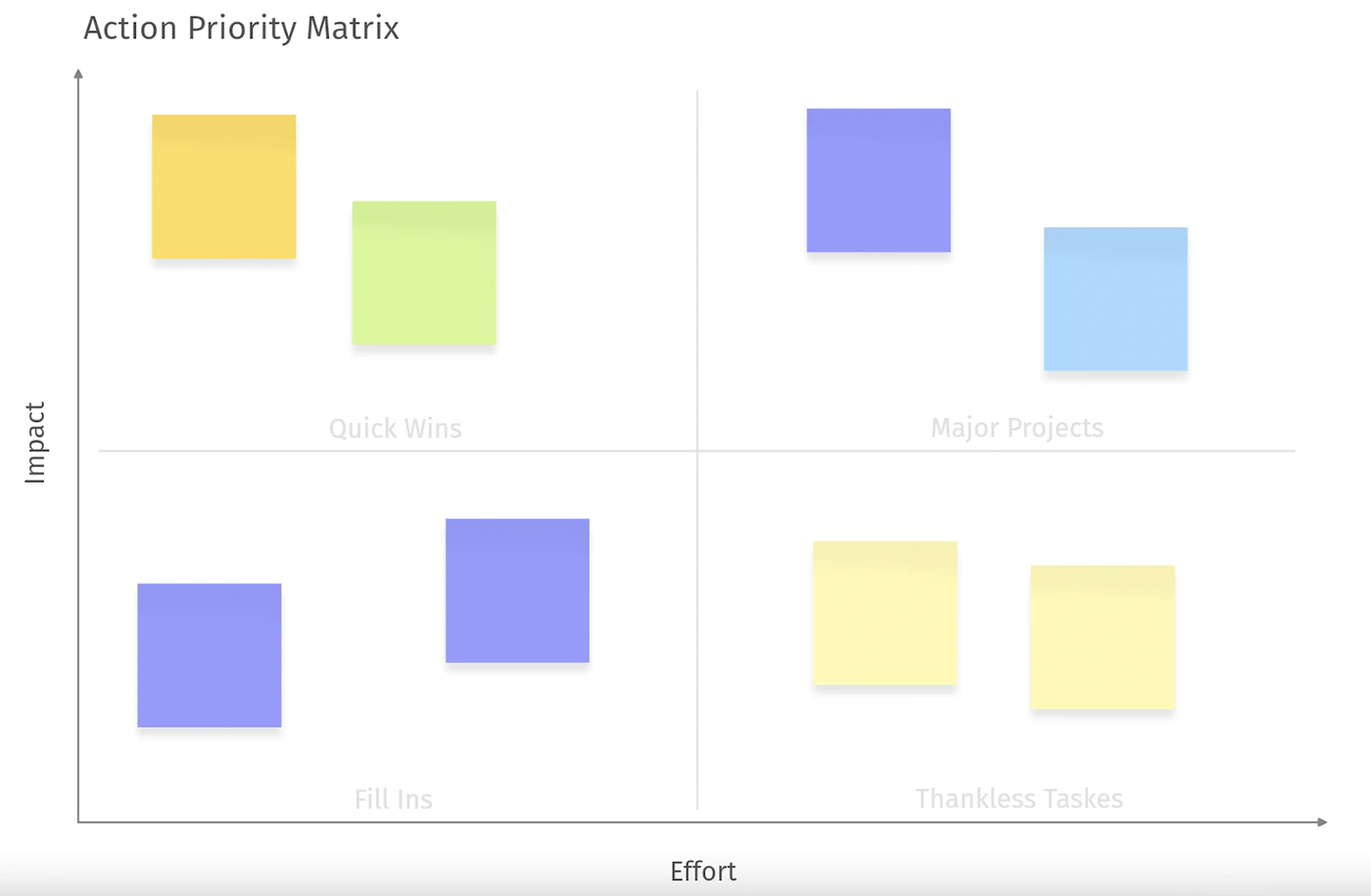 Keeping track of all your tasks is one thing–but finding the right way to prioritize each task is a whole new challenge. Luckily, the Action Priority Matrix Template is made for just that. By prioritizing the right tasks, you can allocate your limited time and resources more efficiently, and keep all team members focused on the tasks that will provide the biggest impact.
Project Management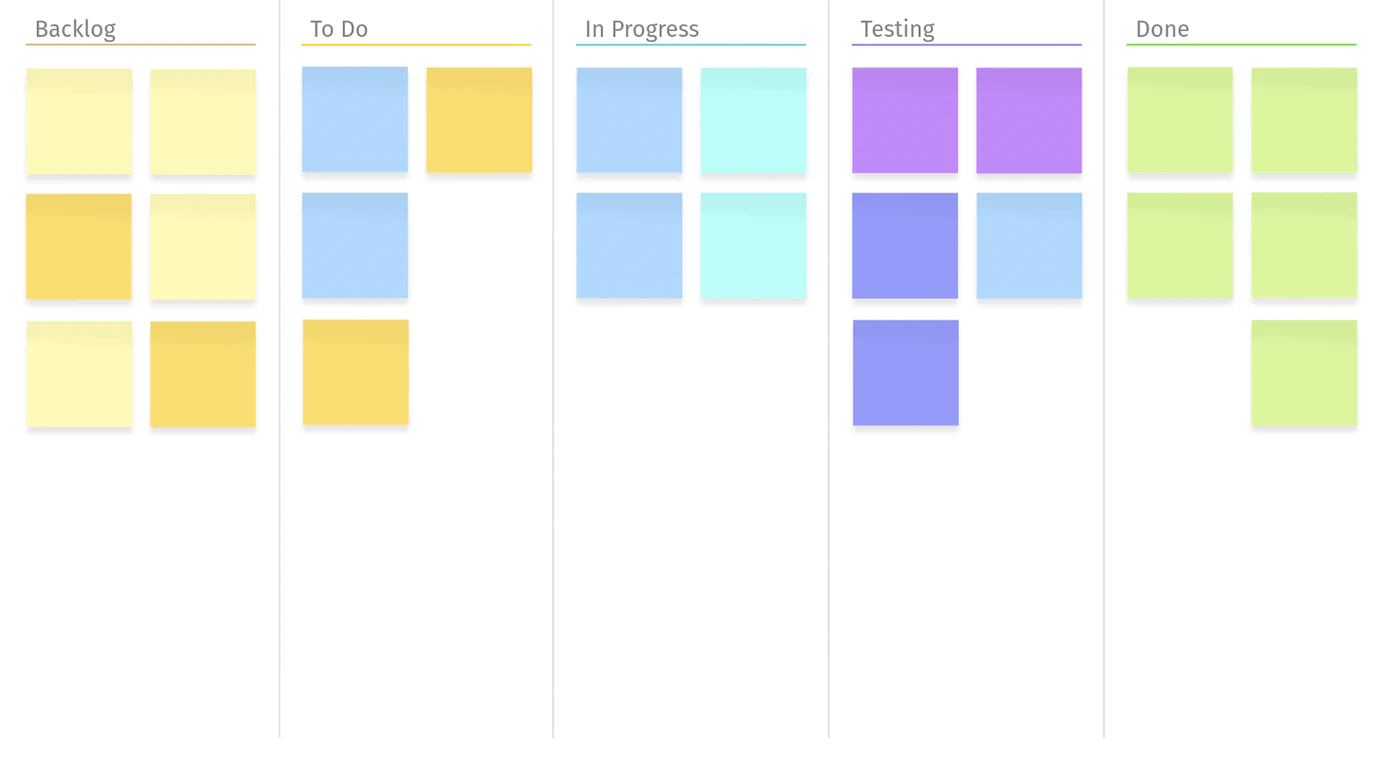 The Project Management Template uses the tried-and-true Kanban method to help you visualize task status, track progress, and address any and all roadblocks. Perfect for both internal and client-facing meetings, weekly check-ins, or school administrative meetings, use this template to present your project plan quickly and efficiently.
Flowchart


Flowchart Template
Already a staple in the classroom and the boardroom, the Flowchart Template can help you understand the step-by-step process in your problem-solving, whether you're trying to map out a new process or understand what considerations have to be made to reach a decision.
Game Time Canvas Templates
Gaming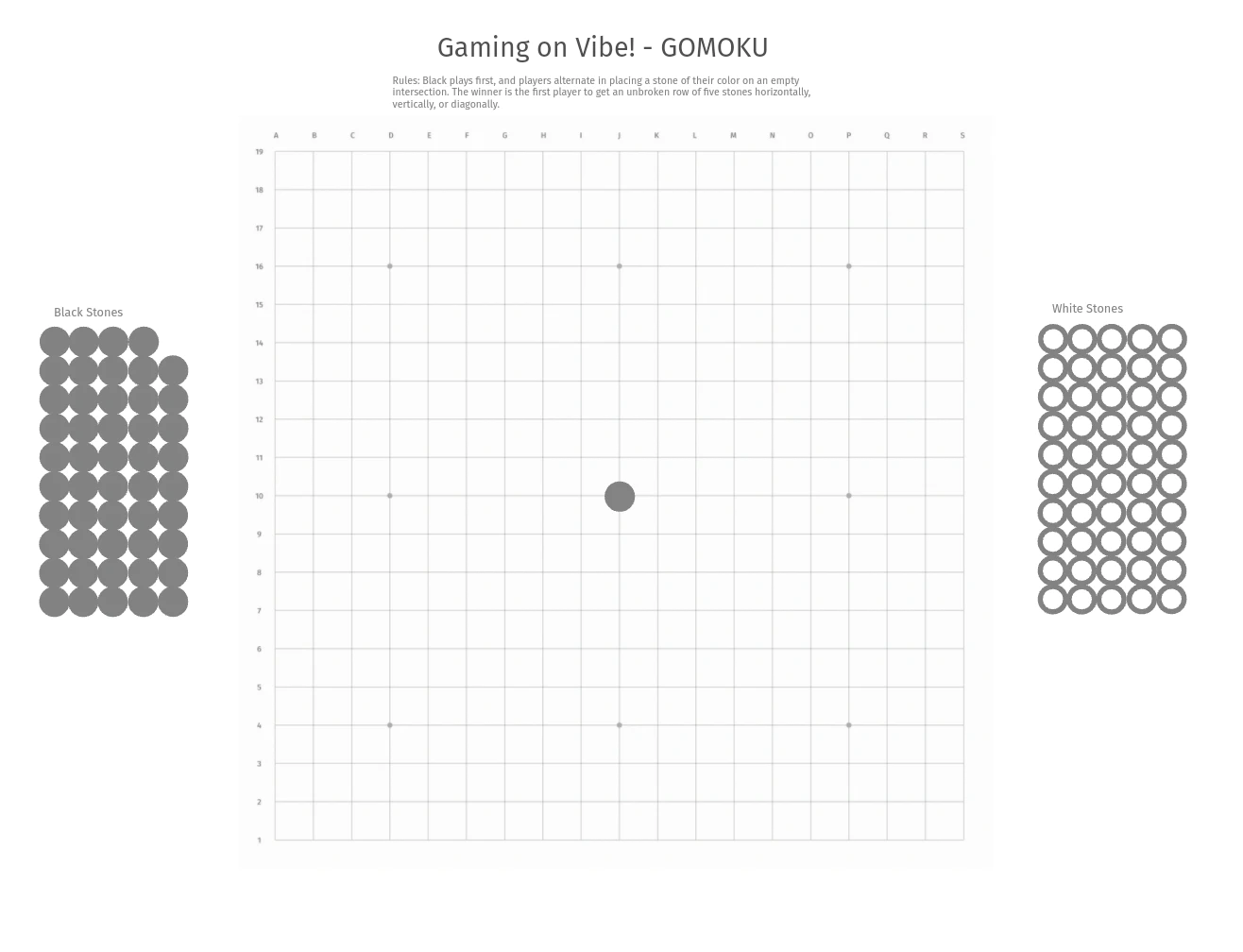 Gaming Template
Whether you have a few minutes to spare before class or before your next meeting, try out the Gaming Template to take a break and have some fun. Choose between classic games like Tic Tac Toe and GOMOKU and let the games begin!
Basketball Court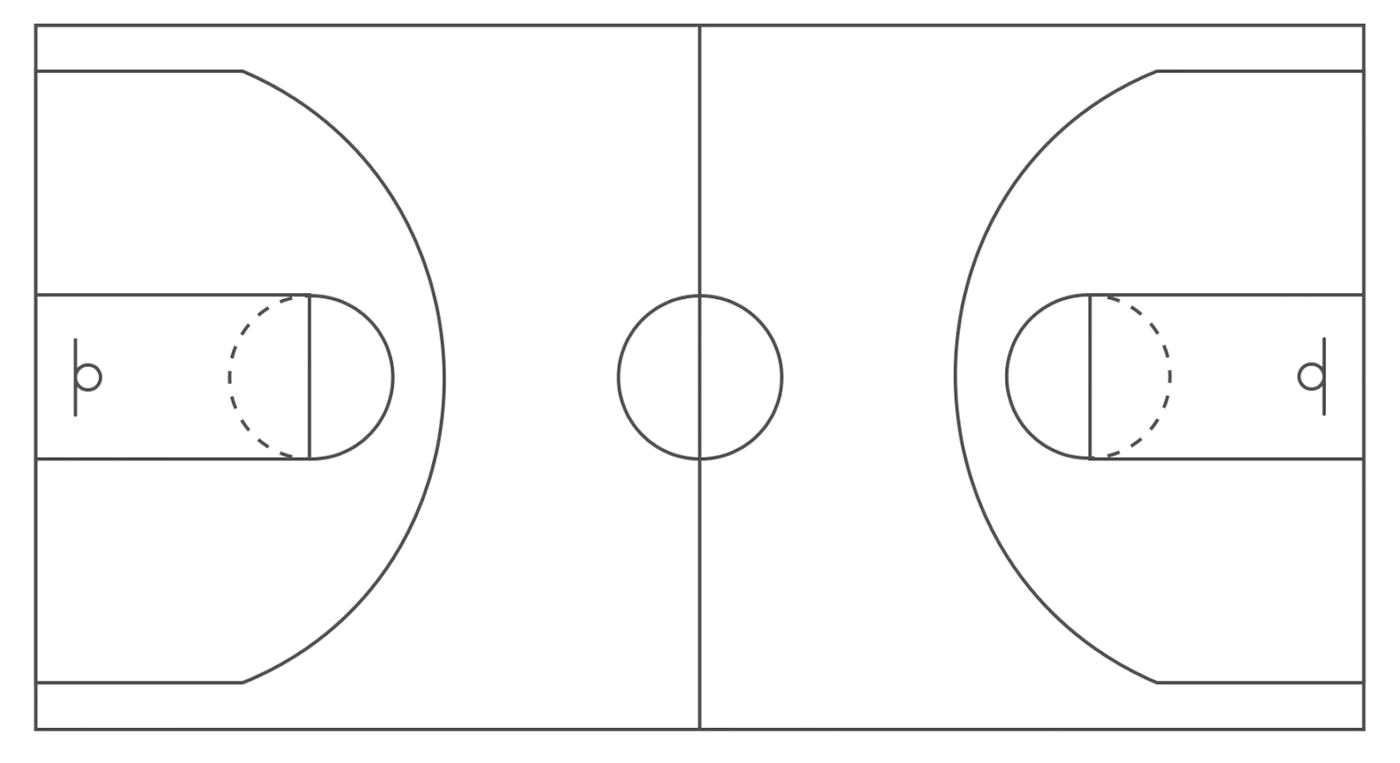 Planning the moves for your school or office's next game? Try the Basketball Court Template to draw up fast-break offenses, player rotations, ball movement, and more.
Custom Template
Have an idea for a template in mind but can't find it? Feel free to create your own custom template with the wide array of tools at your fingertips in Vibe Canvas !
---
Use these Templates to create, collaborate, and share your work effortlessly–and leverage every feature your Vibe Smart Whiteboard has to offer to keep you, your team, your students, or your customers collaborating and communicating effectively.
See how Vibe could help →
Subscribe to get updates on all things at Vibe
Thank you for subscribing Vibe's blog!