What Is Essential to Delivering a Successful Presentation?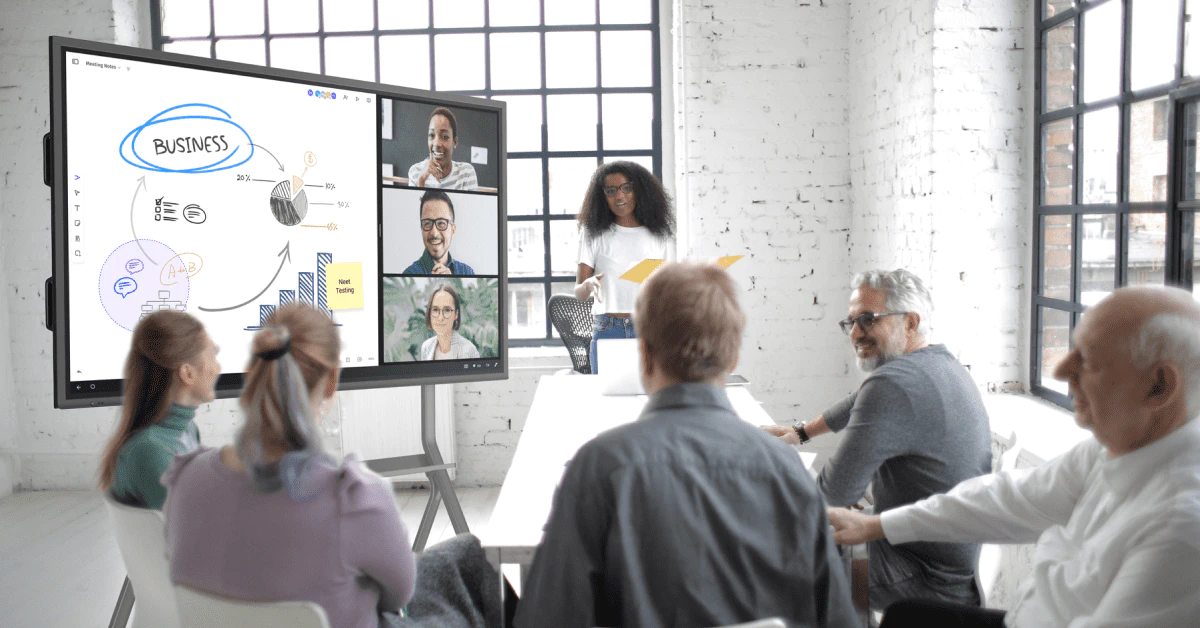 The era of remote work has fundamentally changed how we communicate with one another. It used to be near impossible (or incredibly bold) to stand up mid-meeting to feed your dog—now in the age of regular work video conferencing, that sort of thing isn't an infrequent occurrence. So what happens when you're charged with delivering a major presentation, be it in-person or remote – what is essential to delivering a successful presentation, and how can Vibe help?
Vibe Smart Whiteboards offer a natural solution to making your next presentation the most engaging, interesting thing in the room. Here's how to make sure your next presentation earns the attention it deserves:
Step One: Creating Your Presentation
It helps to know what tools are available to you before you get started. Vibe integrates seamlessly with Microsoft PowerPoint and other web-based presentation tools such as Google Slides and Prezi, so feel free to drop into whichever program you're most comfortable with via work computer or laptop—the Vibe Smart Whiteboard can be used to display your presentation once it's complete.
As you develop your presentation, consider implementing short videos, graphics and other visual "wow" factors that can help keep your material fresh. Remember to use slides as a means of emphasizing your key points and not cramming the sum total of your presentation's written information into densely-packed paragraphs. 
While there's hardly a consensus on what the average audience's attention span truly is, there is an indisputable connection between audience engagement and information they find interesting . Individuals can be great at focusing their attention when and where they want to, which means keeping your slide deck clear of all non-essentials if you want to keep your audience engaged.
Vibe Smart Whiteboards come preloaded with several useful templates to help you quickly build a great presentation directly through the device if you so choose. As seen in our recent template blog , these templates are particularly handy when presenting information in common formats (flowcharts, org charts, value proposition graphs, empathy maps, decision matrices,  sticky-note style priority charts, and so on). Vibe templates can fast-track your creative process and keep every slide looking professional with your presentation front and center.
Step Two: Consider Your Audience

Presentation on a Vibe Smart Whiteboard
Though most every conference presentation shares the same broad goal (to create a masterful presentation people will tell their children about someday), how you go about outlining your specific points of emphasis will depend on the audience to which you expect to present. Consider things like your expected audience size, their general background with the products or ideas you're set to present, and any questions or issues they may have about your material.
Always keep in mind who your general audience will be and what you're hoping they get out of your presentation when it's all over. Unfocused presentations tend to steer off in either ultra-specific or exceedingly vague directions without a clear application for those listening, so make sure each slide of your presentation hammers home a single, clear idea. 
Vibe helps in this area first by simplifying and organizing the information you present, then by allowing your audience to interact directly with the slides in front of them via markups, annotations and other tools built to stimulate engagement. Better yet, use split-screen mode on the Vibe to see your presentation and your audience at the same time, so you can monitor body language, check in on audience reactions, and see when someone has a question as you present.
Step Three: Give Your Presentation Some Interactive Oomph
Speaking of interactive elements, remember you can play around with your own presentation by drawing on slides using a stylus, keeping an updated list of your audience's questions, or filling out a brief pros/cons list. Static slide decks risk coworkers messaging each other on private Slack DMs about how this meeting could've been an email—dynamic presentations hold your audience's attention and help your ideas "stick."
There are tons of creative uses of the Smartboard to engage audiences, but here are some of our favorite tried-and-true methods for nailing the interactive portion of your deck:
1. Ask Your Audience Questions. You have important ideas to get across, and you'll have plenty of time to explore those ideas and establish yourself as an expert worth listening to in a minute—first, get your audience thinking about the questions that matter to them. As you present, information might reveal itself as more applicable to audiences listening with questions in mind.
2. Use Polls—and Not Just at the End. Polls can reveal an overarching interest or concern in specific areas, or find unexpected common ground among your listeners. You won't know until conducting some quick research—and many in the crowd will at least be interested in seeing how their own response compares to their peers.
3. Flex Your Storytelling Muscles. Ever notice how the best TED talks usually start with an anecdote summarizing how a presenter got to where they are in their field? While facts and hard data are critical to any worthwhile presentation, don't overlook the importance of framing your key info with a relevant and relatable story.
4. Give Your Audience Room to Respond. The tendency among even the most experienced presenters is to move fast. It feels like covering ground quickly will do more to hold the attention of a room, but there are benefits to slowing down and even pausing at times. It's difficult to encourage interaction if you're sticking to a script and moving quickly from one point to the next—practice pausing, check for understanding, and be ready to adapt portions of your presentation to what matters most to your audience.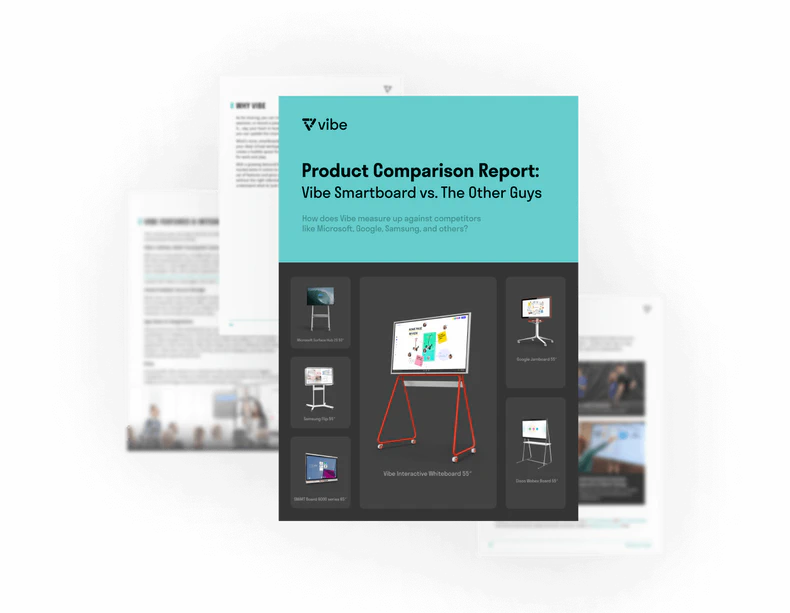 Check Out Our New Smartboard
Product Comparison Report
Step Four: Embed Your Presentation in a Vibe Canvas
Smartboards offer a ton of useful features to presenters, including working as a digital home for your presentation, allowing you to facilitate real-time explanations, drawings, markups and other general interactions with your presentation deck. What makes the Smartboard such a versatile asset in remote and hybrid offices is its unique ability to give large audiences the sense of a small team meeting in front of a traditional whiteboard—only way better, since Vibe Canvas never runs out of room and is safely stored in the cloud for future review. 
Related: How a Public Speaker and Business Consultant Went Virtual with Vibe
Step Five: Share the Canvas with Your Audience
The odds are high that you'll be doing some presenting to fully remote or hybrid audiences in the future, especially as workspaces appear to be embracing remote collaboration . That makes it even more crucial to plan ahead and consider how your presentation will look both to those attending in person and those tuning in via laptop or smartphone. Consider also how useful the information on your slides and canvases will be after the fact when you share the deck with your audience.
Vibe Smart Whiteboards store your presentations (along with any notes and markups) in the cloud. That means everyone you hope to reach the first time through an engaging presentation can also save or download the deck and any notes in its margins from their smartphone, tablet, or laptop if they want to revisit certain ideas from the meeting. The cloud will also provide version histories if users want to download it without the presenter's in-meeting annotations.
Deliver a Successful Presentation with Vibe

Presentation on a Vibe Smart Whiteboard
This new world in which we meet, work, and present remotely to coworkers is still a relatively recent phenomenon. Companies are laboring constantly to improve their processes, establish a healthy work-life balance, and foster a culture of collaboration. By embracing the tools designed specifically to aid these remote work environments, meetings and presentations can become a more engaging, worthwhile exercise for everyone involved.
Vibe Smart Whiteboards were designed to be intuitive and work alongside any suite of apps or programs your business is already using. Through its numerous features, templates. and interactive components, your next conference presentation will be unlike any you've ever delivered.
Watch a demo today , or check out our case study How a Public Speaker and Business Consultant Went Virtual with Vibe .
See how Vibe could help →
Subscribe to get updates on all things at Vibe
Thank you for subscribing Vibe's blog!