6 Presentation Tools and Tips to Boost Your Next Big Presentation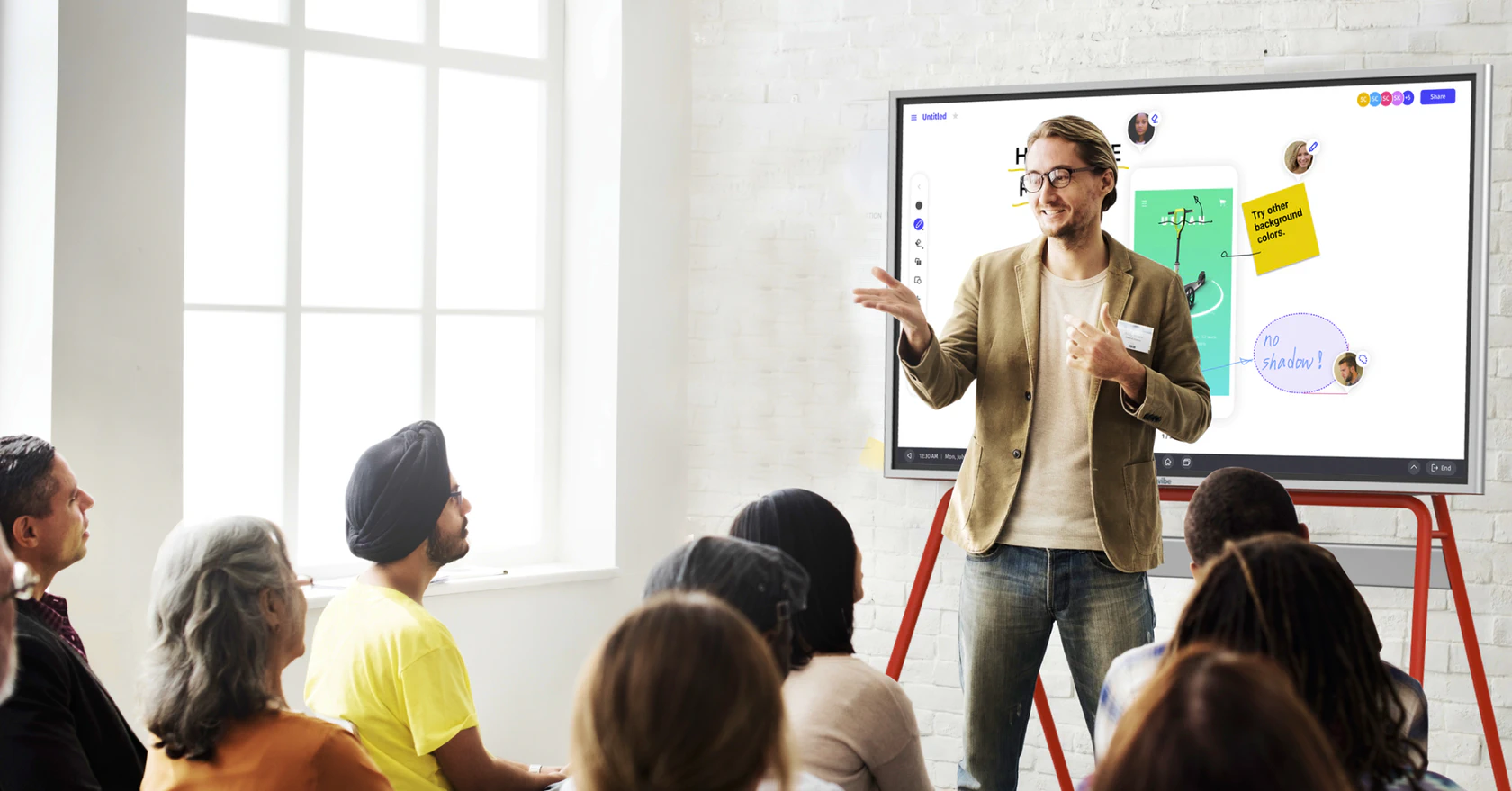 Your teammates, managers, and clients have all probably seen more pitch decks than they can count at this point. It takes a lot to make a presentation stand out from the crowd, and not everyone has time to artfully design a custom display for every kickoff call or all-hands team meeting. So, how does one quickly create an engaging presentation built to complement exciting new ideas and simultaneously engage an audience, and what presentation tools and tips can help you along the way?
Vibe Smart Whiteboards provide everything you need to piece together and deliver a killer presentation, from an eye-catching opening frame to a no-doubt stunning conclusion. Here are six ways smartboards level up your standard pitch meeting—and help you have some fun in the process.
1. Vibe Helps You Make a Memorable Opening Statement

Vibe as a key presentation tool
There's something to be said for kicking off a meeting with some "oomph." The contents of your presentation could be life-changing, but if you fail to hook your audience in those crucial opening minutes, your hard work risks falling on deaf ears.
Traditional pitch decks don't offer much by way of design aesthetics. They leave the task of capturing and holding your audience's attention (often over a video call bound to introduce extra distractions) entirely on the shoulders of you, the presenter. To be honest, not all of us are born public speakers—that's why it pays to keep a smartboard handy. 
Vibe Smart Whiteboards come preloaded with several tools to help you quickly construct a visually interesting presentation with intuitive UI, tons of drag-and-drop components, and templates for all the most eye-catching slide formats (flowcharts, org charts, value proposition graphs, empathy maps, sticky-note style priority charts, and so on). Smartboards can fast-track your creative process and ensure you pique an audience's interest right from the start using stories, videos, apps, and dozens of other integrations as you see fit.
2. Impress Your Audience with Preparation, Flexibility
You'll notice interactivity is a major theme on this list, and for good reason. Traditional slideshows don't leave a lot of room for dynamic content or flexibility. With a smartboard backing you up, you're free to take audience input into account as the presentation proceeds. 
By using the smartboard's whiteboard functions (markups, drawing, highlights, annotations, and so forth) and by including your audience's immediate feedback early in the program, your presentation can adapt to specific pain points in need of some additional emphasis or exploration. Your listeners will be thrilled to see their input has value, and you'll know how to educate your audience on the subjects they care most deeply about.
3. Simplify Sophisticated Problems with Vibe's Killer Visuals
You know a lot about the material you're about to present—but the group of attentive listeners fortunate enough to be witnessing your presentation presumably do not. Distilling complex data into a bite-size, slide-friendly format can be a tall order, but the right visual aids can get important points across in a crowd-friendly manner.
Vibe's countless app integrations make visual aids a breeze. By using apps that your audience is already familiar with—whether it's their favorite project management tool or streaming service—it's easy to meet your audience where they are. While advanced data visualization is an entire field unto itself, you don't have to be an expert to use Vibe's easy-to-use slideshow, whiteboard, and video features to tailor a point to your specific audience's level. Help everyone in attendance understand the importance of a new product, strategy, or process through the aid of interactive smartboard tech.
4. Don't Be Afraid to Break From Your Usual Format
If you're charged with presenting for 20 minutes or longer to groups not entirely in physical attendance, monotony is your natural enemy. Long lists, data-heavy slides, and a lack of variety will slowly lull audiences to sleep over time if you don't change it up once in a while. 
Use a smartboard to spice things up—ask for in-person volunteers to demonstrate something using the touchscreen, or ask remote observers to answer a quick poll. Show a clip from an interview with a customer or a collection of product reviews. Anything to avoid the standard headline-bullet list format with no sense of direction that holds so many presentations hostage.
You can also speed up or slow down your pace of delivery, including pauses if you have a tendency to blaze through information in front of large groups (one caveat here though—don't pause for dramatic effect unless your next point is actually important).
5. Vibe Helps You Collaborate with Remote Teams & Clients

Video conferencing with remote teams during a presentation
Remote collaboration is a hot topic in 2022—how do you keep teams on the same page when not everyone is in the office at the same time (or at all)? And how do you convince a client your presentation is interesting and important if it's comprised of overly-wordy slides to be emailed afterward to all those not in attendance?
Vibe Smart Whiteboards facilitate better collaboration by storing your presentations in the cloud, conveniently accessible by authorized users from any connected device at any time. However, a smartboard does a lot more than save a slide deck's basic contents. Any and all brainstorming ideas, team contributions, client concerns, and future actions determined throughout the meeting will also be saved for future reference, along with version histories if anyone wants to download it without these in-meeting adjustments. With Vibe, it's easy to preserve your presentation and the valuable discussion that follows.
In short, all of the hard work your team spent ideating and providing constructive feedback (the two core components of genuine collaboration in the workplace) will be preserved. By recording and saving interactive smartboard presentations to the cloud, you won't catch anyone asking whether a meeting could've been an email again.
6. Create a Real Plan of Action
The conclusion to just about every presentation needs to answer an important question: "So, what now?"
Providing actionable next steps is essential to getting the most out of your time with an audience. There will surely be cases when you already know specific actions you hope a client or manager takes before you ever step foot in a conference room, but others may not be quite so clear. Working through certain business problems as a team might mean separate roles take on different responsibilities by meeting's end—which means next steps may vary across teams and individuals. Using a smartboard's dynamic ability to add content to your presentation as you go makes it easy to track these steps for each role and ensure everyone has a clear direction forward. You can also lean into Vibe's built-in templates , such as the Retrospective or Project Management templates, to organize your team's next steps with structure.
Plus, you won't have to risk all your hard work being erased by the next group to use the conference room.
Choosing Vibe as Your Tool For Success
The tools of the trade are changing across nearly every industry. The methods we use to present products, ideas, and strategies to one another has only increased the need for engaging presentations that capture important ideas—and that can be given from both the traditional office and from a converted office/spare bedroom. With Vibe Smart Whiteboards , even the most novice public speaker can create and execute a presentation full of attractive visuals and interactive elements to facilitate true work collaboration.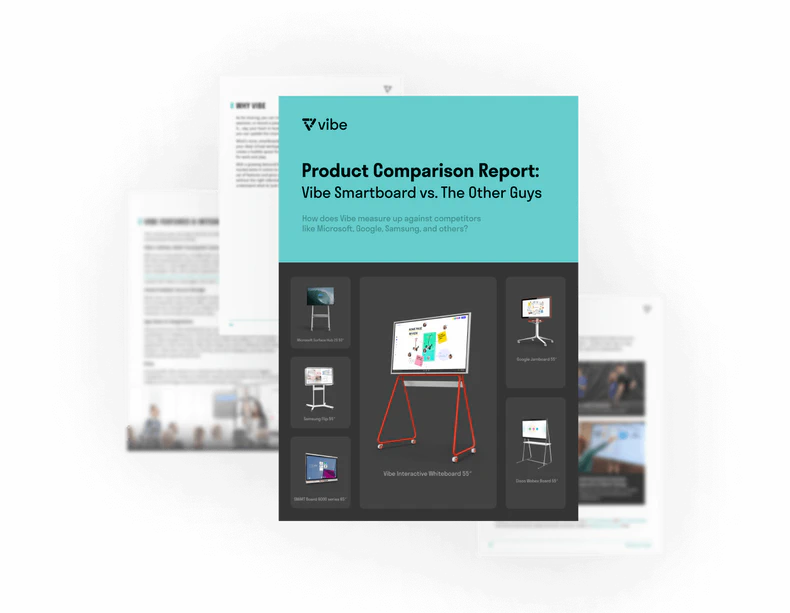 Check Out Our New Smartboard
Product Comparison Report
Vibe works to provide a versatile product capable of adapting to virtually any use, with a host of engaging features under constant refinement. Our smartboards were designed with user-friendly UI and built to work alongside any suite of apps or programs your business may already be using.
Ready to learn more about Vibe? Watch a demo .
See how Vibe could help →
Subscribe to get updates on all things at Vibe
Thank you for subscribing Vibe's blog!