The 8 Best Virtual Team-Building Games for Remote Employees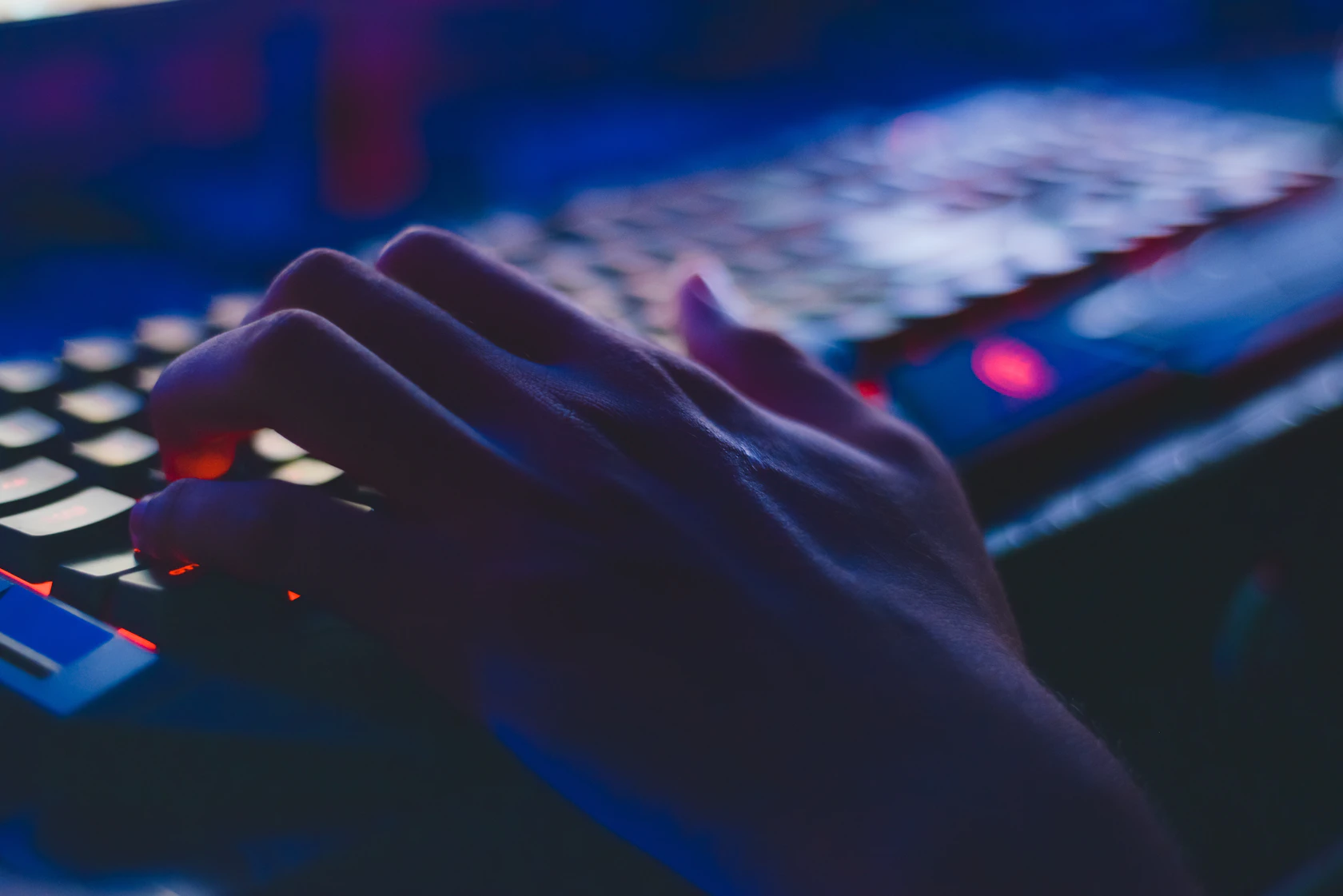 At this point in the new era of remote work, you've probably experienced a team-building activity that felt like a waste of time. (Read: that game of two truths and a lie that no one really wanted to play.) While it's no secret better-connected remote teams are more collaborative and productive, not all team-building activities are as effective as you'd hope.
When done well, virtual team-building games provide a variety of benefits for remote teams. Whether you're looking to boost engagement or kickstart creativity with a few virtual meeting games, this article covers eight of the best online activities for your virtual team. 
Is Virtual Team Building Effective?
Creating connectedness and building trust are two of the top challenges facing remote teams . Since these intangibles are often built through casual social interactions, opting for things such as Zoom happy hours or virtual hangouts might seem like a go-to natural replacement. However, these activities are often ineffective at strengthening relationships.
Team building activities with purpose produce positive results for virtual teams. Even science agrees ! Here are four of the biggest benefits of virtual team building. 
Creativity. Diving right into a remote brainstorming session without a warmup isn't the best way to inspire innovation. When employees have time to listen to different perspectives and use their imagination, it activates deeper thinking, which can lead to more creative brainstorms.
Collaboration. When employees work together to solve problems outside of their traditional workplace roles, it allows them to develop relationships on a personal level. When employees get to know each other personally, they develop trust through awareness and understanding.
Motivation. When a group of people accomplish something together, they feel better. Feelings of camaraderie and accomplishment create conditions for confident, energized teams.
Productivity. Team-building activities are opportunities for remote employees to learn together. Organizations also achieve consistency by presenting the same information to employees, and teams gain a deeper understanding of how each teammate learns and communicates.
Choosing The Best Online Activities For Your Virtual Team
Now that you're thinking beyond the virtual happy hour, it's time to select an online team-building activity with purpose. If you're struggling with which type of activity to select, Gallup suggests making sure it relates back to one of these five broader activities that improve teamwork : common purpose, connection, communication, collaboration and celebration.
Before you get started, make sure you have the right tools so everyone feels comfortable and included. A Vibe Smart Whiteboard is a great tool for hosting or facilitating team building activities. 
Next, consider how much time you'll dedicate to team building games. Depending on your goal, you might need anywhere from a few minutes to a whole day. HR and organization development experts also caution setting up one-off events, instead recommending that team-building games become a regular activity.
Quick Team-Building Games
1. Ice breakers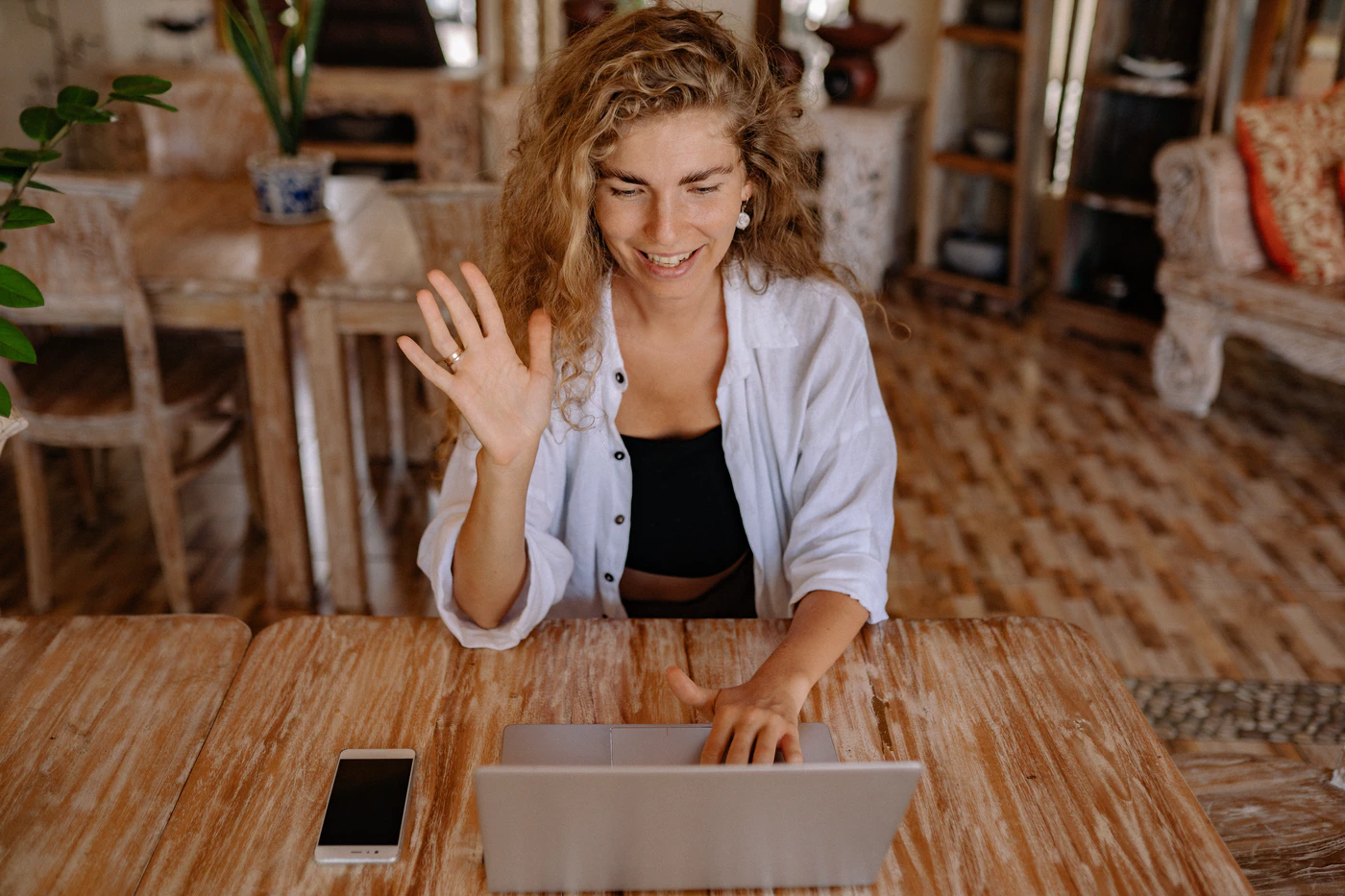 Introductions in a remote team setting
Ice breakers are short, fun activities designed to warm up participants and encourage conversation. Opening a virtual brainstorming session or all-hands meeting is a great opportunity for a quick, question-style activity to help participants get to know each other. 
The best ice breakers are typically around 15 minutes in length and simple in format. Open-ended questions can be related to the material or completely non-work related. Depending on the size of your group, you may need to plan breakout groups ahead of time so everyone has a chance to participate. 
Here are a few examples of effective ice breaker questions:
How would you describe your communication style in three words?
What unique talent do you have?
Are you an early bird or a night owl?
Where is your favorite place to travel and why?
What animal would you be and why?
If you could only have three apps on your smartphone, which ones would you pick?
What is your favorite holiday?
2. Let's Celebrate
Focusing on your team's successes is a great way to motivate remote employees. Depending on your team's structure, this activity could be synchronous or asynchronous . Consider creating a new " Let's Celebrate " Slack channel for team members to regularly recognize each other.
If you're in a leadership position, think about what motivates your team and dedicate time at the beginning or the end of a meeting to recognize and celebrate successes. Consider inviting other employees to take the time to celebrate the accomplishments of each other, too. 
3. Photo Sharing
Team photo sharing is another virtual activity that could take a different shape depending on personalities and level of familiarity among employees. Broadly, this activity invites team members to share a photo and a short explanation of the photo based on a prompt.
Here are a few ideas for prompts:
A childhood photo. Share your favorite photo from any part of your childhood and the reason it's special.
What are you proud of? Share a photo of something that makes you feel proud and explain why.
How do you work best? Take a photo of your WFH office and share why it works for you.
4. Can You Hear Me Now?
This proprietary game created by teambuilding.com involves describing words in geometric terms and having participants draw what they hear. If you have a small team, choose one "describer" to select a random word. The describer can only use geometric terms to describe the word, such as shapes, lengths or directions.
The rest of the participants are "drawers", listening carefully to the descriptions and sketching what they hear. If a drawer thinks they know what the word is, they can call it out at any time. If the guess is correct, all drawers show their drawings. You can elevate this activity with a little friendly competition by incorporating a prize for the winner. 
Longer Games for Virtual Team-Building
1. Virtual Escape Room
If you have a budget for your team-building activity, a virtual escape room is a great choice. In an escape room, participants solve a series of riddles or puzzles to "escape" the room during a preset amount of time. While most virtual escape rooms can be run through video conferencing platforms (no cheating on Google, of course), some incorporate virtual reality to make it seem like you're in the escape room with your team. 
Escapely offers virtual team building and online escape rooms led by a private moderator featuring only your group. While your team will begin the escape room together, you'll compete against each other in separate breakout rooms before coming back at the end to see who wins. 
2. Trivia Session
Hosting a trivia session doesn't mean playing a game filled with obscure or unrelated questions. If you're seeking to add some purpose to your next trivia game, consider a workplace-related theme. Wondering how well your employees know the company website? A trivia session can help you find out. 
For longer form games, consider splitting into teams and keeping score. If you're leading the trivia challenge, make it more engaging with visuals and music while teams work on their answers. 
3. Virtual Scavenger Hunt
A virtual scavenger hunt is another example of an activity that could be either synchronous or asynchronous. Depending on your budget, you could use a paid service or make up your own scavenger hunt. Here are two ideas to get started.
Lean into work from home. Create a scavenger hunt consisting of things employees might have at their home. Better yet, key in on items they might have in one particular area, like a kitchen pantry or refrigerator.
Use an app. Scavify is one of the top virtual scavenger hunt apps that allows teams to complete challenges, track progress and earn rewards. You can even turn on participant leaderboards to see who's in the lead.
4. Lunch and Learn
Lunch and learns are a great opportunity for virtual teams to gain a deeper understanding of the different roles their team members play as well as learn something new. As an added bonus, eating on camera is encouraged!
Invite one employee to spend the lunch hour teaching a lesson related to something they do in their role. If that's uncomfortable, consider having a group of employees who worked together on a campaign or project give an informal presentation covering planning, execution and results.
This type of informal session not only increases learning, but also creates greater transparency in the work that's being done throughout the organization. 
Virtual Team-Building with Vibe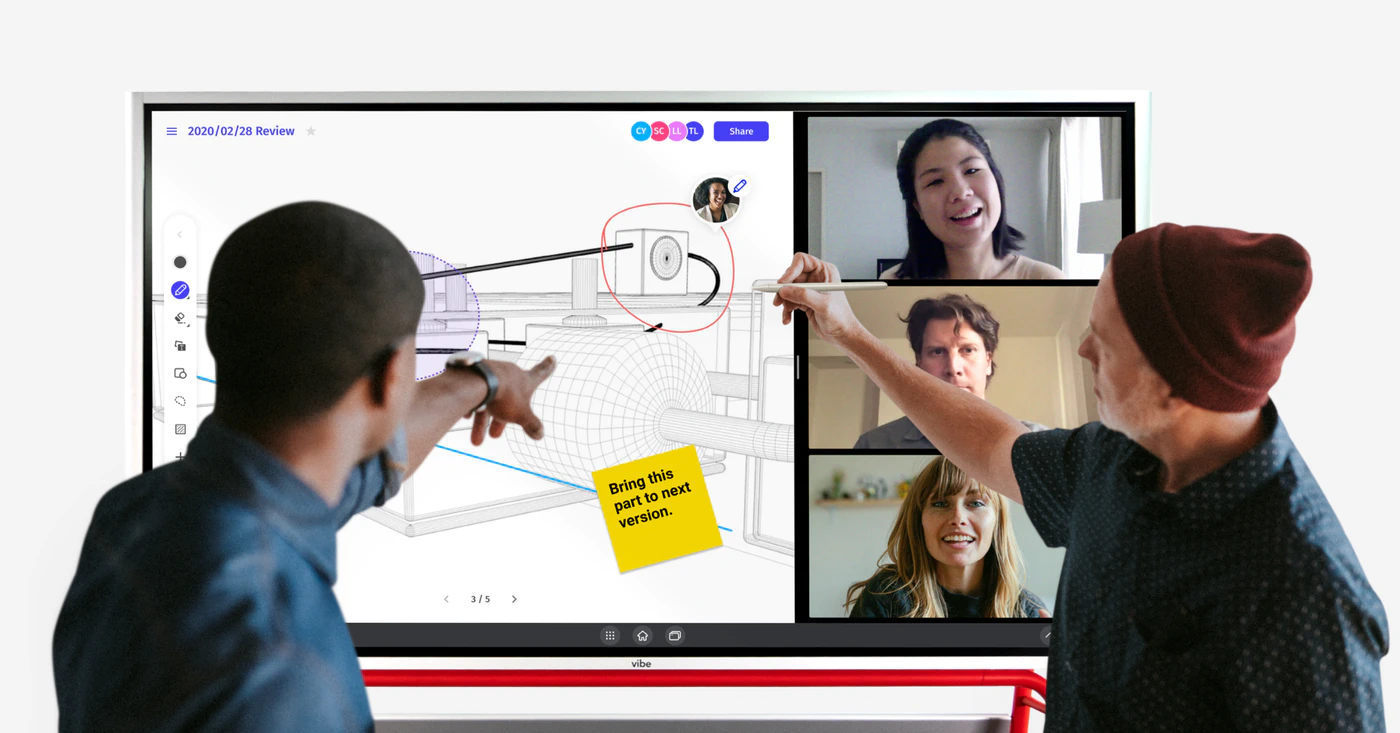 Play virtual games with remote teams on a Vibe Smart Whiteboard
A Vibe Smart Whiteboard is perfect for playing virtual team building games with your remote employees. Why?
With an endless canvas, a short game of "Can you hear me now?" can turn into hours of fun, with all participants able to collaborate in real time. A Vibe Smart Whiteboard is also a great canvas for photo-sharing activities, with participants able to easily upload images with the tap of a button.
With a variety of app integrations, you can also seamlessly host any activity through your favorite video-conferencing platform.
Ready to host a team-building activity your team will look forward to? Check out Vibe today!
See how Vibe could help →
Subscribe to get updates on all things at Vibe
Thank you for subscribing Vibe's blog!