How to Make Virtual Meetings More Interactive & Increase Employee Engagement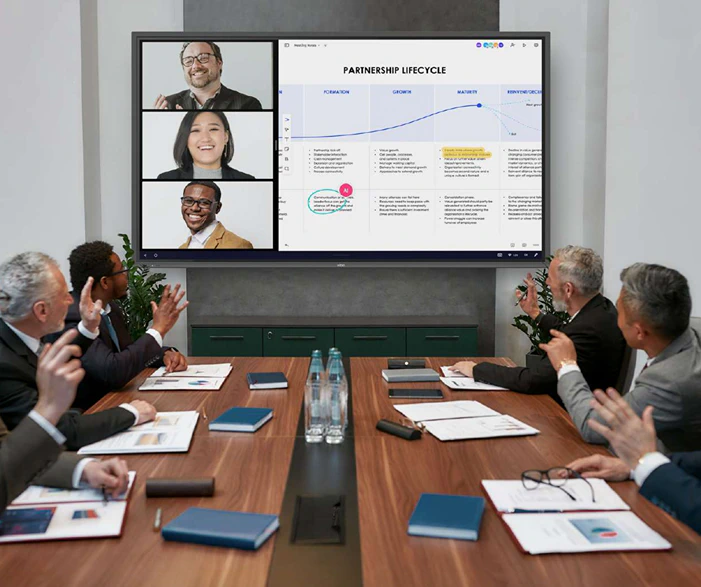 You've been chairing a virtual meeting for 15 minutes straight. You glance at the audience, and they look distracted, disengaged, and bored. You throw a question, and silence reigns. Now, you start getting discouraged and rush through your meeting, hoping to get things over quickly. Here's the thing: It doesn't have to be this way. It's time to make virtual meetings more interactive
As remote and hybrid work becomes increasingly popular, virtual meetings are now an integral part of employee interaction and engagement. According to Price Water Cooper House , more than half of American workers want to continue working in a hybrid or remote model going forward.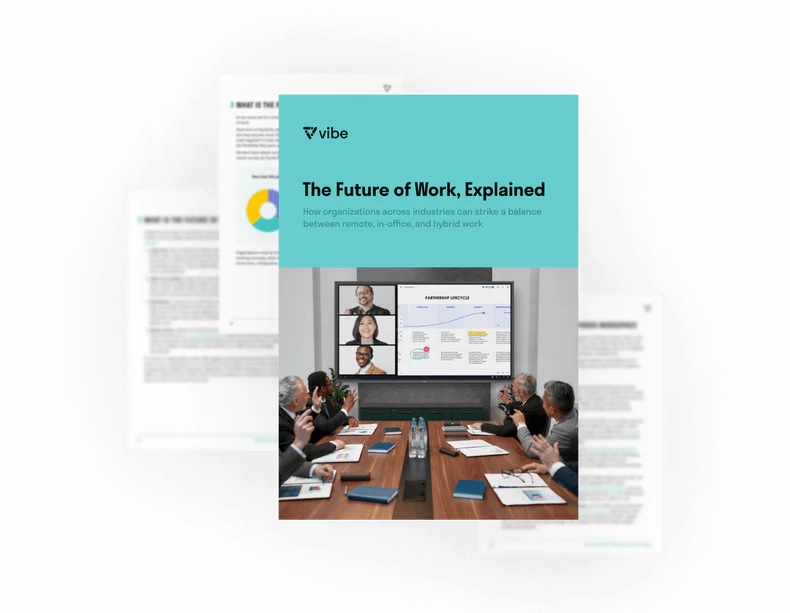 Download Our New E-book
The Future of Work, Explained
But there is a well-known drawback associated with virtual meetings—without in-person interaction, it's tricky to foster a communal atmosphere or avoid distraction.
In one particular study of in-person meetings , 91% have daydreamed, and even 39% admitted to falling asleep.
How to Get Started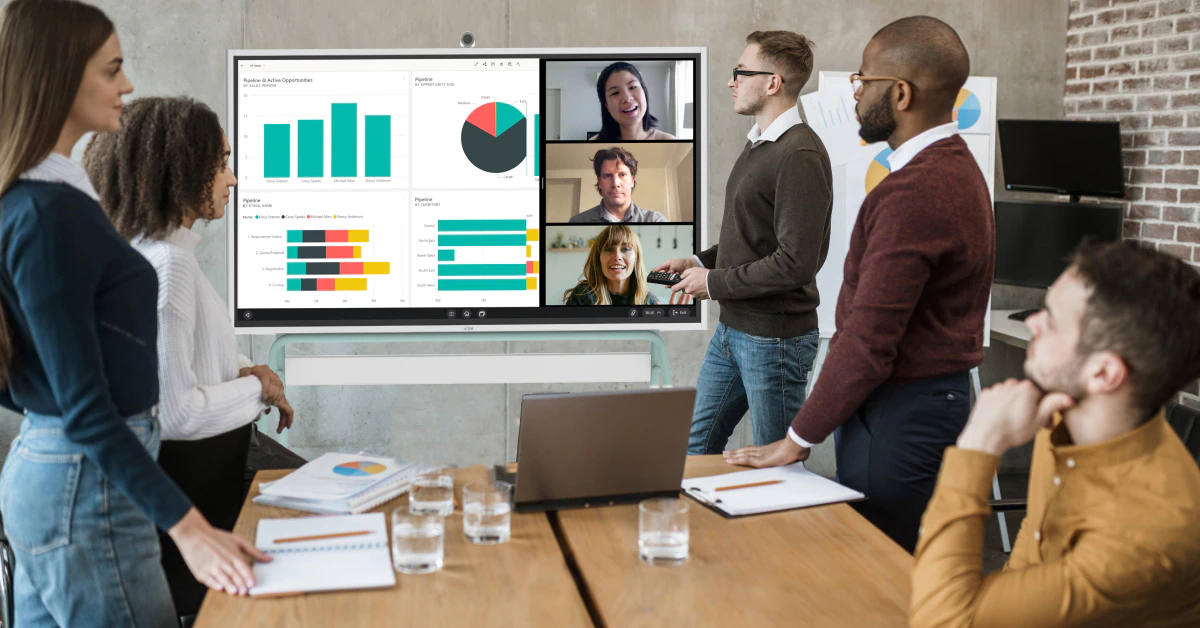 First, ensure you really need to have a virtual meeting. As you might be aware, Zoom Fatigue is real and quite common nowadays. " The Webcam Survey: Exhausted or Engaged ?" found that nearly 50% of remote workers reported feeling extremely exhausted due to making multiple video calls daily.
Stanford researchers, led by Professor Jeremy Bailenson, advise that video meetings shouldn't be used excessively . In other words, if you're sharing information or making an announcement that only requires your remote employees to listen, simply consider using alternative means, like sending out an email.
That said, virtual meetings can still be a necessity. If you've decided that a virtual meeting is necessary, implement the tips below to banish boredom, encourage participation, and keep things interactive.
Plan your virtual meeting agenda early
While a virtual meeting is perfect for bringing your remote employees together, one of its prevailing pain points is that it can quickly get off track.
Planning your meeting's agenda in advance has several benefits . Organizing your ideas before a meeting lets you know precisely what subject matter to discuss and when to discuss it. Furthermore, an organized virtual meeting can encourage collaboration and help you share information easily within your team. So, prioritize your meeting's agenda early and structure it in an easy-to-understand manner. 
Start the meeting with ice-breakers
Initiating a virtual meeting is difficult, since you want to ease every participant into it without wasting time. Additionally, they can be a bit uncomfortable at first, especially if the attendees don't know each other well.
For such situations, try to include a few ice-breakers to help everybody relax and foster a friendlier, connected environment. So, before embarking on the meeting's main point, engage in a lighthearted conversation unrelated to work to inject some levity into the proceedings. It could be anything from their weekend plans to what they ate for lunch or breakfast.
Boost engagement with interactive tools
All your employees should be able to seamlessly work together as a team regardless of where they reside, and remote workers should feel as engaged and involved. But, this might be challenging when using video conferencing tools, which sometimes limits participation and interactivity.
For maximum collaboration experience, consider using smart whiteboards for meetings . A smart whiteboard like Vibe Board offers an infinite canvas that everybody can work from—no matter where they are.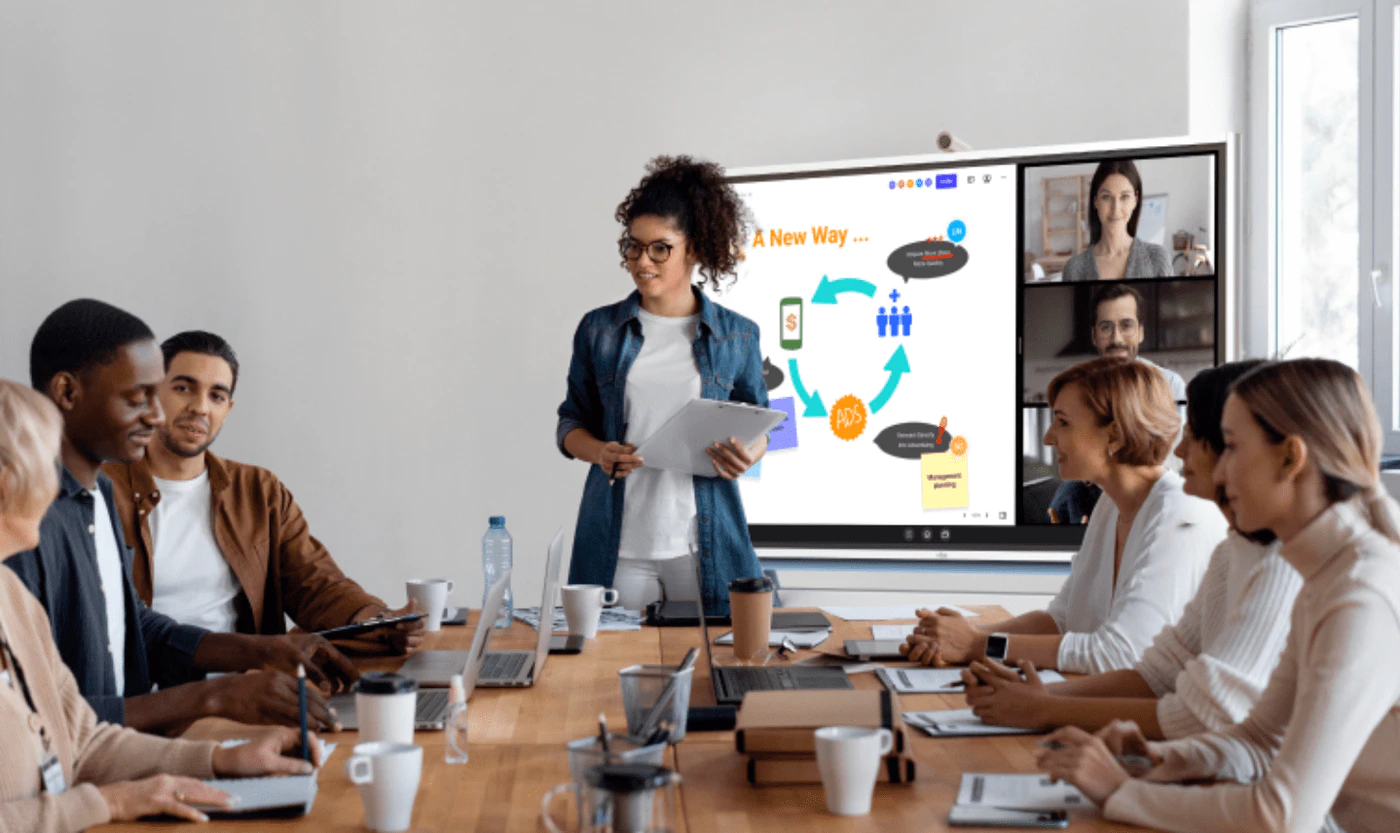 Below are ways organizations are using Vibe for meetings improve productivity:
Boost engagement in collaborative productions – Rather than spending half an hour on a one-way presentation conveyed through a PowerPoint presentation, smart whiteboards for business allow colleagues to engage and interact with the information being discussed. Documents and files can be shared, edited, accessed, and saved on the Vibe Board. You can shift the focus of a discussion based on real-time feedback from participants.
Improve communication – Not only are you able to share files with the remote attendees, but smart whiteboards also allow you to share the screen with participants. This means that everyone will be on the same page and have access to the same information. At the end of the virtual meeting, you can email or print everything that transpired in the whiteboarding session.
Easily annotate documents – Unlike document sharing, Vibe Board users can make effective and persistent changes to documents during the session. Built-in tools in the smart whiteboards allow for hyperlinking, 3D modeling, video embedding, estimating, and other applications that can boost communication and make document annotation processes easier.
Greater range of interconnectivity and data sharing with mobile connectivity compatibility – Remote attendees can connect to your smart whiteboard with their Android and iOS phone devices effortlessly. This results in greater interactivity among employees regardless of their geographical location.
Add gamification elements to improve your meetings
Games may be your best bet if you wish to energize your virtual meetings and boost your overall output.
Gamification simply means incorporating game elements in non-game contexts, such as meetings. A lot of research has shown that gamification at work can considerably impact productivity. For instance, newly formed work teams perform up to 20% better on assignments after a 45 min collaborative game.
Below are examples of game elements that can be employed in virtual meetings:
Take a quiz
Creativity – Try incorporating different rounds where attendees can draw, write, or even suggest their ideas on the topic at hand.
Play a small online game
Throw in a few riddles at your audience
Word association games
Collect quotes from participants throughout the virtual meeting and do a "who said this?" at the end.
These are not the only game elements you can add to your virtual meetings. If you are unsure of the best games to incorporate, you can ask for suggestions from the attendees or search for ideas online . Note that smart whiteboards allow for the inclusion of most of these gaming elements, so you can rest assured when you go the smart way, participants will have fun during meetings.
Create interactive polls
Conducting live polls can significantly help keep your virtual team engaged. How do you do it? Smart Whiteboards and video conference tools like Zoom are compatible with several online poll apps. You can create poll questions that go with the meeting agenda. For example, if you are holding a meeting to choose a marketing campaign name, you can prepare a poll asking attendees about the best options discussed so far.
Basically, the polling approach is a perfect way to facilitate virtual team meetings and get honest, real-time responses from the attendees. It aids in pointing out the flaws in your plan and encourages discussion of better solutions.
Don't make the virtual sessions too long
Just because you can have a day-long physical meeting doesn't mean you can do the same for virtual meetings. It's a different ball game for online meetings, given that Netflix is a click away.
Any participant watching a lengthy session alone, even if it's packaged with inspiring keynotes, music, et al., will find it hard to focus for long periods. According to the Harvard Business Review, a virtual meeting should last no longer than 30 minutes . Meetings that last more than 45 minutes have trouble holding attendees' attention.
Final thoughts: How to make virtual meetings more interactive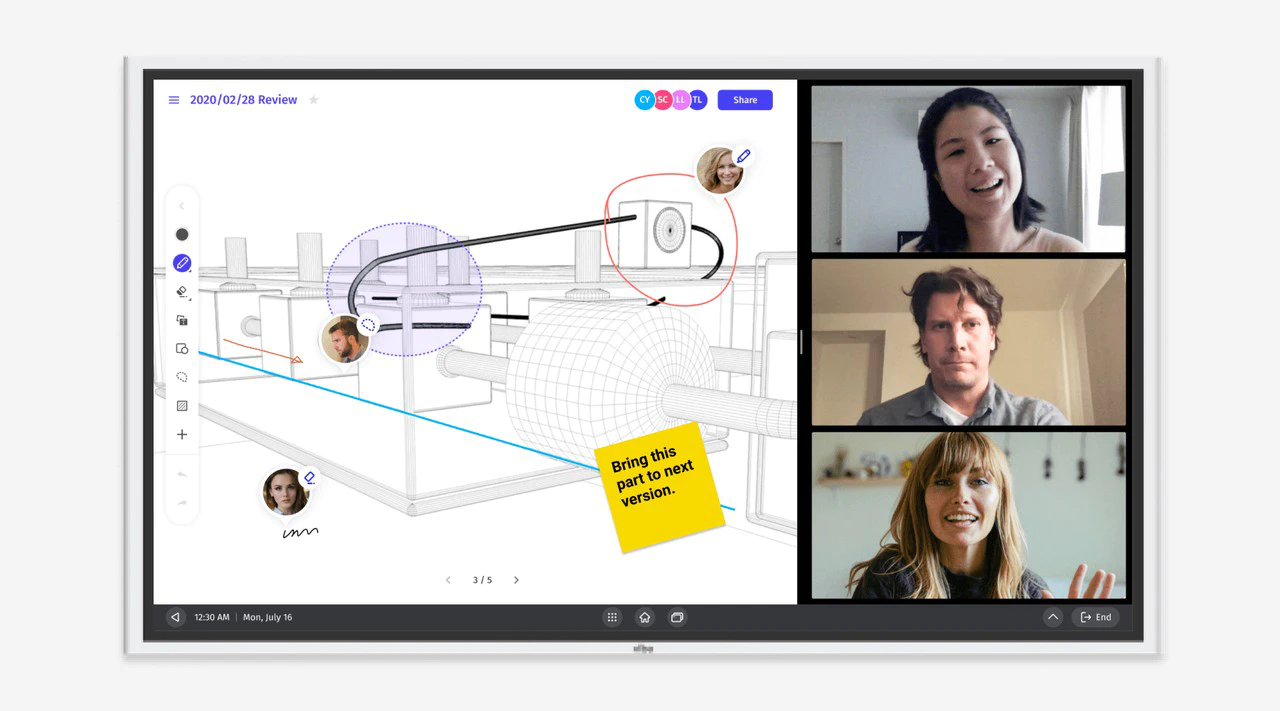 Virtual meetings shouldn't always be associated with yawning and counting minutes to the end of the session. As you might have realized, the key to making remote meetings more engaging and interactive is in your hands. All it takes is implementing the tips we've mentioned above, with a strong emphasis on the use of interactive tools.
Ready to improve your virtual meeting collaboration experience? Vibe Board provides an interactive solution that blends a smart whiteboard with innovative software accessible from anywhere .
FAQs
How do you make virtual meetings fun?
Virtual meetings don't have to be exhausting and boring. Just make sure your meetings:
Are interactive and engaging
Are brief and straight to the point
Take advantage of interactive tools like smart whiteboards
Incorporate gamification, etc.
Additionally, if you have any spare time in your virtual meetings, use it to socialize and get to know your team better.
Why is it important to make virtual meetings interactive?
Making remote meetings fun is essential in fostering a positive team culture. Mainly, it encourages your remote workforce to go above and beyond and reduce zoom fatigue and employee burnout. So, remember that if your virtual meeting is all about work from the beginning to the end, participants are more likely to feel disinterested and detached.
What are the benefits of making meetings interactive?
For some, virtual meetings are boring, and it's easy to lose focus of the meeting quickly. Any information discussed in the meeting just passes over their head. Therefore, ensuring the attendees are engaged and actively participating in the meetings is critical for information retention and making sure every voice is heard.
See how Vibe could help →
Subscribe to get updates on all things at Vibe
Thank you for subscribing Vibe's blog!