How to Set Up the Perfect Hybrid Meeting Room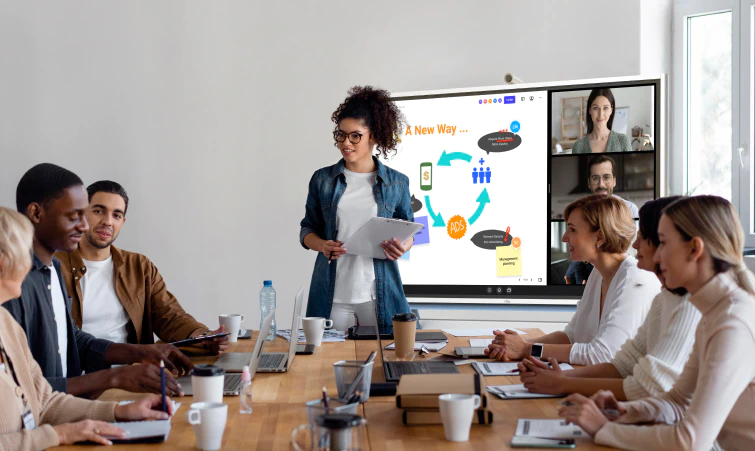 Companies have had decades of experience building the perfect meeting room. Offices have focused on eliminating distractions, boosting engagement, finding the best ergonomic chairs and sturdy conference room tables to make meetings productive. But here's the thing: The traditional office doesn't work for us anymore. Your team has likely shifted how it operates to make remote and hybrid work a reality—and your conference room should reflect that.
The tools needed for a successful in-person meeting differ vastly from the tools needed for a strong hybrid meeting. Things that were once a given—like hearing everyone in the room or seeing your coworkers' body language—are now something you have to actively accommodate for. Hybrid teams are struggling to collaborate like they used to, back when everyone was working in the same space, and remote employees are feeling left out more than ever before.
What's essential now is finding the right hybrid meeting set-up that stimulates conversation, productivity, and collaboration, so your team can spend less time calling IT support and more time innovating. So, what can you do to build the perfect hybrid meeting room?
First, let's identify the critical elements in every hybrid meeting.
Let Me Just Share My Screen…
Research has found that not only are first impressions made in less than seven seconds, they're also heavily influenced by your body language. Small visual cues—things like eye contact, head nods, and posture—can determine how you come across in a meeting. In fact, according to this Forbes article , nonverbal cues are four times more likely than words to influence people's perceptions of you.
So, how do you ensure these visual cues are picked up on for both your in-person and remote attendees? While handshakes may not be possible, a high-quality camera and display can make sure your hybrid meeting captures everything it should—from something as subtle as body language to something as unmistakable as a smile.
Camera

Vibe SmartCam C1
Finding the right camera for your hybrid meeting set-up is essential. A clear view of your set-up can keep the conversation going, and lets meeting attendees really get to know who they're talking to.
To find the perfect camera fit, think of the features you'd like in your hybrid meeting. High resolution, a large field of view (think wide-angle lenses that can capture everyone in your huddle room), built-in microphones, and light correction are all great starting points to research when choosing a camera. For the best of the best, look into cameras with AI features, like movement tracking (as you walk around the conference room, the camera tracks your movement to make sure you're always in frame), noise cancellation, image enhancement, and auto-focus.
Display
Your hybrid meeting room must guarantee that everyone is seen. As Jaime Teevan, Chief Scientist at Microsoft, puts it , "The risk of hybrid meetings is that in-person attendees become anonymous faces in a room, while remote attendees are left speaking into a void, not knowing if they are seen or heard, or how to jump in and take a turn." The right display can keep everyone visible with a clean and clear video feed, so your hybrid meeting can feel just as personal as an entirely in-person one. Anything's better than talking to a blank screen or avatar.
Whichever display you choose, there are some bonus features you should consider when making your decision, including mounting height, the number of displays per meeting room, recording capabilities, built-in speakers, and screencasting functionality.
Your conference or huddle room display shouldn't just be for Zoom calls, however. The real key to avoiding that hybrid meeting anonymity that Teevan refers to is a shared collaboration space. Your team needs an easy-to-see space for note-taking, brainstorming, and collaborative thought. For many organizations, the traditional conference room consisted of multiple disjointed devices, such as a TV, a projector, and a traditional whiteboard, to accomplish this. In the hybrid world, however, organizations are leaning toward all-in-one huddle room solutions like the Smartboard , where you can enjoy the benefits of a large screen and a cloud-backed whiteboard app at the same time.

Meeting run on a Vibe Smart Whiteboard
Can You Hear Me Now?
Just as important as it is for everyone to be seen, it's equally important that everyone is heard. Audio can be harder to control when people are tuning in from different devices and different locations. As a rule of thumb, fewer devices to manage means easier calls and less reliance on IT—so we recommend all-in-one tools that cover multiple bases. On a similar note, aim for wireless devices to keep your hybrid meeting room simple and decluttered.
Microphones
Since your hybrid meeting will naturally include a slew of different audio sources (as people call in from the huddle room, their home offices, and on the go), extra considerations have to be made, such as picking a microphone that features noise cancellation or echo reduction. Key features also include device compatibility (connecting via USB port, Bluetooth, etc.) and easy mute options, so everyone can focus clearly on whoever's speaking.
Speakers
Relying on a conference room phone speaker doesn't cut it anymore. Luckily, when choosing a speaker, you can look for many of the same qualities as your microphone: device compatibility, easy mute and volume control, and noise cancellation. If you're working with limited space in your meeting room or home office, try looking for a display with built-in speakers. 
As we mentioned before, the best solutions are ones that, like the smartboard, offer all-in-one capabilities. Consider options like the SmartCamC1 that covers both your microphone and video needs in one small and sleek device.
Work Better, Together
Collaboration has taken a major hit as teams adjust between remote, in-person, and hybrid work—but it doesn't have to be that way. If you build your hybrid meeting room with collaboration in mind, your team can work together more seamlessly than ever before. But the center of your new hybrid meeting room shouldn't just be collaboration—it should be collaboration equity . Collaboration equity is the idea that every worker should have the same ability to contribute and communicate in a meeting. As you build your hybrid huddle room, make sure to consider which options will give every meeting participant equal footing, regardless of device, location, or time zone. Here are a few elements that can help:
Wi-Fi
One of the most basic elements of collaboration is Wi-Fi. Ensuring a stable internet connection is the first step to hosting a strong and productive meeting. When lags and dropped calls interrupt your meetings, they can interrupt your train of thought or throw an entire brainstorming session off kilter. You can even invest in strategically placed routers or Wi-Fi extenders to make sure every corner of your hybrid meeting room is connected.
Interactive Elements
From ice breakers to handouts, keeping meetings light and interactive has always been a priority in conference rooms. For a hybrid equivalent, consider swapping out handouts and papers with online surveys, polls, and in-call chats. Just remember to keep collaboration equity at the top of your agenda—if you include group chats in your meeting, give them the same precedent as a verbal comment or in-person conversation to make sure everyone feels heard and included. Another way to keep collaboration inclusive and conversations productive is to keep a meeting agenda.
Collaborative Space

Vibe's online whiteboard app, Canvas
The real winner in a hybrid meeting room is collaborative software. Take Vibe's online whiteboard app Canvas , for example. With Canvas, you can have in-person and remote participants work together on the same virtual whiteboard in real-time, giving your hybrid meeting an authentic, personal feel with the convenience of auto-saving in the cloud (never worry about erasing the board again), innovative features (convert messy handwriting to standard text with one tap), and the ability to share your meeting notes with ease (no more taking photos of the whiteboard).
Adding It All Up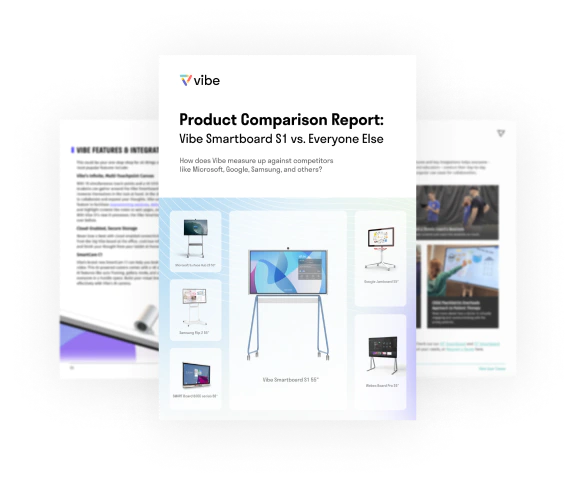 See How Vibe Stacks Up
Against Everyone Else
So, you've got your visuals, audio, and collaborative space figured out. The last decision you'll have to make is how all these devices are arranged in your space. 
Whichever tools you've chosen for your hybrid set-up, make sure that everyone's attention can be turned to one central spot while still making room for flexible discussion. You have plenty of layout options, including a U-shaped design, a theater set-up, open-concept or closed door, and much more.
One easy solution is to use Vibe's all-in-one huddle room solution. With Vibe, you can center your collaboration with one device: a Smartboard with built-in speakers, Vibe's SmartCam C1 for your video and audio feed, the collaborative, cloud-based Canvas app—accessible from any and all devices—and a portable stand, so you can move your Vibe wherever collaboration calls.
As you settle on the tools you need for your hybrid meeting room, remember that whatever works best for your team is what should be invested in. A large part of collaboration equity is looking out for what approaches and gadgets your team responds well to (you don't want to buy into a fancy, expensive camera that none of your employees can figure out how to use)! Your team is your biggest investment here—so be open to your team's feedback on what hybrid meeting tips and tricks work best for them, and build that perfect hybrid meeting room together.
---
Interested in learning more about Vibe ? Check out our all-in-one hybrid meeting solutions here , so your team can huddle, collaborate, brainstorm, ideate, and present, from anywhere.
See how Vibe could help →
Subscribe to get updates on all things at Vibe
Thank you for subscribing Vibe's blog!