How to Collaborate Effectively If Your Team is Remote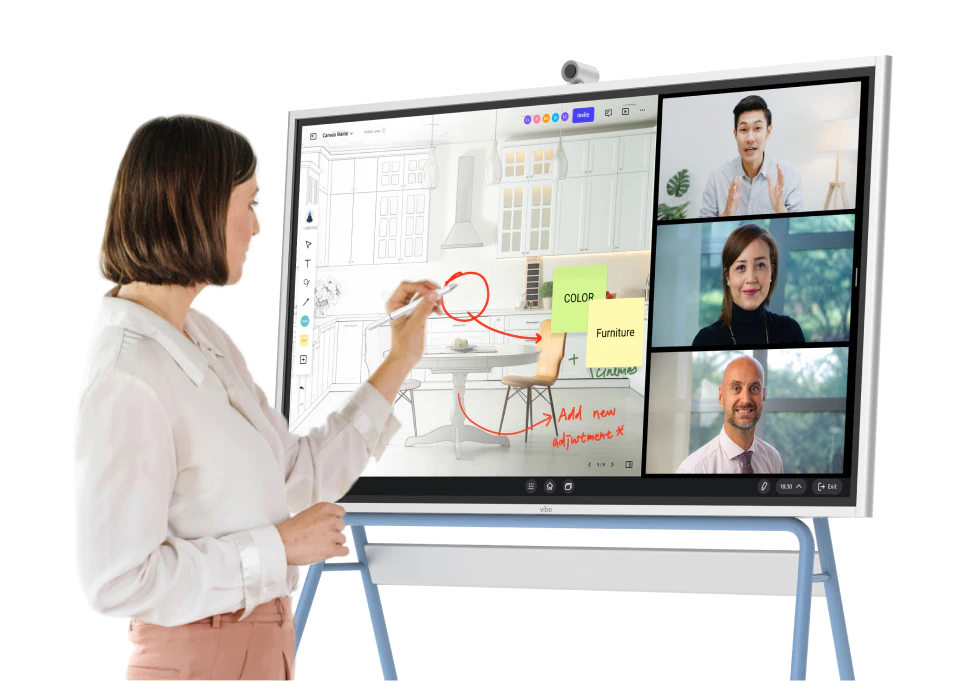 Some of the most innovative ideas from teams come from an exciting brainstorming session. Nothing inspires problem-solving and creativity like huddling with colleagues in front of a whiteboard while munching on some snacks. But in the world of virtual work, it's time to learn how to collaborate effectively if your team is remote.
When team members are separated geographically, it can be challenging to recreate that magic. Planning or brainstorming sessions without the whiteboard usually turn into just another Zoom meeting. It's nearly impossible to feel connected and inspired from behind the wall of people-packed rectangles.
What's missing is collaboration and interactivity. Sharing a computer screen isn't the same as having different team members grasp a marker and contribute simultaneously.
Smart whiteboards for business bring that interactive element back to your remote team. Bearing that 98% of remote staff want to continue working virtually for the rest of their careers, organizations must seriously consider any tools that make remote collaboration possible.
This blog explores how to collaborate effectively if your team is remote—more so, why smart whiteboards are great tools to help you achieve this remote collaboration.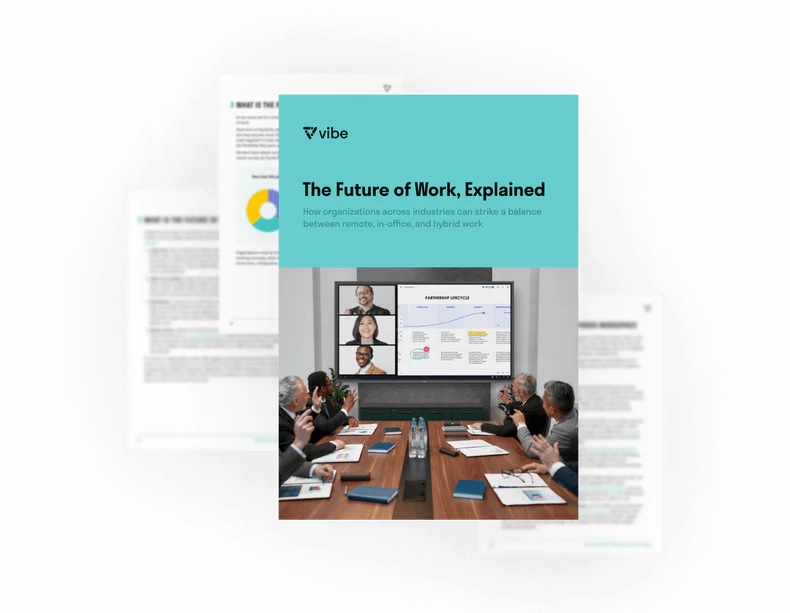 Download Our New E-book
The Future of Work, Explained
How a Smart Whiteboard Works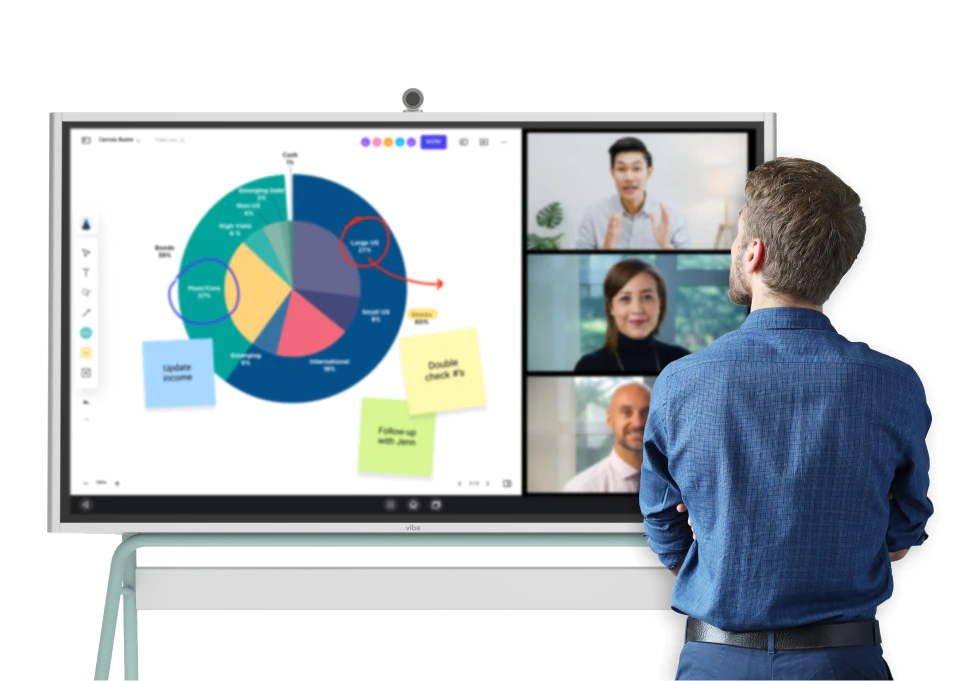 The smart whiteboard's roots can be traced back to the classroom, where interactive whiteboards have been used to facilitate interaction between the teachers and students remotely.
During class, teachers can replace their projectors with interactive displays powered by a smart whiteboard. Studies have shown that using interactive whiteboards in class significantly improves students' learning, efficiency, and motivation.
Now, smart whiteboards are broadly used among remote business teams.
Offices can make any distance brought on by remote work feel irrelevant. Smart whiteboards, like the Vibe Board , make it easy to collaborate effectively across workspaces. Remote teams can take notes, sketch out shapes and diagrams, and brainstorm on a virtual whiteboard—all in real time.
What is Remote Collaboration?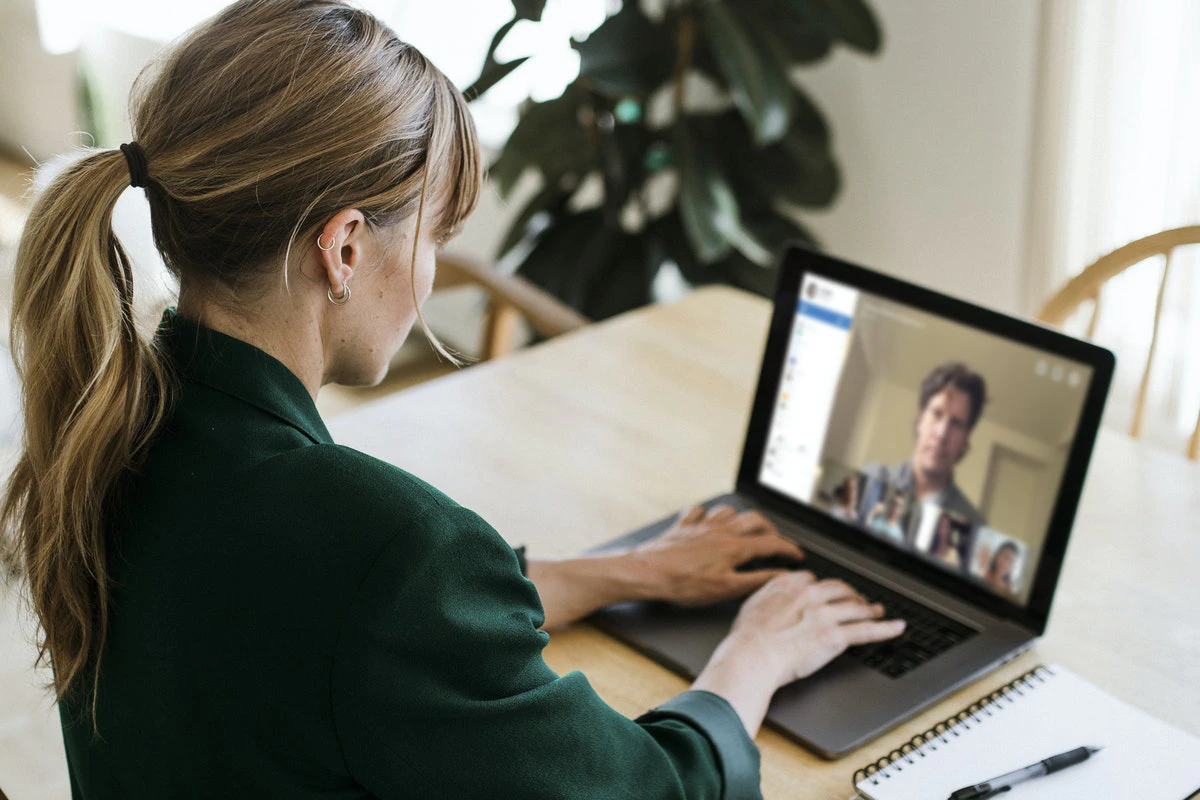 Remote collaboration can be described as a process where business team members work together to achieve organizational goals, despite their geographical location.
An article in the Harvard Business Review explains the different types of distances in remote collaboration as follows:
Physical distance – Involves geographical location and time zone
Operational distance – Availability, team size, and skill set
Affinity distance – Unity, trust, and understanding
The physical distance aspect of your employees is where they can be working from anywhere in the world. A beach in Africa could be your head office, while a coffee shop in California can be your tech hub. This distance can be shortened by developing a remote work team that leverages interactive whiteboards for meeting notes, conferencing tools, and more.
The affinity aspect is also crucial to successful remote collaboration in your organization . Affinity refers to the mental and emotional connection among virtual team members. Do they share a common vision and goal? Do they interact outside of their regular schedule? Creating a strong team requires a supportive work culture, clear communication, and remote collaboration skills .
Operational distance, or an organization's ability to prepare and anticipate operational challenges, is essential to the success of a virtual collaboration. Usually, these challenges are diverse, from project management, scheduling, effective brainstorming, file sharing, and more. How do you productively do all these things? This is another area where remote collaboration tools like smart whiteboards save the day!
So, how can you collaborate effectively if your team is remote? Around 80% of organizations use at least one collaboration tool. This number will only rise as organizations search for creative ways to connect and communicate with their online teams.
How Smart Whiteboards Help Remote Teams Collaborate

When you can't meet physically due to distance, it can be challenging to keep working together successfully. And, as you might have already realized, collaborating remotely is tricky without the right tools. Here's how an interactive whiteboard can help in such a situation:
Collaborate in real-time, just like in the office
Some people may think that all they need to communicate with off-site work groups and virtual team members are video conferencing tools, instant messaging, and email. But that's far from the truth. So, what does a smart whiteboard like Vibe Board offer that these tools don't?
Smart whiteboards offer a mode of collaboration that can't be equaled by verbal and written communication alone. Its real-time interactivity helps your team process ideas and express themselves more effectively, getting you as close as possible to that face-to-face feel of in-person work. These features allow teams to easily outline priorities, draw workflows, sketch mind maps, and several other use cases while in a virtual meeting. When it comes to reviewing output, it's also easier to check the rundown of a discussion conducted on a digital whiteboard than binge a lengthy unedited video conference recording.
To put it simply, having a smart whiteboard allows teams to transform their typical video conferencing sessions into a collaborative remote working experience.
Deliver engaging presentations remotely
Maybe you're leading a brainstorming session to generate marketing concepts for new products. Maybe you're trying to inspire your team. Whatever your goal is, delivering a captivating presentation is the way to go. All your research and presentation will be of no use if you don't convey it in an interactive and engaging manner.
According to research , 65% of human beings are visual learners. Visuals not only help people process information faster, but also help them retain that information better. Thus, you can take advantage of visual presentation by using smart whiteboards to interact with your remote team. For instance, on a smart whiteboard, you can present a group of statistics with a pie chart or a histogram and annotate the figures as needed. Or, you can explain a marketing process with a flow chart, adding notes and building the chart with your team in real-time. Either way, you can convey your ideas more effortlessly than you can with words alone.
When using visuals in your smart whiteboard presentations:
Keep the illustrations simple and clean, so they can be comprehensible even when viewed on phone or tablet screens.
Use them intermittently throughout the presentation to ensure your remote team remains engaged.
Incorporate videos to support your argument. Usually, videos are a perfect way to initiate a discussion and pique your audience's curiosity.
Supports the full spectrum of business use cases
An infinite canvas has unlimited possibilities. So, how can your remote teams use Vibe Board for their workflows? Below are three common examples:
Customer-facing teams create strategies, customer personas, design campaigns, and host client workshops.
HR teams use it to interview and onboard new hires as well as facilitate training sessions.
Product development teams do backlog grooming, sprint planning, design sprints, retrospectives, user story mapping, road mapping, and much more!
Inspire Your Remote Team with Interactive Whiteboards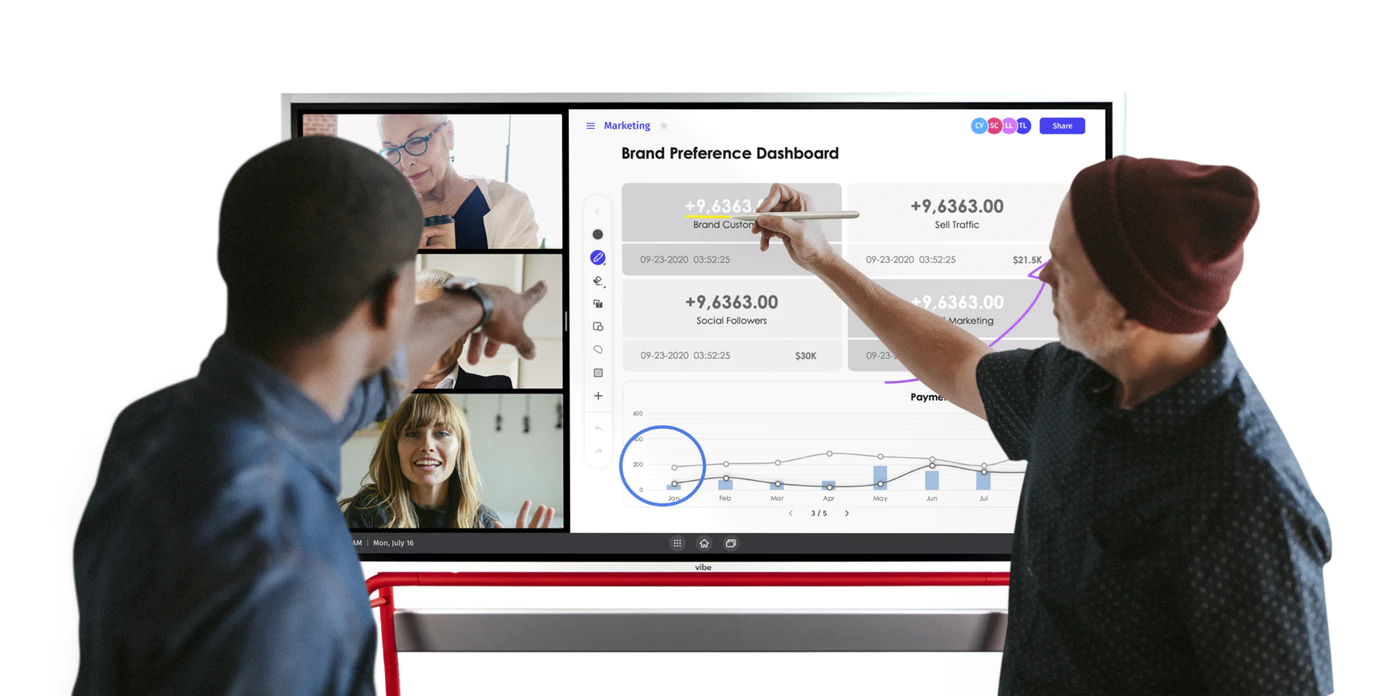 When innovation and creativity fail, so does business. It's vital to abridge the distance gap created by remote working between your team members.
An interactive whiteboard for remote collaboration is a great way to collaborate effectively with your remote team. Get your remote team back into the habit of brainstorming solutions to intricate business problems together with a smart whiteboard at the center of your work.
If you're shopping for a holistic solution that lets you brainstorm sessions with your remote team effectively, try the Vibe Board . With Vibe, you'll start enjoying a collaboration experience like no other in no time.
FAQs
How do you start an online presentation?
Let's assume that your presentation slides are flawless. Your presentation has a well-defined plot and agenda. Key concepts are broken down into modest statements and complemented with visuals. The only thing left is to begin your online presentation. Start by invoking or appealing to your remote audience's emotions. From there, present your key concepts confidently. Remember, all this will be made easy with an interactive whiteboard.
What are 5 tips for giving professional presentations?
Establish rapport in the opening minutes of your presentation. Asking some icebreaker questions or conversing casually with the audience before starting the actual presentation is a fantastic way to do this.
Begin your presentation with a compelling hook, such as an intriguing question, a powerful assertion, a startling statistic, or even a compelling anecdote.
Regularly ask questions throughout the presentation.
Try to get feedback from your audience. You can use live polls to get instant feedback, or have participants add their notes to a shared Canvas .
Incorporate a digital whiteboard to explain your concepts or ideas by diagramming or sketching them out. Another benefit of incorporating a smart whiteboard here is that you can invite your remote audience to collaborate with you in real-time.
How do you give a good online presentation?
The secret to giving a good presentation is to have your audience's attention all the time. Identify areas in your presentation where you can involve the audience. Use various engagement tools throughout. For example, when using a smart whiteboard, you can invite your remote team to comment, make notes, share files, conceptualize, and design. Once the meeting is over, export your board and send it to the audience, or simply save it for later review.
See how Vibe could help →
Subscribe to get updates on all things at Vibe
Thank you for subscribing Vibe's blog!