Graphic Design Tools Roundup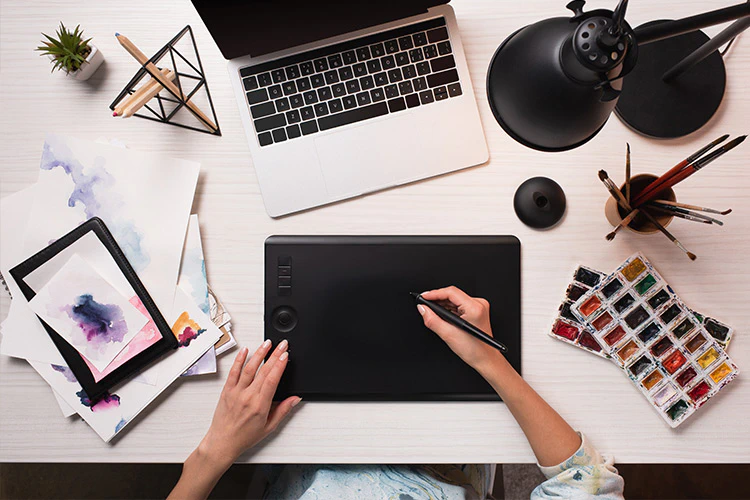 In today's world, there are plenty of devices that can help you create eye-catching graphics for your company. If you are a designer, you need a whole arsenal of tools to complete those day-to-day tasks. Along with that, these tools can help those designers be a little more productive during the day. There are an endless amount of graphic tools on the marketplace. Here are our top picks for website and graphic designers. 
Looking for some innovative ways to keep your design team in communication with each other? Check out Vibe's full line of products that include interactive whiteboards and smart software!
Finding the Right Tools for the Job
Why do you need the right tools? You might have the talent, but the right tools can take your skills to the next level. In addition to that, these tools can help you quickly and efficiently complete the job. In turn, you can produce a product that meets everyone's standards. 
Plus, let's face it, some of these tools are just too cool to pass up. While previous generations relied on one or two types of tools to complete the job, a whole world of devices can help you create some stunning virtual pieces.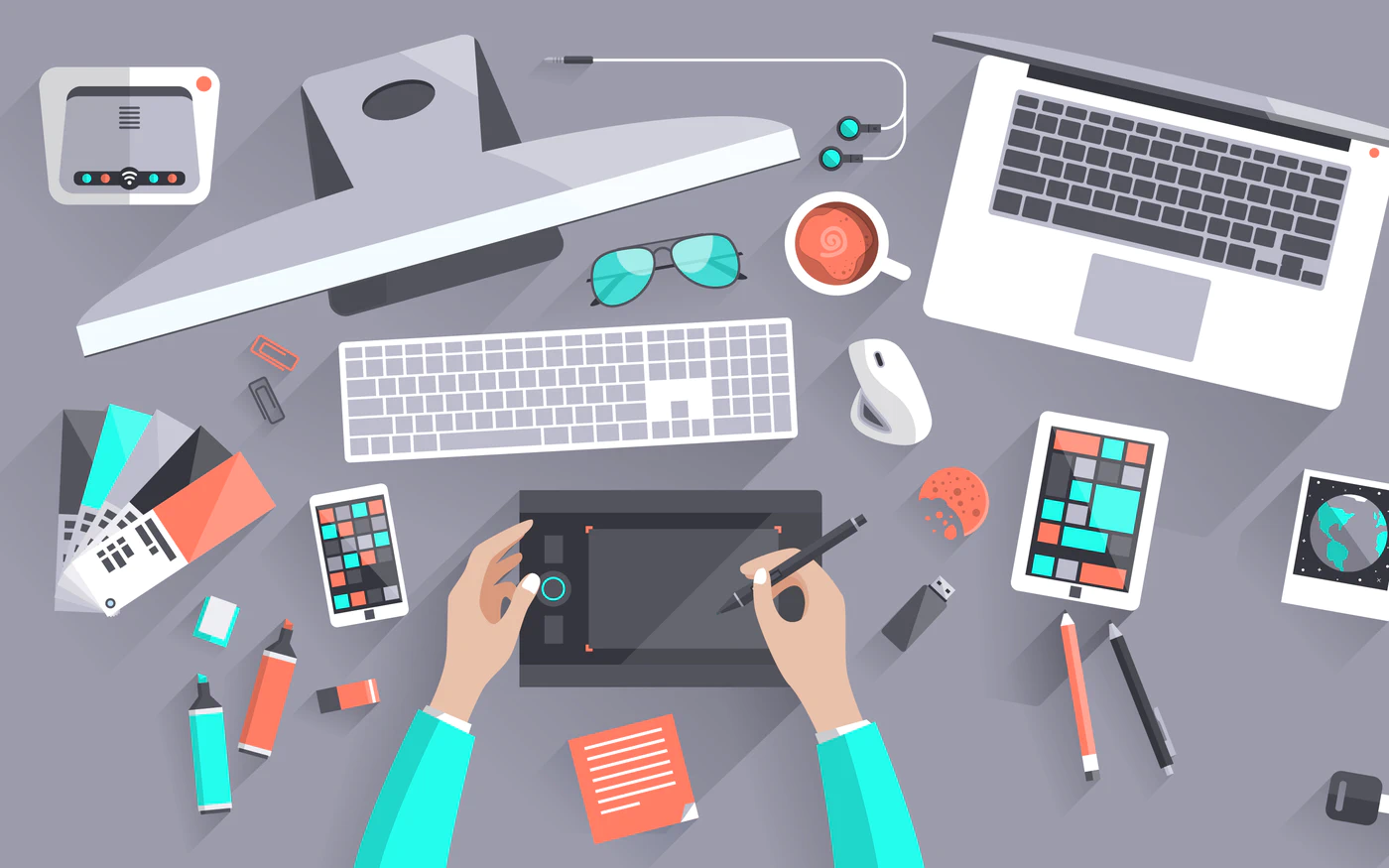 A Graphic Designer's desktop
Let's Look at Software
There are two types of tools: software and hardware. Here are some of the best software tools for graphic designers. 
Procreate
If you want an app that responds to digital pencils, you cannot go wrong with Procreate . You can save your work in a PDF or PSD file. Plus, this software integrates well with other collaborative software. You just draw on the screen, and it is recorded to your file. This software allows other designers to draw, making different layers for the project.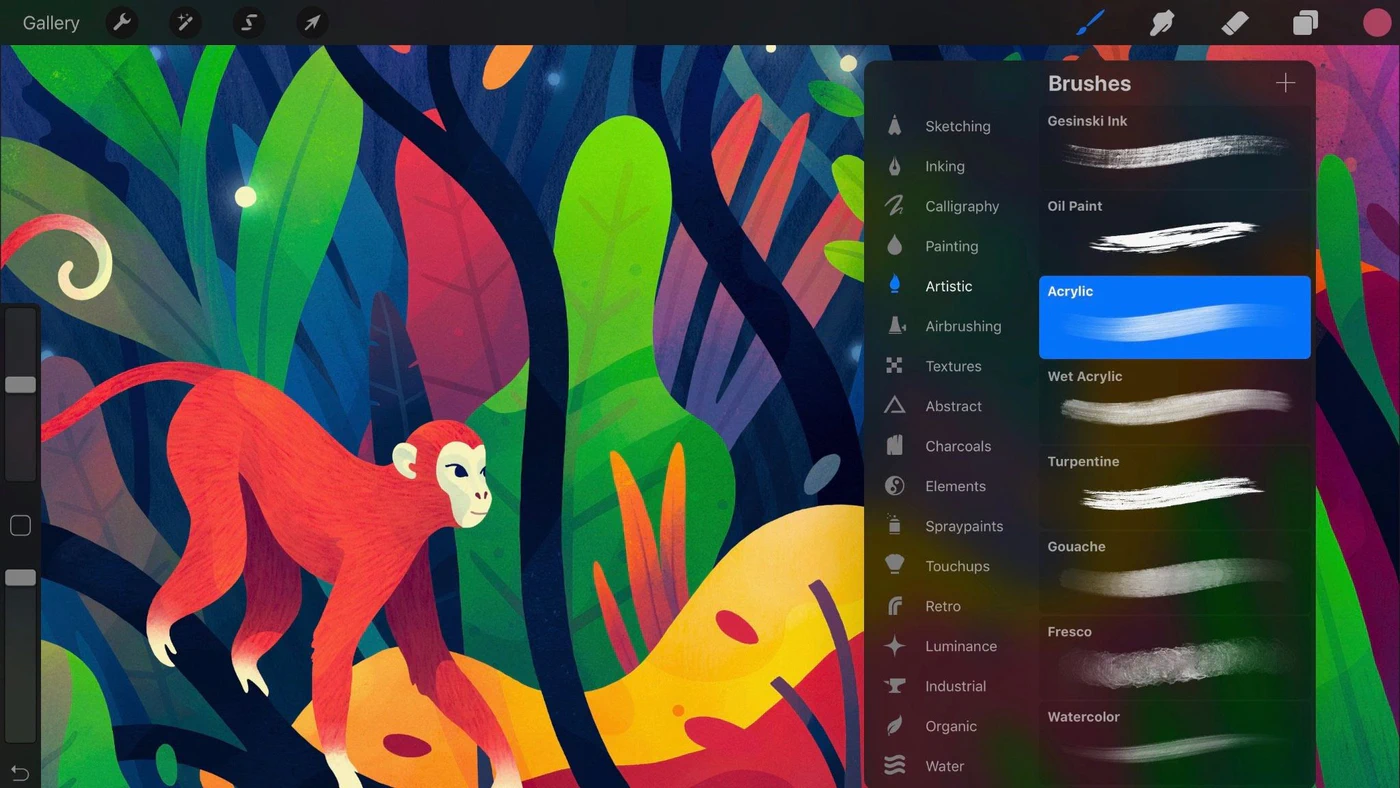 a sample of Procreate's brushes
Clip Studio Paint
Clip Studio Paint is an affordable illustration option for many graphic designers. You can use this software on a PC or Mac. This software is a lighter model than those vector-based ones, which means that it is simple to use. Along with that, Clip Art Studio has a mirror feature that several team members can use. 
Related: Save Time and Streamline Workflows with Hybrid Communication Strategies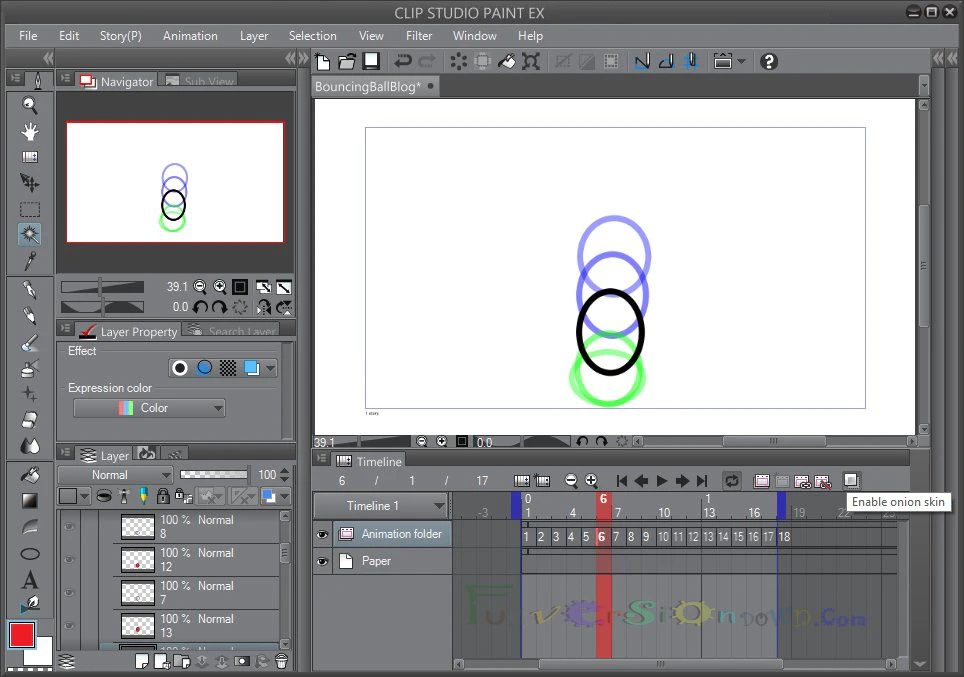 a screenshot of Clip Studio Paint
MyFonts.com
Fonts are all the rage. When people see a great graphic design, they are usually drawn to the fonts. You can add to your collection of fonts with help from MyFonts.com . This site allows you to find and download unique fonts to your computer or smartphone. If you need to identify a particular font, just download their app, snap a pic, and you can get an immediate ID of the font.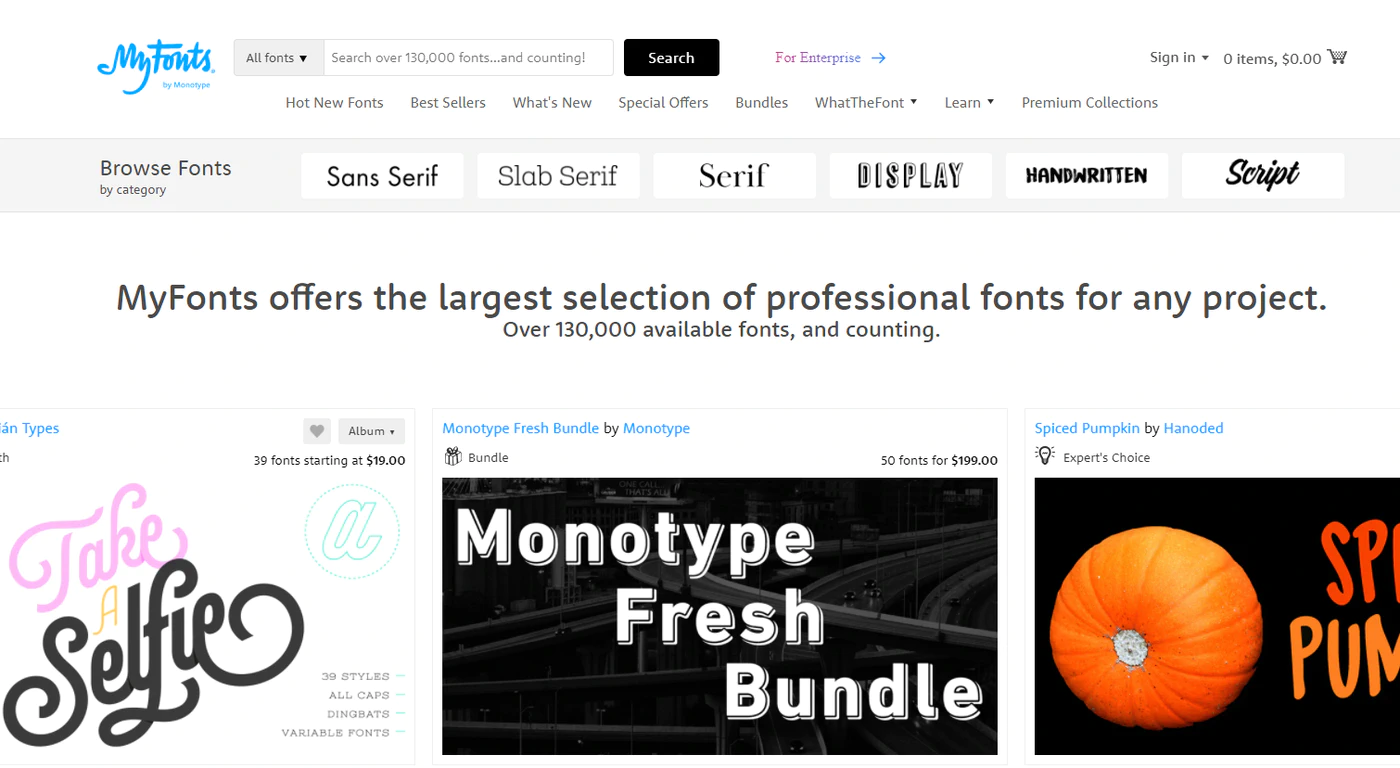 a collection of fonts from MyFonts.com
Adobe Photoshop
Almost everyone has heard of Adobe Photoshop . In the graphics design industry, this is the gold standard. It can be used to create photorealistic computer art and manipulate digital photos. You can even edit videos and make digital compositions with this software. If you can only be an expert with one type of software, make sure this is one.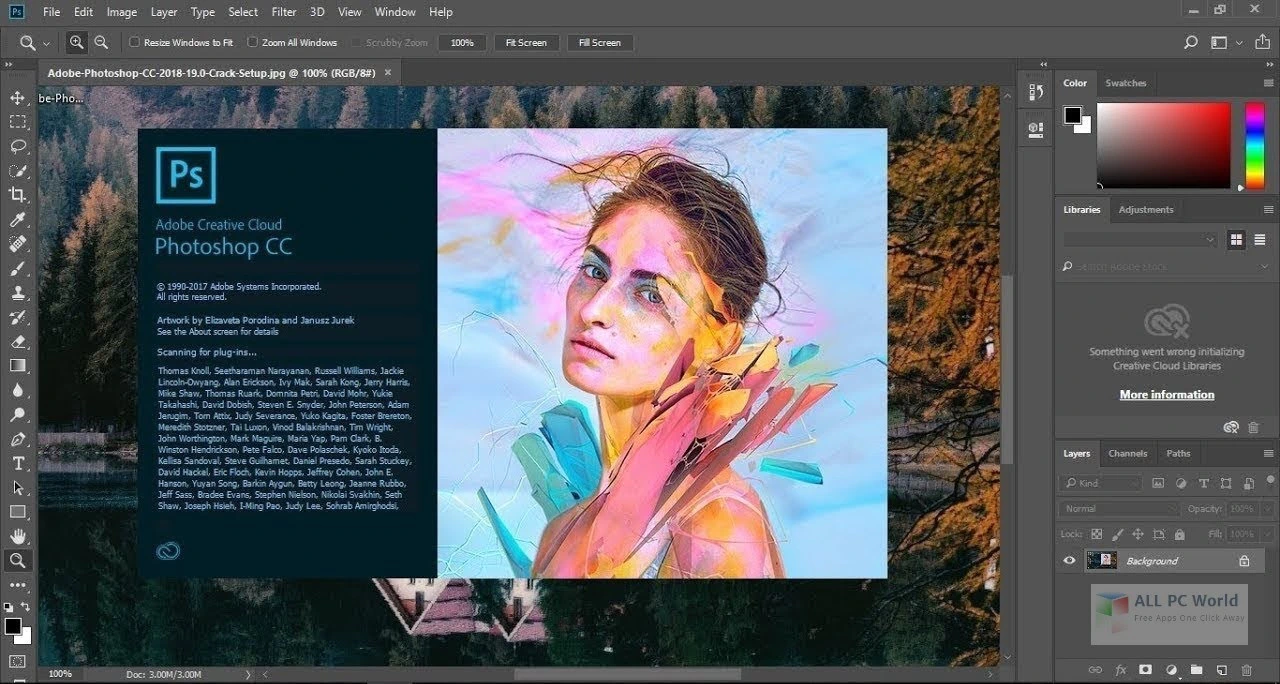 a screenshot of Adobe Photoshop
Adobe Illustrator
Illustrator is the little brother to Photoshop, but it still plays a vital role in the graphics design industry. You can generate all types of images with this software, including logos, cartoons, and drawings. This software also makes it easy to adjust layers with its vector editing programs. If you want to design your own fonts, make sure to grab this program .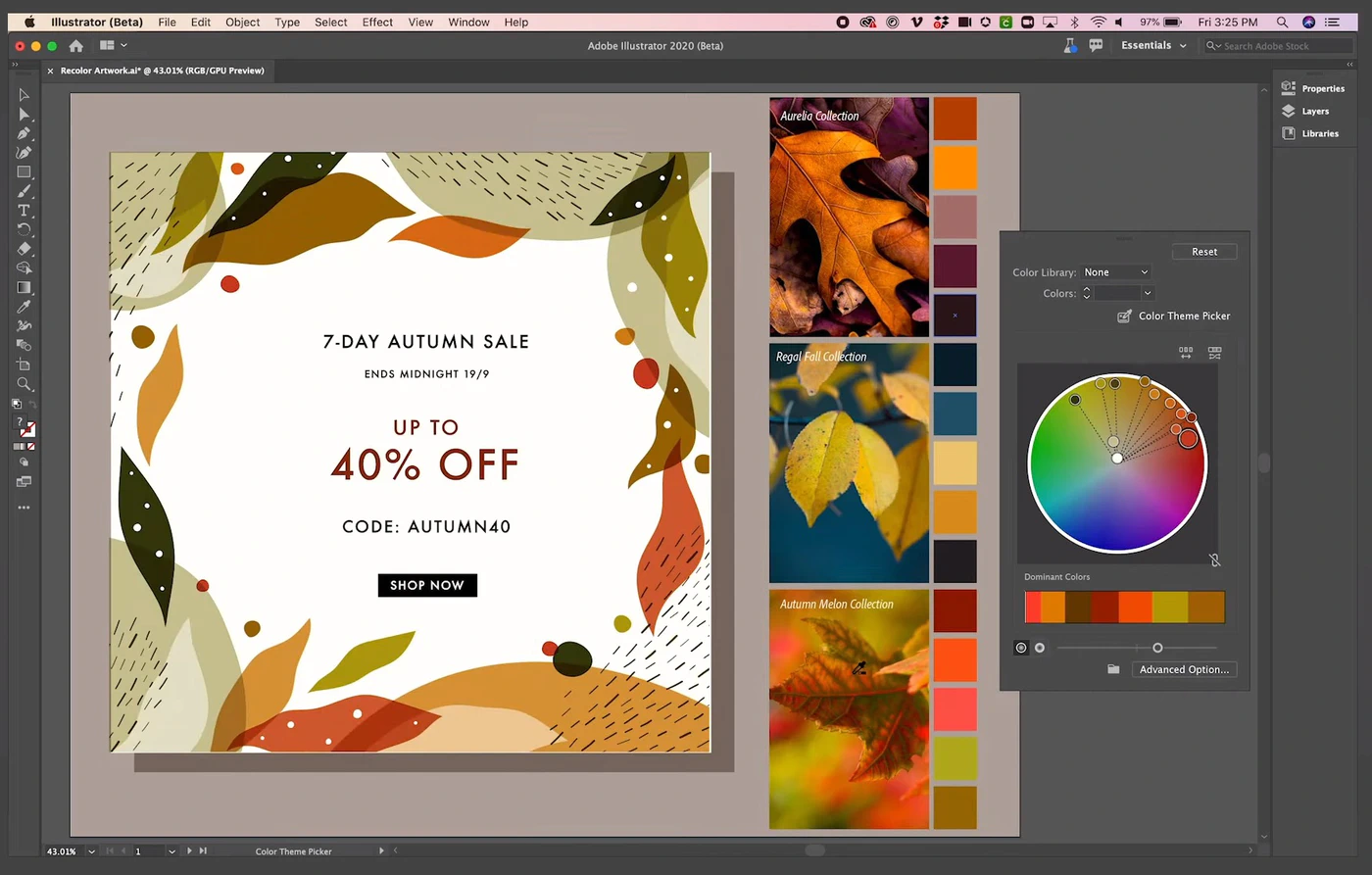 a screenshot of Adobe Illustrator
Proof Hub – Proofing Tools
One of the biggest challenges for graphic designers is the proofing process. With Proof Hub , you can easily manage your work tasks while directly talking to the client. This software is an excellent way to eliminate endless emails or long wait times for approvals. Along with that, it keeps everyone in the loop, from ideation to the finished project.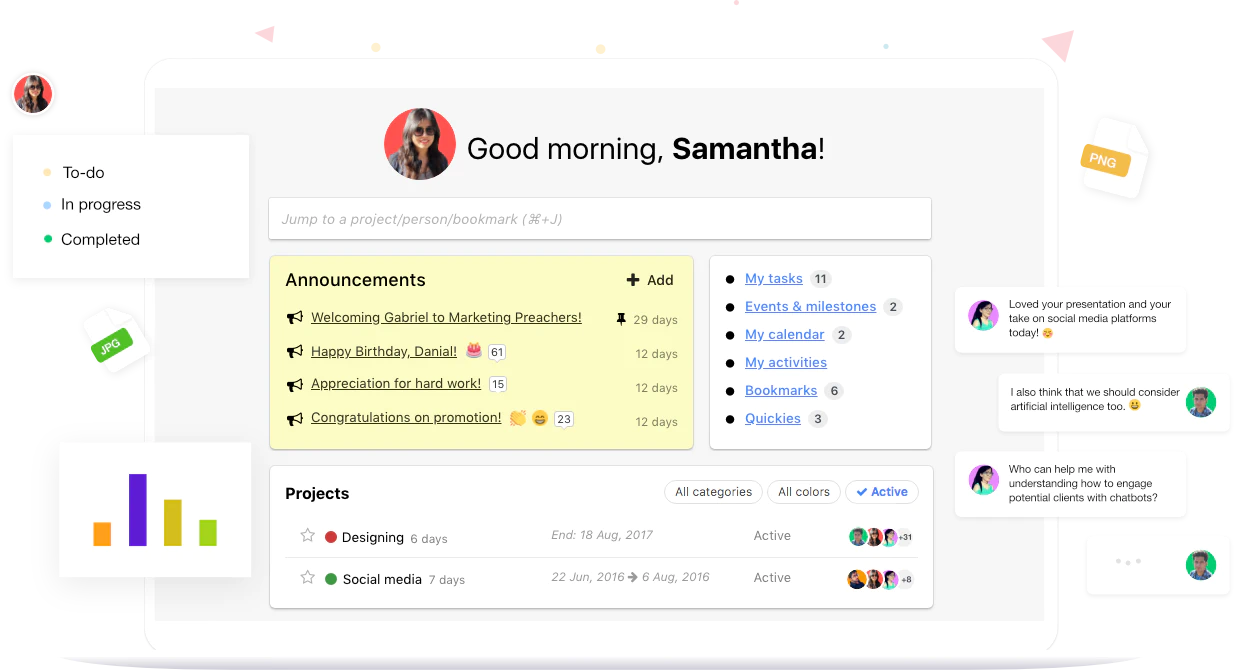 Proof Hub makes team in the loop
---
Related: Use UX Research to Create Products Users Actually Want
Filestage
Another excellent review tool is Filestage . With this software, graphic designers have complete control over their projects. You can easily share PDFs, websites, and images with your team or clients. It also allows for real-time comments and other types of feedback. 

Filestage's share files with your team
Related: Project Planning from Start to Finish with the Vibe Smart Whiteboard
DesignBold
Are you looking for a user-friendly alternative to Photoshop? Think a bit about DesignBold . This software can help you to create beautiful drop-and-drag designs. With a library of 12,000 design resources and customizable layouts, you can find the right element for your next project.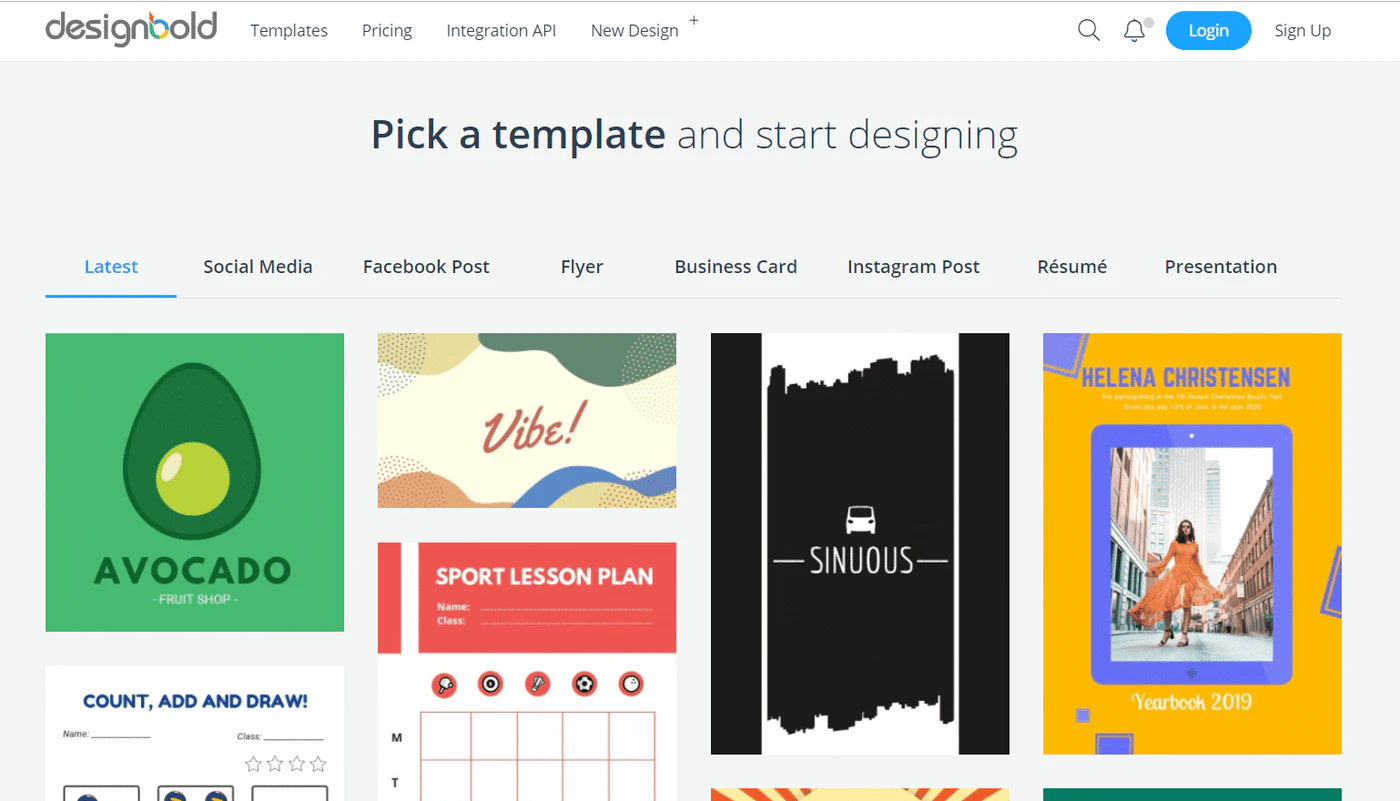 DesignBold's options
Sketch 3
If you need a set of nested symbols , you will want to grab a copy of Sketch 3. When these symbols are used together, you can create flexible and reusable designs with minimal effort. Sketch 3 's features are great for those who need to use color pickers or create artboards.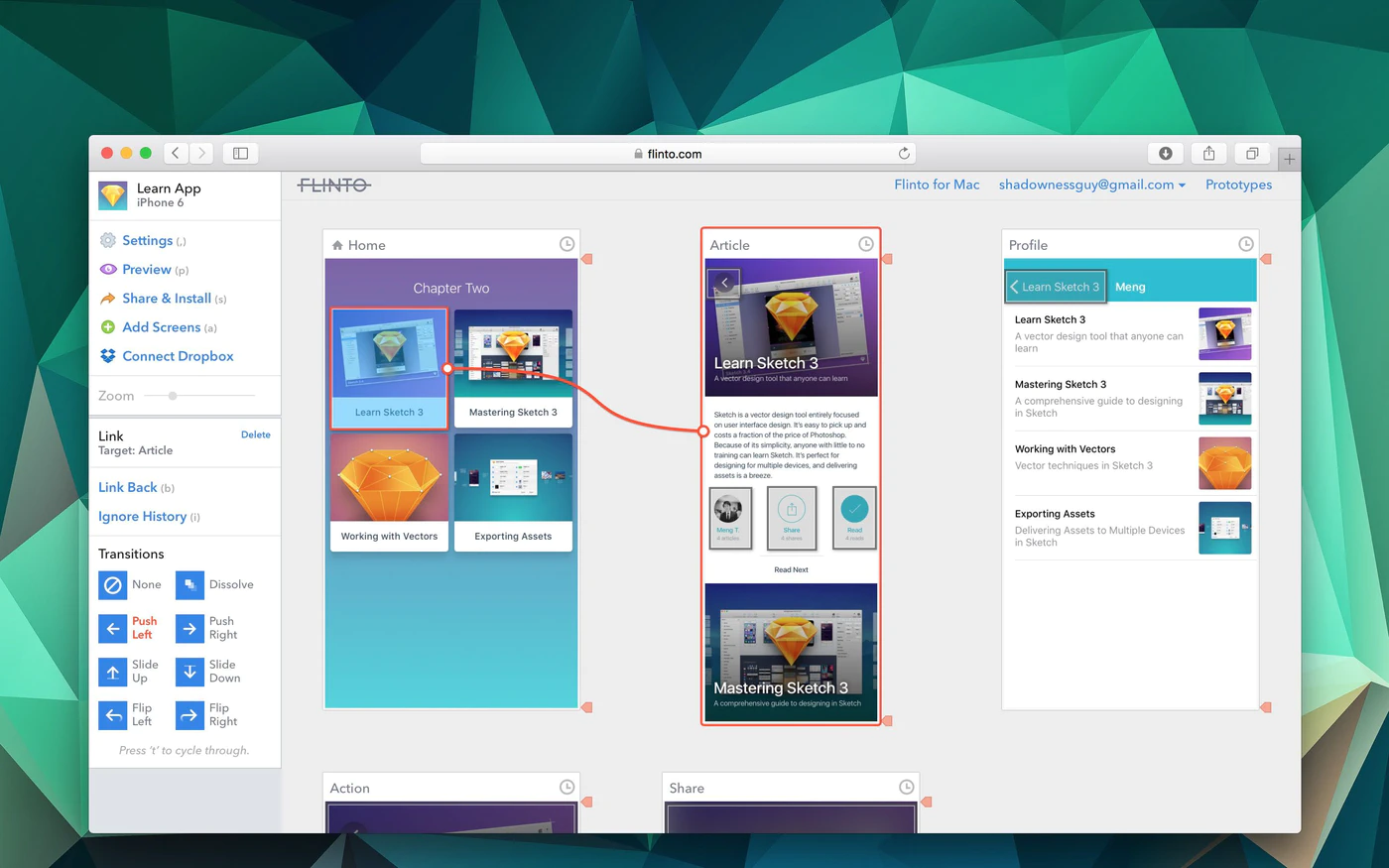 landing page for Sketch 3
Pixelmator
Need a tool with some innovative features? Pixelmator Pro is just the one for you!. With its simplified interface and editing tools, you can easily edit images. In addition to that, it is the ideal tool for arranging, moving, or resizing layers. Use the handcrafted brushes to design dual textures or blend your art. This software will take your graphic designs to the next level and beyond!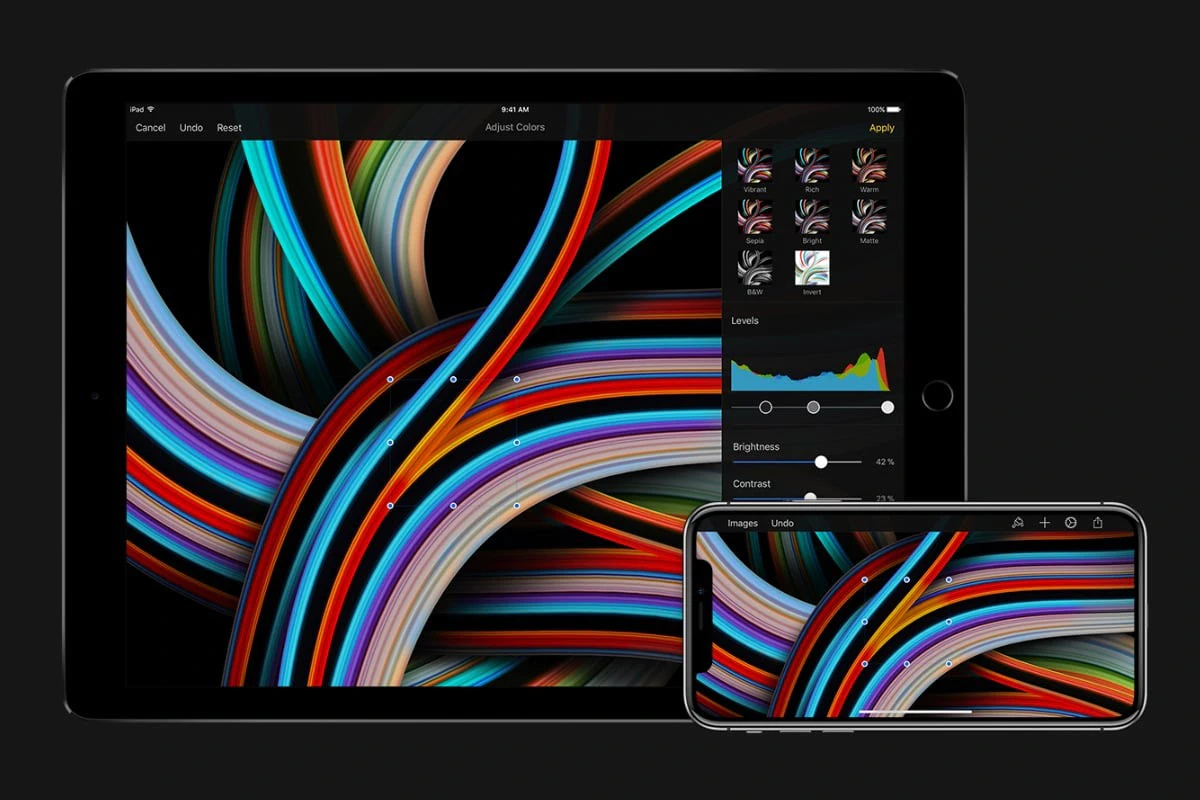 Pixelmator for Photos
Check Out These Hardware Options
Now that you have read our top picks for software, here are some hardware options you should consider. 
MacBook Pro
Many graphic designers work on the go. With that, you want a portable office to complete your projects. MacBook Pros are known for their high quality, functionality, and beauty. Depending on the model, most MacBooks feature large displays and touch bars. Plus, this SSD system boosts fast so that you don't miss out on a moment of inspiration.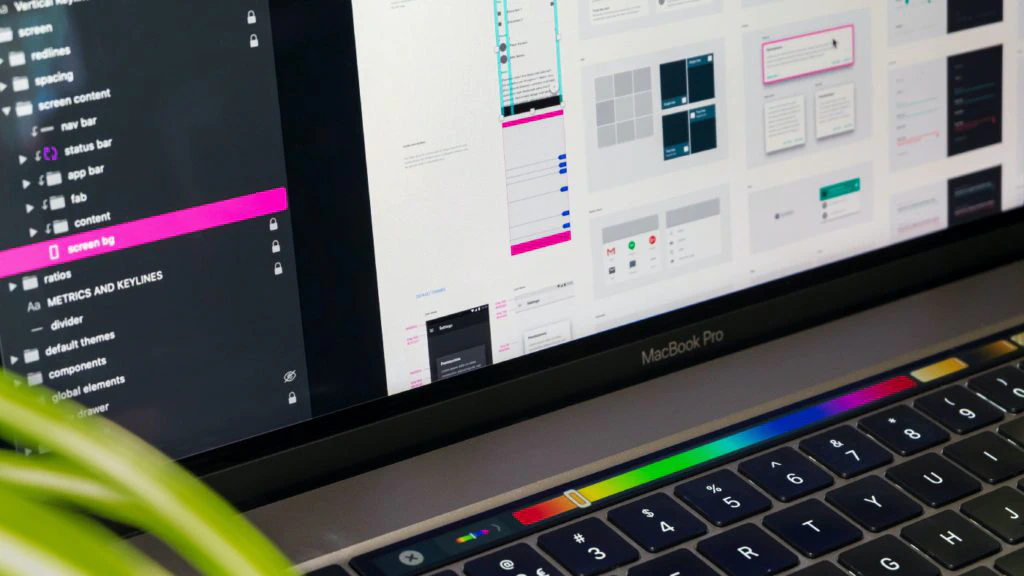 Macbook pro for design
Apple Pro with Apple Pencil
Another Apple product is the Apple Pencil. As you can imagine, this innovative device is compatible with all Apple-branded products. When using the Apple Pencil with the Apple Pro, you have a larger display, better color tones, and smoother scrolling. The stylus gives you more detailed strokes than other types of digital pencils.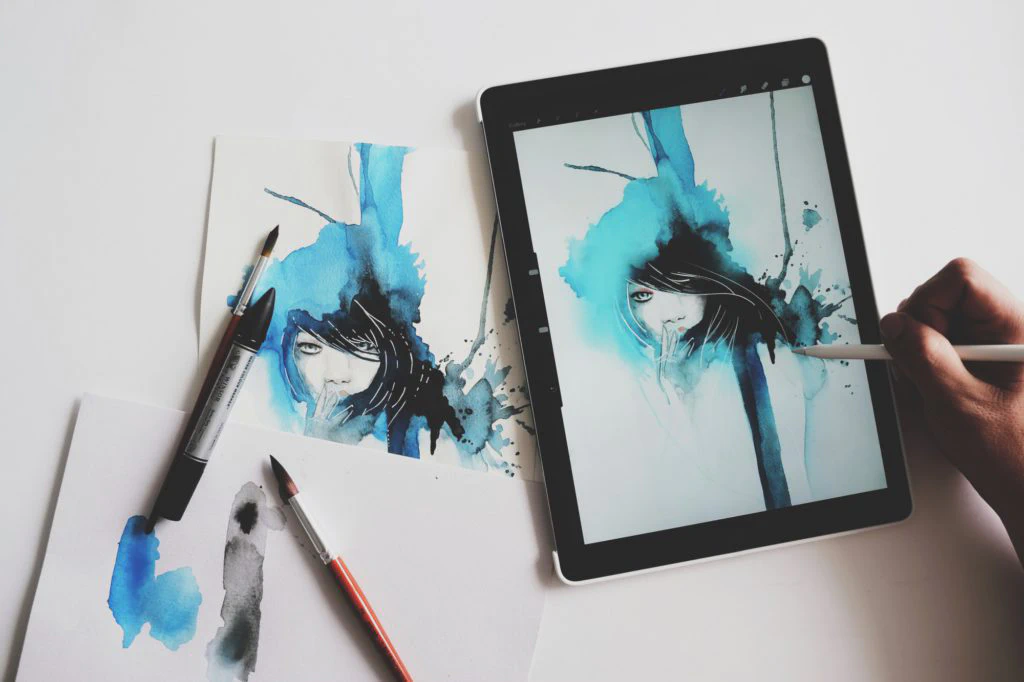 Apple Pencil for drawing
Wacom Bamboo Stylus
Some styluses will only work on certain types of devices. Imagine a model that draws on smartphones, computers, and tablets. Plus, it doesn't require Bluetooth or an app. The Wacom Bamboo Stylus is here to ease your workload. This magic tool works on all devices. When you draw, it glides over as easily as drawing on paper.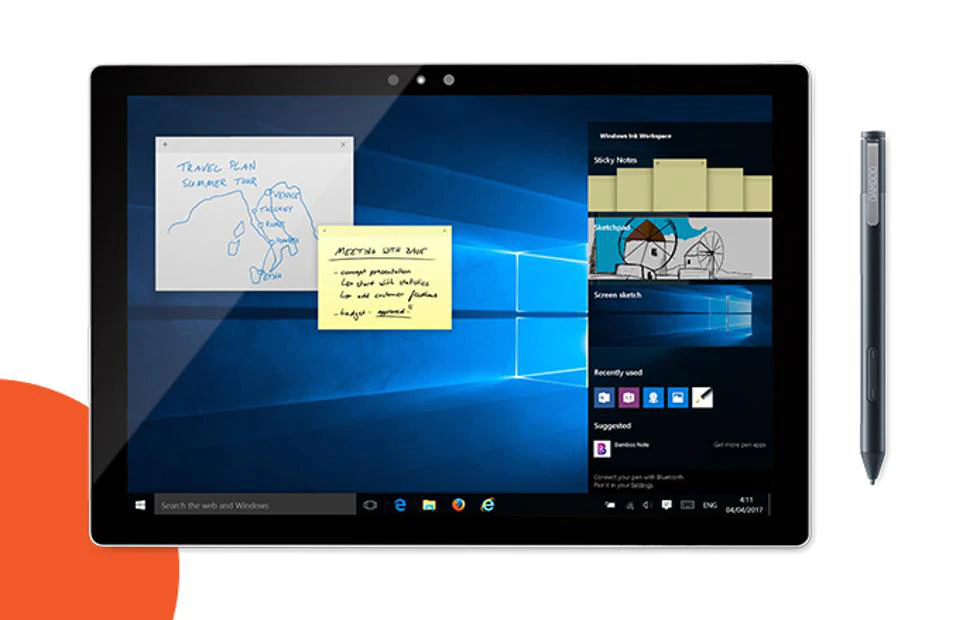 bamboo stylus
Wacom Bamboo Slate
If you want to find a way to write down handwritten notes without scanning them, it is time to purchase the Wacom Bamboo Slate . You can place it under a piece of paper, and the strokes will transmit to your computer screen. With this device, you can instantly add those notes to the cloud or share them with other members of your team.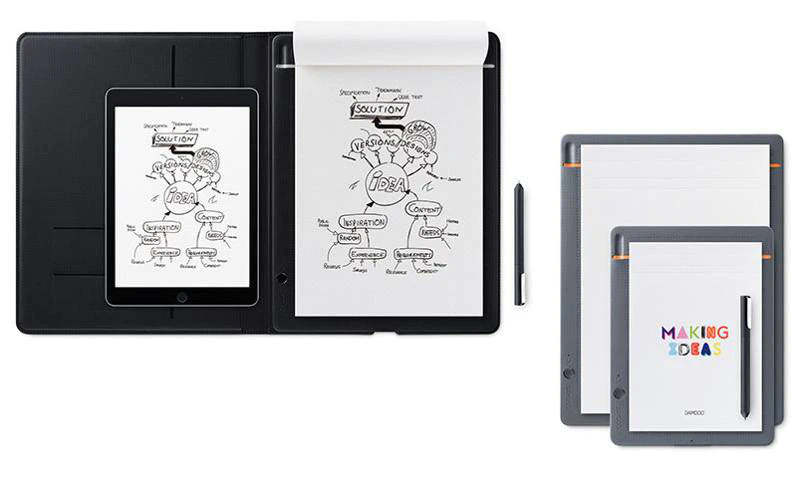 Wacom Bamboo Slate
Use A Vibe Digital Smart Board
Wouldn't it be nice to take some of these features and roll them into one product? With Vibe's digital smart boards , you can keep on task with the entire graphic design team and even customers. These smart boards give you an immersive way to share products, present proofs, and connect with others. Plus, you can easily save your work with a click of a button. If you are looking to simplify your life, think about choosing Vibe's digital smart boards for your graphic design toolbox.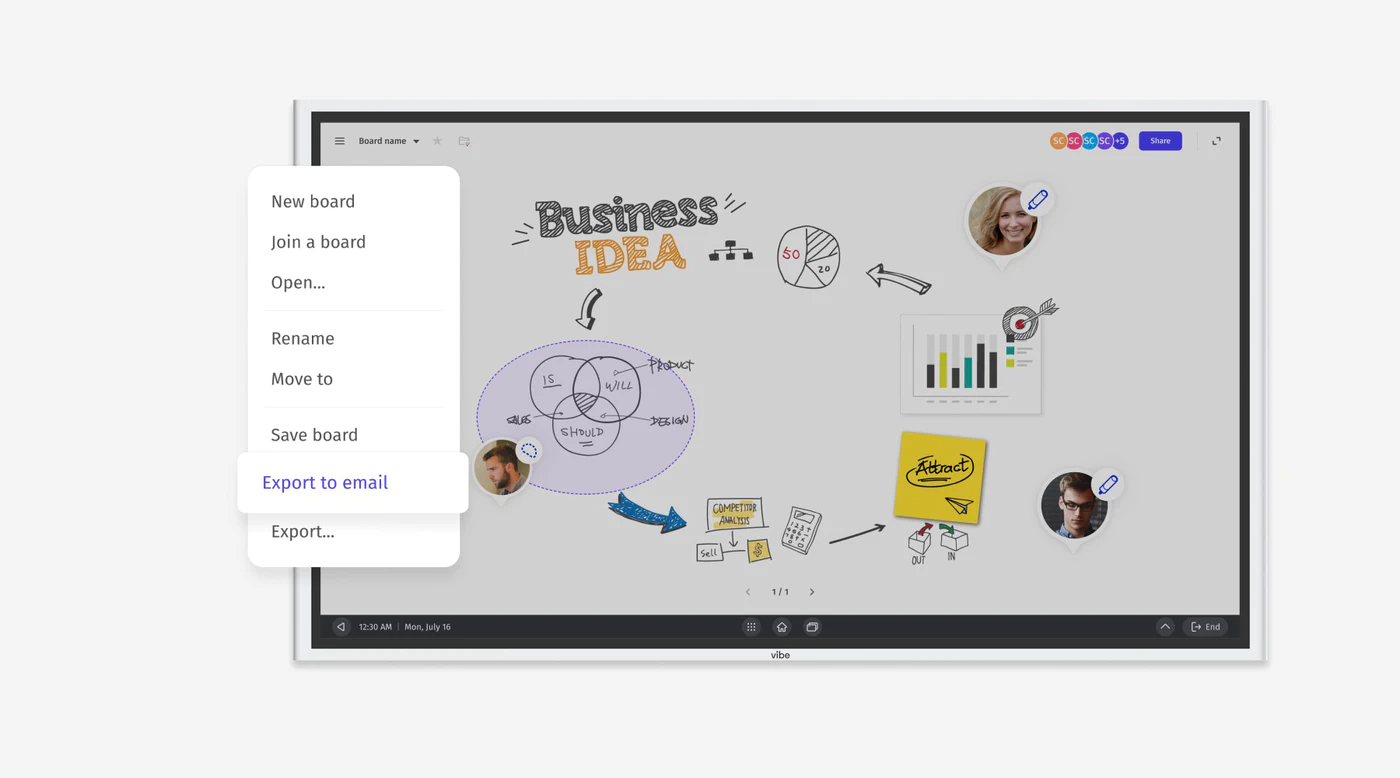 Vibe Smart Whiteboard
Need to find an innovative way to share design notes and get feedback from clients? Vibe's Smartboards are a productive way to create and design graphics for your next project!
See how Vibe could help →
Subscribe to get updates on all things at Vibe
Thank you for subscribing Vibe's blog!