What is Jamboard: Using the Digital Whiteboard in a Hybrid Classroom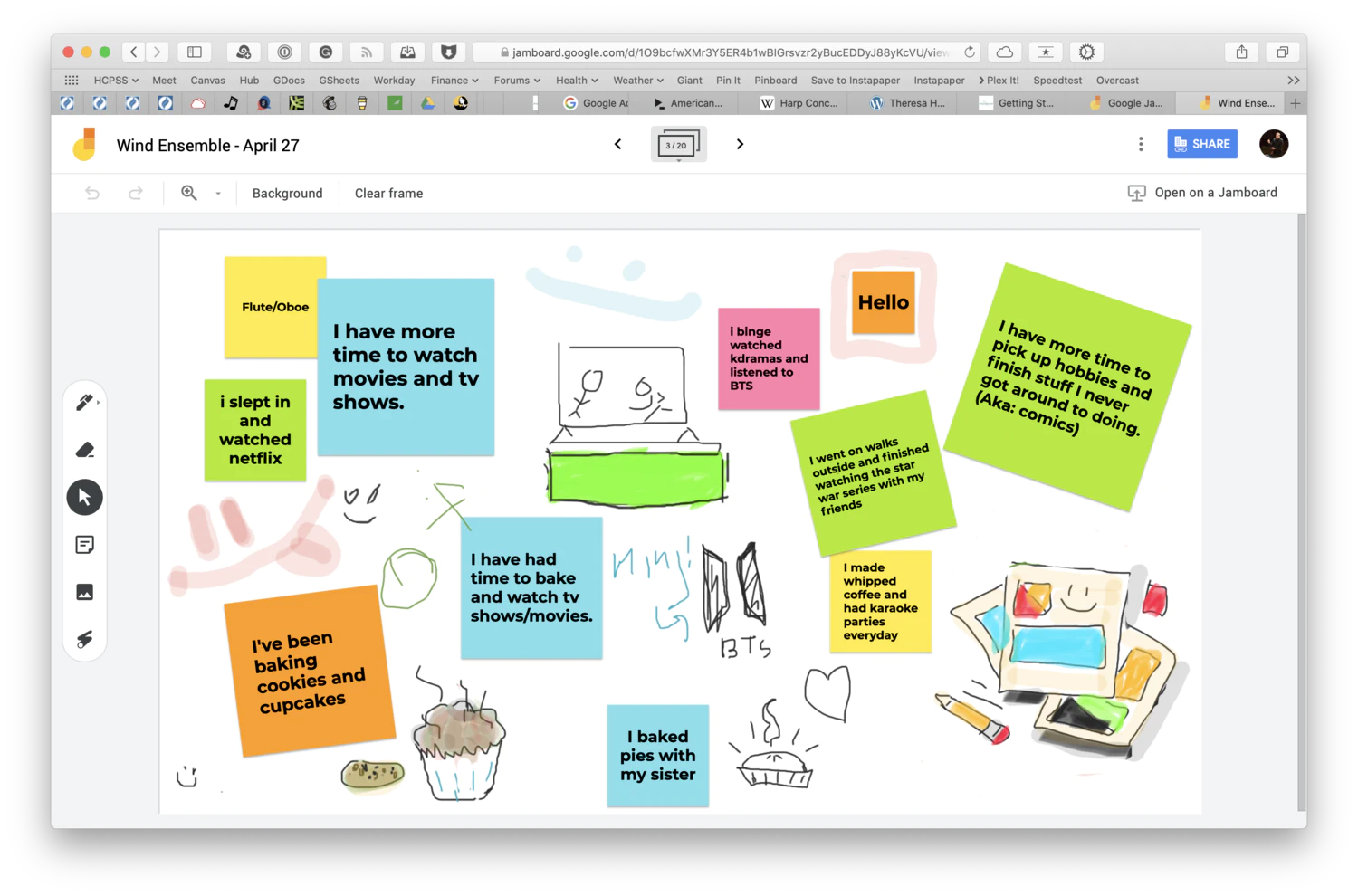 We are experiencing the era of the hybrid classroom — a mix of traditional in-class academics and remote learning curriculums that better address the needs of a rising generation of students. In this new age of technology-driven learning, freely available online tools like Google Jamboard are helping teachers and students communicate in real-time.
Understanding the many uses and benefits of these collaborative tools is key to developing more creative, engaging, and effective educational experiences. Here are the basics you need to know about what Jamboard is, how to use it, and how it pairs with Vibe products to deliver students of all ages a new and exciting hybrid classroom.
What is Google Jamboard?
Think of Jamboard as Google's take on the digital whiteboard. Like other tools in the Google Suite, it is cloud-based and therefore can be accessed and updated by multiple devices as a type of collective working doc. For remote teaching, its most frequent application is to present visual information and enable real-time feedback, comments, and explanations from students in different locations.
Jamboard facilitates communication and collaboration among students with their peers and their instructor. The app is incredibly versatile and allows greater flexibility than other presentation tools like Google Slides, with handy additions like sticky notes for quick, attention-grabbing notes on important points throughout the lesson and the ability for teachers to move objects around on the shared screen.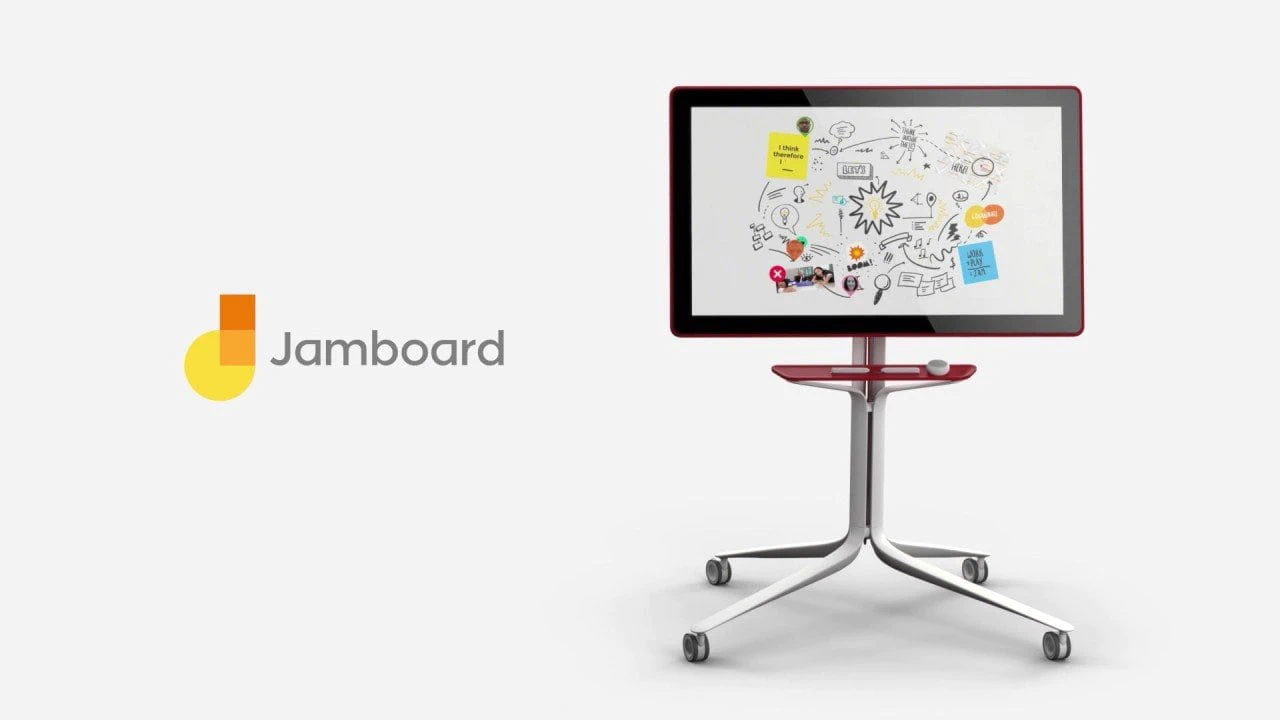 Google Jamboard
How to Use Jamboard in a Hybrid Classroom
Jamboard's practical uses are vast. Here are some of the common ways teachers use the application to aid in hybrid and remote education and to help students feel more engaged with material outside of the traditional classroom environment. 
1. Lesson Overviews
Teachers can pair a small preview of the concepts about to be covered with a quick and easy way to get students involved early. Through the sticky note function, ask what students would like to learn in a given lesson, a skill they'd like to improve on, or a prediction for the day they'd like to share. Students seeing their peers participating from the start encourages better discussion throughout the day and removes the sense of isolation that can sometimes accompany lengthy stretches of remote learning from home .
2. Demonstrating A Problem or Skill
Perhaps the most obvious use of any digital whiteboard tool is to provide students with clear problem-solving examples. Demonstrating how to break down an equation or ways to identify grammatical errors in a sentence through Jamboard's many practical functions can be done in real-time or on a recording for students to review on their own schedules. Feedback, including questions to alleviate confusion, can be provided through sticky-note comments during or after the lesson.
3. Checking For Understanding
Educators need some way to gauge student progress — fortunately, the methods for doing so via digital tools are vast. Teachers can create individual pages for students to work out problems, write examples, drop images, or anything else they might need to communicate their understanding of a subject. They can employ polls, quizzes, comments sections, or discussion-board style posts asking for some level of feedback just as they would in a traditional classroom. Opportunities for checking student understanding over digital means in new and engaging ways are limited only by your own creativity!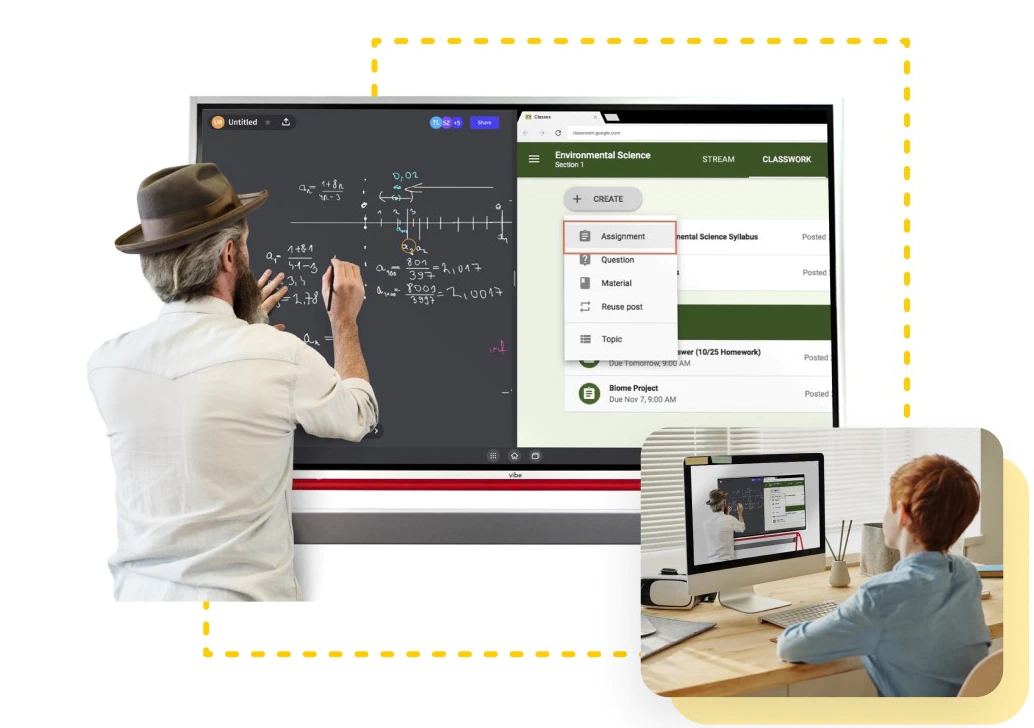 a teacher is working out problems with students
4. Adding Fun Wrap-Ups
It hasn't always been easy taking stock of a student's interest in a given subject , or gauging how adept individual learners are at taking in important information. Online tools have managed to add a layer of safety for students previously too scared or embarrassed to ask questions and seek to fill in their own knowledge gaps. Teachers can facilitate this by asking wrap-up questions at the end of discussions. These can be as simple as asking "what is one thing that you learned today?" or more creative, like dropping an image in the chat from Google describing how they feel at the end of the lesson.
5. Draw Attention to Significant Facts
It's much easier to emphasize information that might have previously been learned from a textbook when the entire class is literally on the same page — circling or highlighting key points in text formats is an effective use of Jamboard's drawing function. It also works just as well for recorded lessons as it does for "live" demonstrations, and helps students know where the focus of a lesson should be throughout the day.
6. Quickly Annotating Text
Hand-in-hand with highlighting information is the act of expanding on it, adding greater context and understanding to a given passage to spur further discussion. Teachers can grab a screenshot of text and mark it up themselves, or ask students to take a moment and add their own annotations.
7. Have Students Show Their Work
What teacher doesn't have to remind students daily (often more than once) to show their work? One of the biggest advantages of true collaboration tools is the constant line of communication they provide. Students can work through problems, point out places where they get lost, and identify "blind spots" in their learning for their instructor to quickly address. Jamboard doesn't just act like a digital whiteboard for the front of the classroom; it gives students their own space to try and work through processes until they truly get the hang of things. And, once they've finished…
8. Make Submitting Work Easy
Wouldn't you know it, saving and submitting homework has never been easier! After working through problems on Jamboard's digital canvas, saving work as an image for teachers to later review requires a simple click. No more missing assignments or dogs eating homework.
9.  Discuss Topics Throughout Each Unit
One of the major issues introduced by remote learning is the potential to lose the important community aspect of the classroom. While digitization thankfully provided a safe alternative to in-person schooling throughout a global pandemic, it's still beneficial for students to collaborate with one another and interact with their academics in a social setting. While technology is still working on that particular problem, tools like Jamboard that have the ability to host ongoing discussions provide a greater measure of interpersonal communication than previously available to students in remote circumstances.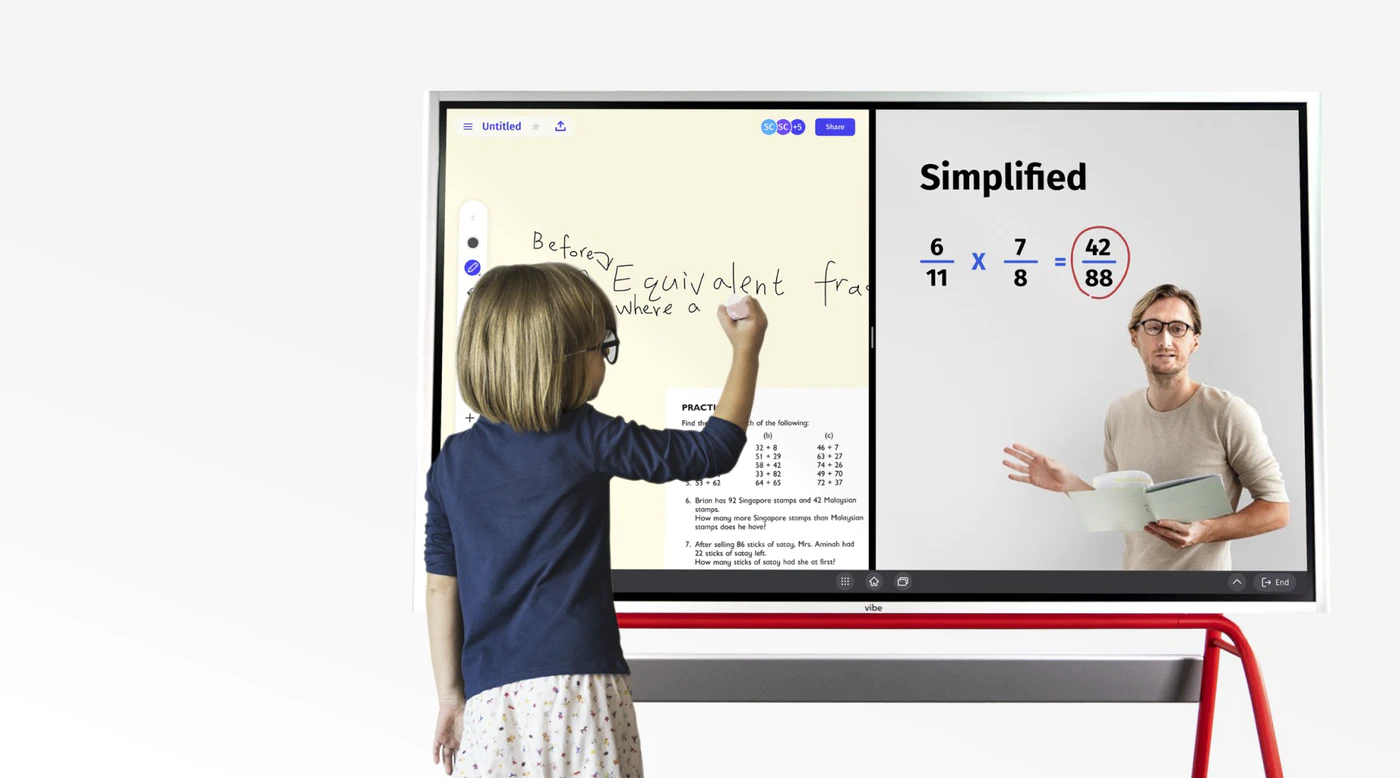 a student is collaborating with teacher in real time
Using Jamboard as a class message board can direct teachers toward subjects that aren't yet fully understood, and help build rapport among classmates who may not yet have a chance to meet in person.
10. Facilitating Group Projects
Similarly, aiding communication between students means the Jamboard app can also host collective work among small groups. Group work has generated something of a negative reputation over the years, but can be a welcome change of pace in today's hybrid classroom and the rise of independent learning. Cliche as it may sound to students dreading the very concept of group work, learning to work on projects as a team will prove an invaluable skill later in every student's academic and professional career.
11. Host a Brainstorming Session
What good would a so-called collaboration tool be without a visually appealing brainstorming function? The use of sticky notes and other basic tools within the app allow students to jot down, sift through, and expand on others' ideas for a variety of applications. Whether it's refining a thesis statement in response to an essay prompt or coming up with visual aids for an upcoming presentation, students will be able to use Jamboard for any of their brainstorming needs.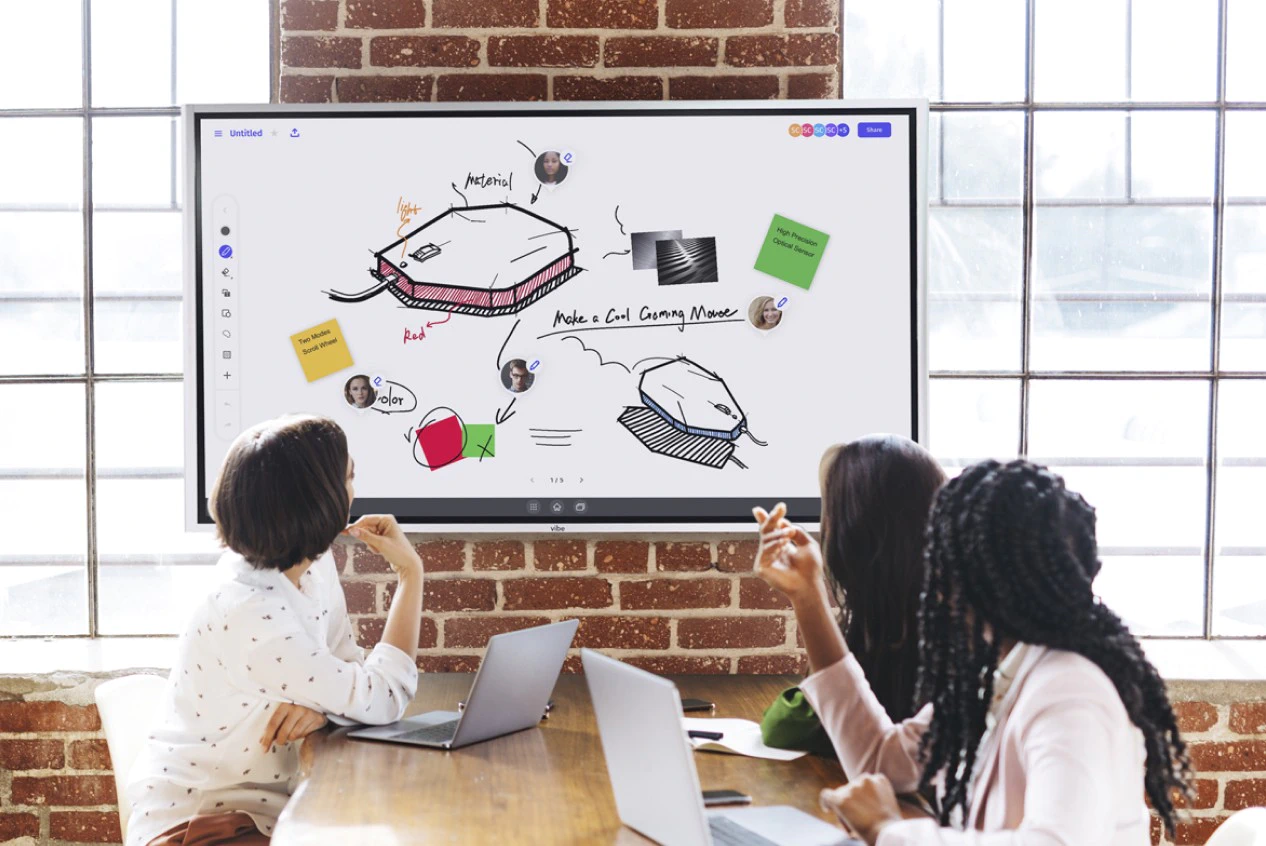 students can create a brainstorm on whiteboard
Is Google Jamboard Free?
Teachers rejoice! The Google Jamboard platform and app are free to use, just like Google's other cloud-based, personal-use tools. However, Google Jamboard is priced at $4,999 and comes standard with a wall mount, with additional charges after purchase. It pairs seamlessly with Classroom and Hangouts, as well as plenty of useful extensions educators at every grade level will find extremely helpful (math teachers: you'll probably want to check out EquatiO right away). Classroom allows Jams to be shared as assignments, for students to access and edit according to the level of access they've been granted (view and edit access can be altered just like with other shared Google docs).
As with any tool, adding it to your daily routine will require something of a learning curve for both you and your students. Jamboard is incredibly intuitive, but there is still a level of technological literacy required to use it to its fullest capabilities. Like other remote learning options, it also requires students to have reliable access to devices and a working internet connection to be effective. Teachers must be aware of potential obstacles some students may face when transitioning to tech-based learning tools.
Jamboard Alternative: Vibe Smart Board
Vibe is almost half the price of the Google Jamboard, The Vibe smart board was designed to incorporate the most useful collaboration tools available without playing favorites. Its suite of built-in integrations includes Google's extensive cast of apps and can be used as a powerful multitasking tool for educators in any grade or circumstance. Presenting in-person, broadcasting remotely to students in their own homes, recording lessons for independent study.
Vibe Smart board with a 55-inch, 4K touchscreen that doesn't require any annual subscription fees or the difficult price-point of its competitors. Teachers, in particular, will love working on an unlimited canvas, low latency (which means no awkward delay when presenting), and the ability to quickly mark up, save and share presentations, pictures, and files from other apps.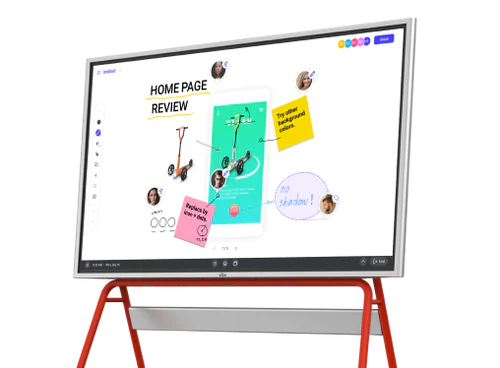 vibe smart board
---
Looking for the latest in interactive whiteboard technology?  Check out Vibe today!
See how Vibe could help →
Subscribe to get updates on all things at Vibe
Thank you for subscribing Vibe's blog!