TVs vs. IFPDs vs. Vibe's All-in-One System – Comparing Top Collaboration Tools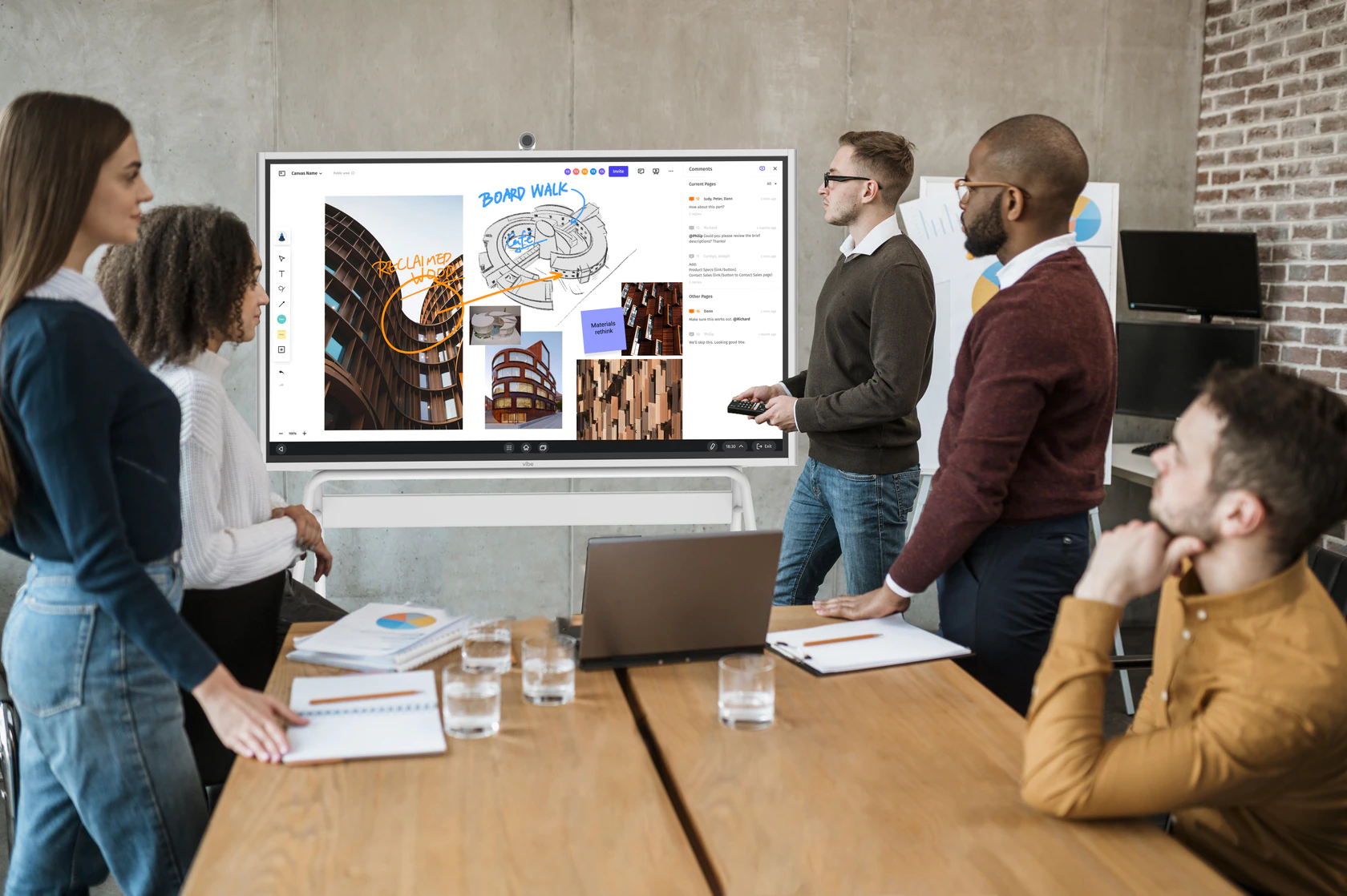 The way we work and communicate has changed dramatically in just the past few years. Work is no longer confined to the four walls of an office, and the collaboration tools we use need to adapt in order to meet our shifting expectations. 
You can already feel the need for much of this change in modern conference rooms today. Employees currently returning to their offices are likely to find a long table with chairs, a TV mounted on the wall, perhaps some HDMI cables to connect your computer to the big screen, and a traditional whiteboard on the wall for brainstorming. 
Other conference rooms may include Interactive Flat Panel Displays (IFPDs), complete with touchscreen technology that allows in-office team members to collaborate more effectively, but may also lack a camera or collaboration software that is accessible from devices other than the display itself.
Both of these setups were designed years ago before the widespread adoption of hybrid work, and both need to be adjusted in order to help integrate remote employees into the in-office conversation.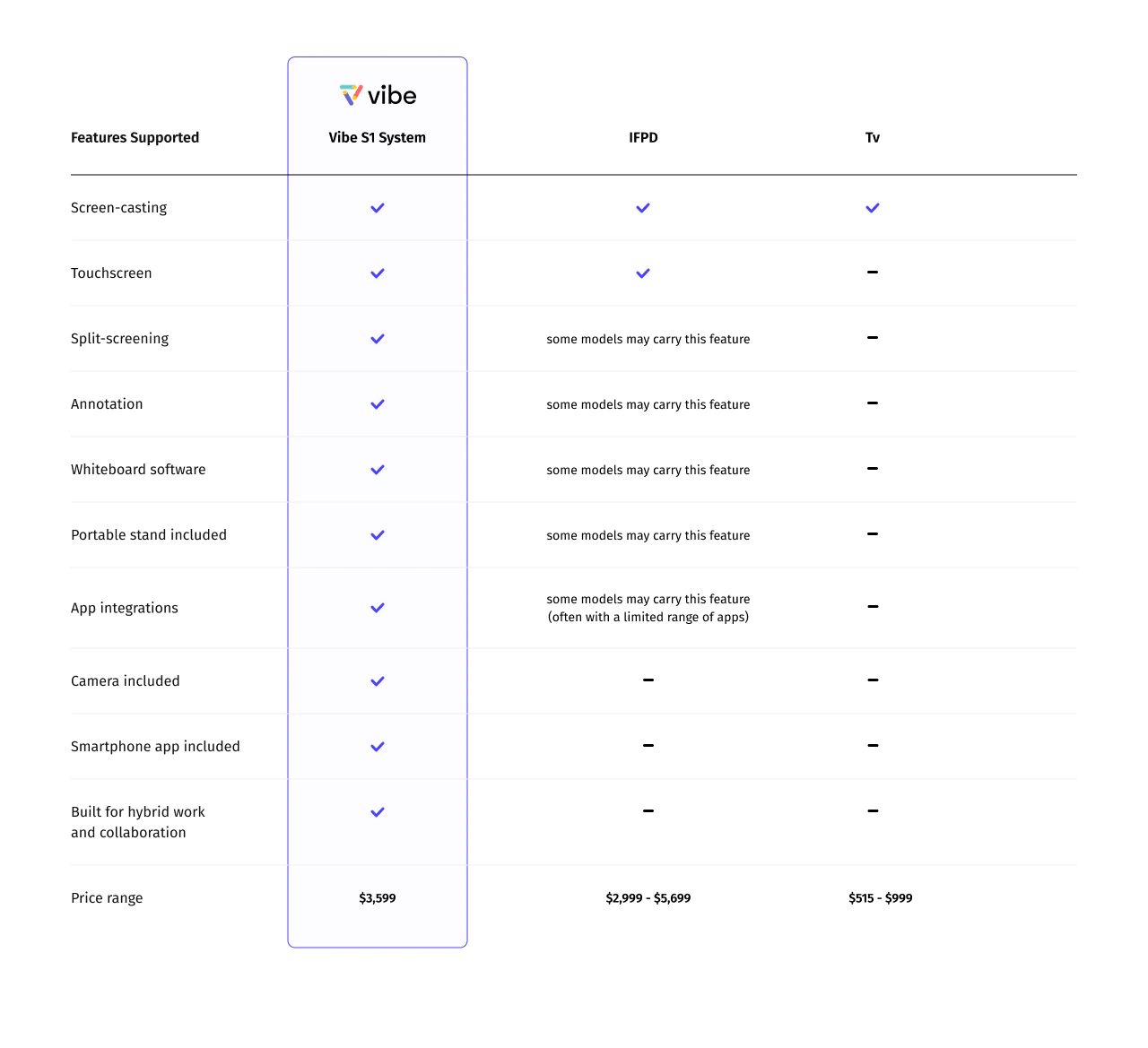 Direct Comparison of Vibe S1 to TVs and IFPDs
The Traditional Collaboration Tool Experience and Its Drawbacks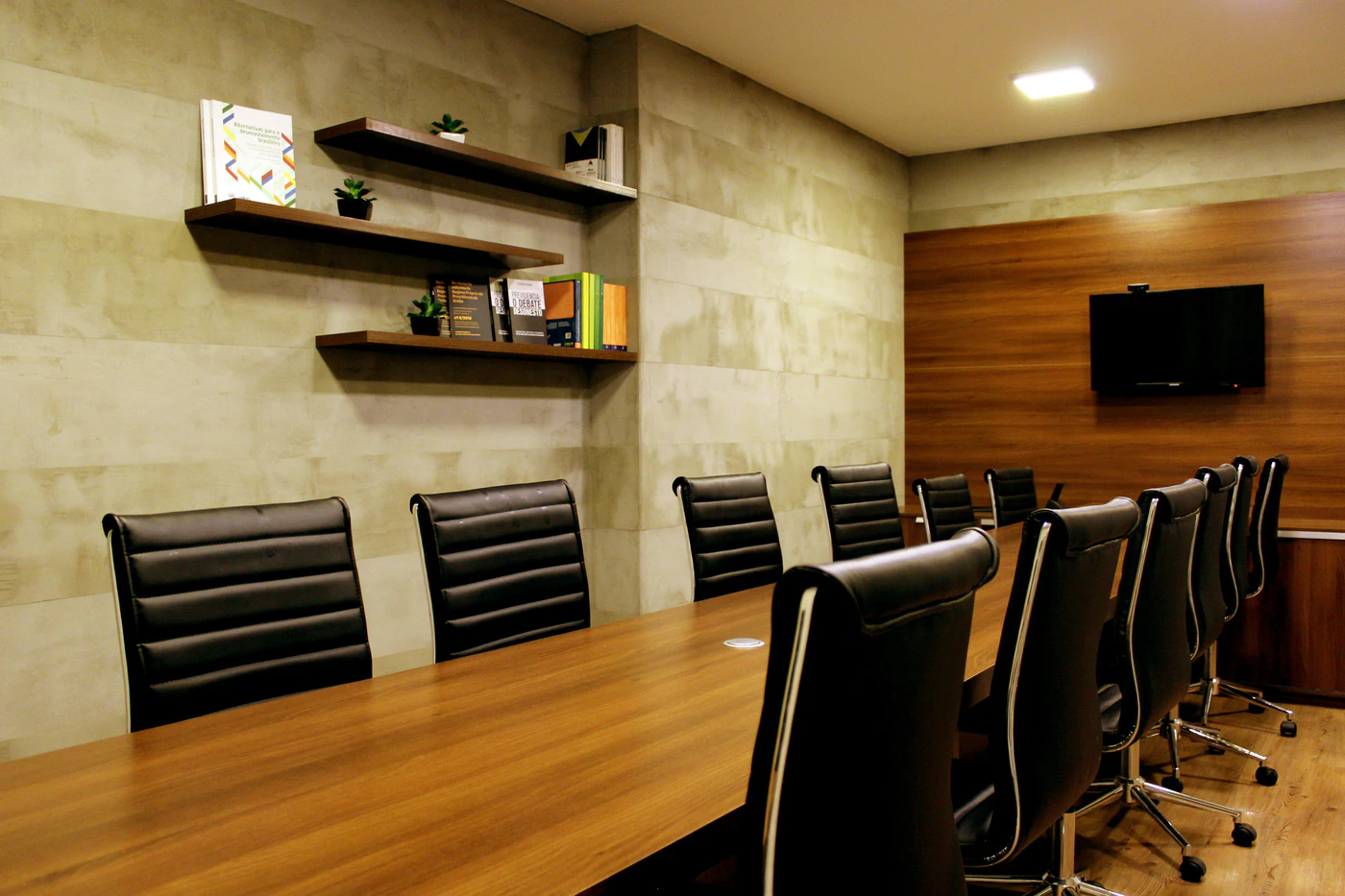 A traditional conference room
The traditional conference was designed (many years ago, mind you) to fit the needs of the time. Teams traditionally worked together in-office, meaning in terms of collaboration tools––not much was needed beyond a TV to share information to everyone at once and keep everyone on the same page. 
This led to a fairly inefficient workflow and some key issues:
HDMI cables are famously finicky; if someone else wants to share their screen there's a whole song and dance to transfer the HDMI cable to the new presenter, and maybe even a change of seats if the cord isn't long enough.
The TV screen can't be accessed by anyone else. Seated a bit too far from the screen? Tough luck. You can try moving your seat, but that's about it.
The TV screen makes the entire audience passive. You can present from one computer easily enough, but the audience cannot easily contribute or add their two cents.
There's no room for free-hand drawing, annotation, or brainstorming. You may have a traditional whiteboard on a separate wall for these activities, but stepping back and forth between the TV and whiteboard is not particularly efficient.
Any work done on this traditional whiteboard would need to be photographed and distributed to the entire group.
Remote Work Stretches Collaboration Tools Thin
The influx of remote work and now hybrid work has only added to the above issues, and created some new ones. Think about the experience of traditional collaboration tools from the remote employees' perspective.
The remote employee can't see what's going on in the conference room. They cannot see their teams' body language, who is speaking, the whiteboard the team may be brainstorming on, or what's being displayed on the TV screen. Remote employees may leave team meetings feeling even more disconnected and isolated than when they started.
The Interactive Flat Panel Display (IFPD) Experience and Its Drawbacks
More updated conference rooms may be lucky enough to include an Interactive Flat Panel Display (IFPD). An IFPD is a touchscreen whiteboard display that looks just like a typical television. IFPDs can be helpful for on-site teams, in that they combine the conference room TV experience with a traditional whiteboard experience. Because IFPDs are touchscreen, multiple people can typically collaborate on this display at the same time. IFPDs allow teams to switch from presentation mode to collaboration mode much more easily, typically including a whiteboard software that makes drawing and note-taking easier. 
For remote or hybrid teams, however, many of the same problems still exist:
IFPDs don't typically come with built-in cameras, meaning any team members working from home still won't be able to see the team, understand their body language, or be able to participate to the fullest extent.
Not all IFPD whiteboard software is created equally.

Some may offer limited capabilities for annotating over images, videos, or presentations.
Others do not include access to important third-party applications that are crucial to your workflow.
Not all whiteboard software is accessible from any device. If you're not in the room, you still won't be able to see what's going on even if your team is using an IFPD.

IFPDs still create a need for a conference room built on disparate tools. You may need a separate camera, microphone, speakers, etc. to get the true face-to-face collaborative feel from a meeting with a hybrid audience.
An Interactive Flat Panel Display is a solid collaboration tool for on-site teams looking to level up their huddle room, but hybrid teams (of which there are now many) may find some of their features lacking, particularly when it comes to integrating remote or hybrid employees into the conversation.
How Does Vibe Solve the Problem?
Many American workers have made their voices heard––they're not looking to go back into the office full-time, but perhaps a hybrid schedule and 2-3 trips to the office per week would be a happy medium. With so many team members consistently working from home, the issues laid out above are likely to continue to nag many teams that work with TVs or IFPDs in their conference rooms. 
Vibe's new all-in-one S1 huddle room solution is the solution for these hybrid teams. 
The Vibe S1 is the latest and greatest in collaboration and communication, designed to bridge the gap between in-office and remote teams, between the office and your home office, and between different devices that you work on every day.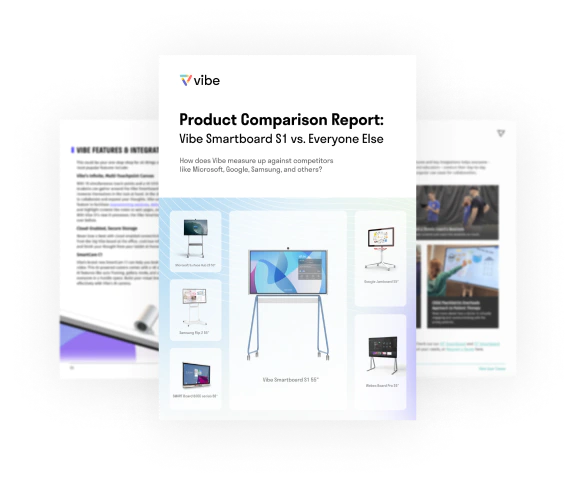 See How Vibe Stacks Up
Against Everyone Else
The Vibe S1 system is made up of four very important components, including:
The Vibe Board S1 55″, a 4K touchscreen that allows you to present, collaborate, brainstorm, annotate, and host meetings like no TV display or IFPD ever has before
The SmartCam C1, an AI-enabled camera that gives remote workers a crucial window into the huddle room.
Vibe Canvas , Vibe's infinite whiteboard software. Canvas is accessible from any device, including your tablet, smartphone, computer, and of course, your Vibe Board.
The Vibe One App, a smartphone application that makes it easy to sign on to your Board, send materials to teammates with ease, and control Board volume and screen brightness from anywhere in the room.
Vibe in Your Workflow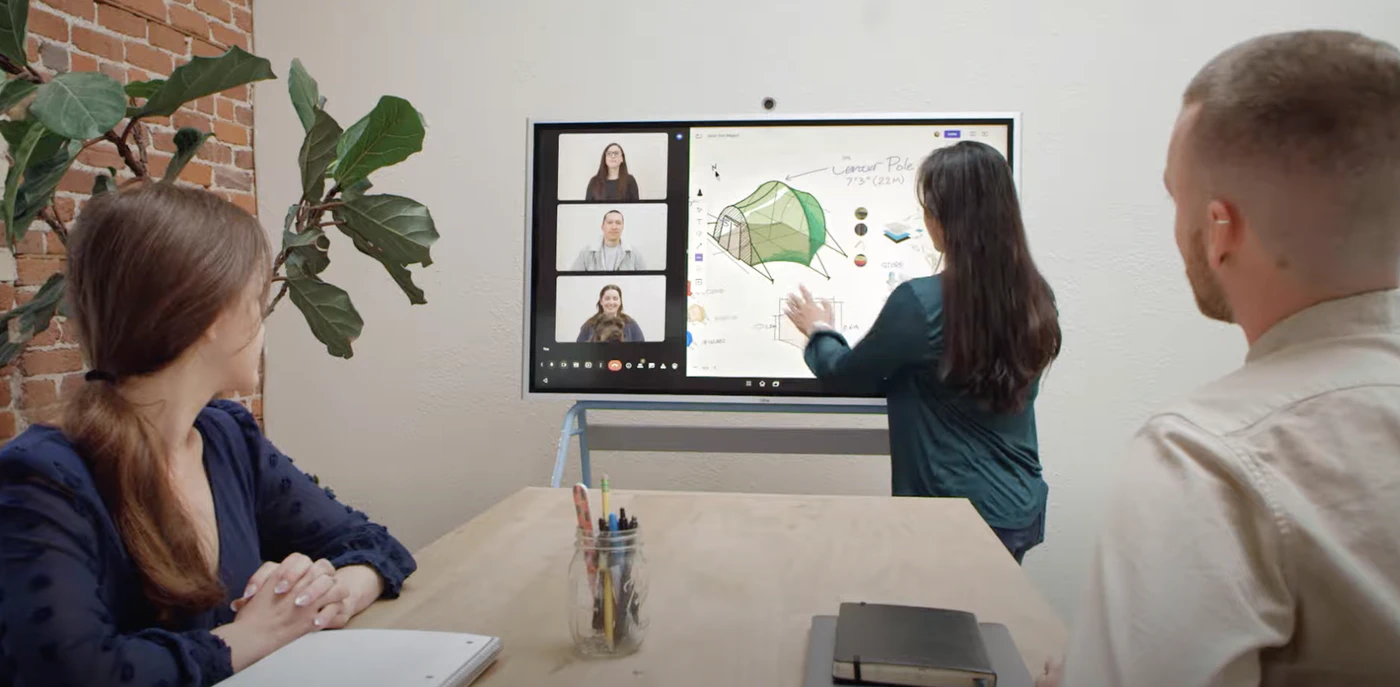 A hybrid meeting conducted on Vibe
One of Vibe's greatest advantages is the way that the system integrates itself into your daily workflow, providing you with access to the information you need at any point in the day, from any device. 
Imagine you are on your commute to work. A new idea pops into your mind that you want to explore with the team later. You open up Vibe Canvas on your tablet, jot down some important notes, and make a few sketches.
Later in the office, you pull up the same Canvas on your Board. There, your entire team can see, even those joining the brainstorming session from home, and add their two cents.
After the meeting, send the updated Canvas out to the team via email or Slack, and delegate next steps.
Your team can enter their thoughts in the Canvas and execute on your original idea. You can even check in on their progress from your smartphone and provide feedback right in Canvas.
All the way down to eventual presentation of your new idea and group review, the Vibe S1 system is your all-in-one tool for collaboration, giving you access to the devices you need for the right job, at the right time.
Getting Started with Vibe's S1 Collaboration Tool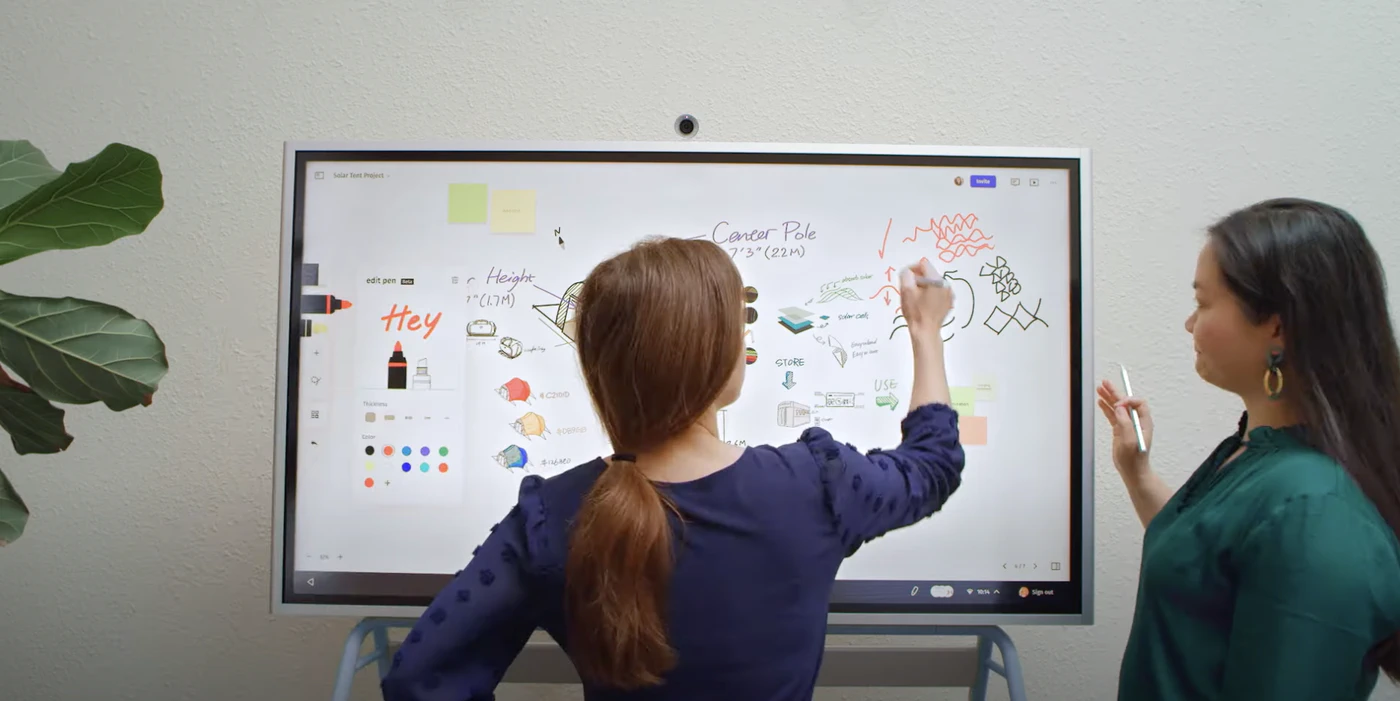 Collaborating on a Vibe Board
With disparate collaboration tools like TV displays, IFPDs, separate cameras, microphones, speakers, and traditional whiteboards, you open the door to technical difficulties. You might have trouble connecting to the huddle room speakers, or trouble getting your screen to share to the TV through an HDMI cord.
Vibe's S1 system is all-in-one , making the user experience as simple as possible. The tools used in the system are all native to one another, and work together fabulously. Compare the cost of Vibe's S1 system to traditional conference room tools here.
Not only is Vibe the best collaboration tool out there for hybrid teams looking to spur team and client communication, it's also affordable. 
The entire system, including the Vibe Board S1, the SmartCam C1, access to Vibe Canvas, the Vibe One App, and a portable stand, all come together at just $3,499. 
See how Vibe could help →
Subscribe to get updates on all things at Vibe
Thank you for subscribing Vibe's blog!