Introducing the Vibe Smart Whiteboard S1, An All-in-One Huddle Room Solution
The modern workspace is undergoing a shift. Employees are returning to the office in droves across the world, even for just a few days a week, and finding a workspace that is certainly familiar, yet somehow vastly out of date after just a couple of years away. The offices that many of us are currently returning to no longer meet the needs of modern work.
Take the conference room, for example. You might walk in to find a TV monitor on the wall, a conference phone system in the center of a long table, maybe a traditional whiteboard, and of course, a mess of wires on the floor. 
But not everyone is working together in the conference room simultaneously—you've likely got colleagues calling in to meetings with you—how can they throw ideas up on the whiteboard? Can they even see the whiteboard? Are they just a disembodied voice playing over a speaker? We need tools that can make it easier to find a good way to collaborate with colleagues on-site and remotely, both synchronously and asynchronously.
Vibe is on a mission to make collaboration easier and more effective. As the world transitions from a fully remote mode to a hybrid mode, the Vibe huddle room system offers a collaborative meeting experience that is unlike any other by bridging the communication gap between those that are on-site and remote.
Meet Vibe
The Vibe huddle room system is made up of four key components:
The 55″ Smart Whiteboard S1
The SmartCam C1
Vibe Canvas
The Vibe One App
55″ Smart Whiteboard S1

Vibe Smart Whiteboard S1
Vibe's new Smart Whiteboard S1 brings the in-person collaboration experience to anyone on the team, even those who are joining remotely.
Built with a 4K 55″ touchscreen and Wi-Fi 6 support, the Smart Whiteboard S1 is your ticket to a seamless hybrid collaboration experience.
Pair your new smart whiteboard with Vibe's sleek portable stand so your huddle room can move anywhere you do.
SmartCam C1

SmartCam C1
The brand new SmartCam C1 is perfect for hybrid teams. Complete with noise cancellation, image enhancement, and auto-framing to fit everyone perfectly on-screen, you'll always look and sound your best.
Vibe Canvas

Vibe Canvas
Ideate, collaborate, and present with Canvas , Vibe's high-powered, cloud-backed whiteboard software.
You'll never need to erase again. Vibe Canvas is an infinite collaboration space that is accessible from any device, instantly saves in the cloud, and is easily shareable to all meeting attendees.
Vibe One App

Vibe One App
The new Vibe One App enables you to manage all of your Vibe devices and files directly from your phone––scan to log in, access your personal calendar, and start meetings with just a tap.
With Vibe One you can pick up right where you left off every time. Scan and save your Vibe Canvases into your personal account, and seamlessly share photos, websites, videos, and files from your mobile device to the Vibe Smart Whiteboard to share with your whole team.
Why Vibe?
Vibe removes the barriers to productivity no matter where you are––it's all about providing the right tools for the right activity in the right environment. Transition from ideation, to group review, to presentation mode all on your Smart Whiteboard, or transition between devices––whether that's your Smart Whiteboard, smartphone, or tablet––using Vibe's cloud-based Canvas. You can also easily transition between environments, be it in the office, at home, or on the go, the S1 system is accessible from anywhere.
Say an idea hits you on your train ride into the office––open up Canvas on your tablet and sketch out some thoughts. Later in the office you can bring up the same Canvas on your Smart Whiteboard and go through a group review process. 
Take notes from that session and make some more detailed edits to your Canvas on your tablet or PC, stay up to date with comments and review from your teammates on your smartphone, and then move to presentation mode back on your Smart Whiteboard for your final audience.
Working with Hybrid Teams

Hybrid meeting conducted over the Vibe S1 system
Hybrid teams are in constant flux. Looking to collaborate among your team with one person in the office? That teammate can man the Smart Whiteboard while the rest of the team joins over Zoom and interacts in real time with the Canvas.
Multiple teammates in the office? The Smart Whiteboard S1 has room for multiple people to collaborate simultaneously.
The same goes for client-facing professionals. Running a sales pitch or demo for a remote or in-person audience is easy on the Smart Whiteboard, and the SmartCam C1 keeps your video and sound quality crystal clear for those that aren't able to join in-person.
Vibe Innovates
There is nothing else quite like the Vibe S1 huddle room solution on the market today. Forget the mess of disparate collaboration tools and wires from your office of yesteryear. Vibe S1 is an all-in-one solution designed to bridge the gap between on-site and remote employees, in-office and at home work, and all of the various devices that you work on throughout the day.
Plus, it's affordable, with the entire system, including the Smart Whiteboard S1, SmartCam C1, Vibe Canvas, Vibe One app, and a portable stand all bundling together for just $3,599.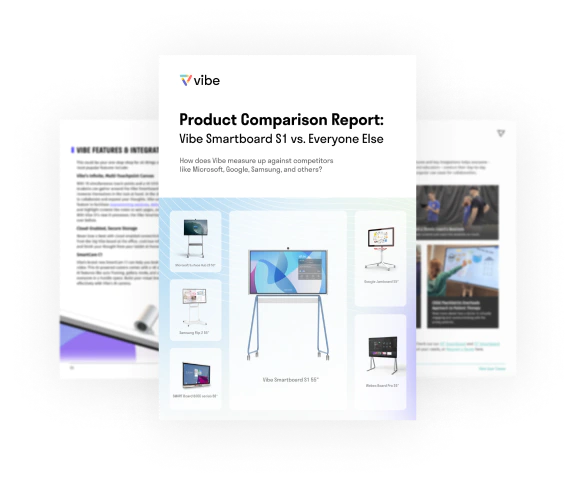 See How Vibe Stacks Up
Against Everyone Else
Bring It All Together
With these tools in hand, your huddle room will be set up perfectly for the hybrid working style that so many organizations are adopting today. Let's take a look at just a few ways the Vibe S1 system can help you and your team achieve top-notch collaboration and communication.
Thinking Big
Big ideas require a big workspace. Hunched over a computer is no way to ideate or brainstorm—it's not conducive to generating ideas, or to good spinal health. Think big with your team on a 55″ limitless whiteboard space that everyone can see, whether they're in the room or not. 
Vibe is built for brainstorming. Vibe Canvas has a wealth of different pens, brushes, colors, and settings to help you plan your next steps.
Canvas also comes pre-loaded with a suite of Templates to help you get the brainstorming session started. Use the Mind Mapping Template to help you connect the dots and organize your notes, or use the Fishbone Diagram to lead discussions on problems your team is facing and how you can work to solve them.
No idea is too big for the Vibe S1.
Kick Boring Presentations to the Curb
Not that your presentations were ever boring! But Vibe can help make them a lot more engaging than ever before.
Either pull your presentation into Canvas and present in Presentation Mode, or open up the PowerPoint or Google Slides application in the Vibe App Store . The interactivity of Vibe can take any old slide deck and make it a living, breathing document.
Use the touch stylus to annotate over your presentation as you go, circling key information, or using the Laser Pointer feature to momentarily highlight information you want to stand out.
You can also splitscreen with a web browser or YouTube and bring in images, videos, or any other media during your presentation to help keep your audience engaged. Or, you can split screen with your video conferencing app to ensure you're always able to see your audience, no matter where they're tuning in from.
Training & Coaching
The S1 system is the perfect tool for trainers, coaches, consultants, etc. who need to make an impression on their clients. 

Vibe Templates
Create a plan with your clients in Canvas. Use Templates like the Decision Tree or Problem Statement Template to help lead the conversation and create a plan of action. Go over potential roadblocks and think through how both you and your client can work to mitigate these blocks. When you're done, instantly share your planning Canvas with your client so that they're able to refer back to your notes. No more painstakingly re-organizing notes from a planning session into a document or email to send around afterwards.
Even athletic coaches can make use of the S1 system. Use the Basketball Court Template or create a Custom Template to design plays; circle and annotate on top of match videos, record athletes and play back video on the big screen to show areas of improvement in form or technique; and create a practice schedule on the big screen so everyone is on the same page.
Spark Student Engagement

Vibe used in classrooms
Whether for K-12 or higher education, the Vibe S1 system is your new tool for creating an engaging learning environment. 
Create a lesson plan and present on Canvas, use Templates to lead a class discussion, and save your most productive or successful lesson plans to the cloud for later use.
Hybrid learning isn't heading anywhere in higher education. Luckily, Vibe is also an excellent tool for student communication, especially when classes are a mix of both in-person and remote students. Email a Canvas to your students and open up the Zoom app to host your class online; your SmartCam C1 will let students see you gesturing while writing on the whiteboard. Post assignments on the Canvas, or encourage students to discuss class topics with one another on Vibe's limitless Canvas.
These are just a few key Vibe use cases for the new S1 system. Vibe users are unlocking new use cases every day, and we're excited to see how you Vibe !
Let's Get Started

Vibe customer testimonial
The Vibe S1 all-in-one huddle room solution launches June 1st! We will be holding a 10% Off Early Bird Sale for the month of June. Originally $3,599, early birds will be able to bundle the Smart Whiteboard S1, SmartCam C1, access to Vibe One and Vibe Canvas, and a portable stand for just $3,239. 
Order yours directly from our website, and come Vibe with us.
See how Vibe could help →
Subscribe to get updates on all things at Vibe
Thank you for subscribing Vibe's blog!