Benefits of the Hybrid Work Model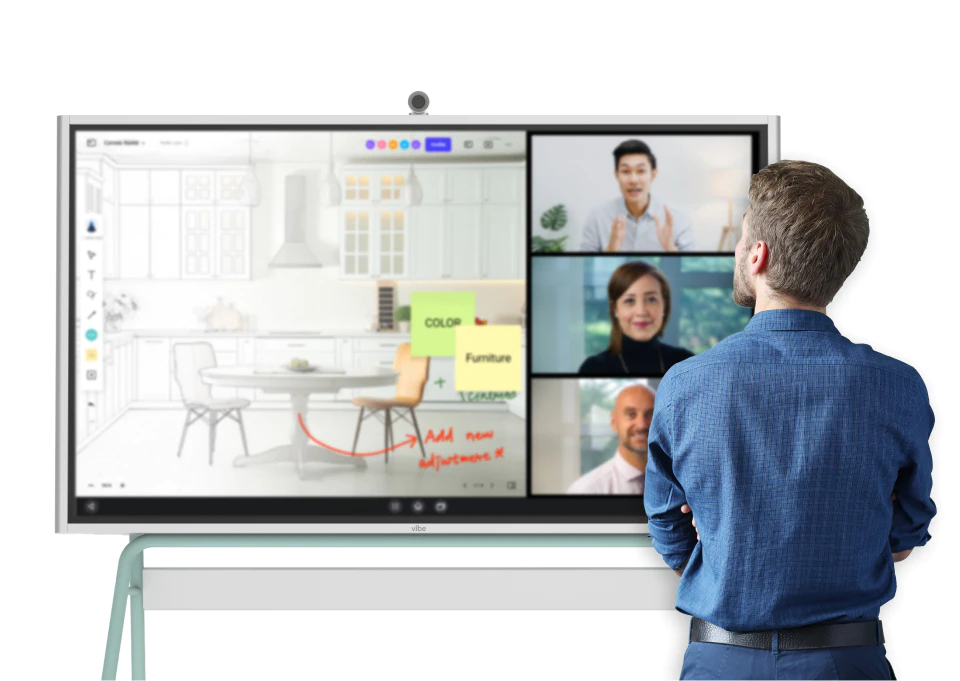 Over the past few years, organizations across the globe have had to reevaluate the environment of their workplace and put new job practices—like exploring the benefits of a hybrid work model—to the test.
Today, the hybrid model has replaced the traditional full-time office approach, resulting in a significant shift in how organizations manage their operations, employees, and customers. Before you rush into a hybrid work model, however, your business should make sure you understand not only the benefits of the hybrid work model, but also the challenges that come with the territory.
Let's explore how to get the most out of the hybrid work model and what steps you can take to mitigate any associated risks. 
What Is a Hybrid Work Model?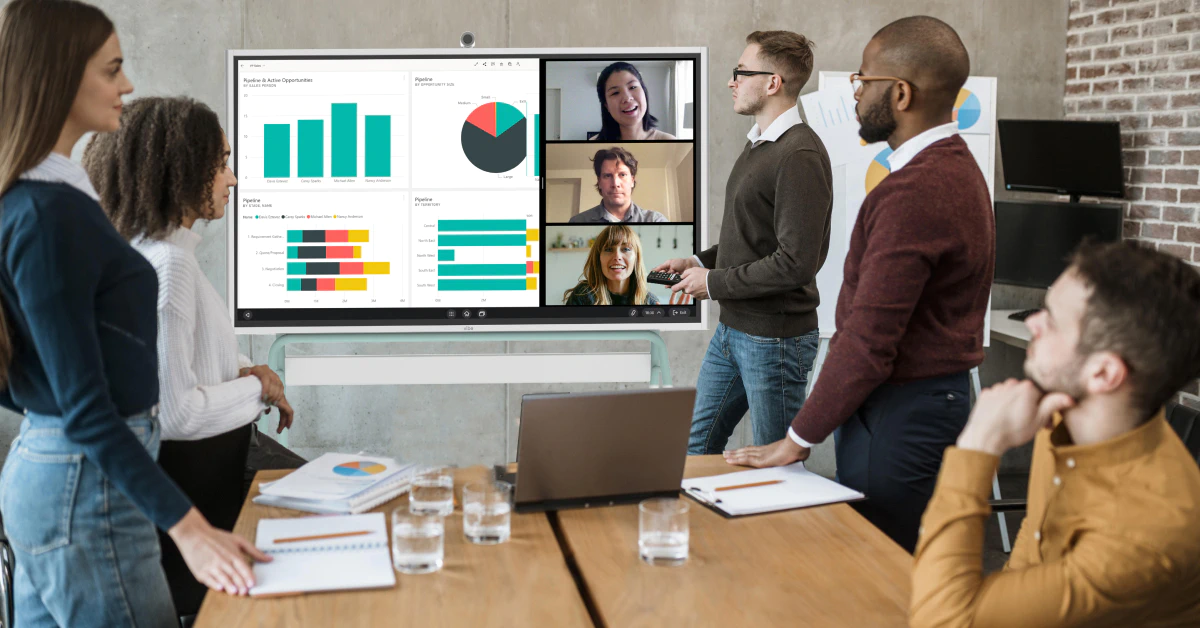 A hybrid working style is one in which employees can work from home and from the office across the week. It's important to note that this isn't a strict model or a one-size-fits-all approach to follow. Every person works differently, and works best in different environments. Companies may have some staff working virtually, some workers on a site, and accept a balance of virtual and in-office work for many others. That being said, some businesses insist their employees maintain a specific balance of time spent working from home and in the office. Regardless of the strategy, adopting this approach can help teams realize the real benefits of a hybrid work model.
Benefits Of A Hybrid Work Model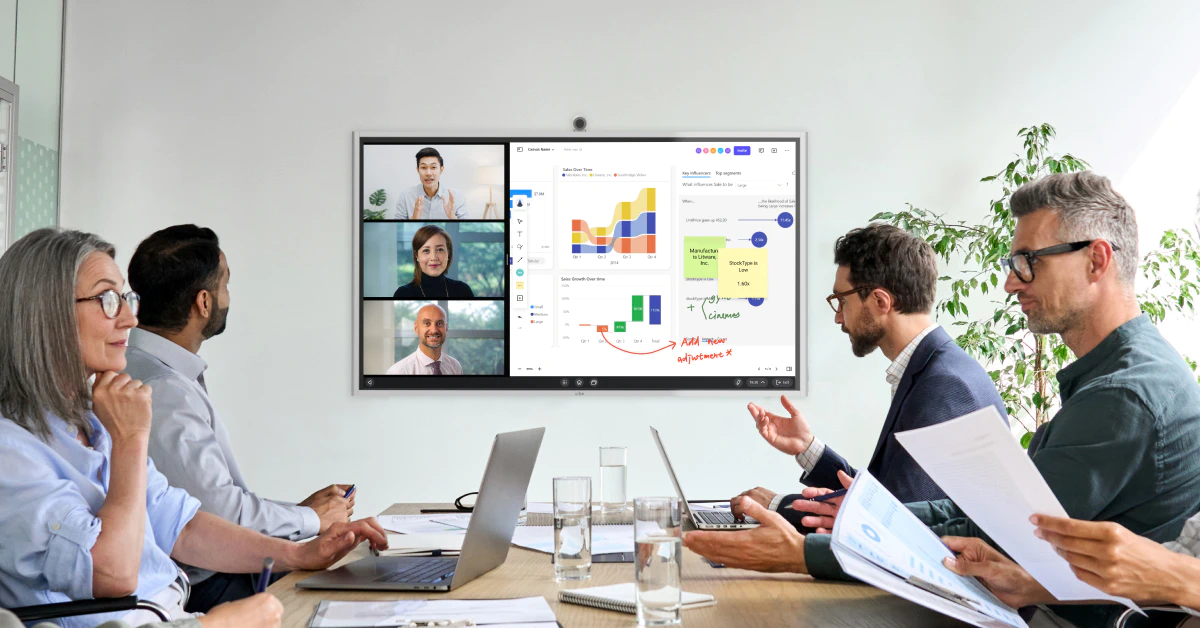 Employee Satisfaction and Engagement
Most people make choices for themselves primarily based on what they believe will bring them the greatest level of contentment, convenience, and efficiency. Many employees feel more empowered when given the option to work either on-site or from the comfort of their own homes.
This agency and choice is one of the biggest benefits of a hybrid work model; it allows workers to decide for themselves which days they'll report on-site and which days they'll work from a home office or coffee shop. This adaptability results in a greater involvement in group work and increased satisfaction with one's work-life balance.
With employees who feel engaged and excited about work, productivity can soar, and companies can see boosted revenue as a result. In addition, studies have shown that employees who are satisfied in their jobs are more likely to remain in the company. By giving employees the freedom and flexibility of a hybrid work model, you can improve employee retention and business success.
Enhanced Company Culture
CEOs have spent years cultivating on-site corporate culture—and whether or not a hybrid model will damage that culture is a big concern for them. In fact, one in five executives believe that regular attendance at work is necessary for employees to continue contributing to a positive culture at the organization. However, this might not be true.
As we've covered, giving workers control over their hybrid work schedule is a great motivator. Because workers can split their time between working from home and in the office, they are more likely to arrive at work energized and ready to contribute positively to the organization's values and principles.
For instance, workers can better focus on tasks that require specific and intense attention when working remotely. Even if they work from home a majority of the time, they're still welcome to participate in large team gatherings, relationship-building activities, and other company-wide events when they are held in the workplace. With a hybrid work model, it's not an all or nothing deal. To make sure employees are committed to the workplace and their own work set-up, you can also provide training for hybrid employees .
Boosted Productivity
With a hybrid work model, flexible work schedules mean fewer employees are physically present at the office on any specific day. As a result, your workplace will rarely be at full capacity, making the office space far less congested. With more space, you can curate a more practical layout for any employees who are present more regularly.
For instance, you do not have to clog up your office with many allocated desks, most of which will go unused. You might provide alternatives for hot desking, which enables those who come into the workplace on a particular day to have a specific place to work. With all that extra space, you can increase the number of intentional working zones by providing additional comfy chairs, phone booths for one-on-one discussions, and peaceful areas for anyone who needs a quick break.
By practicing efficient space management, you can prevent the company's atmosphere from feeling either too busy or too vacant. Because on-site staff will be aware of where to go for scheduled focus time or informal coffee discussions, the office environment will be transformed into one that is more purposeful and efficient.
Reduced Costs
Another fantastic benefit of a hybrid work model is how cost-effective it is. With a hybrid workforce, your office won't require as many workstations, laptops, scanners, or other office equipment, and you may even find that your monthly utility costs go down as a result.
By shifting to a hybrid model, businesses, particularly those in expensive metropolitan regions, can save hundreds of thousands of dollars annually on real estate costs. 56% of business leaders predict that they will save money due to minimizing their office's physical footprints.
The financial well-being of your workforce might also benefit from hybrid work arrangements. They'll have less money to spend on their morning commute or daily coffee stops.
Better Mental Health
One in five people feels that their company does not care about how they balance their professional and personal lives.
Even if life and career are in total alignment, maintaining a strong work-life balance is an essential component of any healthy workplace. The emotional impact of the hybrid work model makes it possible for employees to balance their personal and professional lives in a manner that benefits them individually. This helps avoid burnout while also lowering stress levels.
Work performed entirely apart from other people eliminates most opportunities for social interaction, which can negatively impact the mental health of your workforce. As a result, it's necessary to make opportunities that improve communication and contribute to mental health—even something as simple as one in-office event a week. 
While considering these hybrid pros and cons, don't forget about the power of team-building. Meeting on a flexible schedule with your team can reinforce the connections that are essential to the success of teams. Leaders can create and enable environments that promote teamwork and communication to take their organization to the next level of efficiency—if it's organized thoughtfully and effectively.
Benefits of a Hybrid Work Model: How a Smart Whiteboard Can Help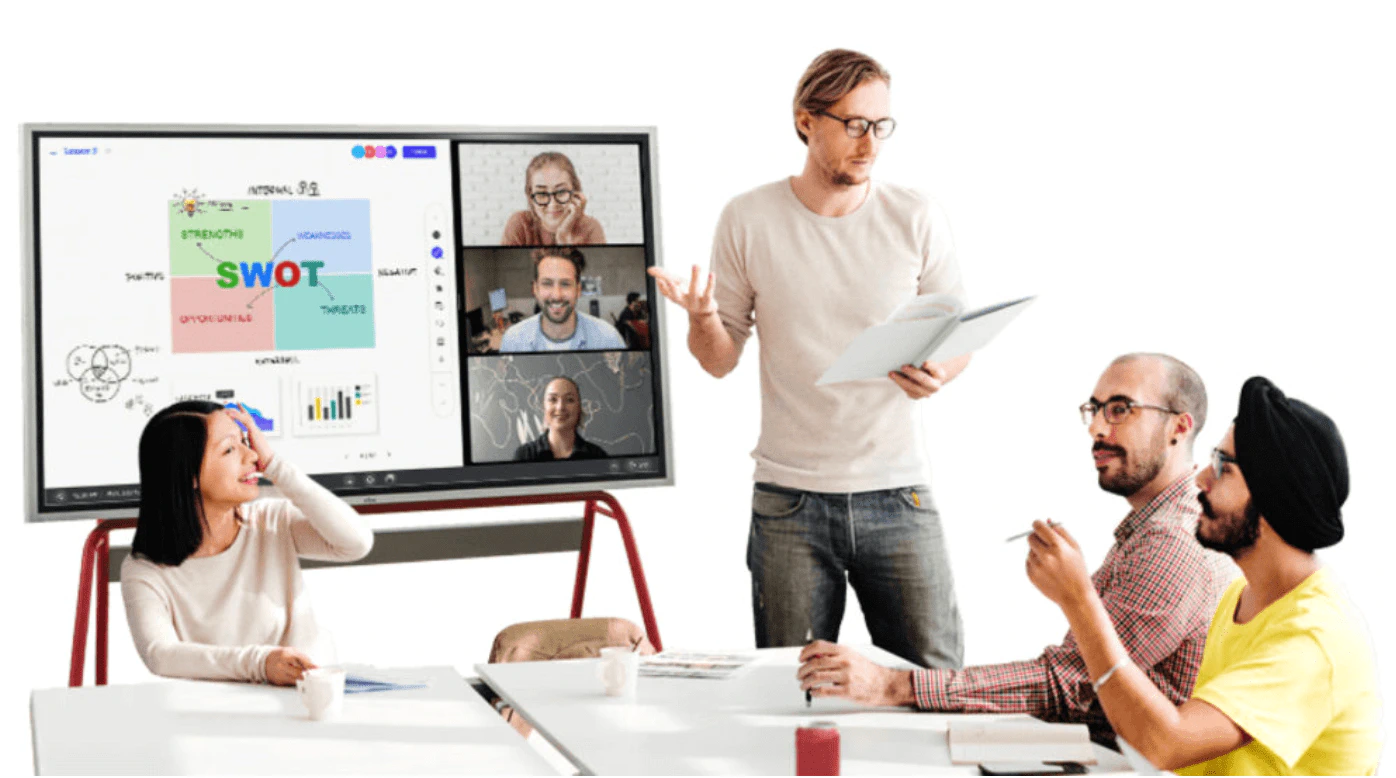 Smart whiteboards are a fantastic fit for a hybrid work model. In fact, smart whiteboards that support hybrid collaboration have rapidly become indispensable for workgroups. Not only do these interactive whiteboards make virtual meetings easier, but they also make them more engaging and interesting—an essential for remote teams working across locations.
In this day and age, having smart whiteboards for business is an absolute must. The days of using pagers, photocopiers, and snail mail are long behind us. Right now, there's never a pause in the data flow. It's crucial to use all of the latest and greatest technologies available to save on time, resources, and costs.
Smart whiteboards, like the Vibe Board , are great resources since they make it possible to communicate with your hybrid team in real-time, so you can enjoy all the benefits of a hybrid work model even more.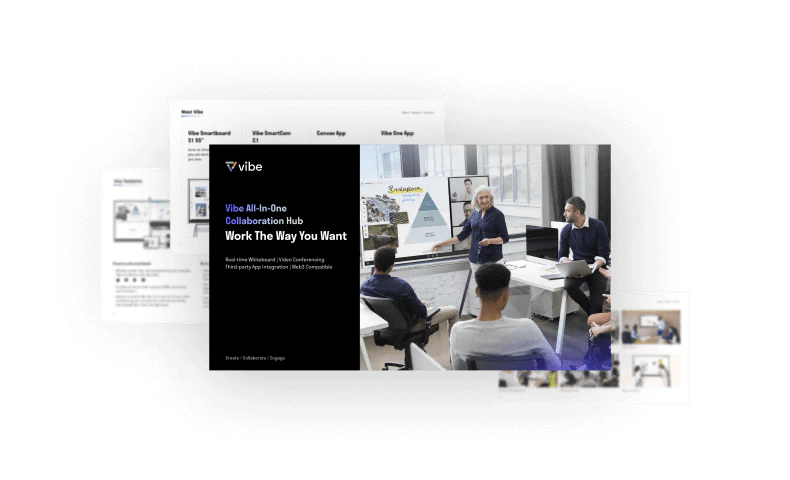 Explore Vibe's All-in-One
Collaboration Hub
FAQs
Does hybrid working increase production?
Studies have shown that a hybrid work model can boost productivity due to more effective processes, more flexible schedules, and more productivity. 
Why do employees want hybrid work?
Hybrid work provides a variety of advantages to employees, including better work-life balance, a greater focus and flexibility, and more time for friends and loved ones. It saves daily commute time and expenses, sparks team building, and results in greater levels of employee enthusiasm. 
Is hybrid work good for a business?
Businesses are seeing rapid improvements to productivity, efficiency, and costs when adopting a hybrid work model. Not only does it improve employees' work-life balance by providing greater flexibility in how and where they perform their jobs, it makes the entire office more productive and eager to contribute to the team—which means teams can get to their best work, faster.
See how Vibe could help →
Subscribe to get updates on all things at Vibe
Thank you for subscribing Vibe's blog!