Hybrid Work Model: Is There an Emotional Impact?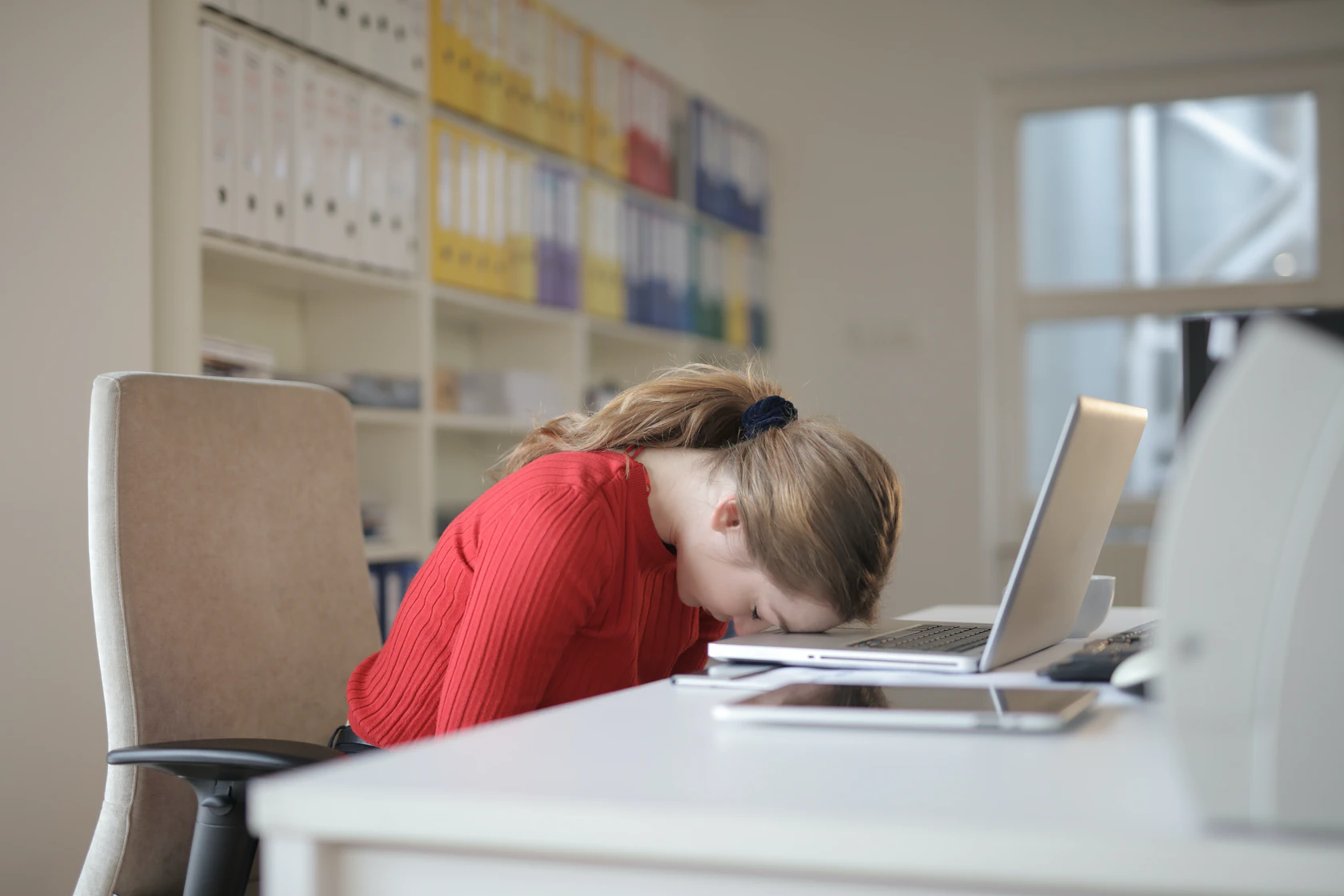 The hybrid work model has been having a moment for quite some time. It's often referred to as "the future of work," and both employers and employees are looking favorably toward the new normal, where workers have greater flexibility to split their work time between home and the office.
In fact, one Gallup survey found that more than half of employees said they'd prefer splitting their time between remote and in-person work. Many businesses have already scrapped full return-to-work plans in favor of hybrid models.
But just because hybrid work is the most popular option doesn't mean there aren't challenges.
Here's a closer look at some of the unforeseen impacts facing hybrid workers and a few tips for keeping your team energized and connected.
5 Ways the Hybrid Work Model is Emotionally Impacting Employees
In many ways, the workplace is still undergoing massive transformation. The abrupt transition to remote work in 2020 required workplaces to rapidly rethink their policies, and reconfiguring to a hybrid work setup has been just as complex a process.
According to a McKinsey report , "a hybrid work model is more complicated than a fully remote one. At scale, using it will be an unprecedented event in which all kinds of norms that have been accepted practice for decades will be put to the test."
For many employees, the benefits of working remotely outweigh the challenges. While flexibility has been the main driver behind the preference for remote work, there's no denying that collaboration and connection among virtual teams can be a challenge. Naturally, a hybrid work model seems like a logical solution.
Employees who miss face-to-face interaction have the ability to rekindle relationships and teams can collaborate freely in person once again — like the old days!  However, recent results from TINYpulse's State of Employee Engagement report found that hybrid work is the most emotionally exhausting arrangement for employees. 
For some employees, the transition to hybrid work marks the third type of workplace model they've adapted to within the span of only a few years. From 100% in person to 100% remote, many employees are now transitioning to hybrid work for the first time.   
From coworking spaces to hot desking, businesses have made all kinds of changes to ease the transition to a hybrid arrangement. For the average employee, though, adjusting to hybrid work is taking an emotional toll, leaving them feeling exhausted and burnt out. In the TINYpulse report, roughly one third of HR leaders and employees in a hybrid setup reported feelings of burnout or languishing . 
Here's a closer look at what's contributing to the emotional distress.
New Model, New Office
Hot desking is one of the newest trends in office design, involving a temporary workstation that employees can reserve when they plan to be in the office. Ideal for offices with hybrid models, hot desking can be a cost-saving alternative to traditional assigned seating. Hot desking is not without its challenges. Without strategic planning, ensuring workstations have the appropriate connections and devices can present serious challenges for businesses and employees who show up to work only to find they don't have the access or the equipment required to do their job. 
To focus more on social interaction and collaboration, many workplaces are also shifting away from private offices toward open-concept layouts or casual settings. Think large coffee-shop style cafes, intimate lounges, and outdoor terraces.
While these options can be effective, it can be difficult for employees to find a sense of routine in these less permanent workstations. And many of these layouts lack traditional office-style equipment, such as functional chairs or dedicated places to store belongings.
Shifting Health and Safety Protocols
COVID-19 restrictions are prone to rapidly change, forcing businesses to react quickly and shift health and safety protocols accordingly. For some employees, a sudden uptick in cases can mean they're still required to work from the office, but with more restrictions on masking and movement. For others, changing case counts makes the day-to-day more unpredictable.
Even hybrid work doesn't mean everyone is back in the office at the same time. Tools like instant messaging and video conferencing are still part of every employee's day-to-day. As the Washington Post points out, many employees struggle to see the value in working in person when COVID-19 restrictions and at-home coworkers mean they're on Zoom calls all day, from the office.
Things get even more complicated for employees who are in open-office settings. For example, two employees who are on a video call at the same time with their microphones enabled might experience a distracting echo-like sound that can only be solved by one person turning their microphone off. 
Sensory Overload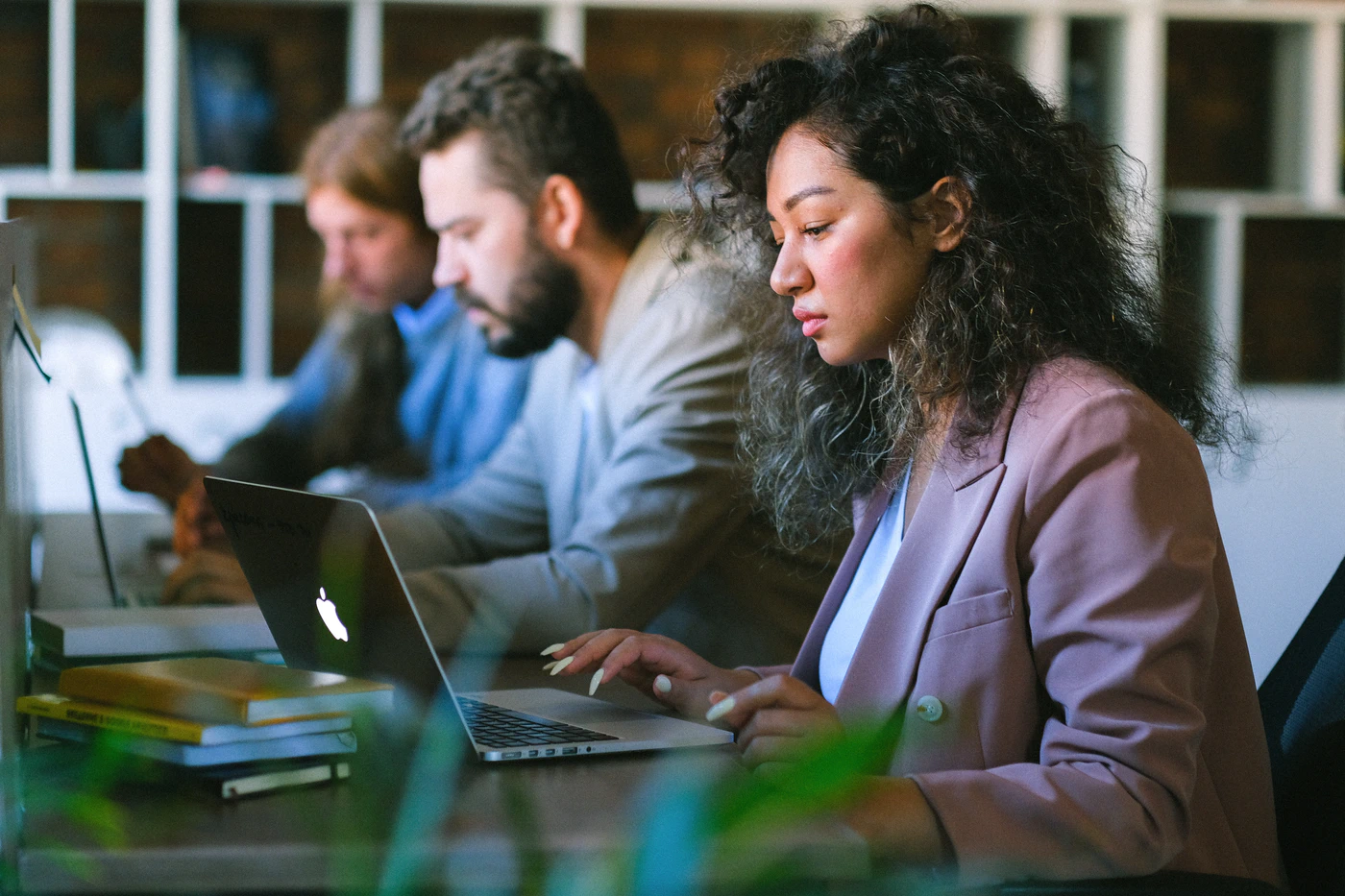 loud offices can now feel more distracting than ever
For some, the quiet, uninterrupted silence of the home office is one of the things that makes remote work so ideal. After more than a year of working relatively undisturbed, returning to a bustling office can cause sensory overload. According to a recent TED piece , suddenly being around a lot of people again could even register as a shock.
Additionally, casually catching up with a co-worker might not be the same as it was pre-pandemic. The last few years have brought unimaginable experiences for many people. While some may be excited to get back to work and strike up a conversation, others may find it emotionally exhausting to manage work responsibilities alongside grief, stress, and fear.
The Return of the Commute
Many employees were happy to trade long commutes for more family time, not to mention the cost savings associated with the absence of commuting costs such as gas, public transportation, and parking. Hybrid work can cause financial stress for families trying to re-budget for transportation costs.
Parents in particular have been particularly in favor of ditching long commutes when it comes to things like being able to better manage household responsibilities. According to a recent FlexJobs survey , nearly 40% of parents said they prefer a hybrid work model. Parents said they'd work more hours or even give up some vacation time to keep the remote option.
Hybrid work models make it difficult to settle into routines because lengthy commutes cause families to feel overwhelmed on "office days" when they are still trying to manage things like bedtime, drop-offs, or childcare pickup. 
Two-Tiered Anxiety
One of the most emotionally exhausting challenges weighing on hybrid employees is FOMO. Yes, the fear of missing out. In a hybrid setup, not all individuals are in the office on the same day, which means they often aren't present for the spur-of-the-moment brainstorm in the break room over coffee.
Simply put, the lack of face-to-face interaction has been a challenge for virtual workers since remote work was first mandated. But as it's slowly returning, managing the connection between employees (both socially and professionally) is perhaps even more of a challenge as individuals begin to feel like the workplace is separating into two tiers. 
A recent article in Harvard Business Review sums up the challenge: "Hybrid working risks creating a "dominant class" of those who feel like they're central to the organization and strongly committed to it and an 'underclass' of those who feel peripheral and disconnected not only from the work, but also from the social life that creates meaning and bonds employees more closely to the organization."
When employees feel excluded or out of the loop, they can quickly lose interest in participating in team collaboration and disengage. According to a survey by the Anxiety and Depression Association of America , 56% of employees have said anxiety affects their performance in the workplace, with 51% saying it also affects their relationships with coworkers and peers.  
How Vibe Can Help Hybrid Work Models Work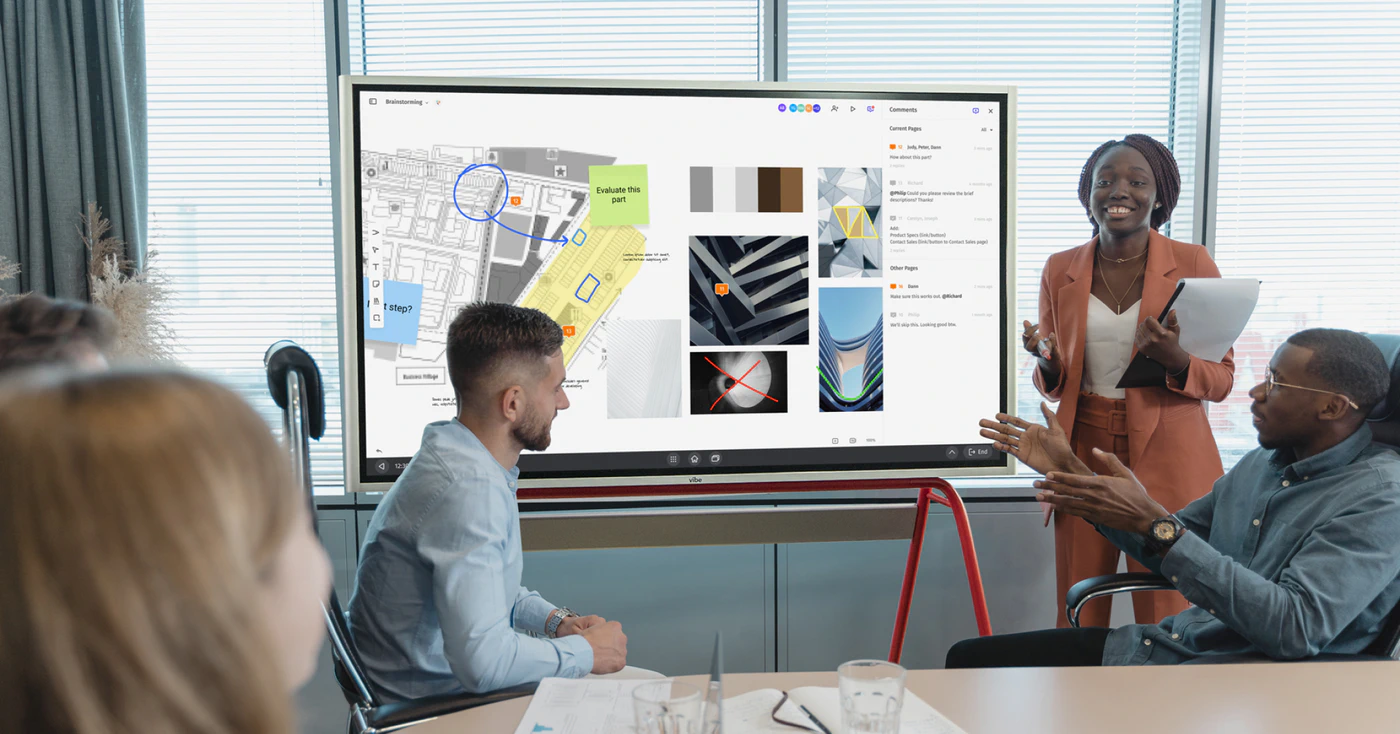 collaborating on a Vibe Smart Whiteboard
Here's the thing: A hybrid work model doesn't have to be emotionally exhausting.
As McKinsey notes, a truly effective hybrid operating model could take years to test, refine and get right. With the right tools and strategic planning, it's possible to create an inclusive environment where collaboration thrives and your employees feel motivated.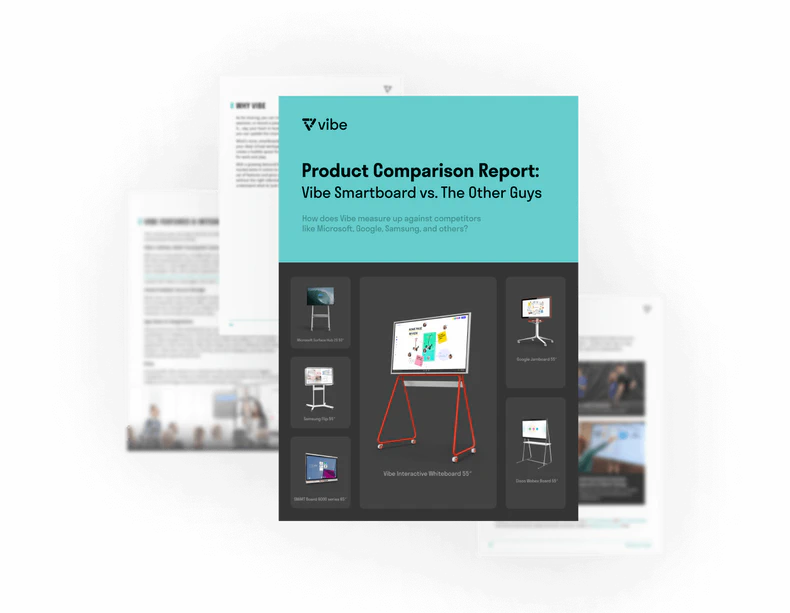 Check Out Our New Smartboard
Product Comparison Report
Here are four ways a Vibe Smart Whiteboard can help supercharge your hybrid setup. 
All users can access the Vibe canvas from any device. Whether you prefer a PC at home but have access to a Mac at the office, there are no issues with connecting to servers or updates saving to a single device.
For users on the go, Vibe is also accessible on mobile devices such as smartphones and tablets. Have a great idea over coffee in the cafe? It's quick and easy to communicate with the whole team.
Vibe can also be manipulated simultaneously by many different users. For example, those who are working from home won't feel out of the loop when that great idea comes up over coffee. In fact, they can join in and collaborate in real-time, from anywhere.
Vibe makes synchronous collaboration possible across offices and time zones. Vibe Canvas is a cloud-based software, so everything updates seamlessly.
Ultimately, Vibe brings in-office collaboration and communication to you, where you are. Want to learn more? Find out how Vibe can help you take hybrid collaboration to the next level in this quick demo.
See how Vibe could help →
Subscribe to get updates on all things at Vibe
Thank you for subscribing Vibe's blog!