Comparing Interactive Whiteboards vs. the Vibe Board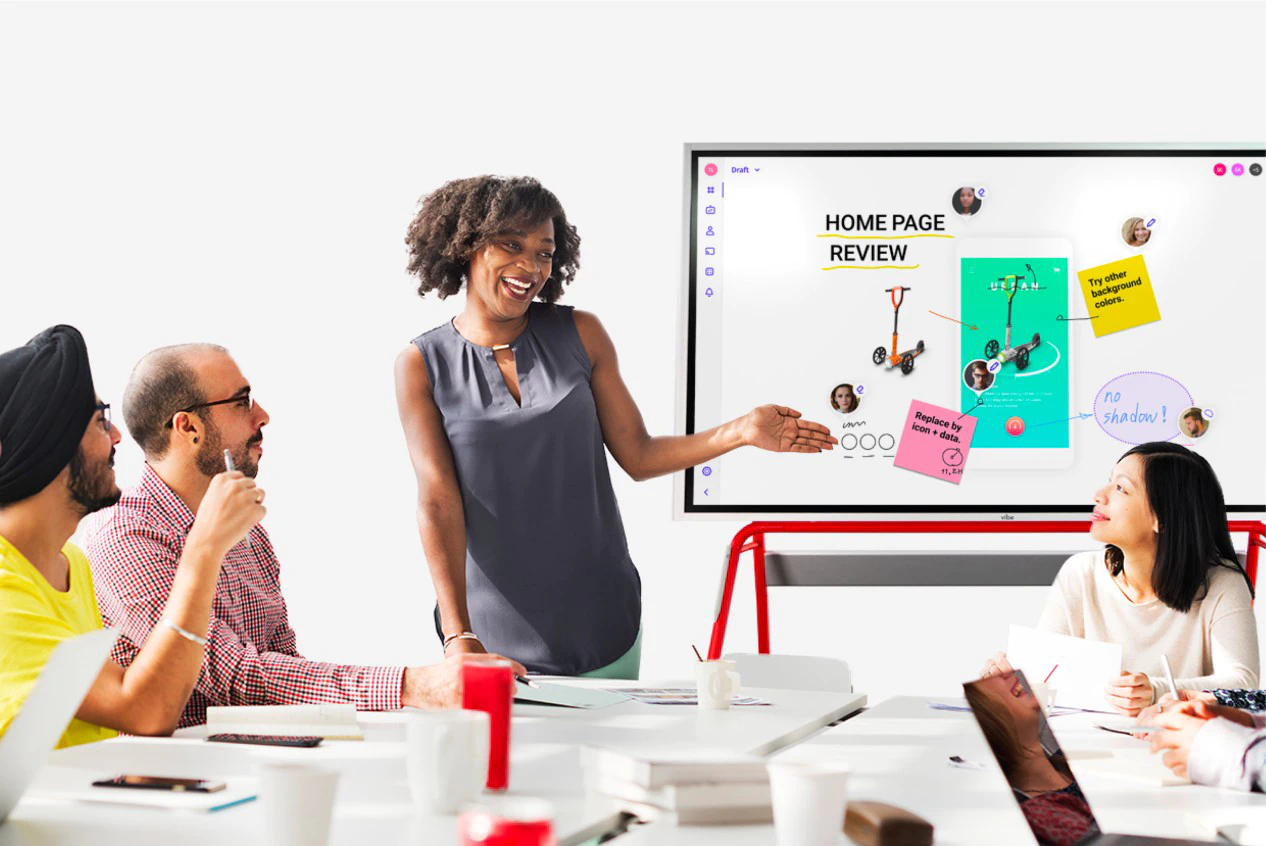 You've heard about interactive whiteboards (sometimes called Interactive Flat Panel Displays, or IFPDs) and you've heard about the Vibe Board . So, what exactly is the difference between the two?
In this blog, we'll explore what sets the two apart, breaking it down by hardware, software, key features, notable capabilities, and more. 
Let's get started.
What Is An Interactive Whiteboard?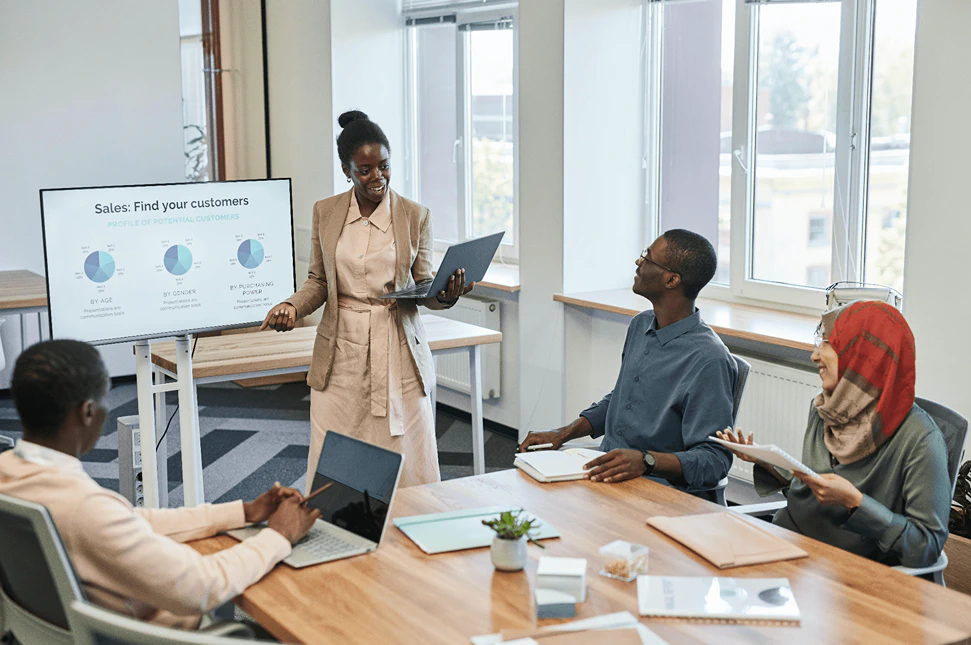 Interactive whiteboards have made their way into home offices, classrooms, lecture halls, and conference rooms. They've become the standard for collaborative environments and are a cornerstone for both modern work and learning. But what exactly is an interactive whiteboard , and how does it work?
Interactive whiteboards are digital whiteboards. They have large touchscreen displays that allow you to write and draw on the screen using a stylus, just as you would write on a whiteboard with a marker or draw on a blackboard with chalk. Both traditional whiteboards and interactive whiteboards have the same basic functionality: they provide a place for you to draw diagrams, brainstorm ideas, write freely, and think creatively—whether you're working with a team or working solo.
What really sets interactive whiteboards apart from a traditional whiteboard is the added digital component and its ability to offer two things: more (virtual) board space and well-preserved notes. Unlike the traditional whiteboard, where you're confined to the board space and have to erase your notes before the next meeting or class session, interactive whiteboards allow you to save your work in the cloud, so you can share and archive your work with automatic ease.
Interactive whiteboards also offer the opportunity to seamlessly pull in outside resources. Forget the projector; with an interactive whiteboard, you can use HDMI ports and screencasting to connect devices to the board. Now, you can get content up on the big screen without having to call in IT (or deal with a mess of cables).
As you can see, the advantages of using interactive whiteboards are clear—yet many of these boards miss a few key features.
What Interactive Whiteboards are Missing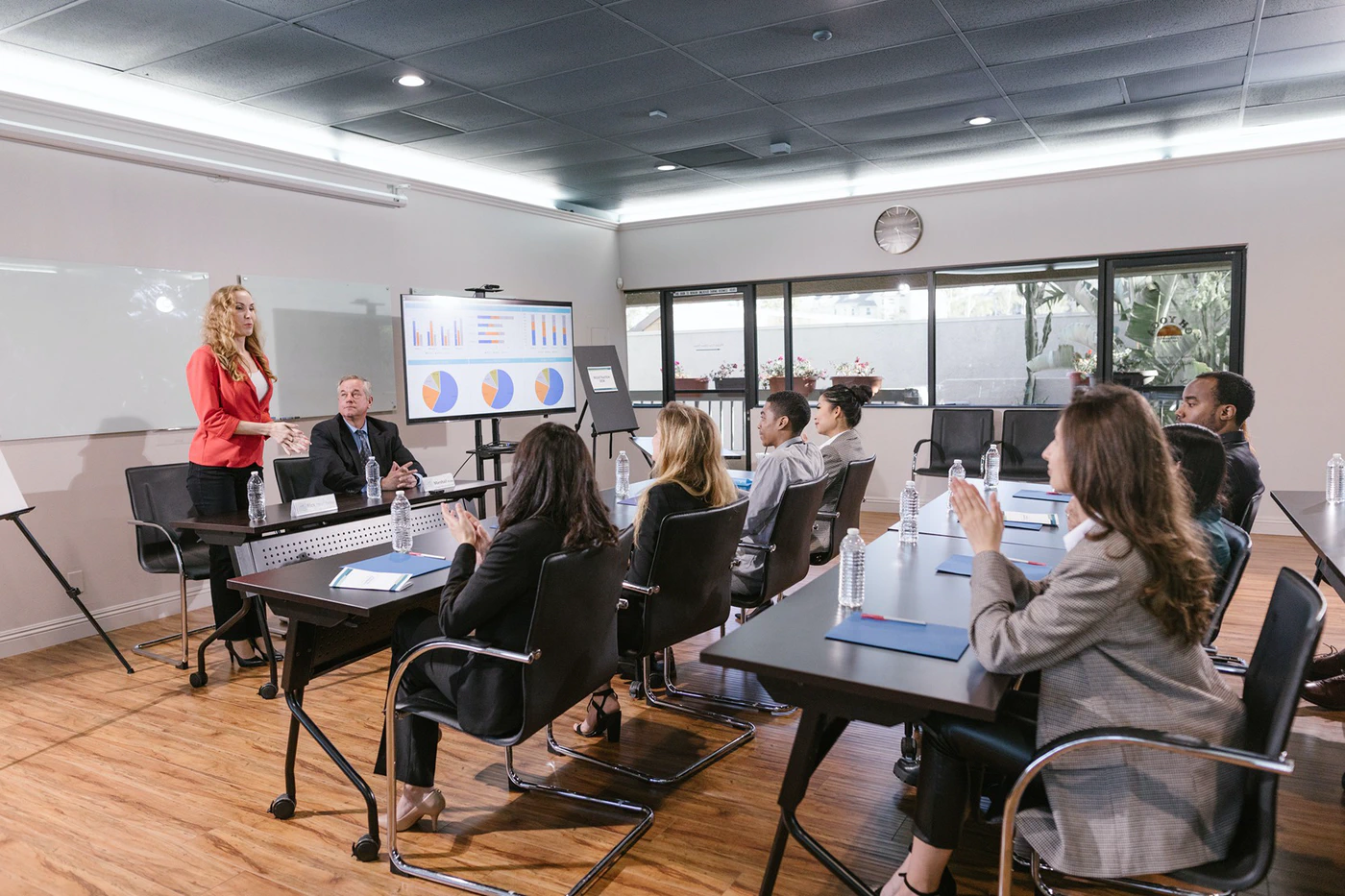 While interactive whiteboards have brought meetings and note-taking into the modern age, there's still some hang-ups. There are some key capabilities the average interactive whiteboard overlooks.
While interactive whiteboards are great for solo brainstorming, they don't offer that much user interaction or collaboration. Just like a traditional whiteboard, these boards are still limited to the rooms they're in. The only people who can contribute are those in the same room—a work model that may have worked in the past, but isn't compatible with the hybrid reality of many classrooms and offices today.
As more and more offices turn to huddle room solutions and more casual meetings, work tools and solutions should be as flexible as you are. Unfortunately, many interactive whiteboards are stuck with stationary mounts that can't be moved.
Similarly, many interactive whiteboards face the same size limitations as the traditional blackboard. If you're in the middle of a brainstorming session with your team, the last thing you need is to run out of board space. In fact, some interactive whiteboards have even smaller dimensions than standard blackboards, or don't offer more than one space to write (lacking multiple boards or infinite writing space). 
This brings us to the biggest issue of all: the interactive whiteboard is largely limited to the interactive whiteboard software that comes with it. If your board comes with some basic software, then your experience may be more similar to using a traditional whiteboard with markers and erasers.
How a Vibe Board Fills in the Gaps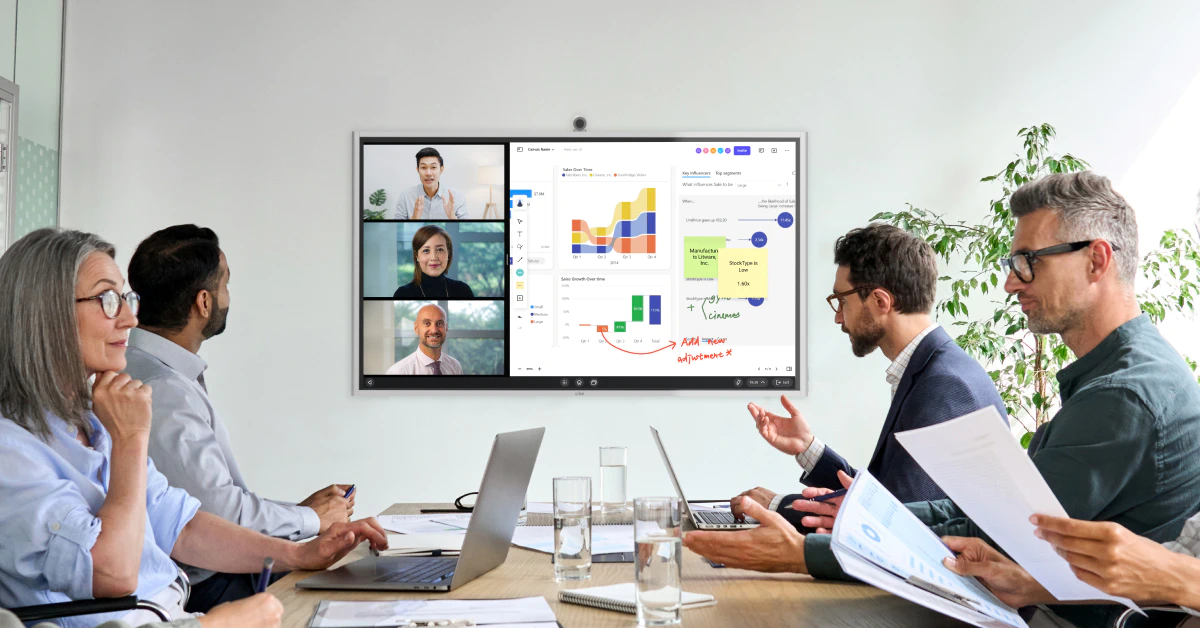 An Entire Ecosystem
Looking for an interactive whiteboard that solves these common oversights? Meet Vibe. The Vibe Board is more than an interactive whiteboard—it's a complete ecosystem consisting of both hardware and software . The all-in-one system includes the digital whiteboard, a portable stand, an AI camera, microphone, speakers, and innovative styluses. There's even the Board's mobile companion app, Vibe One, to help you stay organized and access your work on the go. With Vibe, you get the whole picture.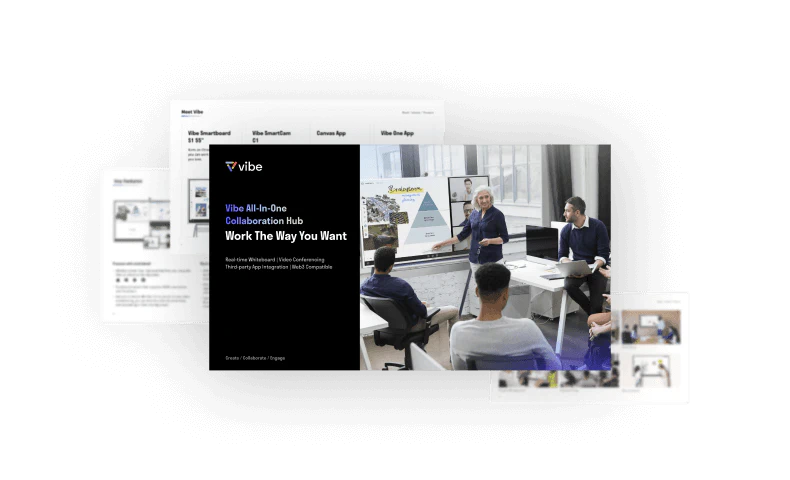 8 Factors to Consider Before
Purchasing a Smartboard
Simple Set-Up
Setting up a Vibe is easy. Unlike traditional whiteboard/projector set-ups or the majority of interactive whiteboards, you can leave the tangled cords and messy wires in the past. To get started with a Vibe Board, all you need to do is plug it in, connect to WiFi, and you're ready to go. 
Thinking Big (Screen)
Not only does the Vibe Board come in two sizes (with 55- and 75-inch screens), it also boasts an infinite canvas. With a bigger screen and an endless writing space, you can bring big ideas to life and learn without limits. Even better, you can use split screen mode to pull up YouTube, Zoom, Chrome, or any of Vibe's third-party app integrations and annotation mode to mark up your screen—so you can make lessons more immersive and meetings more productive. And get this: the Vibe Board has a portable stand with four lockable wheels. That means you can take your brainstorming session all the way from your own private office to the big conference room without a problem.
Captivating Collaboration
Unlike the standard interactive whiteboard, the Vibe Board allows multiple people to access and use the board from other locations and devices. With the Canvas app , Vibe's cloud-based software for online whiteboarding, meeting attendees can add notes to the board from their own seats during a conference, and students can participate in class even if they're learning remotely. That's because the Canvas app is available from anywhere and on any device, whether you work from the Vibe Board itself, your laptop, your phone, or your tablet. With this multi-device support, the whole team can engage in a collaborative experience to take notes, annotate content, and share screens.
Since Canvas is cloud-based, your work is automatically saved in the cloud and can be pulled up instantly so you can jump in right where you left off, share your notes with any team members who missed the meeting, or review meeting notes after the fact.
The Affordable Option
Here's the thing: interactive whiteboards can get expensive, fast. The cost of interactive whiteboards can be tricky—some models even get as expensive as $9,000 for just one board. 
With Vibe, you can revamp your space and stay on budget. The Vibe S1 itself is just $3,199, a fraction of the cost of competitors. The new S1 Bundle, which includes the Vibe S1, Vibe SmartCam C1, and the portable stand, is all for just $3,599.
Vibe can also provide quotes for any bulk orders , whether you're ordering for a school or an entire office.
Get Started with Vibe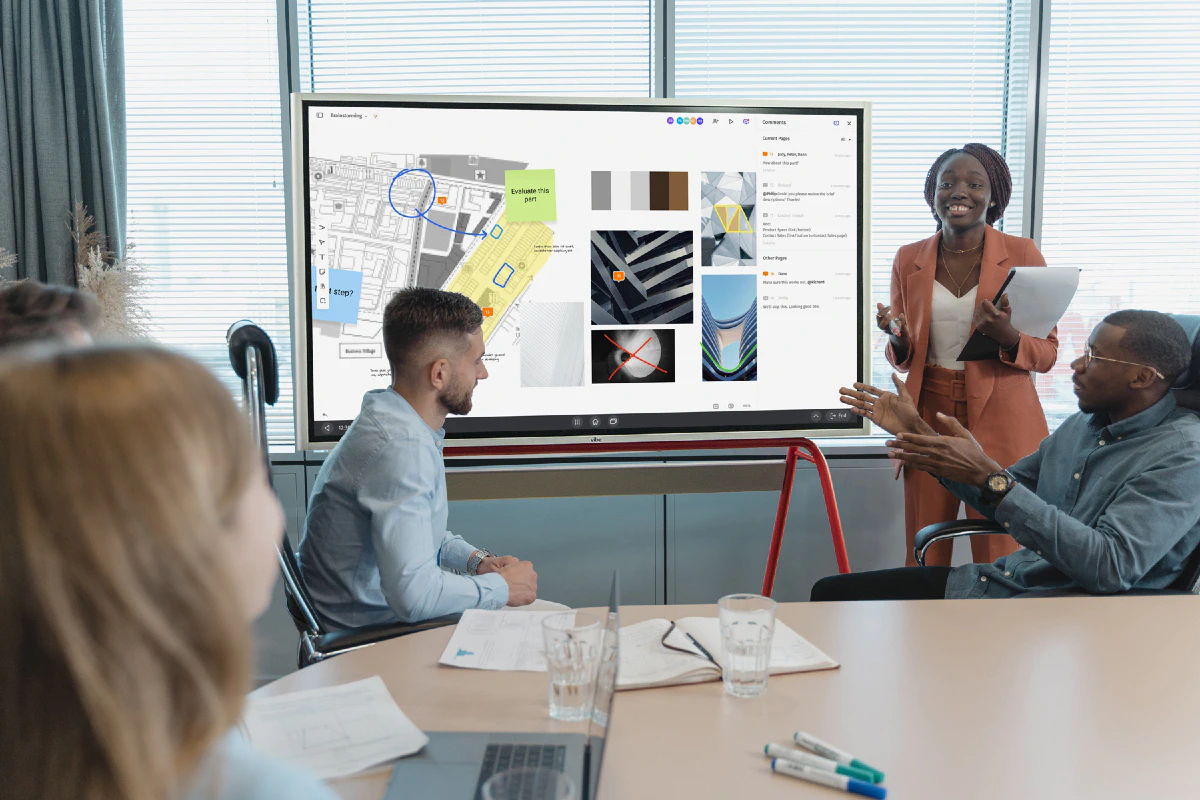 Vibe takes interactive whiteboards to the next level. Check out this comparison table for a quick breakdown of Vibe vs. Interactive whiteboards/IFPDs: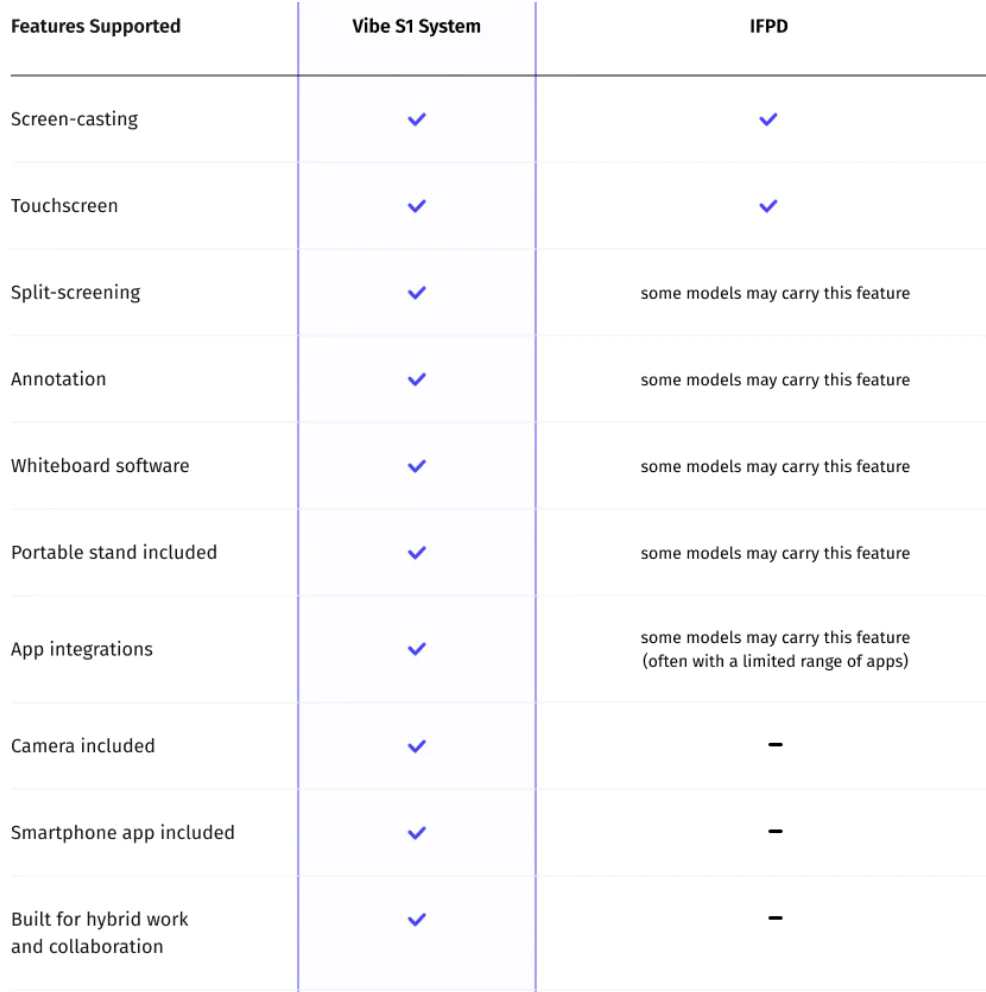 Interested in learning more about Vibe? Request a Demo here , or explore some of our success stories. 
Discover how real teachers are using Vibe Boards in their classrooms here , or check out how business leaders use their Vibe here .
FAQ:
Can I use an interactive whiteboard or Vibe Board as a whiteboard?
Yes! Interactive whiteboards and Vibe Boards can function as whiteboards, so you can write, draw, and brainstorm on the board the same way—just swap out your markers for a stylus! Plus, with the Canvas app , you can whiteboard with peace of mind, knowing that all your work is automatically saved in the cloud and can be easily shared.
What is the difference between interactive whiteboards and Vibe Boards?
Interactive whiteboards cover the basics: They have a touchscreen that you can write and draw on and digitize the whiteboarding experience. A Vibe Board takes it one step further by creating an all-in-one device. The Vibe Board isn't just a digital touchscreen, it also includes the Canvas app, the online whiteboarding software for true collaboration and productivity, the SmartCam C1 AI camera, portable stand, and more.
Are interactive whiteboards and Vibe Boards better than regular whiteboards?
Yes! Interactive whiteboards and Vibe Boards bring whiteboarding up to speed with the modern classroom and workspace. Now, you can collaborate with your colleagues and peers wherever you are, whenever you need to. These interactive whiteboards boost engagement and productivity and can captivate any audience. To keep it short, Vibe makes meetings wonderfully easy and lessons impossible to forget.
See how Vibe could help →
Subscribe to get updates on all things at Vibe
Thank you for subscribing Vibe's blog!