Everything You Want to Know About Product Roadmaps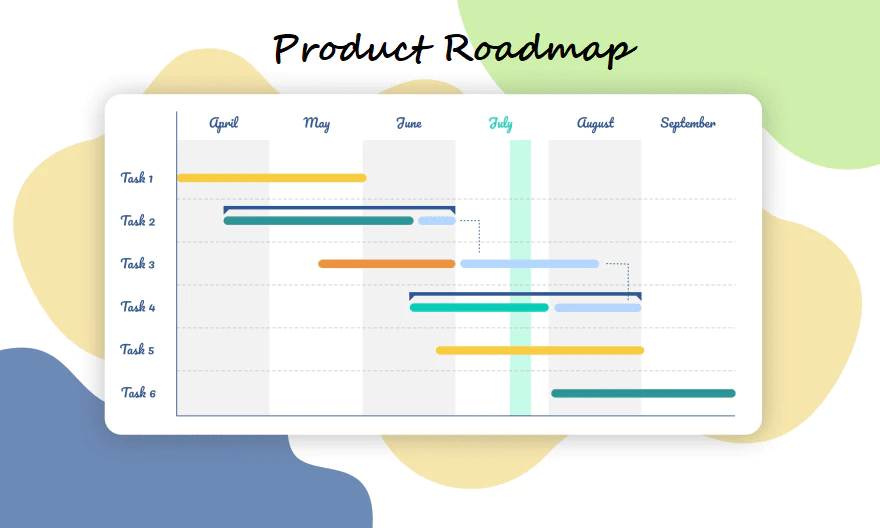 Whether you receive a euphoric strike of inspiration or your team has brainstormed for hours, there's nothing quite like discovering the perfect product idea. Yet, a brilliant product or service can quickly lose its shine without a plan in place. Don't lose momentum. Make sure your team is equipped with a product roadmap to navigate the uncertain waters of a product's life. Address everything from a product's design to its launch and feature marketing plans in this essential document. 
What is a product roadmap?
A product roadmap contains the steps, processes, and applicable research necessary to create, release and market a product. This comprehensive plan doesn't just illustrate what to build and how to do it, but why those steps matter. 
With differing opinions and personalities on every team, it's easy to stray from the grand vision of a product. An effective collaboration tool, a product roadmap guides company decisions and directs team members to a unified purpose. While a plan is intended to be followed, product roadmaps should be adaptable to meet the needs of the consumer and changes within the industry.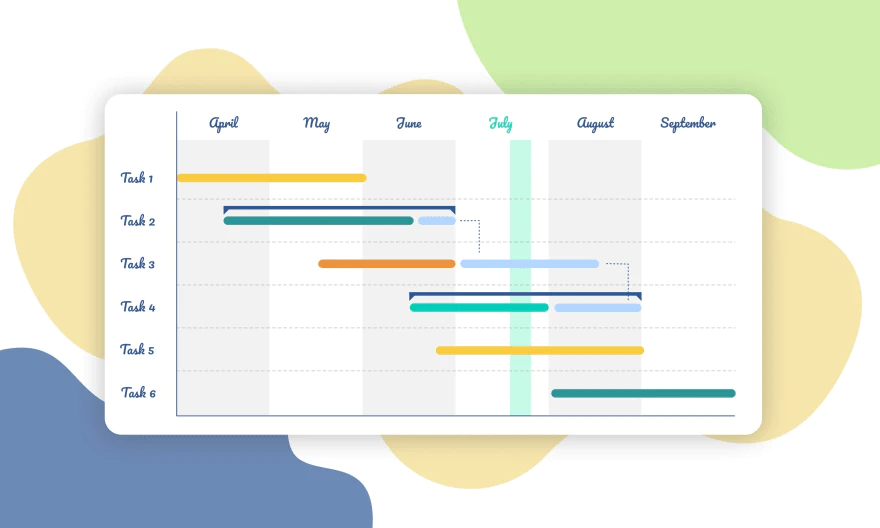 A product roadmap example
Why companies create product roadmaps important
Product roadmaps have become a standard tool in the tech industry. They are especially useful for developers involved in agile planning . But regardless of your industry or primary use for a product roadmap, there are several benefits that everyone can appreciate. 
Establish a unified company vision
Many hands, eyes, and expert opinions play a role in the lifecycle of a product. Cross-team collaboration can get messy without a roadmap to navigate the bumps and turns encountered during production. When teams have a solid understanding of their individual roles in the big picture of a product, everyone can stay on the same page. 
Keep the focus on the customer
A product may have cutting-edge features and a flawless design but, without the customer at the heart of product decisions, the product is destined for failure. Canny designers and team leaders turn to product roadmaps to retain focus on their customers and provide tailor-made products. 
Stick to a timeline
In the realm of design and technology, timing is everything. Because a late release date or missed deadline can lead to a product's downfall, every team needs a clear timeline. A product roadmap indicates critical points along a product's journey, so teams clearly understand priorities and deadlines. 
Meet company goals and standards
Roadmaps sometimes act as a measuring stick for executives. Rather than detailing the design and production steps, these product roadmaps are centered around the metrics executives follow to measure and attain overarching company goals. With the simplified lingo of product roadmaps, any member of the company (regardless of their technical background) should be able to understand the plan.
Related: Decision Matrix: What Every Team Needs for Smart Product Design
What to put in a product roadmap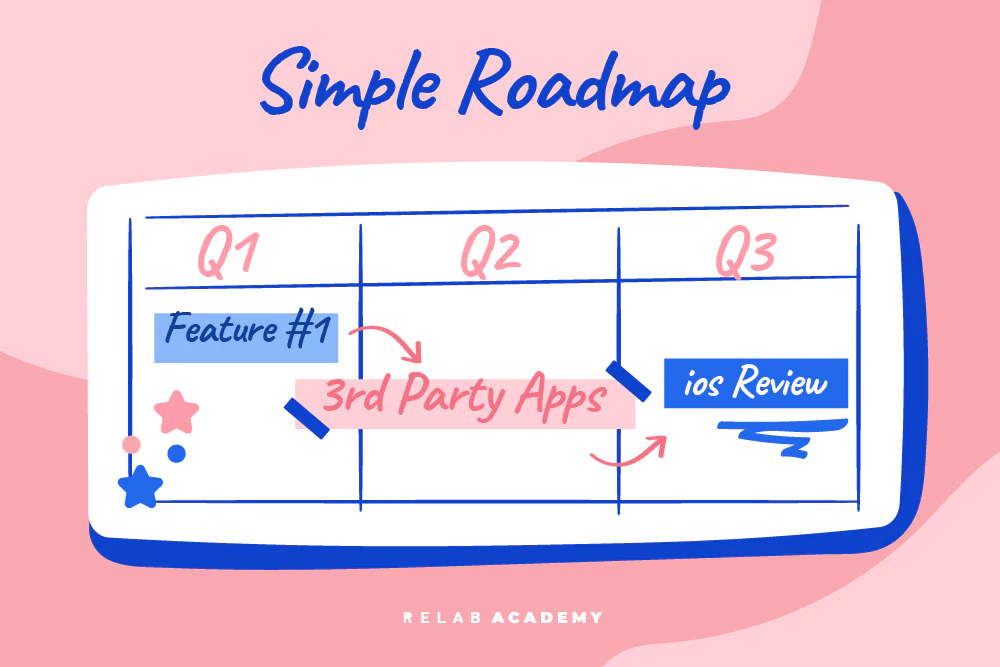 A simple product roadmap
These customizable documents can be as simple or elaborate as you need them to be. As you review product roadmap examples , you may discover a preference for a timeline view, a kanban format, or a sprint plan. Some roadmaps even let you switch between formats. Once you learn what's best for your team, be sure to include the following components in your product roadmap. 
Short- and long-term goals: Before plans are made and tasks assigned, consider what you want to accomplish from bringing life to this new technology. Specifically, how will the company benefit from the products being produced? Transform these considerations into measurable goals that you can track in the product roadmap. Ensure that teams are progressing by including set milestones for each goal.  
Initiatives: Initiatives outline the actions necessary to accomplish a company's goals. These can be arranged by date, priority, or the department involved. You might choose to display initiatives in a swimlane or timeline view. 
Risk factors: Part of the planning process involves being prepared for the worst. Familiarize your team with the potential risks that you might encounter during the product's development. These could include risks associated with the technology, the market, or user experience. 
Release plans: Large tech companies like Apple or Amazon seem to always have a new product or feature up their sleeves. And, likely, even at the time of a product release, they already have the next greatest technology already in the works. A successful product launch involves immense planning. Companies need a release plan in place to prioritize the release of product features. 
Resources: Those goals and initiatives require time, money, and the right skills to turn product plans into a successful reality. A product roadmap should indicate the resources needed along each step of the process. Label the teams, or specific individuals, who will be involved in initiatives, the time required, and the funding needed.
Status reports: The secret to a positive relationship with key stakeholders is transparency. Keep them in the loop with status reports. These reports capture the product's progress and indicate any delays in system implementation. Having this information available allows operations to run smoothly and prevents further issues. 
Team guidance: With any new system or technology, there will be a need for some training to get teams up to speed. Make sure to include a training period in your product roadmap to allow for company adoption and mutual understanding of a product's functions. 
How to create a product roadmap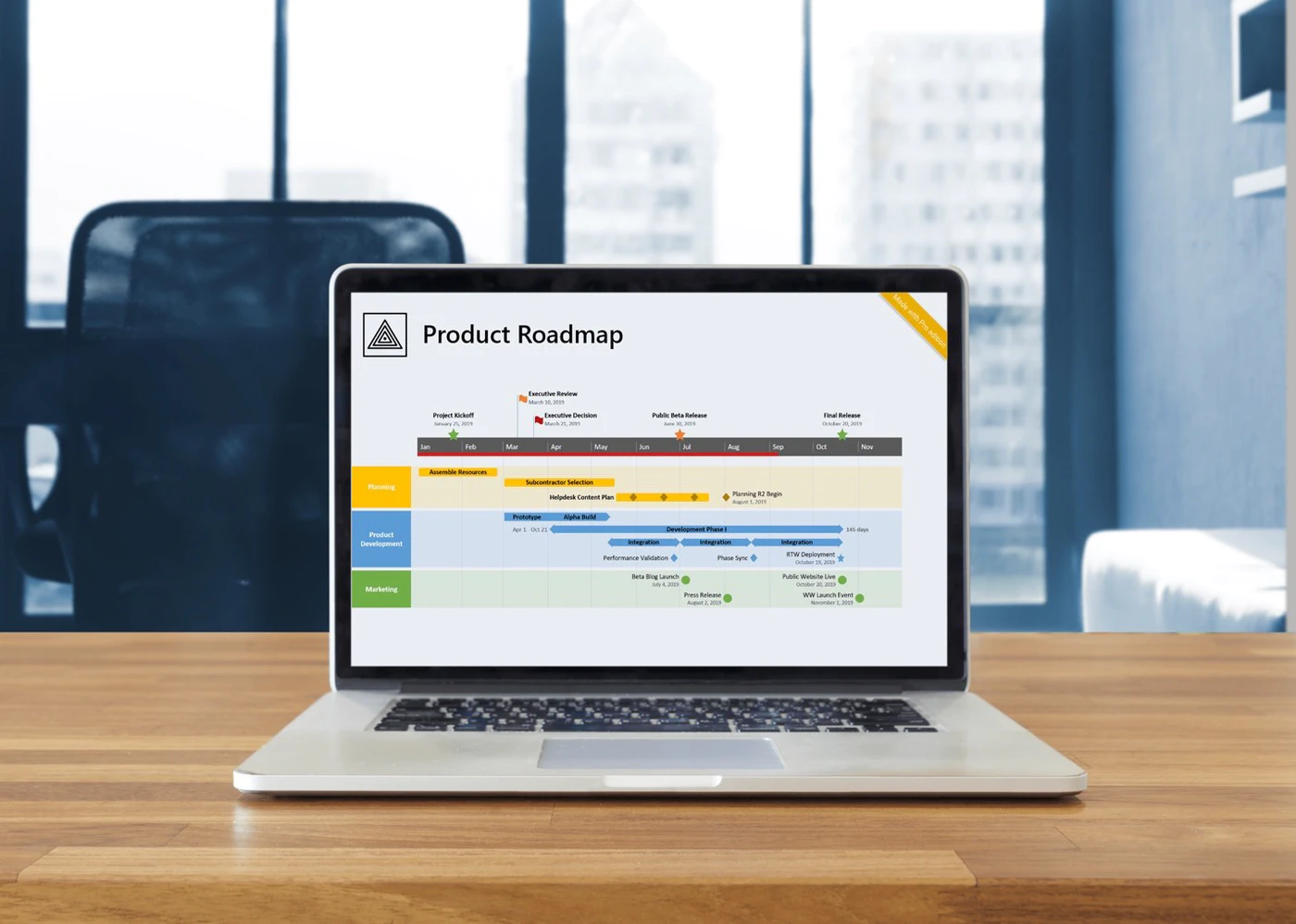 A computer shows a product roadmap example
You may feel a bit overwhelmed with all the variables that make up a product roadmap. But the thought and effort that goes into designing these helpful documents really boil down to a few simple steps. Here are five steps to get your product roadmap started:
Know your audience and industry
Don't even consider drafting a product roadmap without first knowing the nitty-gritty details of your audience. Conducting UX research gives you access to the needs, habits, and thoughts of your audience. Take the time to create buyer personas , empathy maps , and determine your company's customer value propositions . 
Remember that knowing your customer is just as important as knowing the current market trajectories. Keep an eye out for trending products, industry research, and competitors' habits.
Set priorities
Once you're an expert on the demands of your audience and industry, you may discover that creating the perfect product includes a long list of to-dos. And let's face it–time, talent, and funding are finite resources. Luckily, there are so many tools and techniques available to help you determine priorities. In addition to solid team collaboration sessions, enjoy some serious efficiency with tools like an action priority matrix or decision matrix .
Establish timeframes
Assign a timeframe for each action in your product roadmap to keep everyone on track. But, be realistic. A product's journey involves a lot of spinning plates and stakeholders with differing agendas. So, consider using target timeframes instead rather than assigning an exact deadline or release date to an action item. For example, determine what needs to be accomplished weekly, monthly, or quarterly. Leaving room for flexibility will reduce impractical expectations while still sticking to a clear timeline. 
Include content relevant to your team(s)
Take inventory of the teams who will be reviewing the product roadmap. The document should present a clear picture that's useful to everyone involved in the product's life. Developers will need specific assignments and deadlines, executives want to understand product strategy, and the sales and marketing teams want to know the product's selling points and how it stands up to the competition. 
Bear in mind that key stakeholders are likely to view the roadmap–so, a simple format and helpful visuals are a must. Avoid using jargon specific to one department or team to help everyone understand what's being communicated.
Utilize document collaboration software and tools
Because several users are often involved in the production of a product roadmap, storing the document in a collaborative cloud drive is a must. When the document is complete, place it in a safe, central location so the whole team has easy access. Make the design process even more interactive and visual with the help of an interactive whiteboard .  
What features to look for in product roadmap software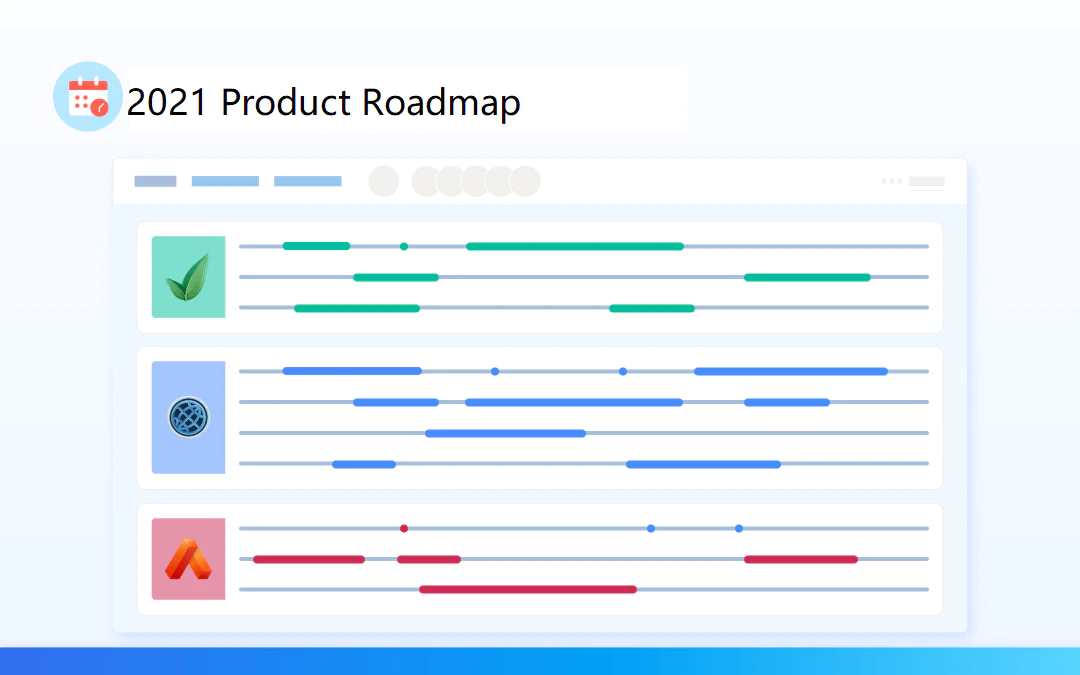 Product roadmap main features
Having the right tools and interface can make a huge difference in creating a useful product roadmap. As you search for product roadmap software, pay close attention to the features of each. Here are some key features to look for in product roadmap software: 
Intuitive user interface. Is it easy to navigate and create in the software? Can you find everything you need? Is the interface visually appealing?
Customizable design tools. Do you have to follow a structured template, or can you create a customized product roadmap design?
Backlog prioritization tools. Can you easily prioritize action items? Are the priority level and timeframe for items clearly marked on the roadmap?
Collaboration and chat tools. Can multiple users view and edit the product roadmap in the software? Can you make assignments and tag users?
Integrates with other apps. Can you pull the data into other applications? Can assignments transfer over to product management software?
Our favorite product roadmap tools
You don't have to look far to start creating effective product roadmaps. Familiar spreadsheet software, like Google Sheets and Microsoft Excel , has excellent features for product roadmap design. But, if you're looking for helpful features and templates specific to product roadmaps, give these tools a try:
Productplan. For the best collection of product roadmap templates, ProductPlan is the place to go. Enjoy simple layouts and seamless integrations with project management tools.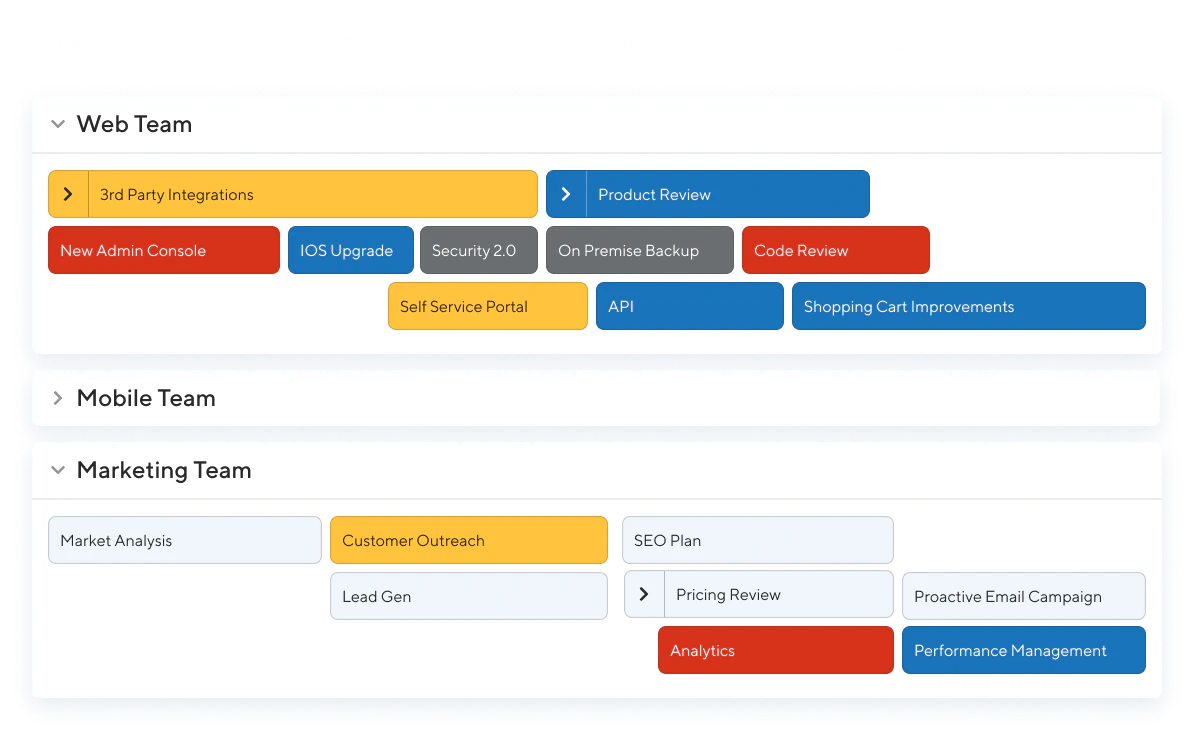 A product roadmap from Productplan
Aha!. If you like working in Excel, try one of Aha!'s 16 downloadable product roadmap templates . Increase team collaboration and simplify prioritization with the ability to rank customer and colleague ideas.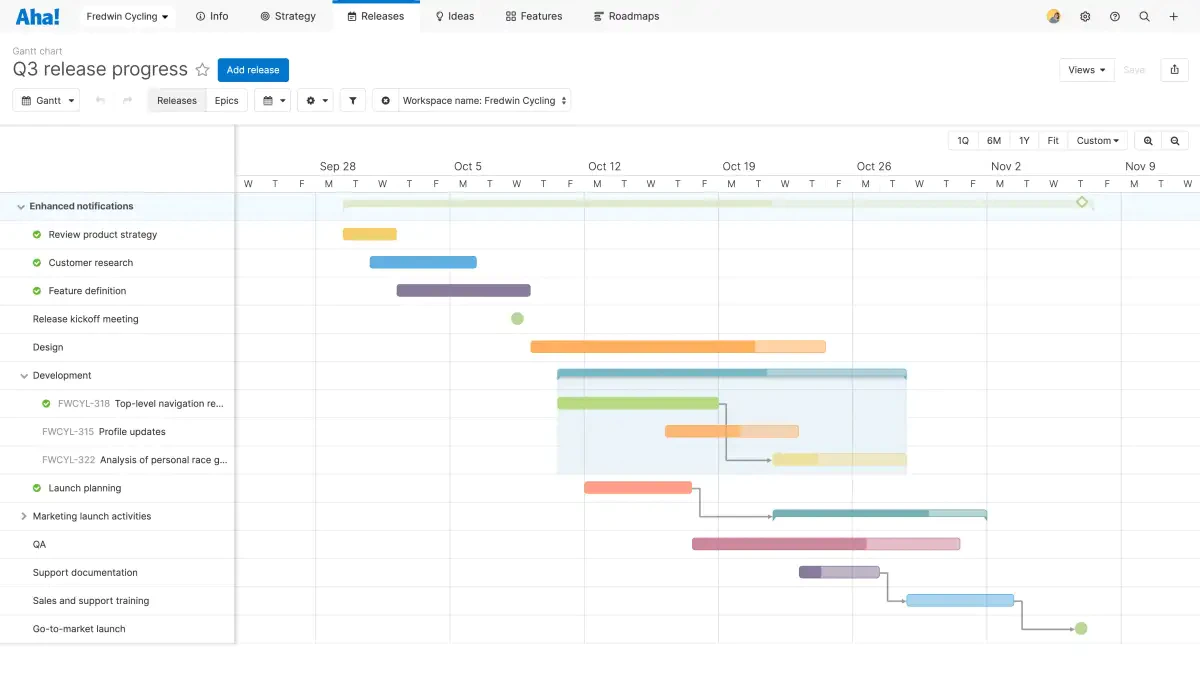 A product roadmap from Aha!
Roadmap Planner. Keep a steady view of long-term goals and upcoming tasks with Roadmap Planner 's unique timeline format. This interactive timeline, which also works in offline mode, helps users plan, schedule, and track more efficiently.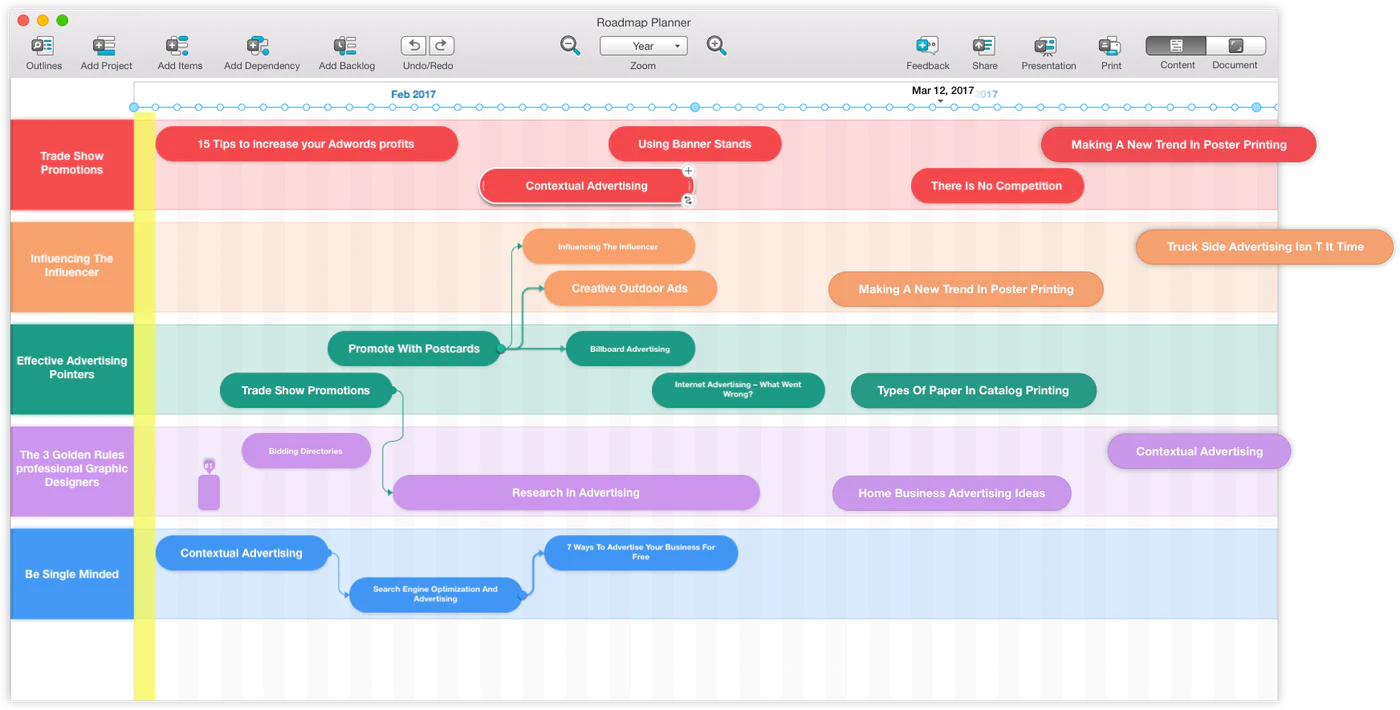 A product roadmap from Roadmap Planner
Vibe. Make your product roadmaps come to life with an interactive whiteboard. Whether you need a place to remotely collaborate, keep tabs on your team's progress, or create a stunning presentation, Vibe's intuitive smartboard, and top-notch software support teams every step of the way. But don't take our word for it, learn how over 1,000 companies around the globe have made Vibe a part of their teams.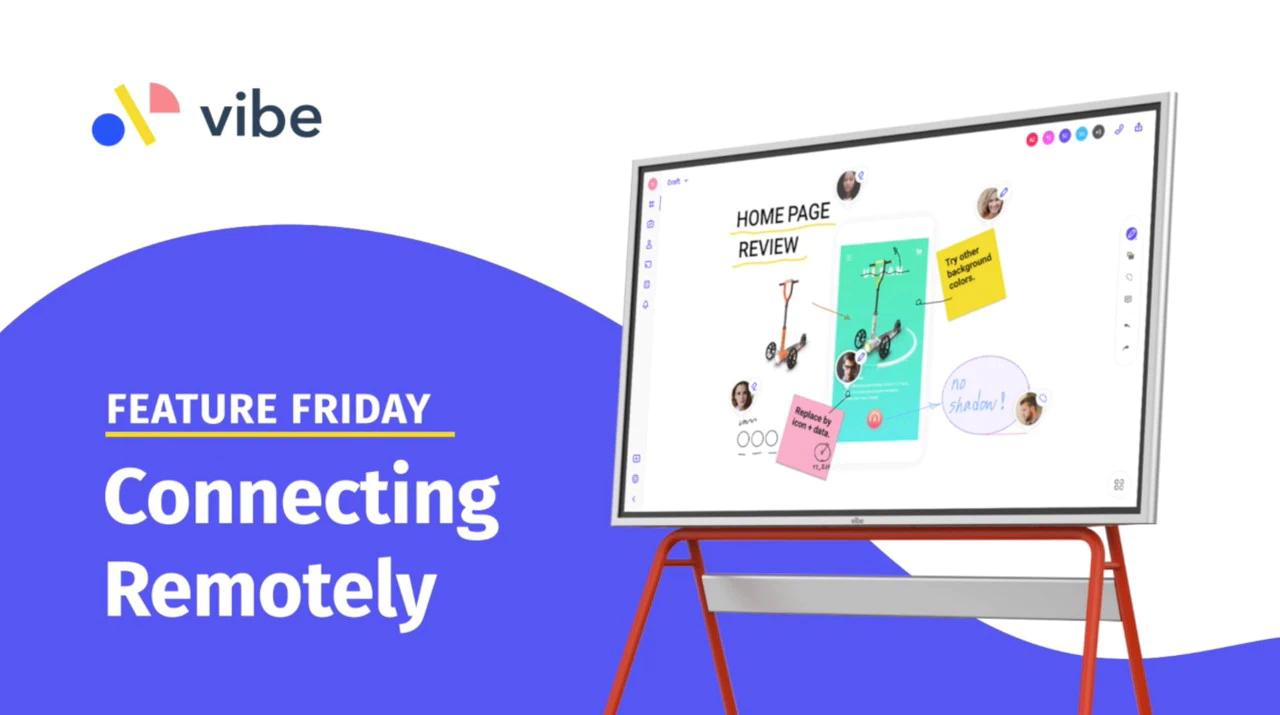 Vibe smart board for connecting
See how Vibe could help →
Subscribe to get updates on all things at Vibe
Thank you for subscribing Vibe's blog!