10 Tips to Improving Your Virtual Presentations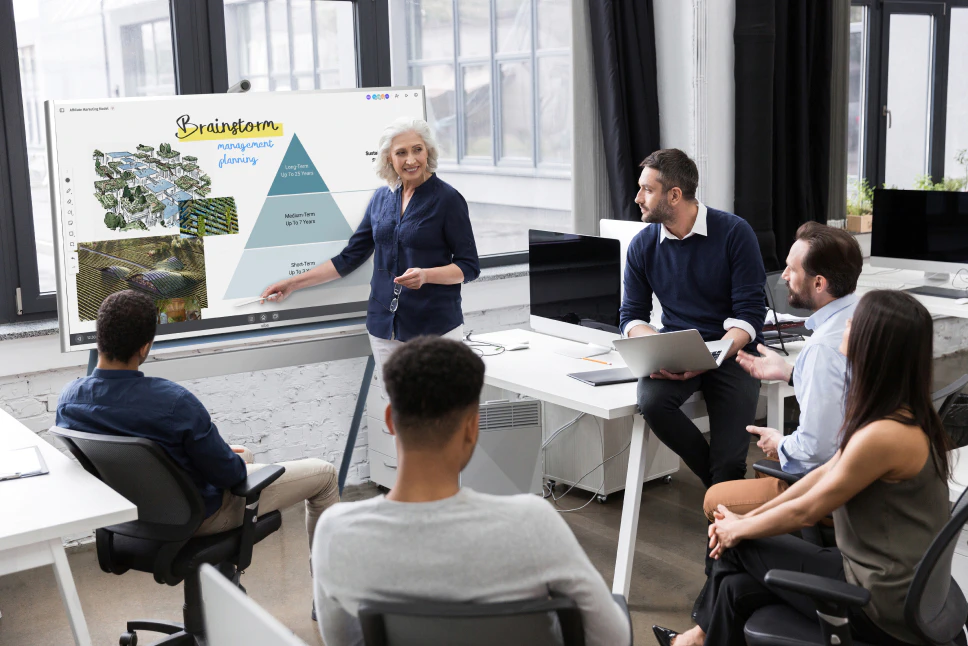 When presenting and speaking in front of an audience, you have a wide range of virtual presentation tips and tricks to take into account. However, it's also crucial to keep in mind what challenges or obstacles are associated with this kind of presentation. As convenient as a remote meeting can be, creating an effective virtual presentation is difficult.
Whether you're speaking to new clients or to your team about a project plan, you must put a lot of effort into grabbing their attention and ensuring they get your message. Virtual presentations might be scary for someone who's just starting, but don't worry—we've got you covered. This blog will discuss the best practices and top virtual presentation tips for your upcoming virtual meeting.
Vibe Boards provide a simple way to make your virtual presentation captivating and intriguing. Use these tips to ensure that your upcoming virtual presentation receives the respect it merits.
10 Tips to Improving Your Virtual Presentations
Research Your Topic Ahead of Time
You need to do a little more research than usual when making virtual presentations. It's smart to start with what you know about your audience. Knowing your audience and what they hope to get out of the session is the best way to charm them.
Here's what you do: A week before a webinar or similar event, set up a way for people to RSVP to your event electronically.
This way, you can find out some basic information about the people who will be there. You don't have to be shy, either. Ask them what they hope to get out of the session and if they have any critical concerns.
You can plan what you'll talk about in an office presentation by outlining. Think about your keynote speech, for example.
Ask your coworkers what they think about how you set up your presentations and rank the actions you need to take. If you can, send the meeting agenda ahead of time and ask your supervisors and senior staff to review the essential points quickly.
Keep An Eye Out for Technical Tests
No matter how well you plan, you can't control things like power outages or problems getting on the internet that you didn't expect. The best thing to do is to do detailed technical inspections or host the meeting in a space that's reliable and consistent (e.g., from your desk vs. at a coffee shop with unpredictable WiFi).
Here are some things you should think about:
Is your camera functional? Can the people watching you see you well?
Have the right microphone and speaker been put in?
Do you know how to use the tools you'll be using? Can you, for example, share your screen or switch between Google Slides?
The most important thing is to ensure you have backup plans for any last-minute tech problems, whether that's having the IT team at the ready or being proactive about your connectivity.
Get Hyped about High Tech
If you know how to use the equipment you'll be using for your virtual presentation well before you give it, you'll be less likely to hesitate or have problems. Whether that means knowing how your favorite video conferencing software works or making sure your presentation set-up is the best it can be, this small amount of planning ahead of time could add an essential touch of professionalism and class.
Crafting a multimedia presentation can be impactful—which is why many expert speakers are turning to smart whiteboards to craft an interactive and memorable presentation. You don't even need to learn any new presentation tools to get started. You can use Canva, Microsoft Powerpoint, and Google Slides on a Vibe Board.
Having the right tools at your disposal also lets you have more control over your audience. Presenting with smart whiteboards can make it easier for people to get involved. You can also use your virtual meeting software with various other technologies to get the audience more involved in the presentation. For example, you can lean into Zoom's virtual polls and tests during a presentation to get updates and info from your participants throughout the session. 
You can also keep an eye out for and get rid of any distracting things. For example, a virtual presenter can pin a crucial point so that everyone can see it or silence an audience member who is making too much noise.
Set A Plan Before You Begin
When you start a virtual meeting without a plan, you set yourself up for interruptions. A good rule of thumb for presentation skills is to list the tasks that must be done during the presentation. What are the most important things you need to talk about? Who is your audience? Write it down, and make sure that all of your other points fit nicely into the framework and lead back to your main point.
Next, try to make your essential data easier to understand. The Vibe Board, with its massive touchscreen and annotation features, makes using visual graphics, gifs, movies, or animations to draw attention to the essential facts easy and fun.
Get Rid of Distractions
Remote audiences are typically more distracted than in-person audiences. That's because remote participants are often multi-tasking or working from more distracting environments.
You can tell your audience about the following best practices to cut down on noise:
Everyone stays quiet (or muted) when the presenter talks.
If someone wants to talk, they can "raise their hand" on the digital platform instead of interrupting the presenter.
For engaging with your audience , ask the people in your audience to stay as focused as possible. When you talk to your audience, you should expect them to ask questions, have doubts, and give you ideas. It's a good idea to have a coworker or co-host take charge of these conversations, so they don't distract you. You can request that your audience hold their questions until the end of the session, or have them write down any questions on a shared canvas that you can address at a later time.
Use Brief, Impactful Sentences
People's attention spans are shorter than you might think. To keep the spotlight on you, always use shorter, funnier lines when explaining ideas to participants far away.
When sentences are short, they're easier to understand. But if this is your first time giving an online presentation, you might try the following:
Face the audience (through the webcam).
Use gestures, body language, and facial expressions.
If possible, the person giving the presentation should stand up. Set up your webcam the right way.
Make sure your lights are bright and clear. Use daylight to make your virtual set-up look better.
Keep your information up to date and correct. Don't use the same points of view more than once, and don't say too much about any one idea. Don't talk for more than 10 minutes without giving the audience something to think about (a story, quiz, or question).
Engage Your Audience in Dialogue
People are more likely to remember a compelling virtual presentation than a traditional one-way presentation. 
Since it might be harder to hold your remote audiences' attention, make sure your participants aren't bored, especially if they have to sit through a presentation without doing anything.
Slow Down When You're Delivering
In a virtual setting, it's hard to read your audience's body language. To ensure you don't rush through your speech, you'll need to work on it and keep it moving at a good pace.
Try to practice with a virtual partner if you can. Note any delays in responses or things that don't make sense to the audience.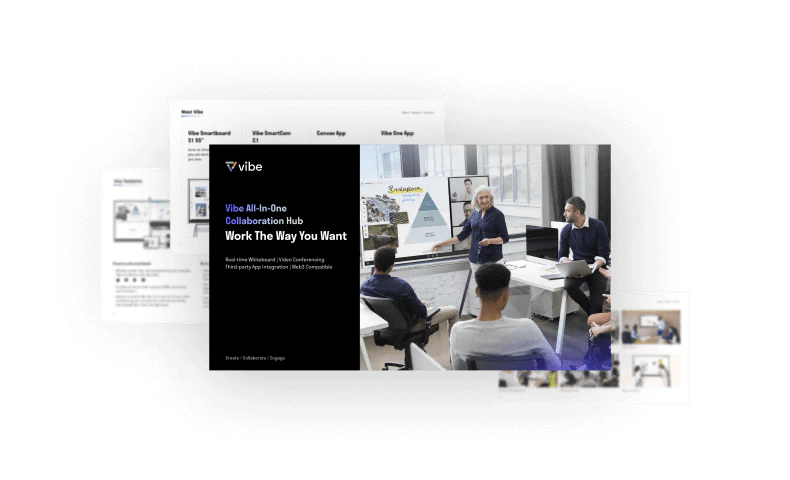 Explore Vibe's All-in-One
Collaboration Hub
Utilize Backup Systems
When giving an online presentation, it's essential to be ready for the worst-case scenario, like losing access to the session or presentation. In this situation, sharing your presentation materials with a co-host or supervisor makes sense.
If you go offline by accident while giving a video presentation, your co-host can take over the meeting using your shared slides or materials while you focus on getting  back online.
It's a good idea to know everything there is to know about your subject. If there is ever a delay or a problem with your equipment, you can always keep making your case.
Know When to Stop
One of the essential virtual presentation skills you can learn is when and how to end a presentation.
In a virtual presentation, you must be very careful about how much time you spend on each topic and when to stop.
At the end of a presentation, it's better to keep things short and to the point and end with an educational summary. To leave a lasting impression on your virtual viewers, you must carefully summarize the events of the conference and highlight important themes.
Here's what you should do:
Make your last sentence short and precise.
Add a summary of your main goals.
Put in a "call to action."
Add an inspiring quote or message.
Another great way to keep your presentation in your audience's mind is relatively straightforward: Remember to share your presentation materials after the fact, so your audience can reflect on certain slides or figures whenever needed.
Final Thoughts
Virtual meetings and webinars can challenge even your most basic presentation skills. They test your ability to speak and present in a way that motivates people.
That's why tools built for virtual meetings and remote collaboration , like smart whiteboards for business , are now essential to delivering a successful presentation . 
Use the virtual presentation tips and tricks we've given here to start building your next great presentation—and don't forget that adding a Vibe Board to your presentation toolbox can be the biggest game-changer of all.
Interested in learning more about Vibe? Vibe Boards were created to be user-friendly and compatible with the tools your team already knows and loves.. With innovative smart whiteboard technology at the center of your pitch, your upcoming virtual presentation will be different from anything you've ever given before.
FAQs
How do you engage people in virtual presentations?
Creating engagement in virtual presentations is very tricky, especially with body language and non-verbal communication not as easy to see or experience. Engage people in virtual presentations with technology like the Vibe Board that can make presentations more interesting and interactive for your audience.
How can I improve my virtual presentation?
Typical presentation tips like knowing your topic and rehearsing beforehand can still make a big impact, just as in in-person presentations. For virtual presentations, make sure your tech (video conferencing, speakers, presentation aids) are working ahead of time, and use multimedia presentations to keep your audience engaged and interested.
What makes a great virtual presentation?
Interactivity is absolutely key. Ask participants for feedback several times throughout the presentation. Make sure that they are dialed in. Use videos and animations to keep your audience's eyes on your presentation, and not wandering on to a different tab.
See how Vibe could help →
Subscribe to get updates on all things at Vibe
Thank you for subscribing Vibe's blog!