What are Smart Whiteboards & How Do They Work? | Vibe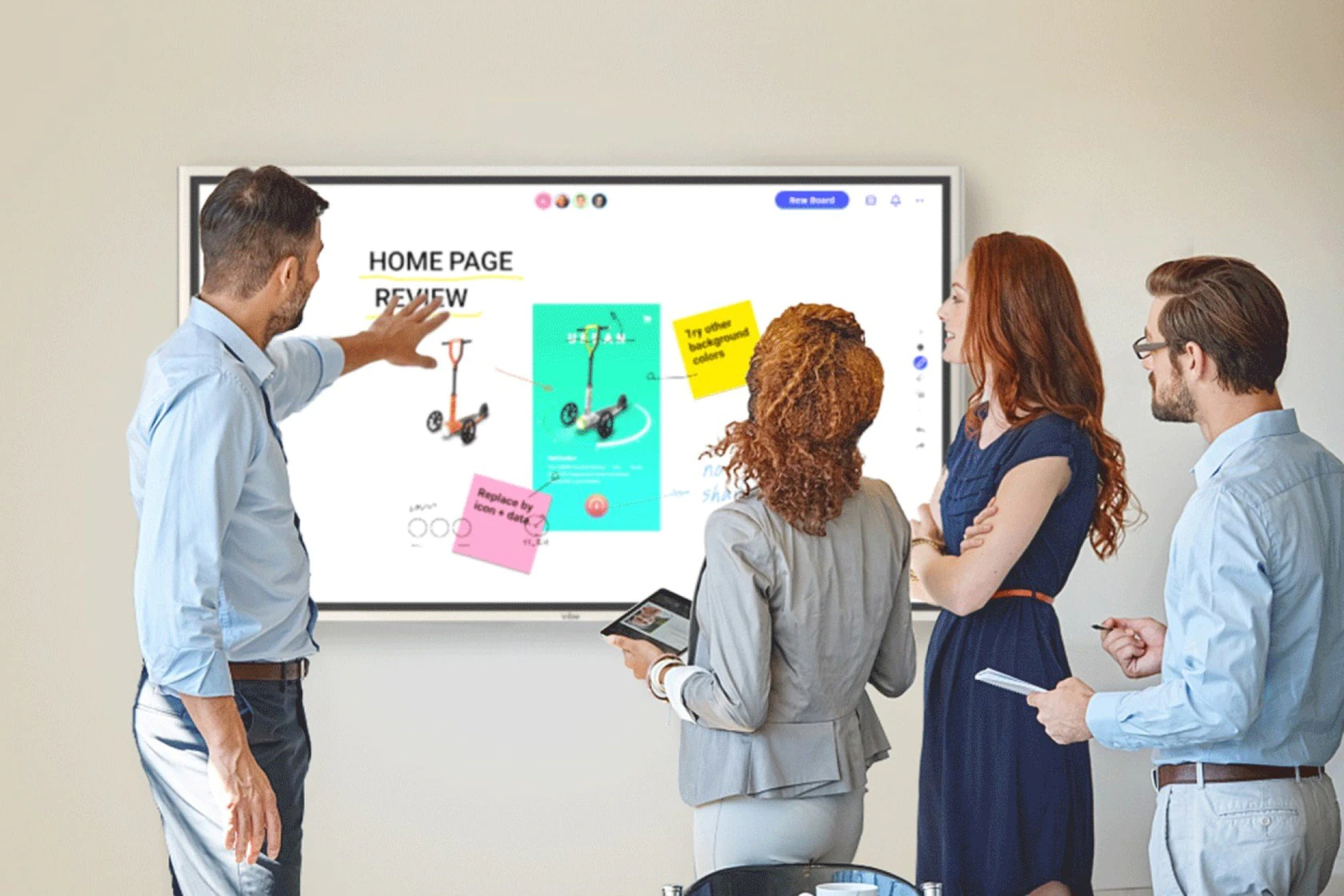 Using Whiteboards
Good old-fashioned particleboard whiteboards are in every meeting room at every company that has meeting rooms worldwide. There are millions of whiteboards pinned to walls around the world.  Why is that?  Because whiteboards are the best way to share ideas, think visually, and connect and engage with your audience.

A standard whiteboard with a common 'Do Not Erase' message
During the pandemic, those whiteboards sat in darkened meeting rooms, unerased, unused, unshared. Yet, as we try to emerge from 'odd-normal' to 'new-normal' for collaborating with prospects, customers, employees, and partners, the need for whiteboards has not gone away.  They've just transformed into something better.  They've been transformed into a smart whiteboard.
This primer defines smart whiteboards vs. other terms used, outlines usages, best practices for collaboration, and compares smart whiteboard vendors.    
What Are Interactive Flat Panel Displays (IFPDs)?
A new class of interactive flat panel displays (IFPDs) has emerged, transforming how we use whiteboards.  These new boards are not boards at all. Instead, they are large format touchscreen monitors fueled by powerful collaboration software.  The best ones are designed to support and enhance the way you work, collaborate, and engage.
Here are some common ways that we refer to this technology.
What Are Smart Whiteboards?

Live annotations on images
A smart whiteboard takes the form factors listed above. It combines them with the idea of having a cloud-connected, device-connected ecosystem that works with your favorite apps to get collaborative work done on any device, anywhere you happen to be working. 
A smart whiteboard device should support the reality of today's hybrid meeting environment where presenters can use all their favorite apps in one place and present them to an unlimited audience around the world.  And where the audience is all on different devices with different form factors such as a mobile phone, laptop, or tablet.  
If the device is a smart whiteboard, it should support the ability for everyone to add to the canvas, regardless of where they are or what device they have.
Three Other Types of IFPDs:
Online Whiteboard
Online whiteboards are software-only solutions.  They work with the touchscreen on your familiar devices such as laptops, tablets, and mobile phones.  There are dozens of options available for online whiteboards that range from free to license, to a monthly subscription.  

Digital or Electric Whiteboard
These are the first generation of 'chip-powered' touch screen whiteboards.   They are used to 'project' computer screens onto the board and use touch input to mark up what is seen.  They are popular in education. 

Interactive Whiteboard
This is the broadest, modern term for a connected whiteboard.  As Wikipedia defines it, 'an interactive whiteboard is a large interactive display board in the form factor of a whiteboard. It can either be a standalone touchscreen computer used independently to perform tasks and operations, or a connectable apparatus used as a touchpad to control computers from a projector'.  An interactive whiteboard works like a normal whiteboard, but the added digital component allows you to interact with it on a computer and save content for future reference.

Smart Whiteboards Are for Teamwork
In today's uncertain work environment, there are several configurations for how meetings get done. They are all enhanced by using a smart whiteboard.
In-Person
All the participants are in the same room.  Work is on one, in-room smart whiteboard with an infinite canvas .  All the elements on the board can be automatically saved to the cloud (just like Google Docs works) as the meeting progresses.  No more 'don't erase' notes on a whiteboard.

In-room smart board participants
Virtual/Remote
Most, if not all, participants are in a different location.  Meetings and follow-up to action items take place with technology like video conferencing or Zoom.  Good smart whiteboard software should be able to integrate with your existing virtual meeting platform easily .  Each virtual participant should have access to the canvas for their unique input.  The results should be saved and sent to relevant participants.
Hybrid
Some participants are in the office, and some are remote.  Collaboration is enabled almost exclusively through technology platforms. For example, smart whiteboards allow all participants to be on the same canvas.  A remote person who doesn't have direct access to the presenter's board can still participate by adding sticky notes and annotating and highlighting key concepts.
It's a safe bet to plan that all your future meetings will be hybrid. Of course, whiteboards will still be essential, but not everyone will have access to one.  This is why you see the ascent of smart whiteboards and smart whiteboard software as critical to enable virtual teamwork.  

sync degisn details in hybrid meeting
A Brief History
When a whiteboard was used during a hybrid, collaborative meeting a few years ago, the typical solution was to point a camera at the board and watch one person draw with a dry erase marker. Then, a picture was taken of the final drawing and sent to the meeting participants.
How Do Smart Whiteboards Work Today?
You can still point a camera at the primary board and the presenter (just like in a Zoom meeting). However, it enhances the meeting to see a presenter in order to personalize the session more.  
But unlike a projection of a board, a smart whiteboard ecosystem has the central feature of a touch-enabled , large screen monitor with infinite scrolling and is connected to the cloud.  You can use a stylus pen or your finger, to draw, highlight, or interact with elements via the board's touchscreen surface. In addition, you can share, archive, and save your notes as digital content.
You can connect other devices wirelessly, across the internet, or with an HDMI cable. From there, users can easily annotate on top of the content pulled from the connected device. Of course, you can also use it the other way: share your work from the board for instant real-time co-creation from another smart whiteboard, computer web browser, or tablet.
When you use a smart whiteboard for a hybrid meeting, everyone is literally on the same page.
Software Is The Key Takeaway

Smart board with native apps on the canvas, split screen
Virtual ideation, back and forth, on an infinite canvas broadcast worldwide in real-time is powerful.  But the real power in smart whiteboards lies in their ability to work with your favorite cloud apps. So you shouldn't have to change the way you work for remote work.
Today's smart whiteboards support an app ecosystem (just like an iPhone) that enables you to keep using your favorite cloud workflows but be able to drag them onto a canvas to share, highlight, and annotate.  
Directly sharing app content and data on a board canvas from multiple devices makes presentations more fluid and reduces time spent organizing notes. And when done, there's no need for physical storage space. Instead, the annotated content is saved to the cloud, again on your favorite storage app, to use your choice of a connected device later.
That is all done with software and is the real power behind smart whiteboards.
Support Existing Meeting Platforms
Smart whiteboards can connect all your hybrid participants on a shared canvas, as a standalone collaboration app, across all your connected devices with audio and video supplied via any device you want, including video conferencing technology.  
You can also run a smart whiteboard session inside Zoom or Google Meet, with the main board on camera and a shared screen.
A New Way To Engage Remote Teams

Smart whiteboards are a clever combination of technologies, but they are really valuable because they increase engagement for virtual meetings. 
Zoom fatigue has set in.  You can google hundreds of articles about this.  Smart whiteboards are a great way to inject new life into remote meetings.  
A smart whiteboarding session boosts collaboration by bringing teams together to share ideas, ask questions, and develop solutions openly. A smart whiteboard allows all participants to think creatively and contribute in a no-judgment environment.  It's far less likely that someone will check their email during a meeting if asked to contribute visually.
Everyone working around a smart whiteboard, whether in-room or online, gets a morale boost by seeing the real-time value of every member's ideas and opinions. 
Smart whiteboards engage teams to work together to resolve problems or increase productivity. Collaboration is the most effective when every member feels supported and heard.
Related content:  The Vocabulary of Remote Work
Examples of Smart Whiteboard Uses:
Group note-taking. Encourage teams to work together by having everyone jot down notes on the canvas. Most smart whiteboard apps will translate written text into a computer font.  You can then publish the document as a PDF.
Interactive training. Get employees excited about learning by getting them more engaged with touch input. Look for professional development opportunities that could benefit the whole team during a training session.
Split-screen and spotlight features help focus your audience as you work through a presentation.  
Examples
A sales manager can pull up salesforce.com pipelines and have every rep in the remote meeting highlight their deals while talking about them.
A product manager can run a brainstorming session with developers on the next set of features to transform user experience.
A marketing manager can show a Google Adwords campaign and have the team annotate and highlight what's working and what's not.
IT Manager can offer remote support via annotated screen sharing and can direct users
Finance can review the latest numbers with mark-ups and comments
HR can review resumes and highlight areas where to focus for the remote team
Smart Whiteboard Mistakes To Avoid

Smart whiteboarding isn't a recipe for success all the time. Without proper planning, the board can create confusion, constrict ideation flows, and even lead to your great ideas getting erased out of existence. Thankfully, the fixes for these problems are usually pretty straightforward.
Here are a few instances where smart whiteboarding can become a hazard, along with easy solutions to remedy the situation:
Focus Not Defined Before The Start
Productive meetings focus on a specific purpose with an agenda that defines and drills into key specifics relating to the meeting's purpose.  This is true whether you use a whiteboard or not.
Whiteboarding sessions need a prepared facilitator to guide everyone toward an established goal. Before starting brainstorming and problem-solving, your facilitator should define what problem you're resolving before the session and set an itinerary for the meetup.
Write the purpose of the session at the top of the canvas as a reminder. 
Divide the whiteboard into a problem space where your team can define and analyze the problem and a solution space where you solve the problem.
Another valuable way to keep everyone on track is to set up a "parking lot " on your whiteboard. This space is where valuable ideas outside the current session's scope can wait for later discussion. That way, people feel like they are heard—and their ideas don't get lost in the mix—while everyone stays focused and on task.
Ideas Cluttered And Disorganized
When whiteboarding sessions are flowing with ideas, sometimes the board can become cluttered and disorganized. A digital whiteboard enables you to create logical categories by dissecting the canvas and easily 'swiping' ideas into a more meaningful structure. This way, you don't have to stop the flow and narrow where you want to steer innovation.
You can take an idea from one board and create a new board around the idea to drill down on details. Think of it like creating a hyperlink on a webpage: Good smart whiteboard software can segment and create high-level ideas with links to other boards that go into greater detail. This strategy organizes your thoughts and makes them easy to digest.
Handwriting Isn't Legible
When people can't read what you write on the whiteboard, the power of the exercise is lost. 
Often, bad handwriting is the result of poor spacing. Standard whiteboards would quickly fill up with ideas and diagrams, limiting the space available for new ideas. 
Fortunately, most smart whiteboards are great at handwriting recognition and take someone's scribbles and convert them to a readable font.
If your smart whiteboard has an infinite canvas, it can help eliminate the old whiteboard habit by some facilitators of cramming letters together to save space.
Use the entire canvas to make the most of your whiteboarding session.
Key Tips for Better Smart Whiteboarding

Erase at Will
Traditional whiteboarding always created some amount of clutter as people unload their brains. Smart whiteboards are the same way.  But, it's just part of the process. During a session, not everything written on the board will create value. We don't hesitate to remove an idea when it no longer fits into the picture.
Send Ideas ASAP
At the end of the meeting, erase or move any ideas that don't contribute value to the session's driving purpose. Then, when you save the whiteboarding session, send the most relevant details via email to keep your team members working toward the most productive ideas.
Integrate Your Existing Workflow

Gantt app on a smart board
With good smart whiteboard software, you can easily use app integrations that connect to your existing workflows to tag colleagues and remote workers for review.
By integrating your workflow and task management with an interactive whiteboard, you'll be able to share the session with key contributors who may have missed the meeting. They can pick up where you left off and add new notations. 
Pause for Inclusiveness
Whiteboarding can break down power dynamics in a collaborative setting and allow less assertive people to contribute their ideas equally.  Take a moment to let people review the board so everyone can have a say.  This also makes tracking ideas and recognizing people for their contributions easier for facilitators.
A smart whiteboard offers even more inclusivity because everyone controls the ability to draw on the board instead of passing the marker on a traditional dry erase board. By nature of giving everyone the right to add to the board, you're demonstrating that each person's opinions and ideas bring value to the session.
Have some fun!
There's more to whiteboarding than just work, work, work. Whiteboards tend to become hubs for inside jokes, workplace graffiti, even games. All these can be part of a productive day, and creative facilitators can even use this joyful approach to whiteboarding in guiding their ideation. With whiteboarding, the sky's the limit when it comes to creativity.
With a digital whiteboard, these creative moments and jokes can be captured and saved as images to share among teams and the organization, fostering a positive work environment.
Smart whiteboards with app integration can use 'consumer' apps like YouTube, or Spotify can as a fun way to make a point with a short video or song.

integrates dozens of the most popular multi‑media apps
Get Things Done

Vibe Templates
We now know that smart whiteboards are a great way to get remote, collaborative work done.  Here are some ways smart whiteboards can be put to use in everyday business scenarios.
Want templates to let the ideas flow?
Get planning templates for Vibe Board's Canvas here .
Project Planning
Project planning is one important aspect of your business. It's at the core of how all departments function. You want to find solutions that keep everyone informed of vital deadlines, budgetary restrictions, and more.
Ideation
Collaborate with team members on the canvas.  List objectives, problems and solutions, create flowcharts and connect ideas to your company's goals, all on a large, infinite idea space.
Brainstorming & Building
Visuals and shared spaces are major assets in team project planning.  The design team can use a smart whiteboard for a myriad of activities, combine multiple elements (sketches, screenshots, tables, annotations, etc.) all on the same canvas. 
You can refer back to your brainstorming canvases at any time to keep your goals in focus. 
Related content:  How to Use a Whiteboard to Lead a Great Brainstorming Session
Roles & Responsibilities
Assign individuals to specific roles in the project in a collaborative way. Use your preferred cloud-based project management app on a smart whiteboard to help with this part of your project plan.  For example, you can have a RACI template on the canvas.  Everyone in the meeting would have access to drag names and assignments around until all participants agree on the final outcomes.
Presenting
Have a presentation saved on your computer? Wirelessly screencast to your board, and use the stylus to annotate your presentation as you go.  Audience members can add their own apps or annotate along with you.
Scheduling
Use a smart whiteboard and project management apps to detail the timeline and resources to complete a task and any information that is vital to managing the team. 
Risk Assessments
Complete a risk assessment with your remote team using an infinite canvas where team members can list all potential risks such as the project's scope, failures in communication or technology, resources, and unexpected delays
Communicate & Share
During project planning, regular communication among teammates is key.  When it's time to share your progress you can use your preferred apps (like Microsoft Teams and Slack) to share canvases to any device via a secure URL generated by your board's software.
User Experience Research
Whether you're a designer, marketing professional, or tech guru, UX research is vital to the success of a product. Ensuring your team has the right technology to collaborate on during the research process is just as important. 
Innovative teams use smart whiteboarding to research, brainstorm, present ideas, visualize complex problems, and stay connected in a remote workplace.
User interviews
Meet with users one-on-one, wherever they're located, to learn about their wants, desires, and pain points. 
Focus groups
Hold a remote group conversation with people from your target audience to uncover unique perspectives and experiences. 
Usability testing. Let users interact with your product to determine if it's intuitive and user-friendly.
Kanban boards
Organize initiatives and tasks onto a kanban board to keep your team organized
Decision Matrix
Use a decision matrix to prioritize research methods and relevant tasks and make a plan for carrying out the design process.
Flowcharts
Create a flowchart to map out the user's experience, document the design process, or chart research strategies
Annotate PPT
If you are going to use PowerPoint it can focus prospects if you are highlighting and annotating slides.  Often, prospects can get lost on a slide and disengage.  By guiding people where to look, you can keep their valuable attention.
Multimedia & App Integration
Make your presentations dynamic by integrating images, videos, screenshots, and tools you're already using – making your sessions immersive and interactive.
Engage Your Audience
Don't do another sales pitch using just Zoom.  With a smart whiteboard, you can conference in participants from any remote location, mark up images in real-time, make notes, and share screens. 
Share
Save the session and generate a URL you can share with team members or even the prospect.
Training & Coaching

Integration
Easily integrate your existing training templates and tools into your smart whiteboard sessions, and bring your sessions to life with multi-media aides, participant collaboration, and the ability to save each session for later review.
Interactive Training
Make notes, jot down questions, and mark up images – all in real-time.  Have participants share files with you directly, easily incorporate activities that facilitate knowledge retention, and make training sessions engaging.
Self-Guided Training
Use your best, saved sessions as the basis to train participants in self-guided mode.  They can add their notes and questions for you to go back and answer or start a new, live session on the same canvas to continue the training.
Entertainment
Take a break from business and turn your smart whiteboard into an entertainment center . Today, most smart whiteboards are 4K and will support the major video and music apps such as Netflix, Disney+, YouTube, and Spotify.  Or surf the net and catch up on your social networks with a giant, hi-res monitor.

Product Comparisons
The major smart whiteboards available today are:
Vibe Board
Google Jamboard
Microsoft Surface Hub
Samsung Flip 2

most popular smart boards
Microsoft Surface Hub 2S (50″)
Microsoft is one of the originators of digital whiteboard technology, and their Surface Hub is a popular choice in this space. Surface Hub 2S features a responsive touchscreen display and robust integrations with Microsoft applications. With its collaboration-focused custom version of Windows and video conferencing capabilities, the Surface Hub 2S makes hosting meetings easy.
However, the Surface Hub 2S does have some significant drawbacks. Offices that don't run predominantly on Microsoft software will find connectivity to be a challenge because the Surface Hub is heavily reliant on the Universal Windows 10 application ecosystem. For example, connecting via Skype requires an Exchange Server or an Office 365 for the Business account along with Skype for Business. This means that calling non-Skype users — e.g. most of your freelancers and remote employees — isn't easy.
The Surface Hub costs nearly $3,000 more than its closest competitor, coming in at just under $9,000 per unit.
You can learn more about Vibe as a Microsoft Surface Hub alternative on our comparison page .
Google Jamboard
Google launched Jamboard as a direct competitor to the Surface Hub. It's been successful in mimicking much of that device's functionality, but with some downsides.
On the plus side, the Jamboard features a vibrant 4K display with touchscreen capabilities for easy whiteboarding. Using Android and iOS apps, users can access whiteboard content on a range of personal devices. Jamboard has also become popular with educators, thanks to its intuitive design.
However, the Jamboard offers a limited suite of integrations with Google-only apps, which could mean adjusting workflows to work with many off-site. Additionally, some reviewers have reported glitches in the software.  
It doesn't have an infinite canvas.  When you run out of space you need to 'flip' a new page, which causes the ideas on the screen to disappear.  
The Jamboard costs just under $5,000 per board. 
Samsung Flip 2
The budget answer to the more powerful Jamboard and Surface Hub, the Samsung Flip 2 is a bare-bones smart whiteboard for small- to mid-sized businesses. It comes with an attractive price tag and features real-time whiteboard capabilities on its UHD 4K touch display. The Flip 2 works wirelessly with Samsung mobile devices (as well as other manufacturer's products using an app, though with more limited functionality).
The Flip's most visible feature (and the one that gives it its name) is that its 55-inch screen can pivot on its stand (sold separately), going from horizontal to vertical in an instant.
The Flip 2 doesn't come with a full-featured operating system. While you can share whiteboarding sessions with remote users, there's no app ecosystem so you can't share your favorite cloud apps with your remote audience.
Vibe Board
A relative newcomer to the space, the Vibe Board was designed from scratch by an independent technology company to fill a gap left behind by Samsung, Microsoft, and Google. Its competitors have similar capabilities, with manufacturer-agnostic app integrations and a more competitive price tag to boot.
Vibe users can whiteboard their ideation/collaboration sessions while sharing the screen via video conference applications (like Zoom, GoToMeeting, and Skype). Vibe also supports screencasting from computers and mobile devices to the board, regardless of the device manufacturer.
With a robust suite of built-in integrations that includes Google Drive, Dropbox, OneDrive, Slack, Microsoft Teams, Zoom, WebEx, Asana, and more, users will find that Vibe slots in nicely with existing workflows.
Vibe is also a powerful multitasker that seamlessly shifts between apps. Compatible with many USB webcams, Vibe allows teams to video conference with 3rd party apps and share the whiteboard screen in real-time. This could be a game-changer for remote teams.
One of the big selling points? The price. At $2,999.00, Vibe is almost half the price of the Google Jamboard and one-third of the price of the Surface Hub 2S.
Related content:  Compare All Smart Whiteboards
Why You Should Consider Vibe
Different smart whiteboards are designed to suit different business needs. Finding the right smart whiteboard comes down to balancing features and capabilities with a budget.
That being said, Vibe's modest price tag, endless canvas, and simple workflow integrations are likely to suit most users, especially small- to mid-sized marketing and design agencies, startups, and tech firms.
With Vibe, sharing ideas with collaborators — in-house, across town, or around the globe — has never been easier. Vibe is the perfect addition to any collaborative workspace. For companies that thrive thanks to a network of remote collaborators, it's a must-have device.
Another less obvious (but extremely valuable) advantage Vibe has over its competitors is its small production and development team. Vibe offers white-glove customer support, and their team consistently makes changes to VibeOS based on user requests.
"Overall, we've been very impressed by Vibe and the team behind it," says Vibe user Peter Parker, Director of Advanced Analytics at Attunix. "They've been super receptive to our feedback and have incorporated suggestions and requests, both big and small, into the product. We're often finding new ways of integrating Vibe into our everyday work to make us all more productive and efficient."
Conclusion
If you have a company with remote employees, all virtual, or a hybrid, you should consider a smart whiteboard as the best way to get them all in the same space. 
Interactive smart whiteboards should connect with all the apps you use daily. All participants will have the same access to the same canvas, so it's like everyone is right there, even if they're thousands of miles away.
Standard whiteboards only give you a certain amount of room to work. When you're done with a note, you need to erase it to make space for more. The same isn't true for smart whiteboards. They are modern, cloud-connected devices with an infinite canvas. 
 You'll never run out of ideas or a place to put them.  If you're the type of person who likes to juggle 15 ideas at once, smart whiteboards are a wonderful way to get all of your thoughts out without accidentally losing information. Canvases can be saved and accessed at any time.
Due to COVID restrictions, many of us had to find a place to work at home. And, many of us ended up liking this arrangement. But, sometimes you need to make big changes to figure out the best ways to communicate as a team. 
It's possible that standard meetings were a little stale before 2020 hit, and the pandemic suddenly made you focus on how you've been organizing staff. In a smart whiteboard remote-first ecosystem, you can teach yourself a brand new way to communicate, engage, and work together. 
"The Vibe Board has been a game-changer in how we communicate with clients, both in-person and virtually."

Karen L. Brady Estate Planning Attorney, Arvada, Colorado
FAQs
What is the point of a smart whiteboard?
Smart whiteboards allow you the feeling of face-to-face collaboration and communication, from anywhere in the world. You can brainstorm with your team, give presentations to clients, host planning sessions, and run a coaching session, all from a Vibe Board.
Do interactive whiteboards need a computer?
No! The Vibe Board IS the computer. It can access the internet, easily email work to your colleagues, and integrates with your most-used apps for collaboration.
Are smart whiteboards beneficial?
Absolutely. As a global team at Vibe, we run all of our meetings on the Vibe Board. It helps us to feel connected, even when we're separated by time zones.
See how Vibe could help →
Subscribe to get updates on all things at Vibe
Thank you for subscribing Vibe's blog!