Smartboards in the Classroom: 2022 Comparison
The need to engage traditional in-person students and remote learners in daily lesson plans has driven educators to seek technological solutions. Among the most effective and innovative tools present in the modern educational environment is smartboards in the classroom. These smart displays blend traditional teaching tools with the powerful interactive components of internet access and synchronous communication.
Here's what you need to know about what makes a smart display special, which brands currently offer displays designed for classrooms and how Vibe Smart Whiteboards can transform the classrooms of the future.
Smartboards vs. Projector-Based Whiteboards
Picture quality and brightness
Among the most noticeable differences in the two smart technologies are the resolution and brightness of the display. Projector displays have a limit to how clear they can be, even with classroom lights turned off. The flat-panel displays of smartboards are LED screens with millions of pixels capable of displaying HD images and videos. Flat panels are also backlit, which means the image remains crisp and free of shadows in any lighting conditions.
Touch controls & operation
Well-calibrated projector-based whiteboards still need to use sensors to track a special pen. Smartboards are easily operated without calibration or cameras — a finger or stylus is all you need.
Sound
Though external sound sources are fairly easy to come by, projection-based whiteboard setups do still require connecting additional hardware for presentations to include audio. This can pose a wrinkle to both installation and operation. A smartboard's all-in-one design includes front-facing speakers to circumvent this issue.
Connectivity
Smartboards are designed to almost literally keep students on the same page. They're great for engaging hybrid and remote classrooms in synchronous communication, but vary in terms of connectivity. Just about every modern smartboard will include VGA and HDMI inputs, but additional ports (including USB, which can be useful to quickly transfer video and presentations to the screen) are more likely to be found on the latest flat panel displays.
Installation
Projectors take some time to set up and calibrate with the associated cameras and sensors (and heaven help you if the wall you're using isn't perfectly flat). They also prevent basically any rearranging of the classroom once they're in place. Mounting a flat panel display on a stand or directly on a wall requires no calibration.
Lifespan
Both technologies are built to aid teachers in the classroom for years to come, but whiteboard projectors suffer from the same flaw as all projectors: their bulbs burn out. The estimated number of hours you can get out of a projector before a bulb dies varies greatly, but pales in comparison to the average lifespan of a smartboard LED display.
The Impact of Smartboards in the Classroom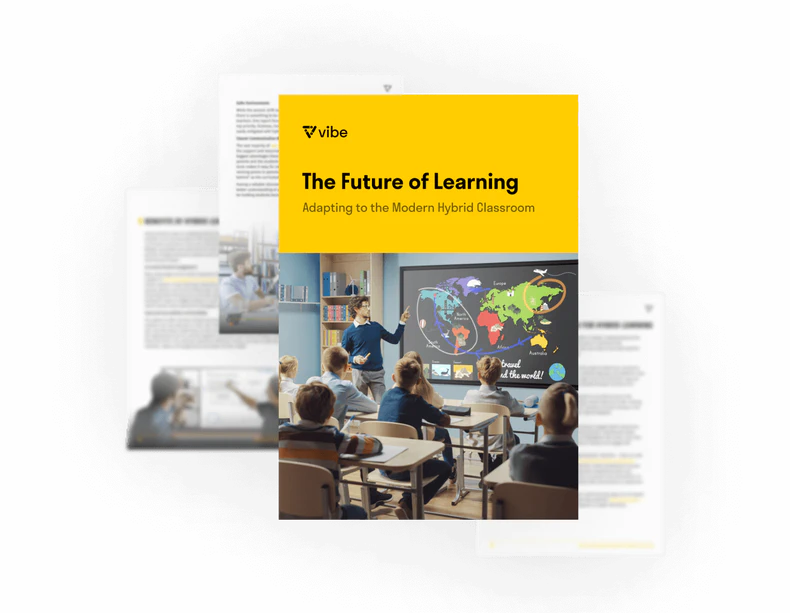 Download Our New E-book
The Future of Learning
There's a lot to like about the smartboard's advantages when compared side-by-side with projector-based boards, but what about functionality? Designed with teachers in mind, the first and most basic feature of a smart flat panel display is the screen itself. The full-size, high-resolution touchscreen allows multiple students to work together on the same page. That means marking up a section of text, working through an equation or brainstorming a project on an infinite canvas as a group has never been simpler.
The ability to scroll, zoom and annotate without running out of room can also enhance the classroom experience. Without the restrictions of a traditional whiteboard, students are free to create without limits. Taking notes, working through word problems and sketching quick designs to better understand a subject can all be done without running out of room or losing progress due to accidental erasure (a problem plaguing traditional whiteboards since they were first invented).
Phones and tablets can connect to interactive smartboards to augment the classroom experience for all types of learners. This includes students tuning in remotely or who are otherwise unable to attend class by traditional means. Connecting to the board grants access to all manner of useful classroom tools, videos and lesson plans that can be recorded and reviewed at will.
Evaluating 6 Different Smartboards for the Classroom
Many smartboard brands are constantly innovating and refining their products specifically for classroom use. It's important to understand the key differences in these products before springing for a purchase, as they can vary by panel size, price and functionality. Here are the major highlights from some of the most well-known brands in the smartboard space:
1. Vibe Smart Whiteboards

Vibe Smart Whiteboard in the classroom
Pros
What can we say, we're partial to one brand in particular around here. The physical specs of Vibe Smart Whiteboards include a 75- or 55-inch 4K touchscreen, without the difficult price-point of its competitors. The Vibe Smart Whiteboard is bright, powerful and compatible with a whole suite of presentation tools and tech for classrooms to enjoy.
Vibe boards are low-latency products, which means no awkward delay when presenting. They were designed with educators in mind — the ability to quickly mark up, save and share presentations, pictures and files from other apps is a comfortable and intuitive process for teachers using interactive displays for the first time.
Want to see how Vibe functions in the classroom? Check out our case studies to see how educators have found success at all levels, from kindergarten , to graduate programs . 
Cost
Vibe Smart Whiteboards start at $2,999, with discounts available for those looking to purchase 3 boards or more. Want to see what your discount could be? Request a quote .
2. Promethean ActivBoard
Pros
The first thing to know about the ActivBoard is it comes in two tiers. The Nickel offering trims some of the more advanced technology from the Titanium model, including limiting touchpoints to 15 instead of 20 and slightly longer response times and tracking rates. Both models include 4K backlit LED screens that come in multiple sizes ranging from 65 to 85 inches.
Perhaps the most distinguished advantage of the ActivBoard is access to Promethean's award-winning lesson software, ActivInspire and ClassFlow, included in the cost of the board (i.e. no monthly subscription fee).
Cons
Upper-tier models can be prohibitively expensive, and any breakage or repair costs down the road from misuse are likewise quite high. Some users report that the required stylus pen can be finicky.
Cost
Depending on the model and screen size, ActivBoards can cost between $3,000 and $13,000 per unit.
3. BenQ Interactive Displays
Pros
BenQ engineered its flat-panel displays specifically for a classroom setting, with some especially innovative tech now included standard with each board. Capable of running two apps side by side, these displays include a nifty option to present material and use whiteboard functionality to illustrate or note further explanation without having to close out of either window.
The tech included in BenQ boards is designed to facilitate active learning and improve classroom engagement. The boards are broken into three categories — the Pro RP series, Master RM series and Essential RE series. All boards offer various sizes and come with 4K Ultra-HD displays, germ-resistant screens and an incredible touch accuracy within 2mm.
Cons
Users report that defective video cards are the most common culprit for BenQ screens not working, followed by an outdated/corrupted graphics driver. If problems arise in the classroom or a work environment without knowledgeable IT support around, diagnostics and repair can be challenging.
Cost
BenQ doesn't list its product prices on its website, but the 65-inch RM series display represents the brand's base price at around $3,000.
4. Newline Whiteboards
Pros
Newline offers seven unique products in the smartboard space, including the corporate RS+, the incredibly versatile MIRA and the classroom-focused ATLAS. ATLAS features several quality of life upgrades for teachers, including noise-reduction and echo-cancellation microphone arrays. The 4K LED screen comes in three sizes and is built to easily pair with all devices and operating systems.
Cons
Premium prices and occasionally touchy screens ( one Amazon reviewer reports accidental zooming, selecting and app-switching in the middle of class) make these displays a steep investment for the classroom.
Cost
The price sheet for Newline's TruTouch screens lists the high-tech displays at $10,000 and above. The base product price does not include the cost of annual software subscriptions, hard drive upgrades, display stands and warranties.
5. Jamboard
Pros
Jamboard is both an app and a 55-inch display built by Google. Like most smartboards in the classroom, it comes loaded with features and bears obvious compatibility with the Google suite. Jamboards make sharing and saving info from the 55-inch 4K screen simple, and the physical product includes both a wall mount and a rolling stand — great for sharing amongst classrooms. True to its Google heritage, the Jamboard hardware and software are both incredibly intuitive to navigate (even for those without as much experience with smart technology).
Cons
Though Jamboards play nicely with Google apps, the suite of other possible integrations is limited. Additionally, some reviewers have had issues with glitches in the software .
Cost
Jamboards start at $4,999, plus a required $600 annual management and support fee.
6. SMART Boards
Pros
SMART goes to great lengths to keep their tech-loaded boards seamless to use within a classroom setting and easy to maintain. Its product catalog ranges from entry level GX boards to the fully-loaded 6000s series. The Android-based UI offers 20 simultaneous touchpoints, SMART Ink technology and connectivity to cloud-based apps like Google Drive. 
Constructed with teachers in mind, the GX model is especially fit for a classroom — the board and all its essential programs (including web browser and whiteboard) "wakes up" quickly to the press of a button.
Cons
Due to its barebones-style framework, SMART options are limited in their integrations and scope. While these excel at the essentials, they still require significant investment and may lack some valuable extras, according to reviews.
Cost
SMART Board prices start at $4,999 for the 6000 series boards, with additional software costs. Depending on whether you're using the board in a business or education setting, users can select from the MX, 6000, or 7000 series, etc.
Contact Vibe for More About our Smart Boards for the Classroom
Browsing a half-dozen brands, technologies and spec sheets can be overwhelming. The Vibe team can help — we're happy to help you evaluate the best displays for presenting, collaborating and teaching to both in-person and remote audiences.
Looking to learn more about Vibe's smartboard technology, price point and classroom advantages? Get a virtual demo of Vibe today .
See how Vibe could help →
Subscribe to get updates on all things at Vibe
Thank you for subscribing Vibe's blog!