Whiteboard Apps: How to Use Your Favorite Apps on a Smart Whiteboard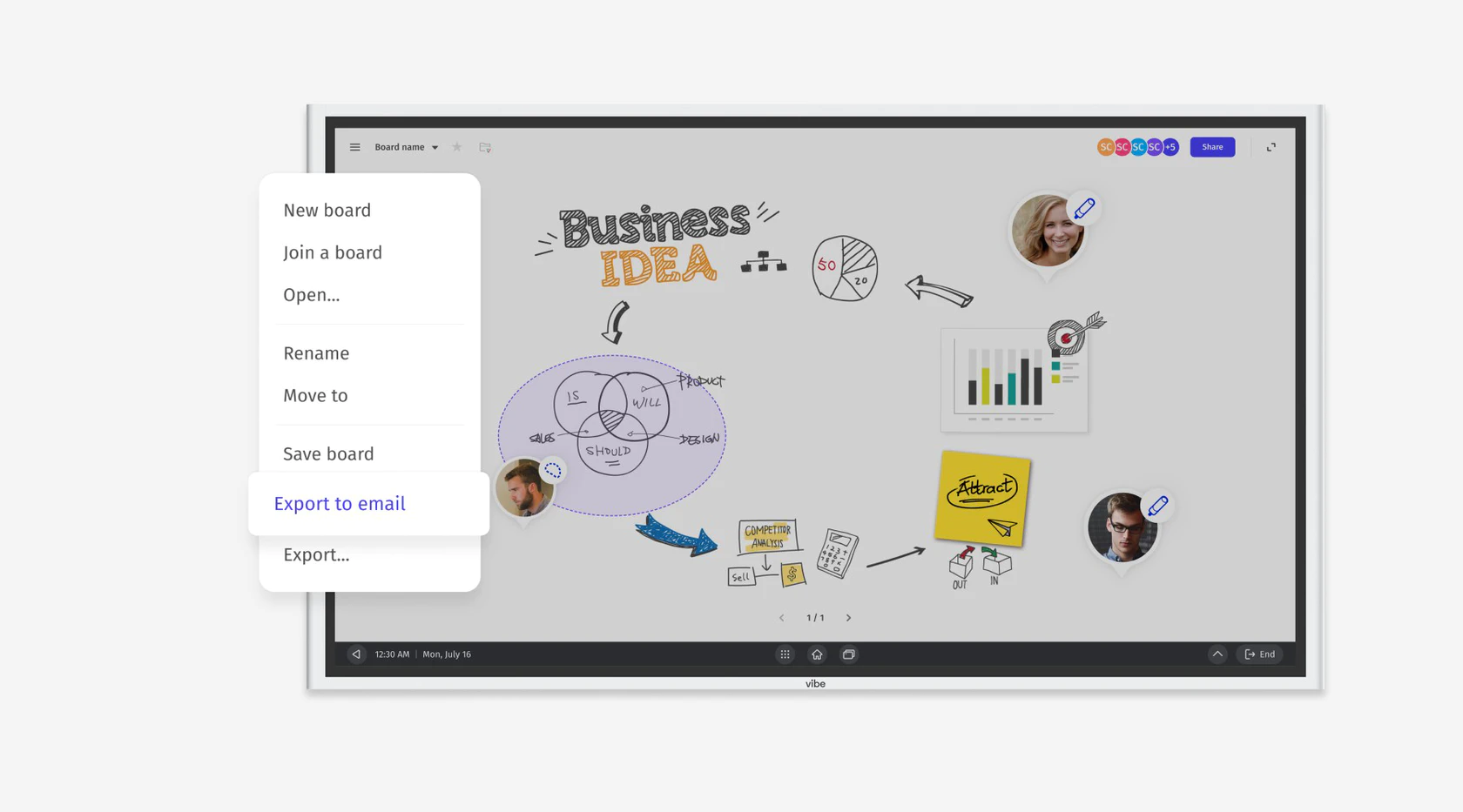 In the latest release of Cisco's Global Hybrid Work Index , enterprises now view collaboration apps as the most critical application type for hybrid work success. Whiteboard apps are a key example. 
Whether you're on the fence or already shopping around, here's a closer look at how to effectively use a whiteboard app (and even some of your other favorite apps) on a smartboard in any workplace setting. 
What is a Whiteboard App?
In simplest terms, a whiteboard app is a virtual whiteboard. Unlike traditional in-person office whiteboards, most whiteboard apps allow multiple users to collaborate in real-time on an infinite virtual canvas. 

A whiteboard app allow people collaborate on the same page
The distinctions above are what enable whiteboard apps to be so effective in helping remote, hybrid and in-person teams collaborate at a high level. 
Remote work breaks down when we try to mirror physical processes in the virtual world. Instead of trying to skeuomorph our way into collaboration, we should focus on the outcomes of any process we use and find alternatives that can help us achieve these outcomes.
It's hard to run an effective brainstorm or whiteboard session in a remote setting. Whiteboard apps are unique in that they provide helpful solutions to the challenges associated with remote whiteboard sessions . 
They go one step further in providing features that also address some of the limitations of in-person whiteboards. For example, can you imagine your whole team crowded around a single dry erase board at one time?
Whiteboard App Features Explained
With so many whiteboard apps available right now, it might seem a little overwhelming to sort through all the various features. 
Here's a look at a few of the most important features to consider based on how they might serve your business best. 
Synchronous and asynchronous capability
This is one of the best benefits of a whiteboard app! Cisco's Global Hybrid Work Index also found that only 48% of participants are likely to speak during a meeting. If this is a challenge you're facing, most whiteboard apps offer features that allow participants to collaborate together, as well as independently. And, participants can add their thoughts without having to present to the entire (Zoom) room.
Plus, after a meeting or a brainstorm, whiteboard sessions or canvases can be saved and shared, giving participants who might not feel comfortable speaking up an opportunity to give feedback or share ideas at a different time. 
Multimedia content sharing
This feature is a major upgrade from the traditional whiteboard in that it allows all meeting participants to upload videos, audio clips, or photos in real-time. 
Flexible writing and drawing tools
Depending on your business, this feature has the potential to be really important or more of a nice-to-have. Some whiteboard apps allow users to use a stylus or digital pen to sketch in addition to freehand drawing with your finger, a mouse, or trackpad.
Video conferencing integration
Whatever your platform of choice, having video conferencing integration can save a valuable step in getting everyone in the same place at the same time. 

Integrate a video conferencing app when holding a whiteboard session
Board permissions and security
If the idea of the contents of your whiteboard being shared on the internet is something that scares you, many whiteboard apps offer board permission and security features. These features enable owners to control who can access canvases both internally and externally.
4 Top Whiteboard Apps
1. Explain Everything
Explain Everything is a robust whiteboard app offering many of the high-level features listed above – including the ability to collaborate in real-time or work asynchronously, with the ability to turn a whiteboard session into an ongoing project. 
Additionally, one of the more unique features is the ability to record any whiteboard session and then instantly edit your recording within the app. Once finished, you can share or download the video. 

2. Conceptboard
Conceptboard offers many of the most important features we listed above, from content uploads to drawing tools. 
One of this app's more unique features is its "presentation mode," which allows a user to guide participants through the board to make sure everyone has the same view. This feature could be especially useful if you have a group of employees who are unfamiliar with using whiteboard apps and need a little more guidance.

3. Stormboard
Stormboard is one of the most popular whiteboard apps. With all of the key features, this whiteboard app also allows users to assign tasks, create projects and set deadlines within the app, while also tracking the progress of each project. Security is another defining feature for Stormboard, which notes that all whiteboard sessions are captured and transmitted over a 256-bit SSL internet connection. 

A Stormboard whiteboard case study template
4. Sketchboard
At first glance, Sketchboard might seem like a simpler interface compared to some of the other whiteboard apps. Sketchboard prides itself on a more "organic feel" to encourage collaboration and feedback. This type of interface and its more simplistic features are great for teams that frequently create mind maps, solve complex problems, or sketch UX flows. 

How to Use a Whiteboard App on a Smart Board
Using a whiteboard app on a smart board is a great way to enhance collaboration regardless of your workplace setting. One example is a corporate training session or a workshop. 
Using a Vibe interactive whiteboard , users can both attend and collaborate in real-time, whether they are remote or in person. If two presenters are in the same room, they can easily present their material and then send participants into breakout sessions where they can collaborate with each other within the whiteboard app.
If your participants are all in the same room, they can collaborate on the whiteboard app in real time on their own personal devices or on a Vibe smart board. 
Breaking up day-long training sessions and workshops with a whiteboard app session is also a great way to prevent dreaded Zoom fatigue . Not all whiteboard app sessions need to be training-related, either: feel free to mix in some ask-me-anything sessions or short games. 
Tips for Using Whiteboard Apps
Once you decide on a whiteboard app, you'll need to make sure that everyone who will be interfacing with the whiteboard app knows how to use it. Consider taking time to plan a group training session or making appropriate resources available to get everyone up to speed on how to use your new whiteboard app.
Once everyone has a general understanding of how to use the whiteboard app, here are two things you need to do before your first session. 
Test ahead of time. There is nothing worse than getting into a session and realizing links are broken or key features are inaccessible.
Consider pre-building templates. Since this might be the first time some users have ever used a whiteboard app before, setting up templates and sharing them ahead of time can allow participants time to get acclimated to what they are looking at and what they might be asked to do in the whiteboard session.
When you're ready to begin your whiteboard session, here are two additional things to keep in mind to ensure your session is meaningful and productive. 
Define goals and set guidelines for participants. At the start of the session outline the goal of the brainstorm or meeting so everyone understands what is expected of them. For example, set the expectation that professional artwork is not expected, so participants can feel free to draw or annotate freely without comments about their level of artistic talent from the rest of the group.
Keep the whiteboard organized. While an infinite canvas may sound impossible to clutter, you might be surprised at how quickly it can fill up. To prevent chaos, designate someone to keep the board organized and moderate collaboration, especially if you're working with a large group.
Ideas for Using Other Apps on a Smart Board
Vibe smart boards also integrate with tons of other apps, meaning you can seamlessly integrate these tools into any whiteboard session. 
For example, once you finish scoping a project or getting client feedback in a whiteboard app, you can easily document new tasks or make notes in a variety of project management apps – all from your Vibe smart board. 
Most importantly though, don't forget to have a little fun with a few of your favorite apps.
Here are a few ideas to get you started:
Break the ice before a long meeting with a funny viral YouTube video.
Play a round of group Pictionary in your favorite Adobe app.
Host a virtual reality happy hour or trivia session.
Are you ready to take team collaboration to the next level with a whiteboard app? Check out Vibe today to see how you can start making the most of your whiteboard sessions from anywhere in the world.
See how Vibe could help →
Subscribe to get updates on all things at Vibe
Thank you for subscribing Vibe's blog!