Guide to Improving Communication at the Workplace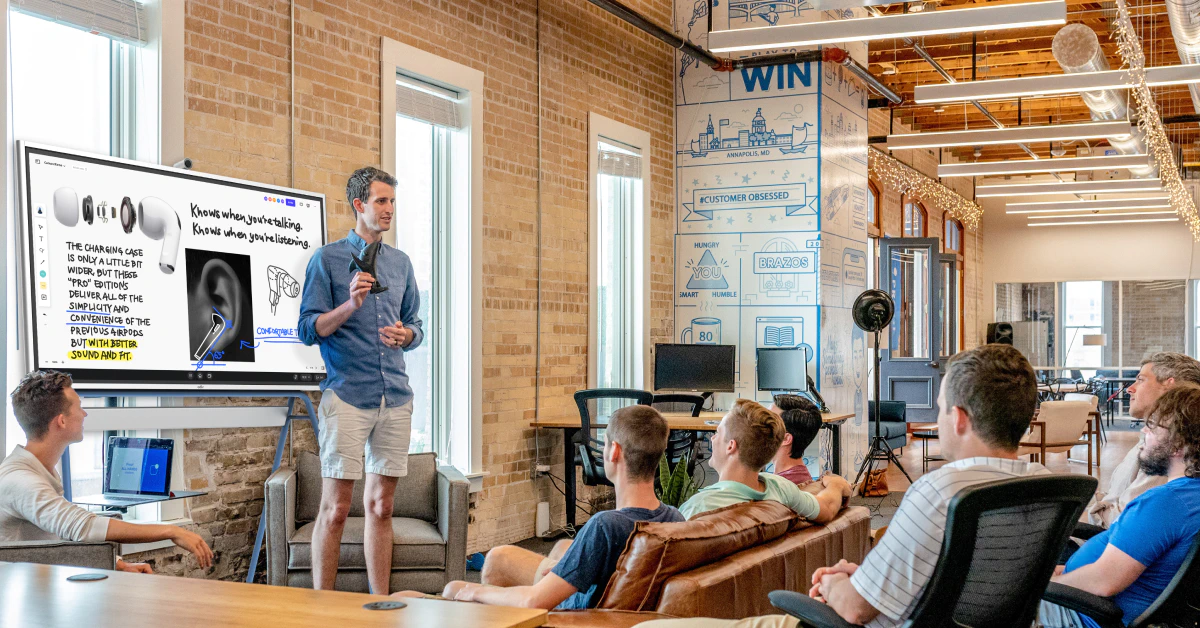 Improving communication at the workplace is definitely easier said than done. Helping everyone in the team feel connected and comfortable can be a difficult and complicated task, no matter what your team or office looks like. At the same time, communication is clearly one of the most important aspects of your office—it can boost productivity, employee retention, and job satisfaction all at once.
So, what steps can you take to improve communication in your workplace? Read on to explore your options.
4 Steps to Get Started
Connect From Your Desk
As you start your journey to stronger in-office communication, you don't have to move far. In fact, one of the first steps starts right at your own desk. 
Even if your office is entirely in-person, it's likely that the majority of your in-office communication is digital. While face-to-face conversations do happen, many discussions take place over messaging channels, email chains, and phone calls.
The key to improving in-office communication, then, starts with identifying what channels of communication your team likes to use the most.
For some teams, the most productive way to exchange information is over email, since most employees are very familiar with it.
For others, messaging and sending files over Slack is the winner, due to Slack's ability to integrate with other productivity and workflow apps.
Teams who favor Microsoft products can lean into Microsoft Teams, with its added bonus of a built-in calendar and compatibility with any Microsoft Office apps.
Similarly, teams who prefer to use Google Docs or Google Sheets can easily use Google Meet or Gmail to keep in touch.
To keep it simple, whatever channel works best for your team is worth the investment. Don't be afraid to ask your teammates what they prefer. These messaging channels can improve communication for hybrid work or communication for remote work by streamlining scheduling and file sharing, as well as keeping office distractions to a minimum. If you can send a quick message over instead of walking and chatting by someone's cubicle, fewer people are distracted and more questions get answered, faster.
Connect Face-to-Face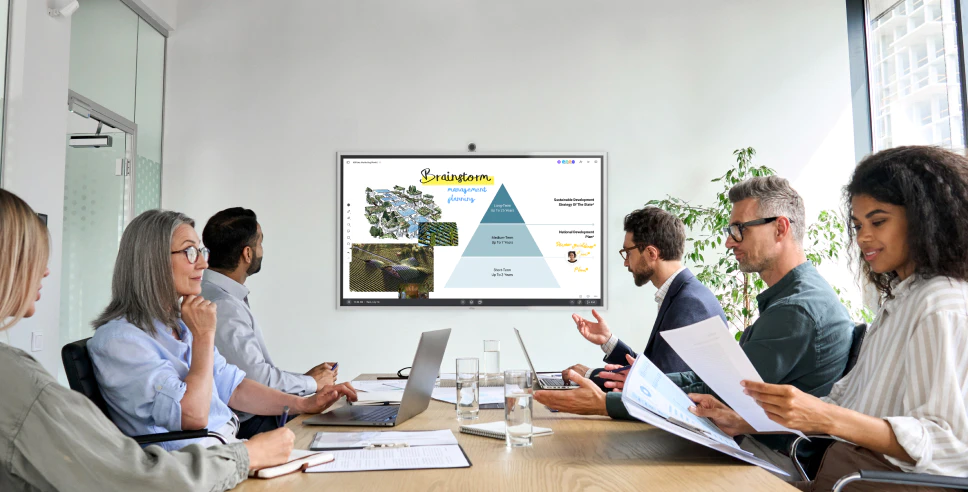 Brainstorm in-person using Vibe
As much as messaging apps are helpful in the office, the real gem of working in-person is face-to-face collaboration. Just as you want to understand your team's favorite way to communicate digitally, you should discover what your team's favorite way to meet in-person is as well.
For some teams, a traditional conference room gets the job done. A typical meeting structure helps everyone get their ideas across, whether they're presenting a sales pitch or just listening and asking questions.
However, many teams are discovering that the traditional office meeting doesn't work for their team. As more office environments get more casual, it's only natural that the meeting environment should change as well. If your team prefers a casual workplace, the more conversational your meeting is, the more comfortable your team will be—which leads to higher participation and productivity. So, what does this look like?
Many organizations are focusing on the huddle room : a small meeting space built for intimate, quick chats and thinking on your feet. To take it one step further, some of the best casual office conversations happen in the break room or even over lunch.
The key is finding out which meeting setting is your team's favorite. You can measure this with check-ins, post-meeting surveys, or just making note of how much your team participates or seems excited in different meeting settings. The more comfortable they are with the meeting set-up, the more willing folks are to communicate.
Connect Outside of Work
More often than not, the more you have in common with your coworkers, the more enjoyable work can be—but you can only discover those common interests if you're given the opportunity to connect outside of work.
By hosting activities for your team that aren't centered around work, your team can connect over the things that they're passionate about outside of their job. Discovering mutual interests and hobbies with your coworkers can help build relationships beyond in-office interactions.
There are plenty of opportunities for team building outside of the usual work day, whether it's group excursions, office lunches, or making the most out of downtime to help break up the work week. 
Connect With Your Audience
Meetings and presentations are a regular part of any workplace. They're one of the most natural ways to collaborate with your team. With everyone in the same place, it's one of the best ways you can build connections throughout the work week, quarter, or year. 
A great way to connect during meetings is to create a compelling and inclusive presentation. As we've mentioned before , not only are first impressions made in less than seven seconds, but nonverbal cues are four times more likely than words to influence people's perceptions of you. That means your meeting set-up should ensure that everyone can see each other's body language, whether it's a hand gesture at the board or a nod of understanding. It's simple: in order to connect with one another, you need to see and hear each other.
Another way to keep presentations compelling is to make them more interactive. Pull in resources that draw interest or are extra relevant to the team, and make sure meeting attendees have the chance to speak, write on the board, ask questions, and provide feedback. 
Connect Like Never Before with Vibe
We're gonna let you in on an insider tip: Adding a smart whiteboard for business like the Vibe Board S1 to your workspace can help you improve all 4 of these opportunities for connection.
Here's how.
From Your Desk
So, you've identified what channels of communication your team likes to use the most out of Slack, Microsoft Teams, Gmail, and all other options. Now, imagine a smart whiteboard in every office or conference room that integrates perfectly with the communication channel you decided on. That's Vibe. 
With Vibe, you can download your favorite collaboration tools directly onto your Vibe Board. Or, stick to the Canvas app, where you can ideate, plan projects, or take meeting notes and export them directly to your messaging threads (including Slack and Gmail) or to your file sharing method of choice (including Box, DropBox, and OneDrive). For a full list of app integrations available on Vibe, read more here .
With these integrations, it's not only easier to share meeting notes and keep a thread of communication going, but you're also centralizing your communication so it's easier to jump back into, follow along with, or reference back to. With easy-to-share, easy-to-access office communication, feeling connected to your teammates and your workflow is simple and straightforward.
In-Person
Whether your team prefers a formal meeting in a conference room or a more casual chat in a huddle room, adding a Vibe Board to your meeting space can boost productivity and collaboration. 
Spontaneous conversations in the halls, chatting across cubicles, and even small talk before a meeting starts are all a small but mighty part of company culture. These impromptu conversations build work relationships, friendships, and ideas more readily. Now imagine having an easily accessible record of all these unplanned yet highly productive conversations.
Whether you think of that great idea in the hallway, at your desk, or while leaving the conference room, you can quickly jot down your thoughts on the Canvas app from any location and with any device. To keep the brainstorming sesh going, you can easily pull up that Canvas on the Vibe Board itself (use the Vibe One app for lightning-fast SSO), or, with Vibe's portable stand, you can wheel your smart whiteboard to wherever you are. Not only that, but you can easily save and share these ideas with the rest of your team instantly. Having a great conversation but wish your one coworker was part of it? Just shoot them a link to the Canvas and they can jump in right then and there, whether they're in the office with you or working from home.
If Vibe Boards are a standard feature in your office ( take Earth Rated's Vibe-centered office set-up, for example ), use the homescreen and screensaver options to your advantage. Customize your homescreen to display your meeting calendar. That way, anyone can pass by your office and see what your schedule is like for the day—without even having to disrupt you. With transparent scheduling, it can be even easier to find the right time to chat with your coworker.
Outside of Work
So, you just discovered your office has a serious Game of Thrones obsession. Get this: You can plan weekly movie or TV nights with the team, all on the Vibe. With hundreds of app integrations , it's easy to get the crew together and stream your favorite shows and movies, whether they're on YouTube, Netflix, Disney+, Hulu, HBOMax, or other popular streaming platforms. With a crystal clear (and massive 55- or S1 75 ), connecting with your team over a shared love of dragons and fight scenes isn't just easy, it's fun!
If movie nights aren't your thing, consider making game nights a regular tradition. Use Canvas' gaming templates , watch sports on the big screen, or use a blank Canvas to play Pictionary, Hangman, or any drawing-centered game you can think up. You can even use Canvas to play your own version of Guess Who. Have your teammates write a few fun facts about themselves and add them to a shared Canvas. Once everyone's submitted their fun facts, have the team try to guess who's who.
Having fun with a Vibe Board is a fantastic way to connect with your team and build relationships. The better you know your coworkers, the stronger your communication can be.
With your Audience
As we said before, meetings are one of the most natural and expected ways to communicate with your team, which means a compelling presentation can be the difference between your team feeling connected and your team feeling out of the loop.
With a Vibe Board at the center of your meeting , it's easy to hold your audience's attention. Not only can they clearly see what you're presenting, but they can see your body language and any additional resources you're pulling in, all at the same time. You don't have to turn your back to the audience or walk around the conference room to change slides or write on a whiteboard on a different wall. Your collaboration is centered, so everyone's attention can be too. 
You can also keep presentations highly interactive. Have meeting attendees join your Canvas, either at the Vibe Board itself or from their device of choice from their seat. This way, everyone can participate equally and you can ensure that everyone is heard. Not only is your communication more meaningful, but it's well-rounded, since you're hearing from more of your audience. Not sure if everyone will be willing to participate? Check out these 35 quotes about communication to inspire more team collaboration .
Lastly, you can use the Canvas app to send around everything from meeting agendas to meeting recaps, so everyone can stay in the loop and stay on the same page—literally.
Adding It All Up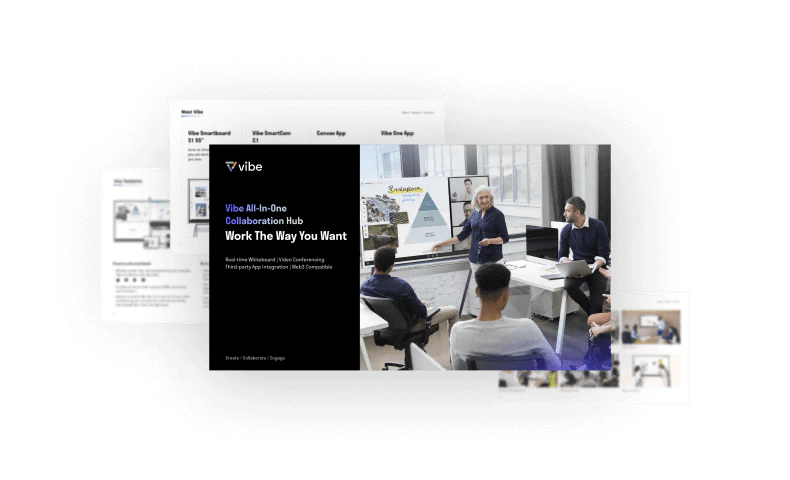 Explore Vibe's All-in-One
Collaboration Hub
Across all these different ways to connect, one thing holds true: the key to better communication is investing in every moment.
One of the best ways to do that is by adding innovative technology like a Vibe Board to the mix. Don't let a moment pass by that could've been a time to connect and communicate with your team.
Looking for ways to improve communication in the hybrid workspace? Check out our other blog, Team Communication Best Practices for Hybrid Work , to explore your options. For a fully remote team, consider reading up on The Business Communication Solutions Stack For Remote Work to get started building strong team communication.
Looking to learn more about Vibe ? See Vibe in action here , or shop the Vibe S1 55″ or Vibe S1 75″ .
FAQs
What are 5 ways to improve communication?
To improve communication at the workplace, it's important to communicate project deadlines to all team members, check in regularly on progress, communicate any hurdles or pain points you may be experiencing, develop a team culture, and to deliver feedback quickly and constructively.
What is the main factor to improving communication at work?
The most important factor to improving communication at work is to make time for face-to-face collaboration and communication. This is typically not possible with remote or hybrid communication, but is made possible with the Vibe Board.
Can you fix poor communication in the workplace?
Absolutely. Use the tips given in this article to make communication more effective at work, and consider adding Vibe to your toolbox to make face-to-face communication possible no matter where you are.
See how Vibe could help →
Subscribe to get updates on all things at Vibe
Thank you for subscribing Vibe's blog!