How to Record a Whiteboard Presentation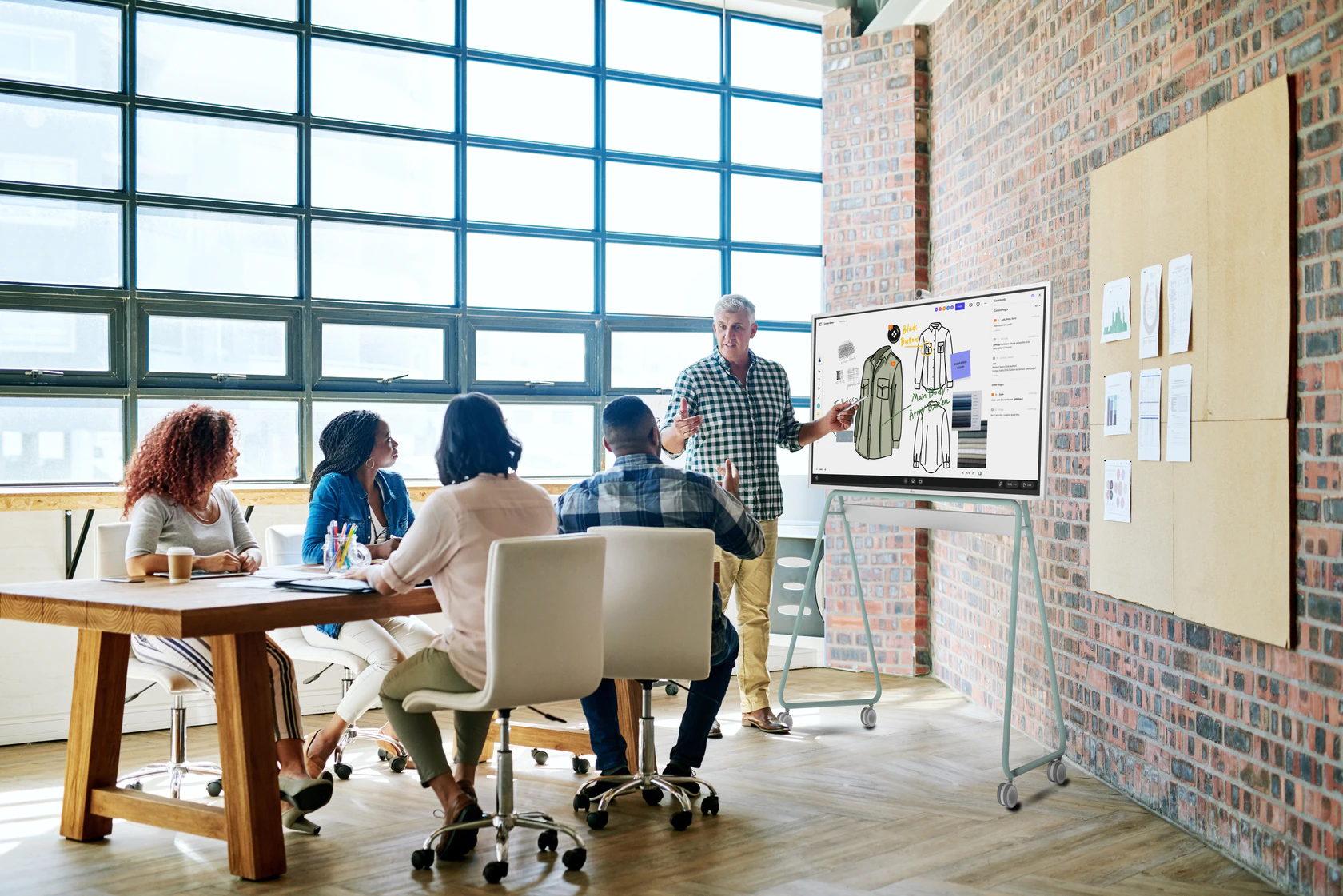 The recent fad of taking everything 'digital' has slowly but surely become an integral part of workplaces all over the world—and smart whiteboards (and smart whiteboard recording) play a major role in that. 
Whiteboard recording sessions work as an excellent tool for team members to collaborate with one another and develop new ideas. A whiteboard recorder can be used with smart whiteboards for business to encourage creative thinking and make material more aesthetically appealing, as well as easier to remember. 
Benefits of Whiteboard Recording

Better Collaboration
Presentations that use whiteboard recording, as compared to any other regular meeting, can foster more innovative thinking. The participatory and engaging character of whiteboard recorder sessions encourages group collaboration, maintains the interest of meeting attendees, and leaves lasting impressions. For instance, your team can outline new guidelines or choose the next stage in the process of redesigning a product, then rewatch the whiteboard session to build off those ideas at a later time.
Different from the Usual Meetings
Whiteboarding sessions are the ideal solution for handling meetings and assignments in a different way, delivering a variety of new and fresh perspectives. With whiteboard apps like Canvas , you can have every meeting participant add their notes to the board from their device of choice—they can even join the meeting from their home office or on the go. Even better, using a whiteboard recorder means that anyone who wasn't able to make the meeting can join in on the conversation at a later time that works better for them. This way, everyone can be on the same page and stay up to date. Overall, combining a powerful whiteboard app with a whiteboard recorder is a great way to increase the level of cooperation that occurs within a team.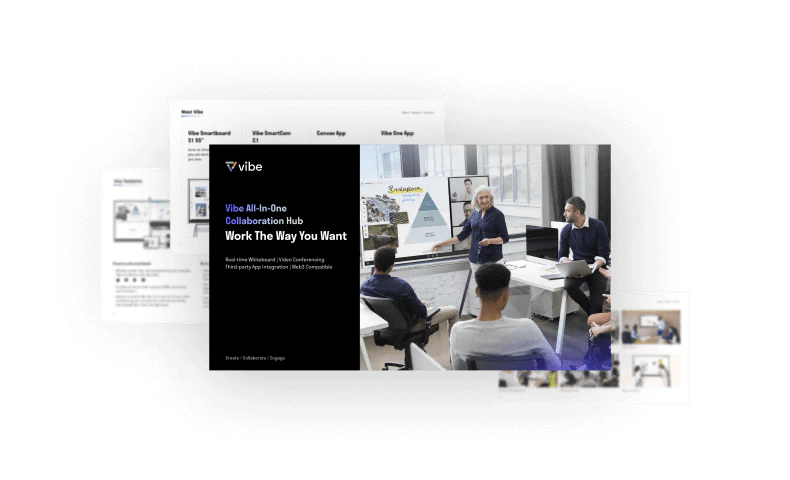 Explore Vibe's All-in-One
Collaboration Hub
Birth of Spontaneous Ideas
An outdated slide deck is a surefire way to lose the attention of everyone in the room. Whiteboarding sessions are perfect for on-the-spot brainstorming sessions . They allow for the spontaneous development of concepts and solutions during meetings, and the iterative nature of these meetings encourages participation from the entire group.   
What You Need for Flawless Whiteboard Recording

Script
In order to make an effective digital whiteboard recording, you'll need to have a comprehensive understanding of the topic that you're covering. Make sure that your pieces are arranged in a way that is clear, concise, and gets right to the point. When you achieve this, you will have a combination of words that solely and actively relate to your presentation.
Reduce the number of words even further, and remove all but the most important buzzwords that accurately express the subjects or a particular task. When creating a video presentation using an interactive whiteboard , it's not necessary for you to have drawing skills in order to be successful. In fact, whiteboarding tools like Canvas include smart handwriting and smart shape features that turn chicken scratch into standard font and clean lines. Annotating videos is also a great way to get your point across. As long as the idea is present, you'll be able to draw and make your ideas even clearer.
Lights
Lighting is one of the most critical components of any whiteboard setup. Although it sounds like a pretty easy thing to deal with, it's not. The room's light has to be accurate to be reflected right at, but not too much, on the whiteboard. Using lights that are equipped with softboxes is the most effective method for achieving an even light distribution.
Camera


Having a camera is necessary if you wish to be present during the recording that you are doing. For the majority of presentations, high-quality video conference tools and recorders that can record video in 1080p or higher resolution should do the trick. However, based on the type of presentation you're going to be creating, you might need more advanced cameras with expansive AI features. The SmartCam C1 features auto-framing, noise and echo cancellation, and omni-directional microphones, so you can look and sound your best in any whiteboard recording session.
Sound
When using an interactive whiteboard for presentations , audio quality is another aspect that needs to be taken into consideration. Adding sound to a video can take place either during the recording phase of the video production process or during post-production, based on the type of video that you're trying to create. 
Purchasing a microphone with a high-density capsule is highly recommended since it is the most effective technique to achieve good sound quality.
When we're recording sound, one of our primary goals is to separate the presenter's voice from the rest. We want to ensure that there is no background noise that disrupts the sound and causes the audience to become distracted from the presentation. 
You can also go for a lavalier microphone if you have the budget. If you are using a lavalier microphone, you won't need to be concerned about the mic blocking the path of a shot because it will be completely out of the way. Whatever microphone you choose, make sure it's compatible with your smart whiteboard.
The Best Whiteboard Recording Practices to Follow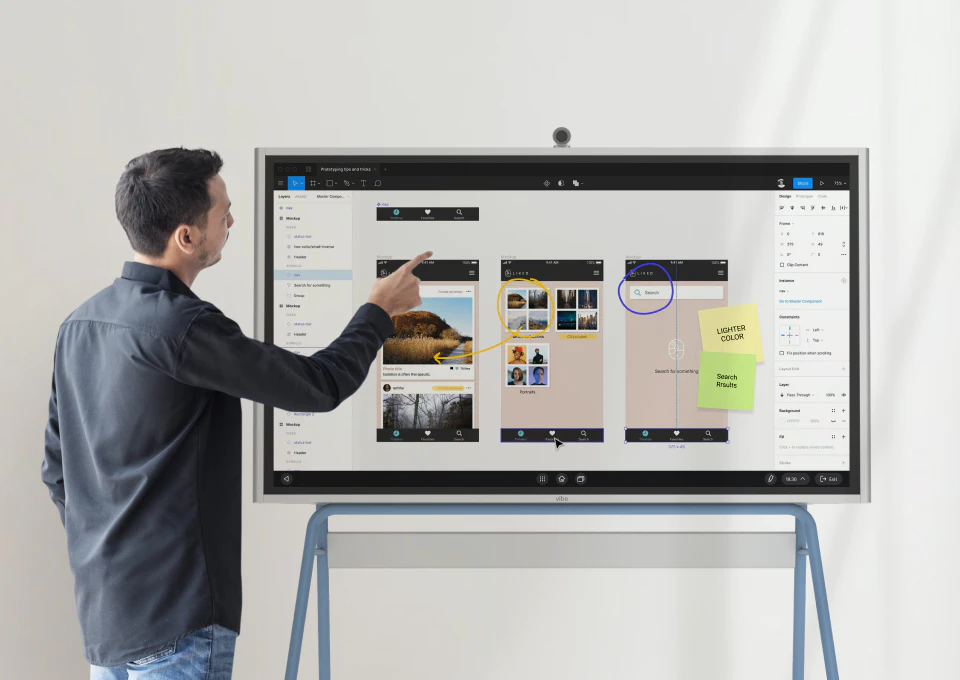 Establish Some Ground Rules
Working on a whiteboard recording is a fun activity, but doing so in front of your colleagues can be a daunting experience. Therefore, establish certain ground rules in order to maintain a pleasant atmosphere and develop confidence. Make it obvious who is called to the whiteboard at any time, encouraging their time to speak and greeting them to return to their place when they are done sharing. 
Keep Participants Engaged
People tend to feel strongly one way or the other regarding group brainstorming sessions. But they have the potential to deliver some really interesting concepts, regardless of one's individual preferences.
Make sure to steer the conversation without passing judgment on any of the suggestions that are brought up. Maintaining a constant flow of discussion is one of the best ways to ensure that your brainstorming sessions are as fruitful as they possibly can be.
Inviting people to elaborate on the thoughts of their fellow participants is a good idea. You can create a single, more brilliant idea by combining a few different concepts. Participants should be encouraged to give some thought to how they can develop existing ideas further or contribute to existing ones. 
It's important to eliminate any criticism from your mind in order to let the ideas flow freely. It's also essential to think of as many potential solutions as you can when you're in the brainstorming session. At this point, we should be more concerned with quantity than with quality. If more suggestions are made, the likelihood of finding a suitable solution becomes quite high.
Wait until the end of the meeting to go through all of the ideas and decide which ones to keep before making any decisions. Since this session is recorded, you can also return to the brainstorming session later in the week and make decisions then, after you've had some time away from the ideas to think some more. It's not necessarily about reaching a conclusion during a brainstorming session; rather, the goal is to get the creative juices flowing and come up with new ideas.
Organize Ideas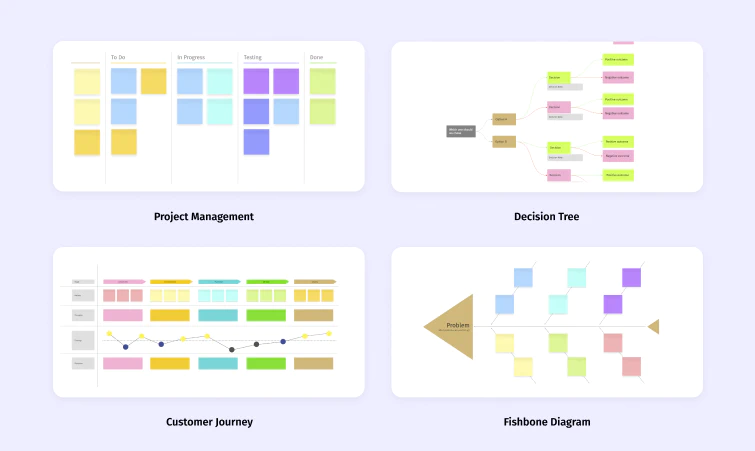 You might have noticed that the whiteboard starts to appear disorganized and congested as soon as you start coming up with ideas. If you want the text to be as easy to comprehend as possible, divide the concepts into rational columns, sections, and groups—or use helpful templates to keep your thoughts organized. Even better, lean into whiteboarding tools with infinite canvases , so you never have to worry about running out of space again.
The attendees in the meeting will benefit from having access to a useful visual aid, and the meeting will continue to move in a more organized direction.
Set Up a 'Parking Lot'
When people start many conversations at once that go in different directions during a meeting, the flow of the conversation is disrupted. If there are good suggestions that are not relevant to the current project, keep them in mind but put them in a "parking lot" for consideration at a later time. 
To keep track of ideas and information that aren't related to anything else, divide off a small portion of the board in one of the corners—or use split-screen functions to easily divy up the screen. Either return to the "parking lot" later in the meeting or schedule a separate meeting to discuss topics that are not relevant to the current discussion.
Speak Your Thoughts
When you describe what you're doing to someone else, you're sharing your thought process, which is, in some ways, just as significant as the actual presentation. The ability to perform well under pressure is important to teams, but they're also interested in hearing about how creators think critically. 
On the other hand, there's no need to frantically fill the silence when it occurs; simply breathe, and then move on with what you were doing.
Reshoot If You Need to
The more you do something, the better you become at it. Trial and error are essential in order to shoot videos that seem great and professional. The better a person is able to be themselves in front of the camera, the better the video will turn out. 
Most important—don't forget to have fun!
FAQs
What are the benefits of recording on a smart whiteboard?
There are many benefits of recording on a smart whiteboard. It improves productivity and efficiency and allows for better retention of the information presented. It also helps employees strengthen relationships, which improves both their performance and the working atmosphere. Using this technology gives companies the boost needed to meet their productivity and retention goals.
Is it free to record a smart whiteboard?
Certain smart whiteboards offer free recording services or features, like the Vibe Board , which offers a variety of features, including switching between apps while recording or embedding videos directly into your presentation.
Can you save smart whiteboard recordings?
Yes, with Vibe, any presentation that you've made on the board can be exported and saved, so you can easily share your recording via email, a cloud storage service like Dropbox or Box, or even in messaging apps like Slack.
See how Vibe could help →
Subscribe to get updates on all things at Vibe
Thank you for subscribing Vibe's blog!