What Makes Vibe a Top Online Training Tool?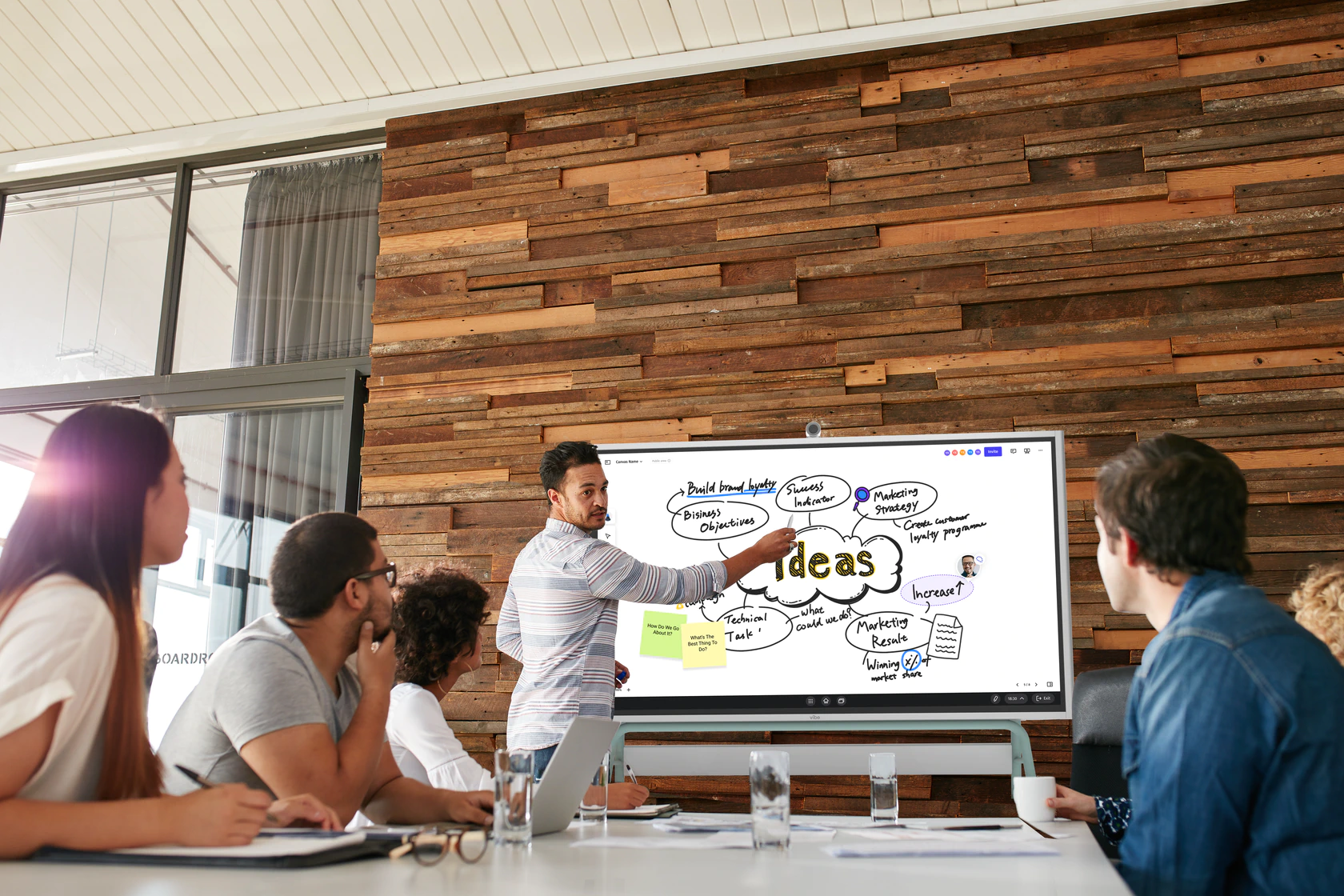 Whether you're a coach training a sports team, a consultant advising a business, or an advisor running a debate club, one thing holds true: your training is only as effective as your participants' engagement . Luckily, adding an online training tool like a smart whiteboard to your training sessions allows you to be more than just a talking head—it provides real-time collaboration to keep all your trainees active, engaged, and learning.
With the new Vibe S1 bundle —which includes the Vibe Board S1, the SmartCam C1, the online whiteboard Canvas app, and a portable stand—you can host more productive and effective training sessions, all with the power of one tool that checks all the right boxes.
Curious to learn how?
How to Train from Anywhere with an Online Training Tool
What's Changed
The best training happens one-on-one, where everyone involved has ample time and opportunity to speak up, ask questions, and get clarity. Personalized guidance can be the difference between someone getting it and someone missing the point. Additionally, one of the best qualities of a one-on-one session is its ability to happen anywhere, whether that's on the court, in a conference room, or during a quick check-in.
Here's the thing: times have changed, and as a result, so have training sessions. Before the pandemic, you had a set and guaranteed amount of in-person time with your trainees. Now, as teams go hybrid and meet less frequently, the in-person time you have is far more unpredictable. To make training work today, you need to have the online training tools ready to train from anywhere.
That means taking a hard look at the tools you're using right now. Traditionally, training sessions have been centered around whiteboards, flip charts, and projectors, so everyone in the room can see important notes and figures. But what happens when your audience isn't in the same room as you?
For a virtual training session, whiteboards and flip charts not only have a troublesome tendency of looking unprofessional and messy, but also can be hard to see over a video conferencing app. As Mike McHargue, Founder of M5 Partners, quickly discovered, "When the pandemic hit, the only choice was going virtual and it was a messy process. I was in front of a camera, I was using flip charts," and the whole set-up "didn't look very good, didn't look very professional."
With old training tools, it's far too easy to run out of space on the board in just the first 10 minutes of training, and it's far too hard to send training notes around after the fact. With no way to review and reflect on training notes, your trainees can easily forget important lessons as soon as they leave the room or close the Zoom meeting. All in all, a digital-first training could mean less engagement and more distraction—that is, unless you're working with a smart whiteboard.
For those using online training tools like a Vibe Board, a hybrid or remote training session can be an opportunity in itself. By keeping things digital, you can broaden your reach when you conduct a training or coaching session, getting more participants involved than was previously possible, sharing notes with ease, and making sure every participant is an active part of the training, no matter where they're tuning in from.
Let's see how to make a Vibe Board work for your training sessions. 
How Vibe Can Help
To start, Vibe Board's portable stand helps you train and coach from wherever you best see fit, or wherever your trainees need you the most. Begin your coaching session by discussing practice drills in the locker room, then move the Board and your team onto the court to focus more on form and technique.
With Vibe's online whiteboarding app, Canvas , you can invite participants to interactively sketch, design, and conceptualize on an infinite canvas—from any device or location. Vibe also allows you to share your Canvas board with others, so you can work together in real time. With Canvas, your session can be as collaborative and interactive as possible, regardless of where your participants are tuning in from. 
You can also use apps like Zoom, Slack, and Microsoft Teams to be in constant communication and facilitate video conferencing with the coaches and team. This way, other consultants, assistant coaches, or other helpful attendees can add to your training session whether they're with you in person or not. 
Even better, with the SmartCam C1, your team can see and hear you with crystal clear video and audio, so you can get that face-to-face feel even when training or coaching from far away.
Find the Right Online Training Tools
Templates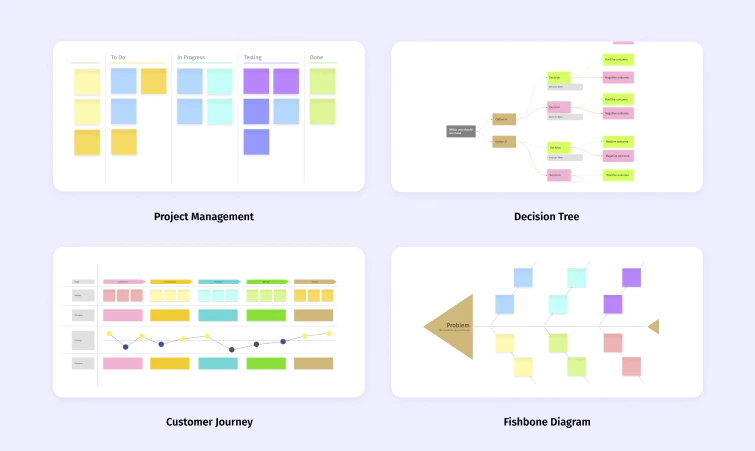 A few of Vibe's Canvas Templates
One of the best ways to teach someone something new is by using the tools they already know and love. 
With everyone already working together on Canvas, be sure to make the most out of the pre-built Canvas templates and customizable templates throughout your training:
Whether you're organizing a rec sport for the office or a high school basketball team, use the Basketball Court template to plan out every players' moves and best positioning.
Looking for something a bit more personal? Try your hand at crafting some custom templates, or easily import your existing training tools onto your Canvas.
App Integrations
With Vibe, it's easy to work with the online training tools your team has established as effective and reliable. Vibe offers a wide variety of third party apps through Google Play, the Chrome Web Store, and the Vibe App Store, so you don't have to sacrifice your go-to apps for the sake of software compatibility.
By integrating the tools and apps you want, you can offer a training experience that's individually tailored to every team or team member. Using the Board's split-screen function, you can show a training slide deck on one side of the screen and pull in resources from YouTube or Chrome on the other.
Vibe's third-party app integration and split screen mode has worked out especially well for Victor Antonio, founder of the Sellinger Group , particularly since he connected OneDrive. As he puts it, "[W]ith One Drive I can download the PowerPoint and [other] apps there as well, and use it for Zoom…And I'm telling you, the ability to [pull up a PowerPoint] and begin to write, and do this in front of a customer is awesome. They're like, 'How do you do that?' It's almost like magic to them. Everybody has asked me about this board."
Instant Replay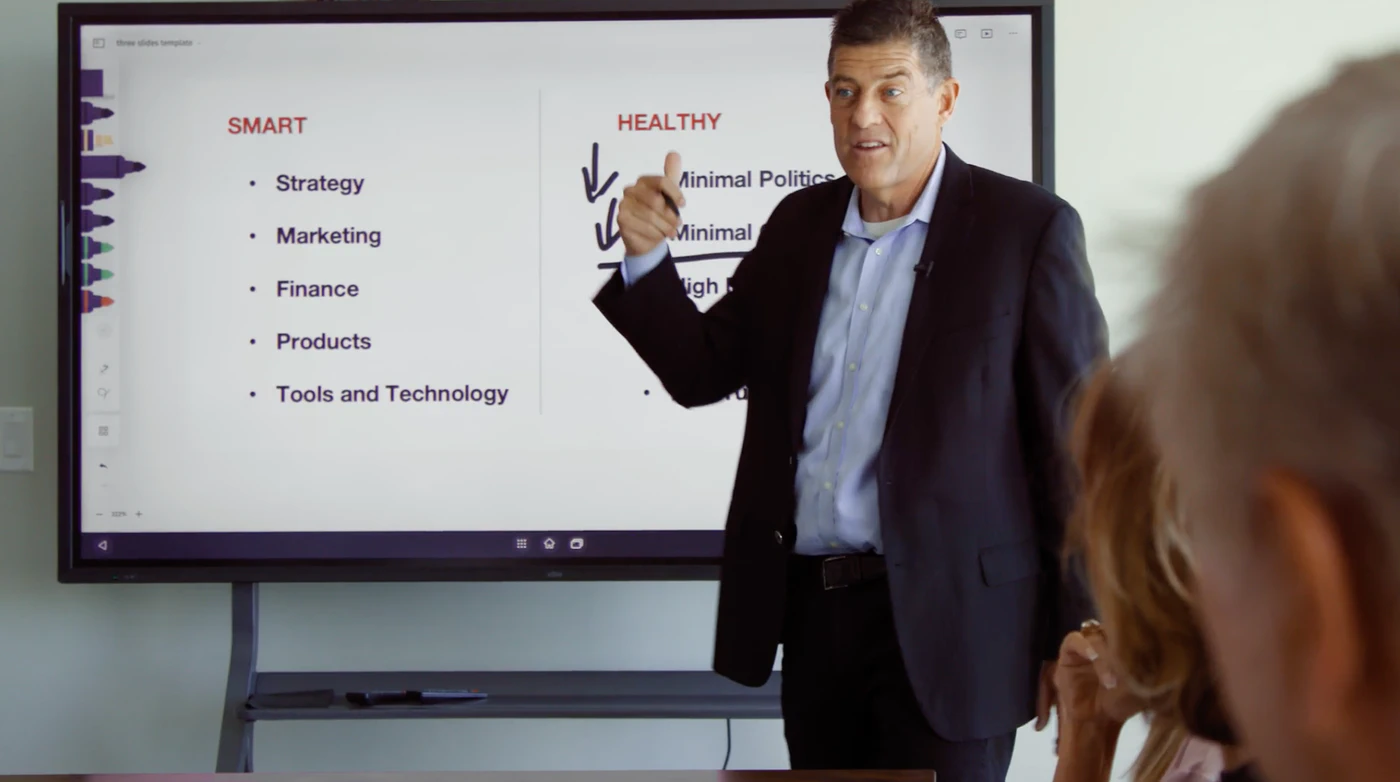 Training session on Vibe
Whether you're reviewing an athlete's performance or training a coworker on how to give a great presentation, video feedback can be an essential tool.
Just ask Ian Westermann, Founder of Essential Tennis . For expert coaching sessions, Westermann pulls up different video clips for strategy lessons or technique analysis. Using Vibe's annotation feature, he can draw on top of the footage as he breaks it down frame-by-frame.
The video analysis naturally connects to his coaching practice, too. He sets the Vibe Board up on the court during his students' lessons so they can easily evaluate their form on video and quickly make adjustments. "I use an iPad to gather clips of my student as we're training together, and then every few minutes we'll go to check in on how they're moving and how they're executing what we're working on," he explained. "I mirror the iPad to the Vibe so that they have a 55" view of what they're doing and they can get instant feedback on how they're progressing."
From here, Westermann writes notes on Vibe's infinite Canvas to develop each athlete's action plan based on their progression. "Every stroke we work on, I'm taking notes on key phrases that work for them. I'm also writing down all the drills we're doing together so that when they go home they immediately have that PDF of, 'Here's what to do with your forehand,' 'Here's what to do for your backhand,' 'Here's what to do for your serve.' We create that document together on the Vibe as we work together throughout the day." With Vibe, reviewing technique and refining skills is simple.
Jump Back In
With everything automatically saved in the cloud, you can jump in wherever you left off with ease–or let your team continue the training on their own terms. Even better, if one team member or client wasn't able to attend your initial session, they can review recordings and training notes from their own devices at a time that works better for them.
Plus, with the Vibe Board's mobile companion app, Vibe One, it's easier than ever to take your trainings with you, thanks to a seamless SSO experience that pulls up your slide deck on the Vibe Board with one quick scan.
With straightforward screen recording, screenshots, and Canvas note-taking, you can instantly share any annotations or mark-ups made during your session directly with your audience.
Train Better with Vibe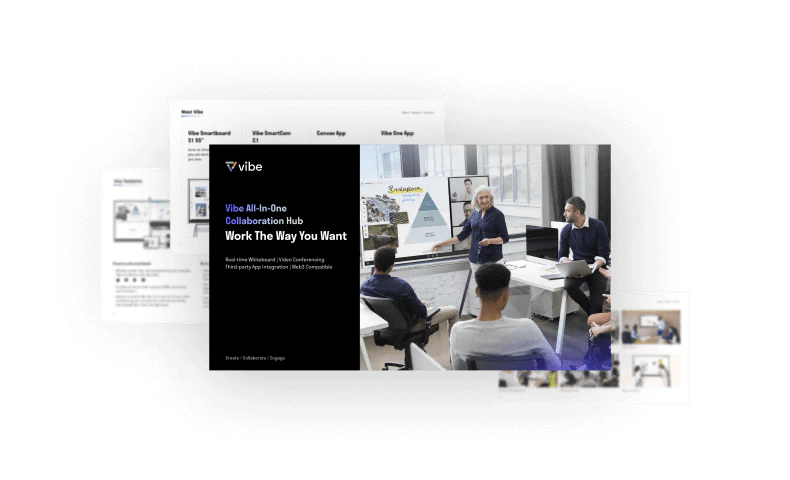 Explore Vibe's All-in-One
Collaboration Hub
Training is an integral part of all kinds of workspaces and learning environments—which means creating a training session that your team will want to attend is a massive feat. Luckily, Vibe is the perfect online training tool for all types of trainers and coaches. Connect with your people better, help develop your team's skills, and grow your own impressive training skills. Do it all with Vibe.
Interested in exploring more ways that a Vibe Board can work for you? See Vibe in action here.
See how Vibe could help →
Subscribe to get updates on all things at Vibe
Thank you for subscribing Vibe's blog!