How to Build a Virtual-Friendly Collaborative Workspace
The workforce is more diverse and distributed than ever, and this new paradigm needs a new style of workspace to thrive. The COVID-19 pandemic pushed many workers home, but employees are now beginning to return part or full time in person. With many businesses now embracing hybrid work models in the workplace, companies are experimenting with a new office design: the collaborative workspace.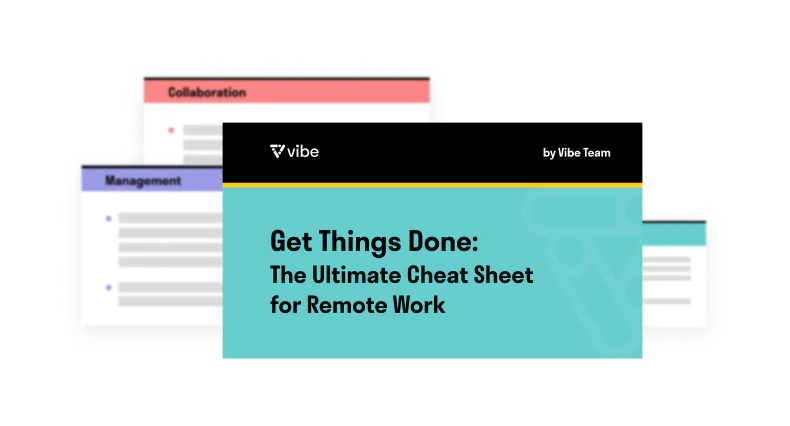 Get the ultimate cheat sheet for remote work
What is a collaborative workspace?
Collaborative workspaces are defined by their best qualities — diversity, inclusivity and empowerment — more than their physical arrangements.
These spaces operate on two levels: physical and operational. The collaborative workspace provides private, quiet spaces for focused work as well as social spaces for team collaboration, socializing, and more.
Today's collaborative spaces are different from those even a few years ago. Entering into a new hybrid reality means ensuring stress-free, inclusive collaboration for employees working virtually and in person.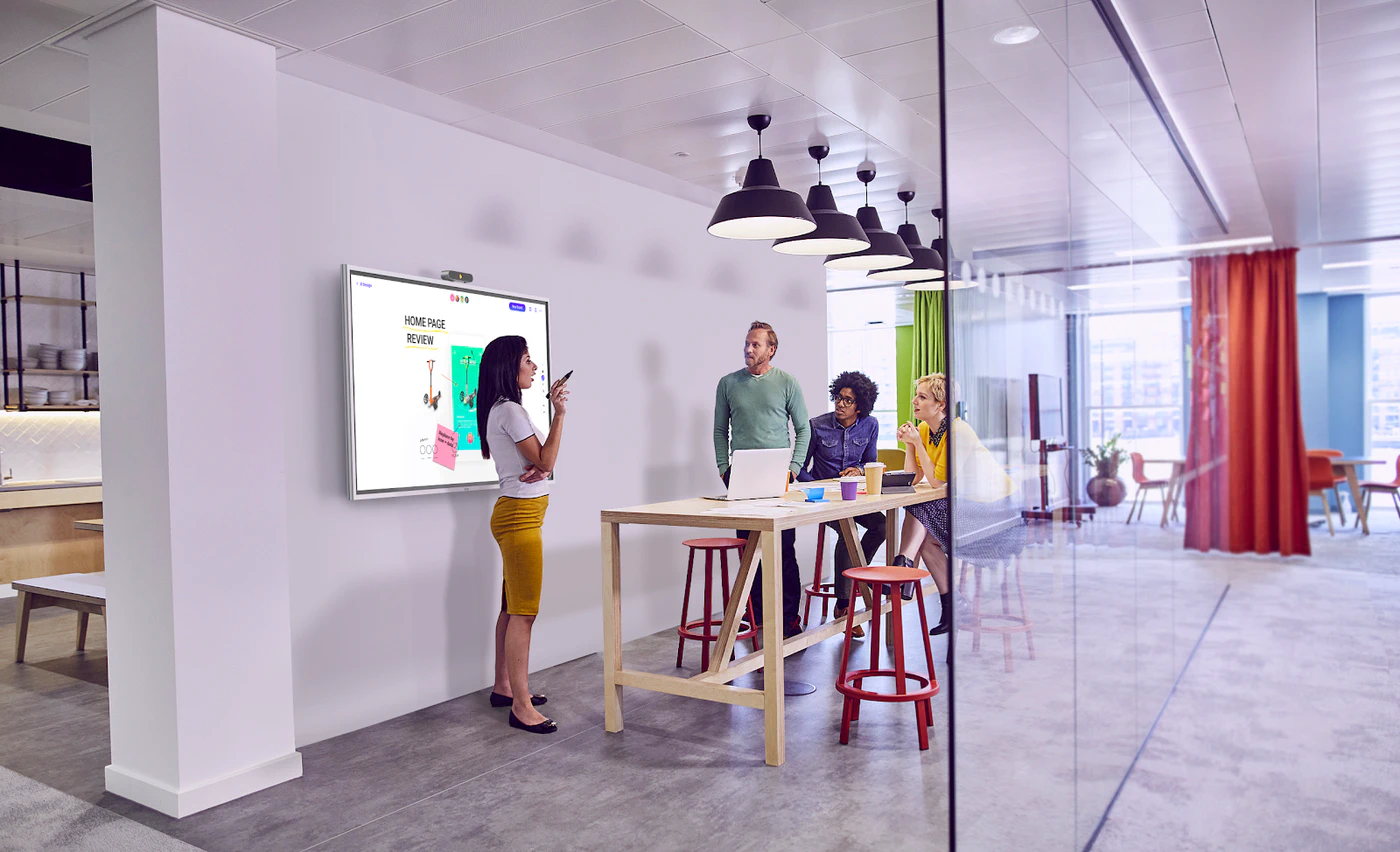 Conversations in shared work spaces
In Gensler's recent U.S. Work From Home Survey , the number one reason employees said they wanted to return to work at least some of the time is because they miss the social connection of being with their peers.
More specifically, it's things like the spontaneous brainstorms and casual interactions that remote employees are longing for once again. 
As businesses adapt, a truly collaborative workspace will have a physical infrastructure that enables cultural frameworks to come to life, as well as a digital component for virtual participation. This kind of space also requires a design that clearly prioritizes teamwork over competition.
In terms of layout, a collaborative workspace features a few basic formations:
Common areas that cater to informal, unstructured teamwork
An open floor plan with separate spaces for quiet work (with easy access to impromptu conversations and connections)
Lounge areas with sofas, outdoor patios, and other informal spaces for community life
Some settings serve multiple uses. Depending on the time of day, an office bar — complete with craft beer taps or espresso makers — can be a casual meeting space, a quiet workstation, or a social area.
Related: How the Right Workspace Can Spark Creativity
How to Design a Collaborative Workspace
You need the right layout, collaborative tools, and mindset to build a functional collaborative workspace. Are you ready to make the shift?
New tools for collaborative spaces
Technology makes fostering a team-first work environment possible as well. A tech stack including tools like Asana , Flowmapp , and Trello can connect people virtually to work on the same project, at the same time, from anywhere. They help enable collaboration without making physical proximity necessary.
When meeting in person, a digital whiteboard lets teams organize ideation sessions, visualize concepts, save digital sticky notes, and more.
The Vibe Board even includes integrations to welcome remote workers to collaborative sessions from anywhere. All your notes are automatically saved to the Vibe cloud, where you can easily review and share them.
Related: Digital Whiteboards: the 11 Best Reasons to Invest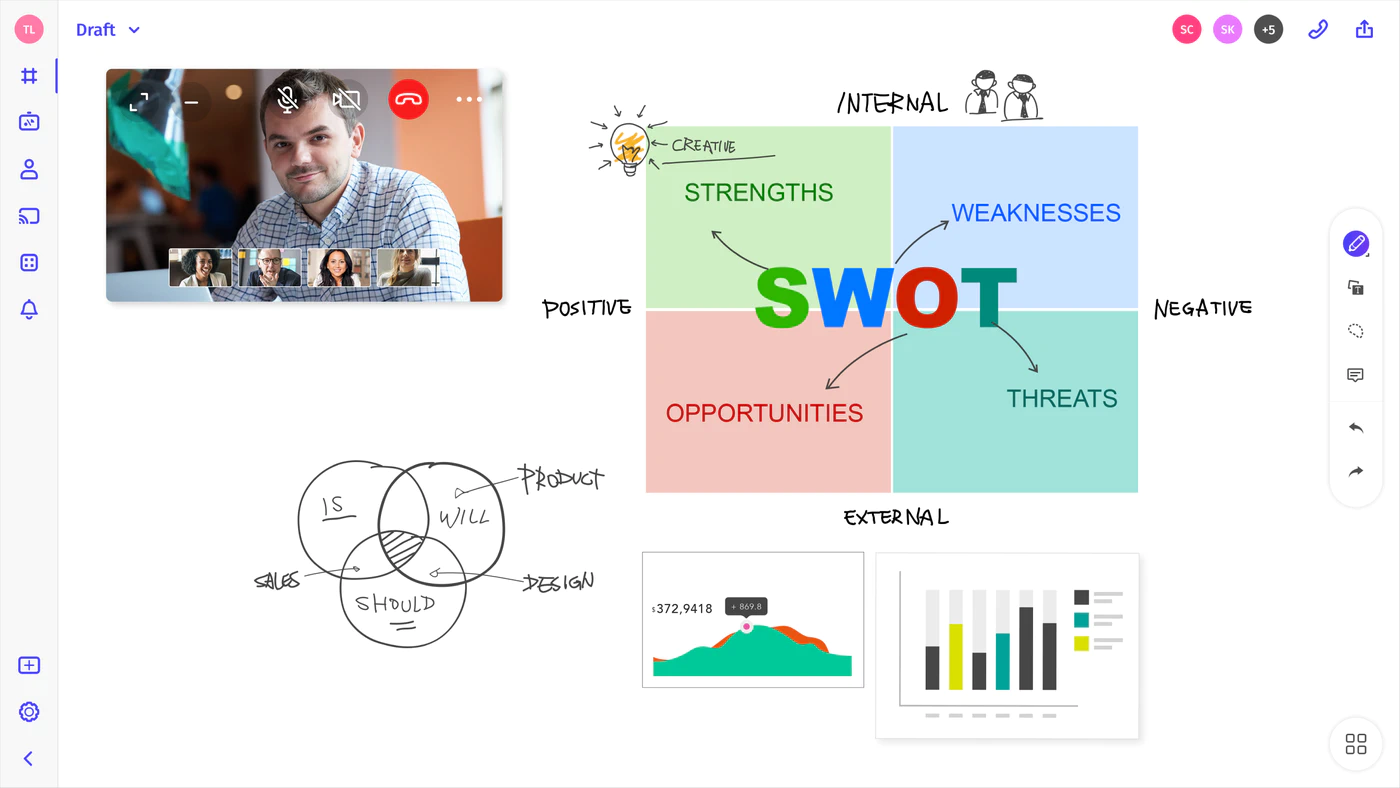 Integrated zoom for remote collaboration
Co-working for coworkers
As more companies collaborate with freelancers, consultants, and contract workers — often remotely — the physical workspace has changed to meet these new expectations.
While many companies have already done away with closed-off cubicles in favor of more open-concept workstations, many businesses are going one step further and eliminating seating charts altogether. Co-working has gone from an informal practice to a phenomenon that defines the contemporary work experience.
Starbucks is one example of a company reimagining its headquarters around "hoteling," which is a model similar to co-working. Employees will come to work when they want or need to collaborate with teammates. But to do it, they'll book their parking space, desk or meeting room ahead of time. Employees are also welcome to collaborate freely around cafe tables.
Related: Digital Whiteboards: the 11 Best Reasons to Invest
Collaborative workspace furniture
According to research from The Instant Group , dedicated desks are expected to make up less than 25% of workspaces in new offices by the end of the year.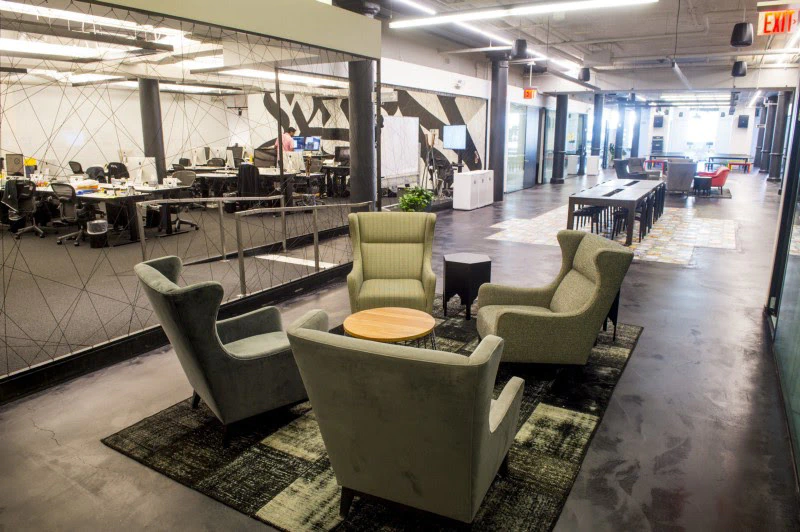 While not all desks are being removed, many companies are rethinking the static office layout. 
The social aspect of work is one of the most important parts of the physical workplace.

Grant Christofely, North American associate director of workplace strategy at M Moser Associates
To foster the social aspect of work, workspaces that are flexible and mirror layouts of social settings can also enable greater collaboration through informal interactions. 
Cutting down the number of traditional desks frees up more space for more open collaborative spaces, such as cafes or dining areas with coffee-shop style seating. Additionally, small pods with only a few seats and a video screen allow for small-group interaction, with easy access for virtual employees. 
In making decisions about office furniture, it's important to make sure you're seeking feedback and input from your team before renovating or reconfiguring a space. 
Data from the MIT Sloan Management Review shows that 61% of U.S. employees still want a dedicated desk in the workplace, even if it means they need to come to the office more often. 
Comfortable brainstorming spaces
When employees are comfortable, they're more collaborative. For those who are seeking a more casual space than a conference room for a brainstorming session, shared lounge-based collaboration spaces meet this need. 
With comfortable open seating and individual tables, co-workers can spread out in a more relaxed environment. The addition of collaboration tools like digital whiteboards or video screens adds additional functionality that a cafe or lounge setting would not have. 
Virtual-friendly conference rooms
While conference rooms will continue to be collaborative and in high demand, they're evolving to be more inclusive of remote workers. Gone are the days of scattered cords, mismatching attachments and standard whiteboards with dried-out markers. 
To foster collaboration both in-person and digital, conference room layouts are transforming to naturally include more video screens and digital whiteboards to ensure seamless collaboration. 
Additionally, companies need to invest in technology that is easy to use and reliable to eliminate communication barriers between all participants, regardless of their location.
Wellness-centered workspaces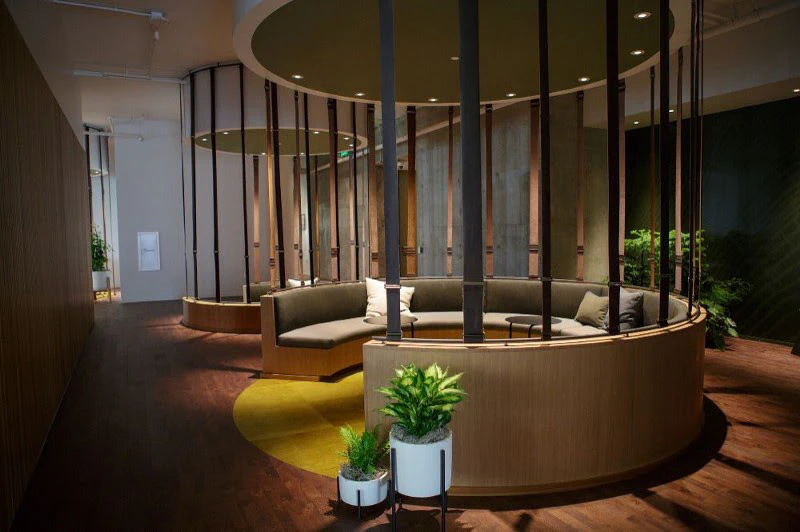 Employees are at their best when they are able to maintain a positive work-life balance. Workspaces that prioritize employee wellness not only foster happier, more productive employees, but they also provide collaborative opportunities.
Wellness-centered workspaces can vary in design and function. Here are two examples of a few workspaces designed to embrace flexibility and wellness. 
Outdoor spaces. Casual interactions are where some of the most effective collaborative group work takes place. Patio or terrace seating gives employees the opportunity to get outside and take in fresh air, while also nurturing an informal setting where collaboration can thrive.
Spaces for new mothers. While employers are required by law to accommodate breastfeeding mothers, many companies are going above and beyond to make more comfortable spaces. With cozy furniture and additional plumbing, nursing mothers can stay connected if they please, while also feeling supported and comfortable. Instead of making these rooms available to reserve or book, consider opting for a more discrete "in-use/open" sign outside the door to ensure nursing moms have the peace of mind that they won't be interrupted. 
Use art to inspire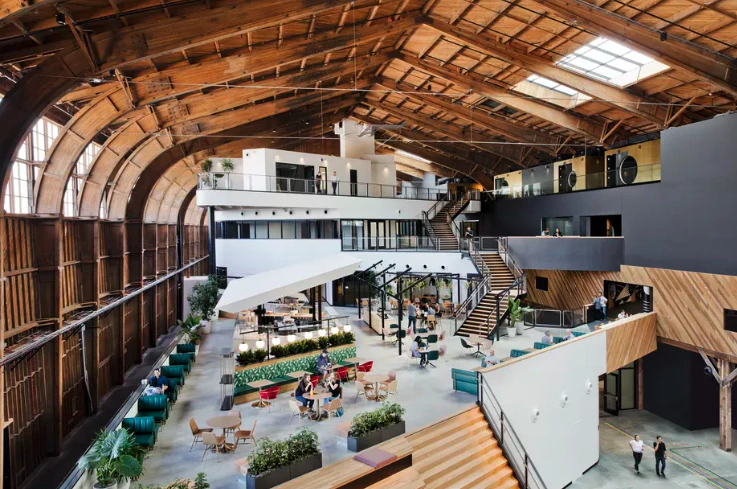 Paying attention to the visual environment employees are working in is just as important as the tools and technology they have available in the workplace. 
According to an article in Work Design Magazine , employees tend to feel more cooperative and open to considering different points of view when exposed to images they find pleasing, including images of places to which they feel a connection. 
It's hardly news that art has the ability to bring people together and inspire conversation. By selecting color schemes and pieces that evoke subtle emotion, employers can create an environment where employees feel more positive and less stressed or anxious.
Work Design offers the following tips for selecting workplace art:
Opt for the natural world to increase positivity. Green foliage and flowing water tend to evoke feelings of positivity.
Select caring pieces for stress relief. Artwork where people are being cared for can help people calmly navigate threatening or stressful situations.
Maintain balance in complexity. Avoid pieces that are overly simple or too busy to eliminate the possibility of boredom or feelings of confusion.
Skip abstract. Abstract pieces can be difficult or challenging to interpret, causing feelings of stress.
No matter where you are in the workplace design process, remember to check in with your employees. While the workplace is evolving, so are the needs of your employees. What you might think increases productivity in the workplace could be causing concern.
Be open-minded and empower employees to have a voice in communicating what works best for them when it comes to collaboration. 
---
Collaborate Today With Vibe
Vibe offers a collaborative solution combining an interactive digital whiteboard and innovative smart software. Increase engagement and efficiency at your brainstorming sessions, virtual training, and classroom sessions by integrating your favorite applications with video conferencing and an infinite, mess-free writing canvas. Collaborate today with Vibe.
Looking for the latest in interactive whiteboard technology? Check out Vibe today!
See how Vibe could help →
Subscribe to get updates on all things at Vibe
Thank you for subscribing Vibe's blog!