How to Create a Hybrid Work Schedule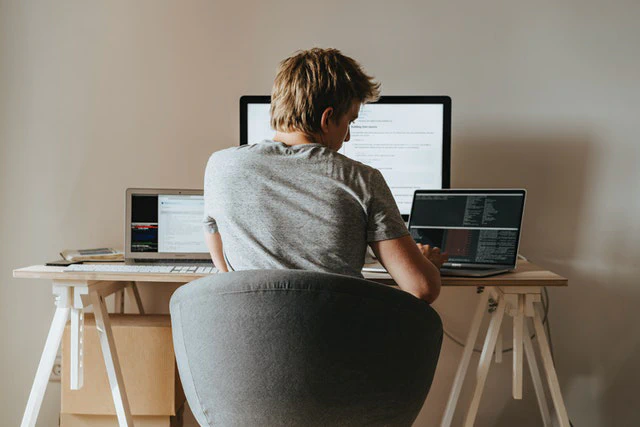 2020 forced businesses of all sizes to rapidly readjust. Transitioning to fully remote, often with little strategy in place, many employers braced for the worst. Luckily, after two years of remote and hybrid work, the results have been promising—employees are more productive and even happier working from home. 
While employees have begun to indicate that they're ready to return to work, they still want to work from home at least some of the time. Finding the balance between at-home and in-office work is both a delicate task and new territory. According to a Gallup survey , more than half of employees anticipate a transition to a hybrid work schedule in the near future. Much different from a few years ago though, this time around there's time to make these changes strategically. 
If you're creating a hybrid work schedule, here are a few tips for doing it right—plus a few real-life examples from other companies for inspiration.
Why Hybrid Work Schedules Look Different for Everyone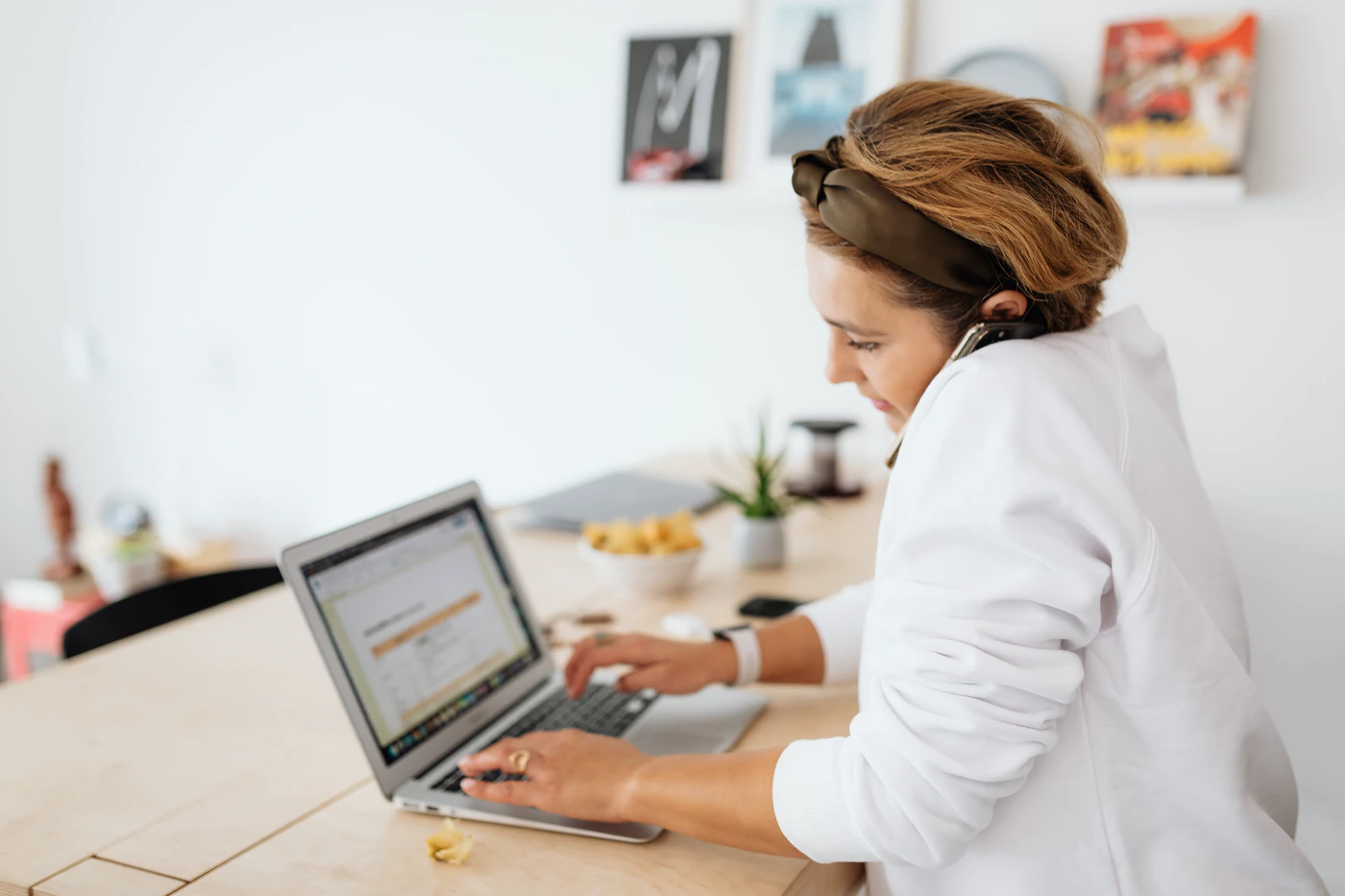 hybrid working
Since every business and its employees are unique, hybrid work schedules are not one-size-fits-all. The first place to start when developing your organization's hybrid work schedule is understanding what's out there in terms of schedule types. While it would be great if there were a tried and tested template, we'll save you a Google search and say there's not much out there. There are, however, a few different ways to approach hybrid work schedules.
Depending on the industry and business, hybrid work approaches and schedules have a variety of different names. Broadly, they fit into these three categories.
Flexible
In a flexible hybrid work schedule, employees are often strongly encouraged to work in-person at least some of the work week. Typically, employees are given the option to set which days they'll be in the office. However, employees may or may not have a set guideline for how much of their time they need to work in the office. Often, employers establish priorities such as collaboration, culture, and teambuilding to help employees create their hybrid work schedule.
Split or Mandated
In a mandated hybrid work schedule, most employees are given a set number of days they are required to work in-person during a work week. The required number of days can vary greatly depending on the organization and the role of each employee. Additionally, some employers select the days of the week employees are required to be in the office, while others leave it up to teams and individuals to decide.
Remote-First
The term "remote-first" is on an upward trend, as many companies are offering employees the option to return to the office as much or as little as they prefer. At the same time, these businesses also fully support employees who want to work only remote and often encourage this option. 
Creating Your Hybrid Work Schedule
Employers are eager for employees to return to the office. In a GoodHire survey, 75% of managers said they prefer some type of in-person work.
The good news is, there's already some data emerging about the benefits of hybrid work. Recent MIT Research found that giving employees flexible ways of working had positive health benefits, such as better sleep, improved mental health, and lower levels of burnout. Employees also shared they felt more focused and productive in a hybrid work schedule.
Here are five start-to-finish steps for building and implementing a hybrid work schedule.
Step 1: Listen, collect data, and listen again.
Returning to the office is a big transition. Everyone's circumstances and personal comfort levels are all likely different, too. Given these facts, it's important to give everyone the opportunity for their voices and opinions to be heard. Interviews, polls, or even small group discussions are great ways to solicit feedback from employees to understand concerns and eliminate any potential back-to-work anxiety.
Do note that if you skip this step, it could quickly spell disaster. Not long after Apple announced its employees would return three days a week (Monday, Tuesday, Thursday), employees rallied to write and submit a letter to CEO Tim Cook and senior leadership expressing their disappointment with the decision. Their main concerns: feeling unheard and ignored.
Step 2. Separate out tasks, responsibilities, and roles.
At this point in the great WFH experiment, you probably have a good idea of which tasks can be completed remotely. That said, just because they can be completed remotely doesn't mean they must remain virtual-only responsibilities in a hybrid model.
Before you start determining whether certain tasks, responsibilities, or roles are better remote than in-person, it's important to think about what your organization is trying to achieve with a hybrid work schedule. For example, if your business has struggled with communication and collaboration, prioritize tasks that require these competencies on in-person days. If your team is collaborating well but having difficulty with on-site or physical services, this is an indication you might want to take a different approach to your hybrid work schedule. 
Step 3. Make a clear plan.
While it may seem redundant to include making a plan as a step in creating a hybrid work schedule, it's a critical step. It's easy to come up with a general idea of when you'd like employees to come back to work. If you've asked around, it might seem like everyone's clear and ready to get going. Thinking like this can cause mass confusion.
Collecting feedback and dividing tasks are important steps because they pave the way for you to bring your hybrid work schedule to life. In this part of the process, you'll be clearly outlining the intentions and expectations surrounding your company's unique hybrid work schedule. In other words, now that you have all the information you need, write it down, edit it, and send it out for thorough review.
If you need a little inspiration to get started, here's a look at how a few successful businesses have created their hybrid work schedules. 
Google announced it would require employees to spend three days in the office and two days "wherever they work best." In the same announcement, CEO Sundar Pichai noted office time will be focused on collaboration and that product areas and functions should help guide a mutual decision on which days are best for in-person work.
Microsoft has transitioned many employees to a model where they are given the option to work from home less than 50% of their work time. However, they are expected to "align on team agreements around in-person expectations." Microsoft also introduced its "six stages of the COVID-19 hybrid workplace," which functions as a movable dial to provide company-wide changes to its new policy, such as a stage two "mandatory work from home" or stage three "work from home strongly encouraged."
Much like Google, Microsoft also noted the value of collaboration and bringing people together in the workplace as critical pieces of their reimagined hybrid workplace.
PwC has totally transformed their workplace model, adding two additional ways of working—virtual or flex. The flex option allows employees to work in person 1-3 days per week, noting it's how a majority of professionals in their organization work. The flex option also notes that in-person time should be reserved for collaboration, problem-solving, team building, and coaching. The virtual option allows employees to work anywhere from 0-3 days per month in person.
Step 4: Put your plan into action.
Putting your hybrid work schedule plan into action means more than simply distributing information to your employees and letting them chart their own course.
As managers and leaders, you'll need to put your plan in action with clear expectations and goals for what your hybrid model is intended to achieve. For many employees, hybrid work might be an entirely new experience, so it's also important to offer your employees resources and tools to maintain healthy minds and optimum productivity.
Here are a few tips for delivering clear expectations and direction for your employees to manage their hybrid work schedules.
Share your task separation with your team. Make it clear which types of tasks your team should be prioritizing in person and which tasks they should be completing at home. Setting this expectation early and often allows your team to work together to plan brainstorms or other collaborative events in person because they know exactly where their time should be spent on in-office days.
Offer your team autonomy. While collaboration is essential for many businesses, focus time is just as imperative for maintaining engaged employees. Recent data from a Harvard Business Review survey found that hybrid employees actually want the autonomy to control some aspects of the flexibility a hybrid work schedule allows. So, instead of focusing on highly detailed policies, consider giving your team the autonomy to choose their own times for asynchronous work to maintain productivity.
Give your team the technology they need. The Harvard Business Review survey also found that 85% of employees feel that being confident in their technology allows them to excel at work. A hybrid work schedule means your team needs tools to stay seamlessly connected from anywhere. The Vibe S1 system is an excellent tool for helping hybrid and remote employees stay connected, especially during collaborative work.
Step 5: Evaluate and re-evaluate with consistency.
Rolling out a hybrid work schedule isn't easy and could come with a few early challenges. That's okay! Embrace these challenges and find new ways to evolve your schedule—and help your employees strengthen their hybrid work schedules, too.
Set up a series of regular meetings with leadership to discuss what managers are seeing and hearing. Design a virtual suggestion box or a monthly survey to check in with employees to gather feedback or concerns they have. Whatever you decide to do, make sure you do it with consistency, so your employees feel confident you're always working to improve. 
Boosting Hybrid Collaboration and Productivity with Vibe
The Vibe S1 system is specifically designed for collaboration. Features such as an unlimited Canvas and the ability for team members to participate simultaneously make it easy to connect in-person and remote employees without technical difficulties.
Easy-to-use Vibe Canvas Templates make it simple to kickstart brainstorms or solve problems. You can also export whiteboard sessions for team members to continue working on individually or save as a reference point. 
Vibe integrates with a variety of apps , such as video conferencing, productivity and project management tools and platforms. With a few swipes, you can send notes, capture and save new tasks, or video chat clients.
Ready to find out how Vibe can help transform your hybrid work schedule? Check out how Vibe can play an important part in your hybrid work in this video!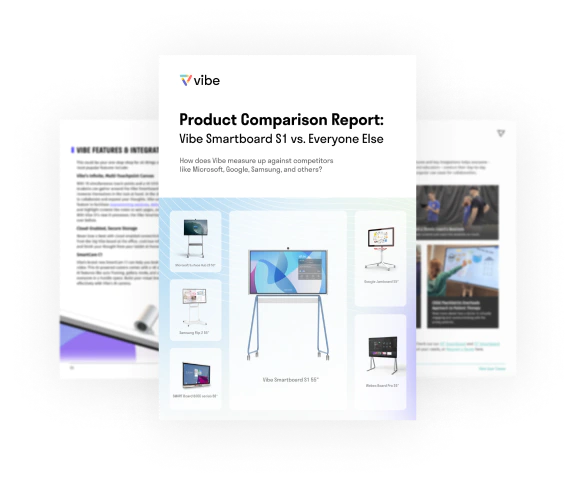 See How Vibe Stacks Up
Against Everyone Else
See how Vibe could help →
Subscribe to get updates on all things at Vibe
Thank you for subscribing Vibe's blog!