Virtual Meeting Tools You'll Love in 2022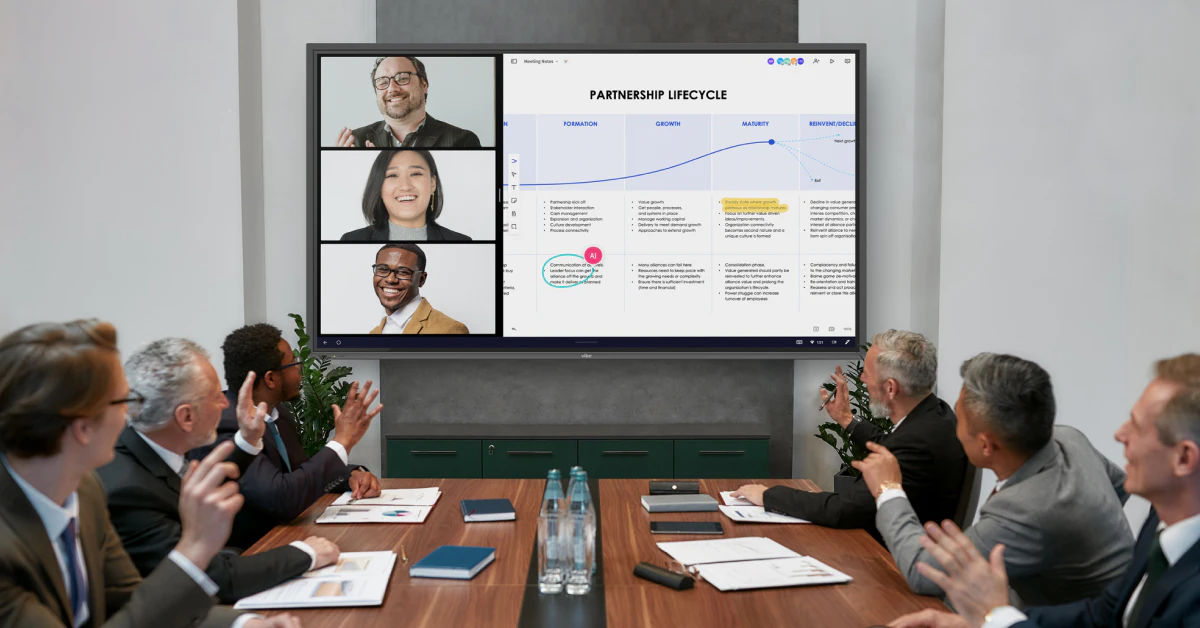 Hosting meetings virtually has become something of a necessity in workplaces over the past few years. Many industries that initially turned to video conferencing apps or platforms as a temporary fix have since discovered the usefulness of a simple Zoom meetup , a quick call with clients over Google Meet and the robust capabilities of Microsoft Teams.
Virtual meeting tools are already evolving to keep up with a modern workplace where remote and hybrid work is a common occurrence. Your team will be pleased to learn many of the newest tools available to businesses are set to make virtual meetings more engaging and effective than ever before.
Here's a look at what you can expect from the future of digital collaboration, along with some of the coolest features you can look forward to in 2022.
How Virtual Meetings Will Work in the Future
Communicating clearly, fostering positive working relationships with team members and conducting business efficiently so as not to waste anyone's time have always been the goals of those aiming to lead effective meetings. With virtual and hybrid meetings (meetings with a mix of physical and digital attendance) becoming the new normal, these goals need to adapt to new methods.
Odds are good the future of everyday meetings is less rigid than what many leaders are used to. The ease at which video conferencing can be accessed is conducive to a more casual environment, perfect for teammates to brainstorm ideas or go over details before a call with a client. When it does come time for those large-scale presentations, formal boardroom meetings or buttoned-up pitches to clients, video conferencing software (plus some of the tools we're about to discuss below) can aid in creating a professional atmosphere from anywhere with a wifi signal.
Why Smart Boards Will Continue to Rise in Popularity
There's a reason the topic of virtual meeting tools is of particular interest to our team here at Vibe. Smart board tech goes hand-in-hand with online presenting, team brainstorming, remote learning, and just about any other function of virtual communication you can think of.
We won't ask for a show of hands, but you've likely suffered through at least one meeting that failed to present information in a compelling fashion. Smart boards aim to eliminate those meetings, and in their stead use technology to present engaging information audiences are more likely to retain.
Holding the attention of a team dialing in remotely can be a challenge, particularly if drawing on the old "text-heavy-powerpoint-screen-share" method that probably should've been left in 2020. Smart boards give presenters more impactful options — want to integrate videos into a pitch deck? Easy. Provide interactive elements, highlight key information and allow coworkers to mark things up virtually from their own screen? A Vibe board is a perfect solution.
These interactive elements not only aid in holding a group's attention, but they can also help the information "stick." Research shows drawing information to be a particularly effective way to facilitate comprehension and retention, nearly doubling the amount retained after a presentation. A smart board presentation's interactive component doesn't just provide a nice bit of visual flair; it can enable team leads to present ideas in a more retainable fashion, and account managers to make a more memorable impact on client calls.
Taking Things a Step Further: AR/VR Offerings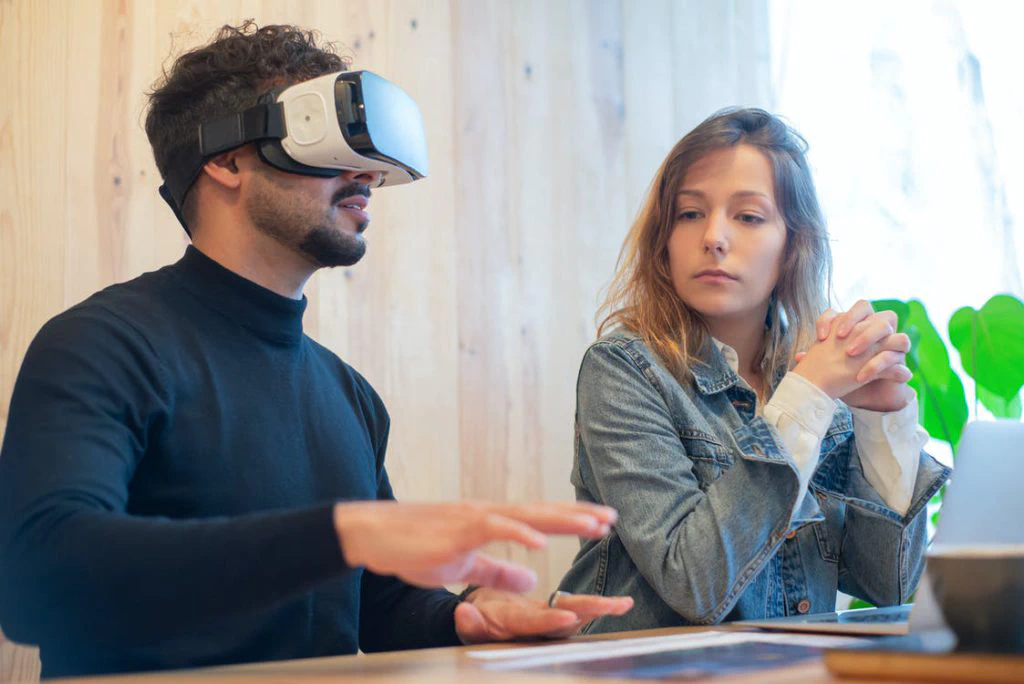 AR/VR tools make virtual meetings more interesting
Major events don't always translate well to a Google Meet window or dozens of miniaturized Zoom boxes. That's why the folks over at UgoVirtual have been hard at work on VR engagement solutions , a virtual event platform designed for conferences, webinars and expo attendance through the science of virtual reality.
The steady advancement of VR in recent years already has businesses eager to experiment with its potential applications. The possibility of training critical work skills through virtual reality alone is enticing — and then there's facilitating intra-company communication, better understanding and connecting with customers, recruiting and interviewing new talent more personably and so on. Expect VR tools to add innovative new opportunities to every branch of your business in 2022 and beyond.
Microsoft's Solution: Make Workplace Screens Huge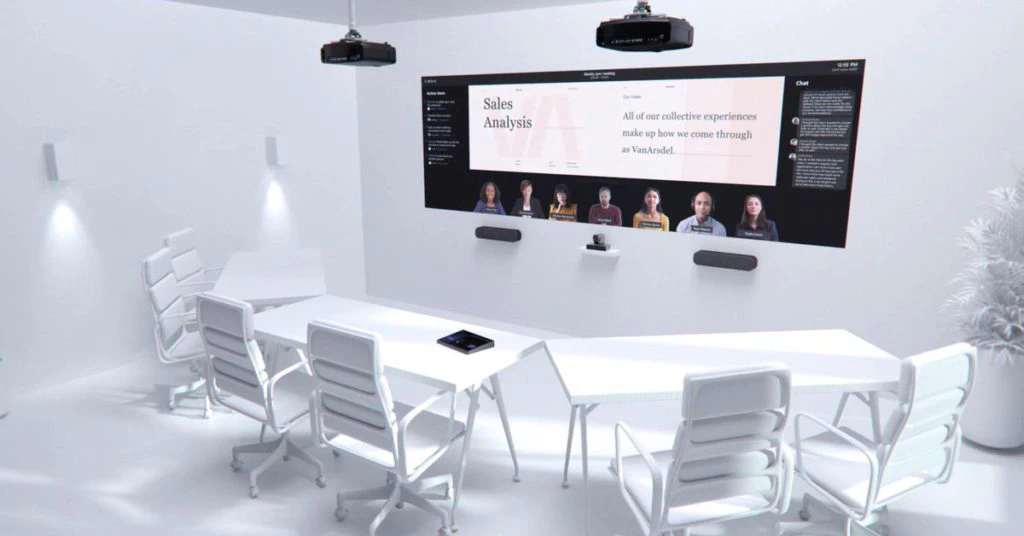 huge screens will appear in the future of the office
Considering remote and hybrid work seems to be here to stay, it makes sense the next logical step to virtual teleconferencing should be to improve the presentation. Laptop screens weren't exactly built with larger team meetings in mind — they're too small to fit everybody on at once, and the camera is in an awkward place that makes everyone look like they're working on the latest Wordle puzzle instead of making eye contact.
Last spring, Microsoft teased a concept for a more 2022-ready solution, punctuated by larger screens on the walls of a sample conference room that will "help facilitate face-to-face meetings with life-sized remote colleagues," along with a host of other tools to help these at-home workers look and sound more present in meetings (more on that later).
Despite literally hundreds of new features, apps and devices made to enhance virtual meetings hitting the market over the last few months, we can't help but thrill at the simplicity of Microsoft's response to the rise of remote work. Need to feel like a coworker is in the conference room with you? Simple — make them life-sized.
Coming Soon: Spatial Audio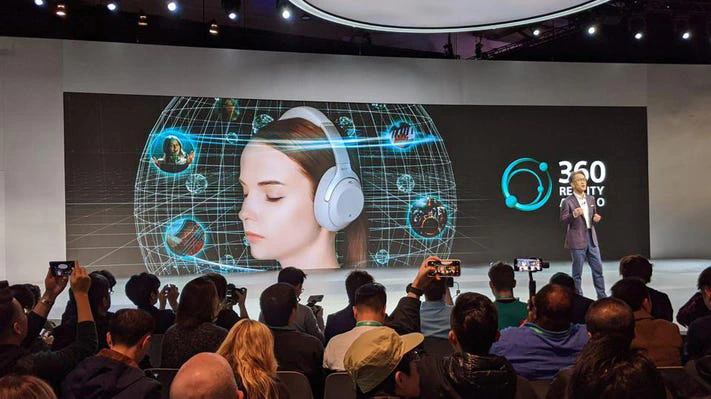 Spatial Audio creates an true environment for remote meetings
For years now, virtual meetings have provided a path of miraculous collaboration across great distances — and we're all grateful for that. We're also glad to see some improvements to overall meeting audio hit the mainstream soon, because chiming into important calls sounding like an NYC Subway operator is less than ideal for frequent remote collaboration.
Spatial audio is tech engineered to better relay your coworkers' words. It's another piece of Microsoft's proposed "office of the near-future" mentioned above, but the field of crystal-clear audio is well beyond the scope of any one company. Sony has been in the mix for a while with 3D audio, as has Dolby Atmos technology. Apple and Microsoft each look well on their way to developing similarly competitive audio features to assist in not only clarifying virtual meeting audio but creating an environment more closely patterned after what your coworker might sound like if they were physically in the same room.
AI Cameras Engineered to Track Presenters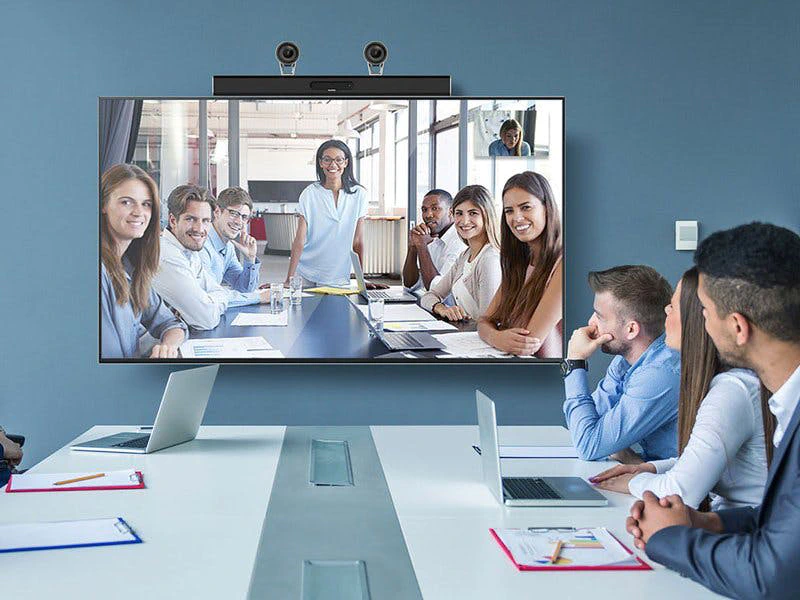 use AI cameras to follow presenters
A clear video feed is non-negotiable when it comes to getting the most out of meetings. If it could've been an email, it would've been — you're on camera for a reason, and if your team can't see you, what good is the meeting? In the year 2022, you need a good microphone and an even better camera.
Fortunately, camera shopping has become pretty fun with some of the new toys debuting this year —  like this AI-driven camera built to follow presenters around in real-time, all while simultaneously live streaming and recording the video. Smart cameras are quickly becoming a must-have for virtual conferencing, particularly models with extremely handy built-in compatibility with major video conferencing platforms.
Better Meeting Recordings, Transcripts and Highlights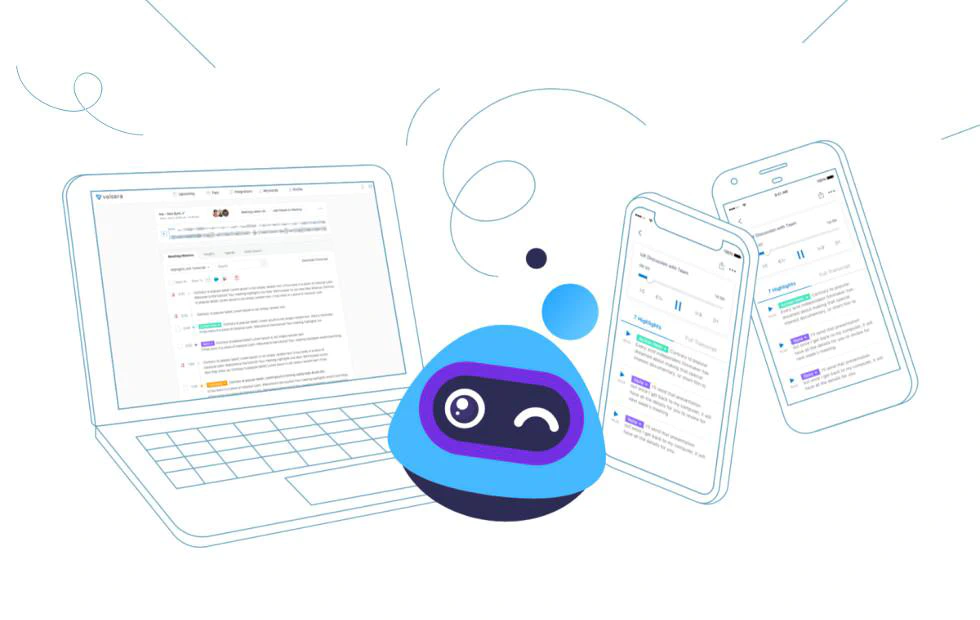 Voicera: a meeting transcription app
The significance of meeting recording tools may not be as evident when the meeting is active, but afterward, you'll be glad you invested in some reliable software. Meeting transcription apps such as Voicera, for example, can provide a valuable document for employees to reference, carry the message of a presentation to a party who couldn't attend or even give detailed follow-up material to a client. A single virtual meeting can span several topics or projects; having an easy-to-access, auto-generated summary of each helps keep details for each in their proper context.
Automated minutes-keeping software seems to be coming on strong, which is why tons of good options are springing up all over the place. Some even boast some enhanced features like smart notes and highlights to emphasize a meeting's key points. The more an audience can retain (or obtain) the details of a virtual meeting, the more successful the meeting will prove to be for everyone involved.
There are sure to be further advancements in the sphere of remote collaboration this year. Innovation in this space never seems to slow — but it does deliver some exciting new methods of communication within teams and workplaces in the weeks and months ahead.
---
Oh hey, speaking of awesome virtual meeting tools, did you know all Vibe boards are low-latency products (which means no awkward delay when presenting) designed specifically for remote collaboration? Get a virtual demo of Vibe today .
See how Vibe could help →
Subscribe to get updates on all things at Vibe
Thank you for subscribing Vibe's blog!